MiLB's best of the decade: Performances
Fisher grabs top spot with dozen-RBI debut in Cal League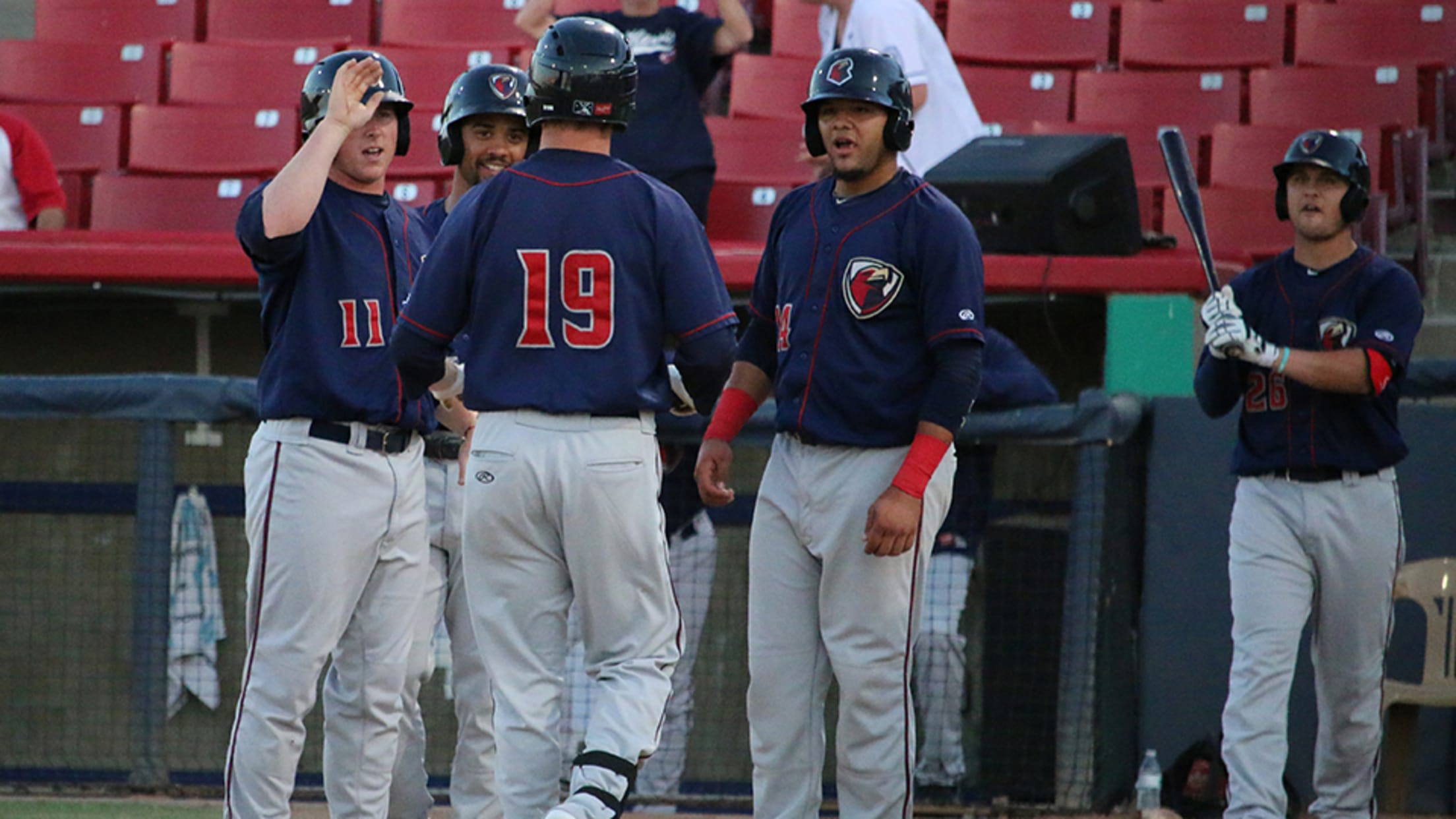 Derek Fisher gets greeted at home plate after hitting one of his two grand slams for Lancaster on May 30, 2015. (Mike Andruski/High Desert Mavericks)
A record-breaking three-homer, 10-RBI night. A couple of no-hitters, one in which the ball did not leave the infield and one in which a very promising prospect set a team record with 14 strikeouts. And a 15-strikeout hitless effort that put a team within one win of a league championship.
A record-breaking three-homer, 10-RBI night. A couple of no-hitters, one in which the ball did not leave the infield and one in which a very promising prospect set a team record with 14 strikeouts. And a 15-strikeout hitless effort that put a team within one win of a league championship.
None of them made the cut.
As MiLB.com reviews the last decade, Toolshed has highlighted the top Offensive Players, Starting Pitchers and Relievers. Here's a look at the top single-game performances from the 2010s.
10. The Moose gets loose: Mike Moustakas began 2010 as MLB.com's No. 32 overall prospect, No. 1 for the Royals. Then he torched the Texas League while posting a .347/.413/.687 line with 21 homers and 76 RBIs in 66 games, earning a mid-July promotion to Triple-A Omaha. The No. 2 overall pick in the 2007 Draft was solid, if unspectacular, in his first five weeks in the Pacific Coast League. But Moustakas started to heat up toward the end of August and went 7-for-17 with three homers and nine RBIs in a four-game stretch heading into the Aug. 30 contest against Round Rock. He flied out in his first at-bat, but drilled two- and three-run shots in the third to become the first Omaha slugger in 14 years to homer twice in one inning. Moustakas ripped a bases-loaded double in the fourth, then capped his night with another three-run blast in the seventh. With 11 RBIs, he shattered the team mark of eight, set by Kit Pellow on June 8, 1999. Complete story | Box score
9. Holder goes to 11: With big league rosters set to expand in four days, Jonathan Holder gave the Yankees something to think about on Aug. 28, 2016. The right-hander struck out 11 batters in a row and 12 of the 13 he faced over four innings of scoreless relief as Triple-A Scranton/Wilkes-Barre clinched an International League playoff berth with a 3-1 win at Rochester. Holder came on in the sixth with runners at the corners and fanned Wilfredo Tovar, Leonardo Reginatto and John Ryan Murphy -- all swinging -- to preserve a two-run lead. He punched out Byron Buxton, James Beresford and Reynaldo Rodriguez in the seventh, then required only 13 pitches to whiff Kennys Vargas, Twins No. 15 prospect Adam Brett Walker and 20th-ranked Daniel Palka in the eighth. The Mississippi State product took the streak to 11 by striking out Tovar and Reginatto before Murphy reached on an infield hit. Holder was called up on Sept. 2 and made his Major League debut that night in Baltimore. Complete story | Box score
8. The other Hamilton: There's something about Aug. 21 that makes it appealing to thieves -- at least those of the basestealing variety. In 1983, both Vince Coleman of the Macon Redbirds and Donell Nixon of the Wausau Timbers broke Rickey Henderson's single-season Minor League record with their 131st steals of the season. Exactly 30 years later, Billy Hamilton erased Coleman and Nixon from the record book. The only question was whether the top Reds prospect would break the mark before the Double-A Pensacola Blue Wahoos went back on the road. The 21-year-old swiped second in the opening inning, then stole two more bags in the third and another in the eighth to bring his total for year to 147 (he finished with 155 in 132 games between Class A Advanced Bakersfield and Pensacola). Complete story | Box score
7. Creating a Legend: Chris Devenski didn't move into the starting rotation until the end of June 2012 and he didn't join the Astros organization for another month. But he closed his first full season in the Minor Leagues in spectacular fashion by pitching a no-hitter and recording a career-high 16 strikeouts in Class A Lexington's 10-0 rout of Rome on Sept. 1. The 21-year-old allowed just one baserunner -- Kyle Kubitza walked with one out in the fifth inning -- while pitching past the seventh for the first time since being taken by the White Sox in the 25th round of the 2011 Draft. Overshadowed by Devenski's masterful performance was Legends third baseman Matt Duffy, who homered twice, doubled, drove in five runs and made an acrobatic catch down the left-field line. Complete story | Box score
6. King Hessman: "The pressure is gone. The ball is gone." With those words from longtime Triple-A Toledo Mud Hens broadcaster Jim Weber on Aug. 3, 2015, Mike Hessman became the Minor Leagues' all-time leader with his 433rd home run. Hitless in three straight games, the 37-year-old slugger from California broke Buzz Arlett's record in dramatic fashion. He launched a grand slam in the seventh to erase a 6-4 deficit, although the Mud Hens eventually dropped a 10-8 decision to visiting Lehigh Valley in 11 innings. Hessman, who hit 14 dingers in 109 games in the Majors, retired at the end of the 2015 season with an International League-record 288 homers. He was inducted to the IL Hall of Fame in 2018. Complete story | Box score
5. With a heavy heart: Rookie Davis, a pitcher on the opposing Pensacola Blue Wahoos, called it "the most gutsy thing I've ever seen on a baseball field." He was talking about the July 24, 2016 performance of Double-A Biloxi Shuckers right-hander Brandon Woodruff. Pitching nine days after his brother, Blake, died from injuries suffered in an ATV accident, the Brewers' No. 29 prospect allowed one hit and struck out nine over six innings as the Shuckers blanked the Blue Wahoos, 1-0. He also drilled his first career homer to produce the game's lone run. Woodruff retired the first 12 batters before Sebastian Elizalde led off the fifth with a single. Complete story | Box score
4. Mighty Casey: It was going to be difficult for Casey Mize to live up to the hype as he took the mound for his Eastern League debut on April 29, 2019. But he did. Selected first overall by the Tigers in the 2018 Draft, the right-hander put up video game numbers in the Florida State League in the spring of 2019 with an 0.88 ERA, 0.52 WHIP and .110 opponents' batting average in six starts. Four days after being promoted to Double-A, Mize pitched a nine-inning no-hitter as Erie beat Altoona, 1-0. Complaining that his fastball was the worst it had been that season, the Auburn product struck out seven, walked one batter and hit another en route to the SeaWolves' second no-hitter in less than a week. Complete story | Box score
3. Summer of "The Streak": Francisco Mejia was the thread that tied together the Minor League summer of 2016. The fourth-ranked Indians prospect put together a 50-game hitting streak that spanned four months and two levels and matched the Minors' longest in nearly a century. It began on May 27 when Mejia singled twice for Class A Lake County. It continued through Aug. 13, when he was credited with a double that initially was ruled an error in Class A Advanced Lynchburg's 7-5 loss to Winston-Salem in 10 innings. When it ended the following day, it was the fourth-longest in Minor League history. Making it even more impressive was the fact that Mejia was a catcher. "The catching position is the most taxing on the field with what the expectations are for him, handling a pitching staff, blocking balls, taking foul balls off of all parts of your body and then being able to get up there and swing the bat with some days off here and there," Hillcats manager Mark Budzinski said. Complete story | Box score
2. Javy makes history: Mariano Duncan had been in baseball -- as a player and coach -- for more than 30 years. "But I have never seen a performance out of one player like what Javier Báez had," Class A Advanced Daytona's hitting coach said on June 10, 2013 after the top-ranked Cubs prospect recorded only the second four-homer game in the 94-year history of the Florida State League. The No. 15 overall prospect went the opposite way with a two-run homer to right-center field in the opening inning, then sent a 2-0 pitch over the fence in straightaway center to lead off the third. Báez sent the first pitch he saw in the fifth to left for a three-run blast and hooked another first-pitch fastball inside the foul pole in left to complete the quartet in the seventh. Complete story | Box score
1. A dozen for Derek: You don't get a second chance to make a first impression. Derek Fisher took that axiom to heart on May 30, 2015. Making his debut with Class A Advanced Lancaster, the 11th-ranked Astros prospect slugged three homers and shattered the California League record by driving in 12 runs in a 16-3 romp over High Desert. A night after he was promoted from Class A Quad Cities, Fisher hit a solo shot in the first and a grand slam in a six-run second. The 37th overall pick in the 2014 Draft came up with the bases loaded again in the third and emptied them with a blast to left. The JetHawks filled the bags one more time in the seventh and Fisher tripled to center to eclipse the mark of 11 RBIs set by Stockton's Robert Rivich on May 22, 1954. Complete story | Box score
Daren Smith is an editor for MiLB.com.