Smith bringing singular focus, drive to Red Sox
29-year-old becomes pro baseball's first Black female coach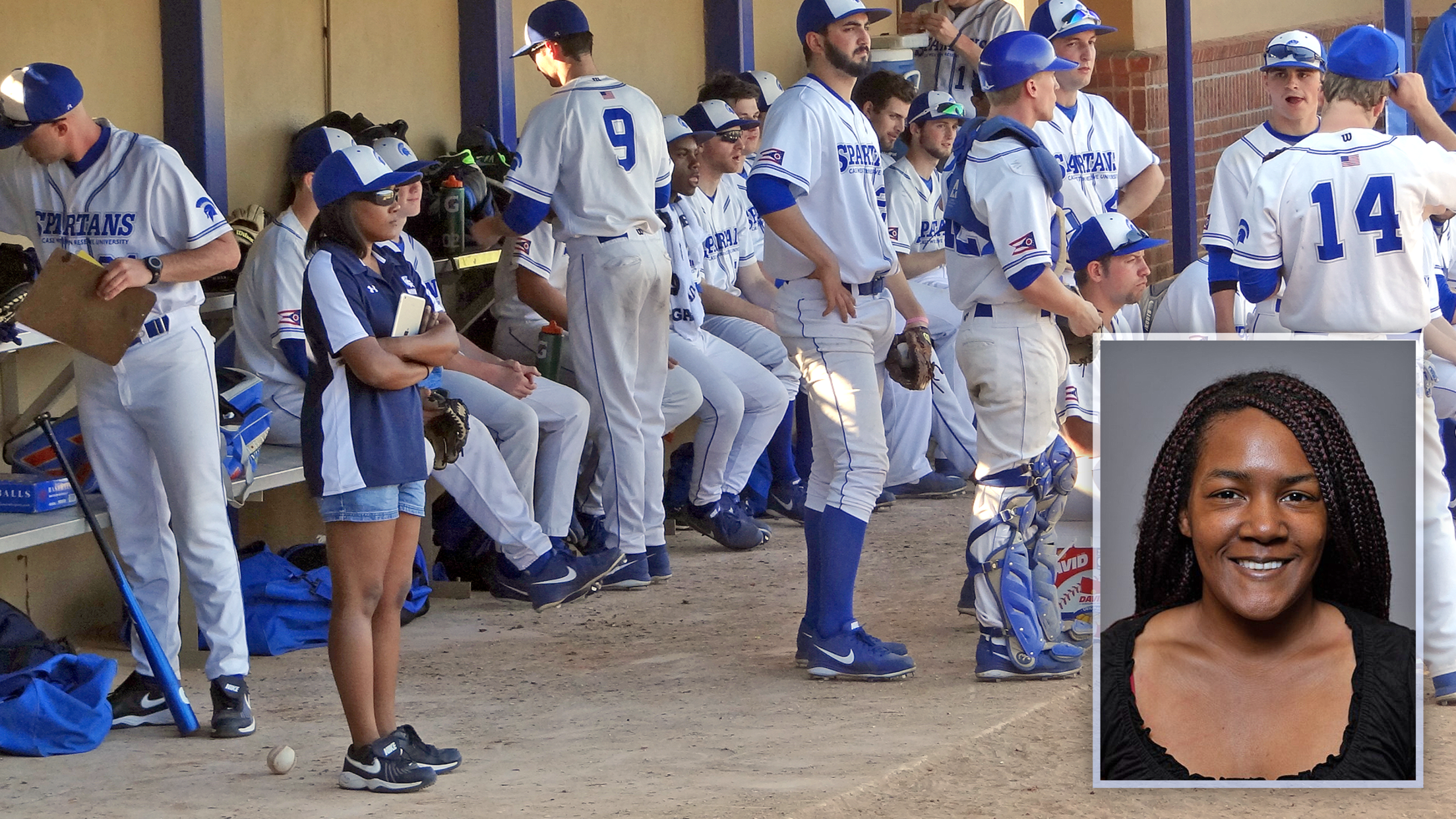 Bianca Smith gained her first baseball coaching experience at Case Western Reserve University from 2015-17. (Case Western Reserve University)
There's no exact road map to the Major Leagues. But, in baseball, those who do the work often benefit. Bianca Smith did the work. And then she worked some more. It's paid off. Last week, the Red Sox announced the 29-year-old will become the first Black woman to hold a
There's no exact road map to the Major Leagues. But, in baseball, those who do the work often benefit.
Bianca Smith did the work. And then she worked some more. It's paid off.
Last week, the Red Sox announced the 29-year-old will become the first Black woman to hold a coaching position in professional baseball history, joining the club's player development staff as a Minor League hitting coach in the Gulf Coast League.
"It's honestly still surreal," Smith told reporters in a Zoom conference Thursday. "When I accepted the offer, I really just wanted to coach. I didn't really think about how big this was. For me, it was just, I had a coaching job where I get to just focus on coaching."
Although it may not have been foremost on her mind, Smith is not oblivious to her role as a trailblazer. She doesn't view herself in the same light as her hero, Jackie Robinson, but she doesn't shy away from the significance of the moment either.
She's described the first hurdle for people following her path as simply figuring out one's goals, aware that her hiring might make some Black women believe a career in baseball is even possible.
"When I was younger, I never would have thought about working in sports," Smith said. "I thought about other careers because I hadn't seen somebody who looked like me working in sports, at least publicly. It does give the idea that this is something else you can do, given the opportunity to at least try to get into the game."
Smith's hiring will be among the biggest news stories this offseason. She made the rounds on the network morning shows and MLB Network. Before Day 1 with the Red Sox, Smith's answers to her first questions sounded like commencement speeches as the voice for a population breaking through the margins.
"If you hear a no … ask why not? What can I do better? How can I get better? How can I be in that position? … What could I have done better?" Smith advised. "I'm not going to say it's easy because it's definitely hard work. But it's worth it in the end if that's your dream and that's something you're really passionate about."
Bianca Smith will be joining the #RedSox organization this season, making her the first Black woman to coach in professional baseball history. pic.twitter.com/ZQsHd8iprD

— Red Sox (@RedSox) January 5, 2021
The well-traveled native of Texas and Pennsylvania long held a dream of coaching but was forced to explore a wide array of other sports career avenues. Smith was a tour guide for the Texas Rangers. She sold tickets for FC Dallas of Major League Soccer. She worked in sporting goods in western Pennsylvania. She marketed for an arena football team. Some of the jobs were done out of necessity for little pay to supplement jobs she took on for free.
That portion of her resume doesn't even scratch the surface. Smith constructed the strangest, broadest foundation that a career in sports seemingly can be built. And now, with more than just a foot in the door, she's still looking up.
"Long-term goals, easiest way to put it, is just get as high as I can, which at this point is MLB manager," she said. "I never want to have to limit myself. I just want to go as high as I can, as far as I can. If right now, that's manager, that's it. But I just want to keep challenging myself. I definitely want to be on a Major League staff and get that far."
Smith earned a B.A. in sociology from Dartmouth College and played on the varsity softball team in her junior and senior years. Though injuries limited her to mostly pinch-running roles, she helped to break down video and review scouting reports. Sometimes she worked the scoreboard during games. Other times she was a bullpen catcher.
She also played on the club baseball team and helped manage the varsity squad her junior and senior years.
"I think it's a great opportunity to inspire other women that are interested in this game."

New #RedSox minor league coach, Bianca Smith, joined @MLBNetwork to talk about her role. pic.twitter.com/vxHf6GpAHA

— Red Sox (@RedSox) January 5, 2021
From there, she moved on to Case Western Reserve University in Cleveland. After being accepted into the school's MBA program, Smith stuck around for four years to earn a Juris Doctor degree. But before she took one class on campus, she reached out to the school's baseball coach, Matt Englander.
Englander and his prospective coach had a quick meeting right in the team's dugout. He noted that there was a very smart, driven and humble candidate in front of him. He told Smith that if she attended CWRU, she'd become the director of baseball operations. The job description was a bit vague considering the position hadn't existed before that meeting -- a trend that became common throughout Smith's career.
"She did some coaching, some organizing of alumni stuff -- talking to parents and dealing with them. And dealing with travel plans and kind of got exposed to dealing with all aspects of college baseball," Englander told MiLB.com. "She was at every practice. Every game. … And it was just really evident immediately that she was an impressive person that could help us."
Smith did more on-field work at CWRU. She broke down video, did some stats and analysis work and began evaluating the team's outfielders. She'd hit fungos, run small group drills, flip front toss and do just about anything asked of a coach. Eventually, Smith earned a uniform and a spot in the dugout.
Englander knew Smith's personality -- a brilliant, self-motivated, inquisitive type -- would make her a good coach because she wanted to be a good coach. Even while getting dual graduate degrees, she threw herself into the job.
"She'd be a great astronaut if she was interested," he said.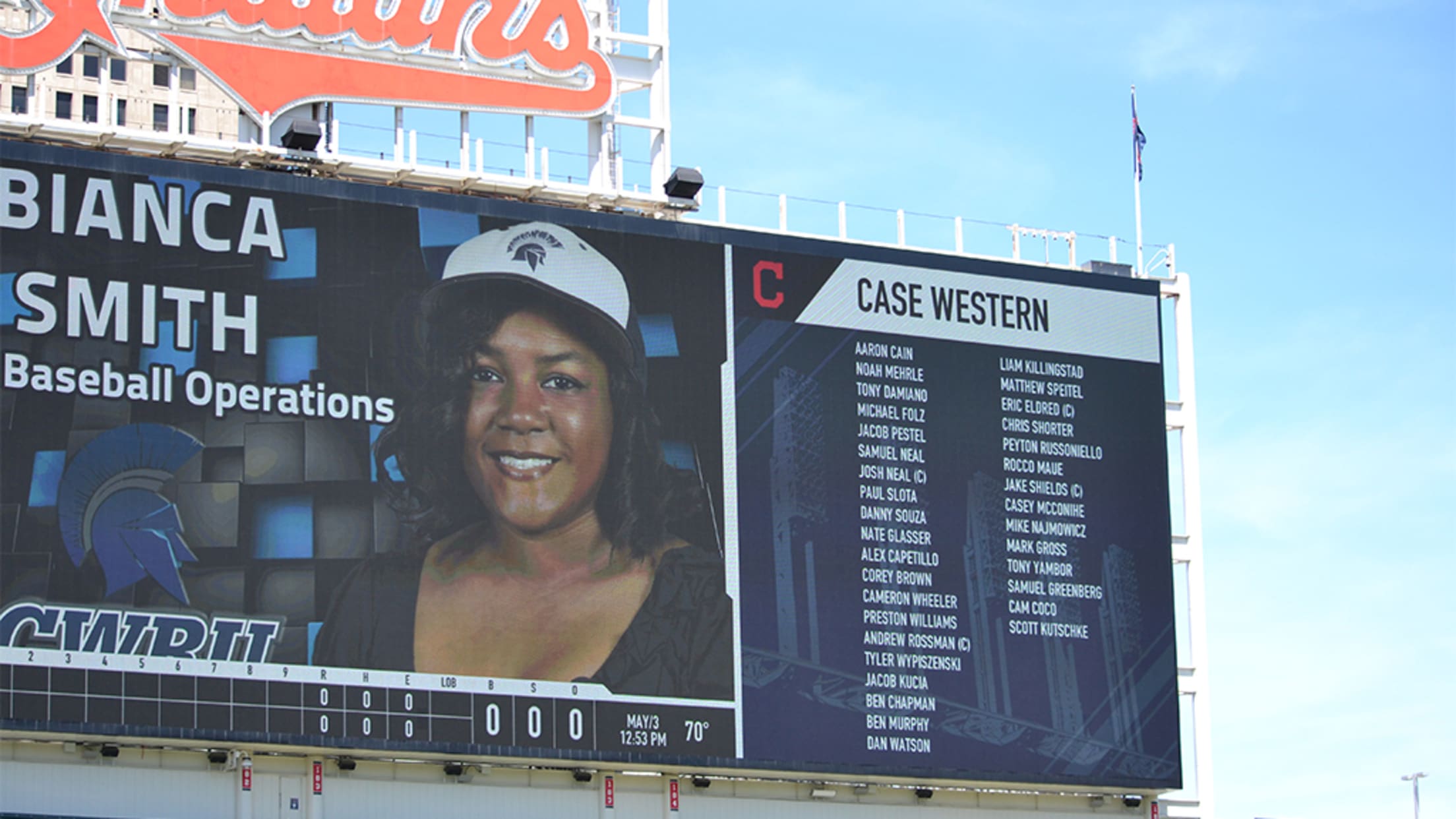 Smith reached The Show after four years at CWRU. She got a baseball operations internship for the 2017 season with the Rangers. After doing some front office work, the club sent Smith to MLB scout school, where she learned how to properly evaluate players. She returned to the Rangers in 2018 to work in the club's Urban Youth Academy and provide tours of Globe Life Park.
In fall 2018, Smith added more to her plate in order to follow her coaching dream. She took on a volunteer coaching role with the University of Dallas baseball team.
"A lot of that was just cold e-mailing," Smith said. "Just asking people for the opportunity. And I'll admit, in some cases, it was kind of sneakily getting my way in."
Smith stayed at Dallas for one fall before the next opportunity called. But in that short time, she worked with position players and hitters, kept nightly stats and charts and dove into all the advanced analytical data a Division III baseball team could compile.
"[She] kind of had more on-the-field side roles, but she was on the field," Dallas head coach Erik Grafton said. "It was pretty clear pretty quickly that she's an extremely hard worker, and she's super passionate about baseball."
After her time at Dallas, getting on the field was paramount for Smith. She nabbed another internship in the Reds' front office and went back to cold e-mailing members of the coaching staff. She took it upon herself to set up in the stands with pad and pen to examine the coaches on the field. Members of the coaching staff noticed her in the stands or the video room and invited her down to the field.
Once she'd made it known she had experience throwing batting practice and hitting fungos, Reds skipper David Bell asked, "Did you bring your glove?"
"A couple of people brought it to my attention that she has so much to offer and she's watching close," Bell told FOX Sports Ohio in 2019. "A couple of our coaches had asked her to do some projects just to keep an eye on certain things. It was like, get out of the stands and come down to the field and just get closer to the action."
New Red Sox minor league coach Bianca Smith is just getting started. pic.twitter.com/nWICV3laOT

— MLB (@MLB) January 8, 2021
Not only did she get herself on the field, Smith was met with a warm welcome. She recalls Scooter Gennett being blown away by her career goals and ambitions. She remembers the time Joey Votto ensured her she was, in fact, right where she belonged.
"There was never anything negative," she said. "I was just like anybody else in the clubhouse. There was no fanfare. There was no big deal. I would walk in as necessary like I had a job to do. That's all that mattered, and they really only cared as long as I was there to do the job."
At CWRU and Dallas, Smith helped use advanced analytical data for player development.
Stein Rear was thankful he could blend his "old-school" approach with Smith's "new-school" one when she was hired as an assistant coach and hitting coordinator at Carroll University in Waukesha, Wisconsin, for the 2019 season. Rear, the Pioneers' head coach, knew she had a firm grasp of the technology and could relate it to the players. Eventually, he saw its value not only on the field but in recruiting.
"It wasn't brand new to us, but it wasn't something we had placed any emphasis on as much as we have since Bianca came on board," Rear said. "It was something that I wanted to do more of, and so for it to be a strength of Bianca's, it really worked out well."
Carroll played only 11 games before the pandemic shut down the season. While the game was on hold, Smith did what she does best: she went to school.
According to her LinkedIn page, she earned pitching and hitting certifications from Rapsodo and Driveline, and certifications that helped her study biomechanics in baseball from The Farm System and The National Exercise & Sports Trainers Association.
"I wanted to learn more about how the body actually worked," Smith told MLB Network. "Because each athlete is different, I can't give the same drill to multiple players if, physically, that's just not how their body is set up. So I wanted to be able to see first, how do my athletes move? And then what are the drills that work for them in the constraints of their own body? It was pretty important to me to try to learn as much as I can on that side."
Just like her other jobs in college baseball, her inroads at Carroll were unconventional. She got to the school through a job as assistant athletic director for compliance, which gave her many office responsibilities that she maintained while coaching. When she got to campus, she met with Rear and they realized she'd be a good fit on the baseball staff.
It's been Smith's nature to have more than one thing going on in her professional life. It might have been what was once necessary for a Black woman to get her fair chance. But the chance has finally come. And she's looking forward to being able to focus on just one thing.
"I have thought, especially in this current job … as much as I love working a different job, getting to do a bunch of different things, if I had that time to focus on baseball, I can't imagine what else I'd be able to do," Smith told MiLB.com. "A lot of times, me doing multiple things was almost out of necessity. … I'm sure knowing me after a couple of months I'll start looking for a second thing, but we'll see how that goes first."
Smith still has some time left at Carroll before officially joining the Red Sox. Rear noted she endeared herself to the players with an excellent ability to build relationships and connect with young adults who are going to be around the same age as the Minor Leaguers on her future docket.
"For right now, though, once I finish [at Carroll] and start with the Red Sox," Smith said, "I want to be able to give 100 percent to my coaching position and see what I can do there."
Gerard Gilberto is a contributor to MiLB.com. Follow him on Twitter @GerardGilberto._