Amid Sellout Crowd, Famed Organist, Marriage Proposal, Fireworks, Blue Wahoos Win Fifth Straight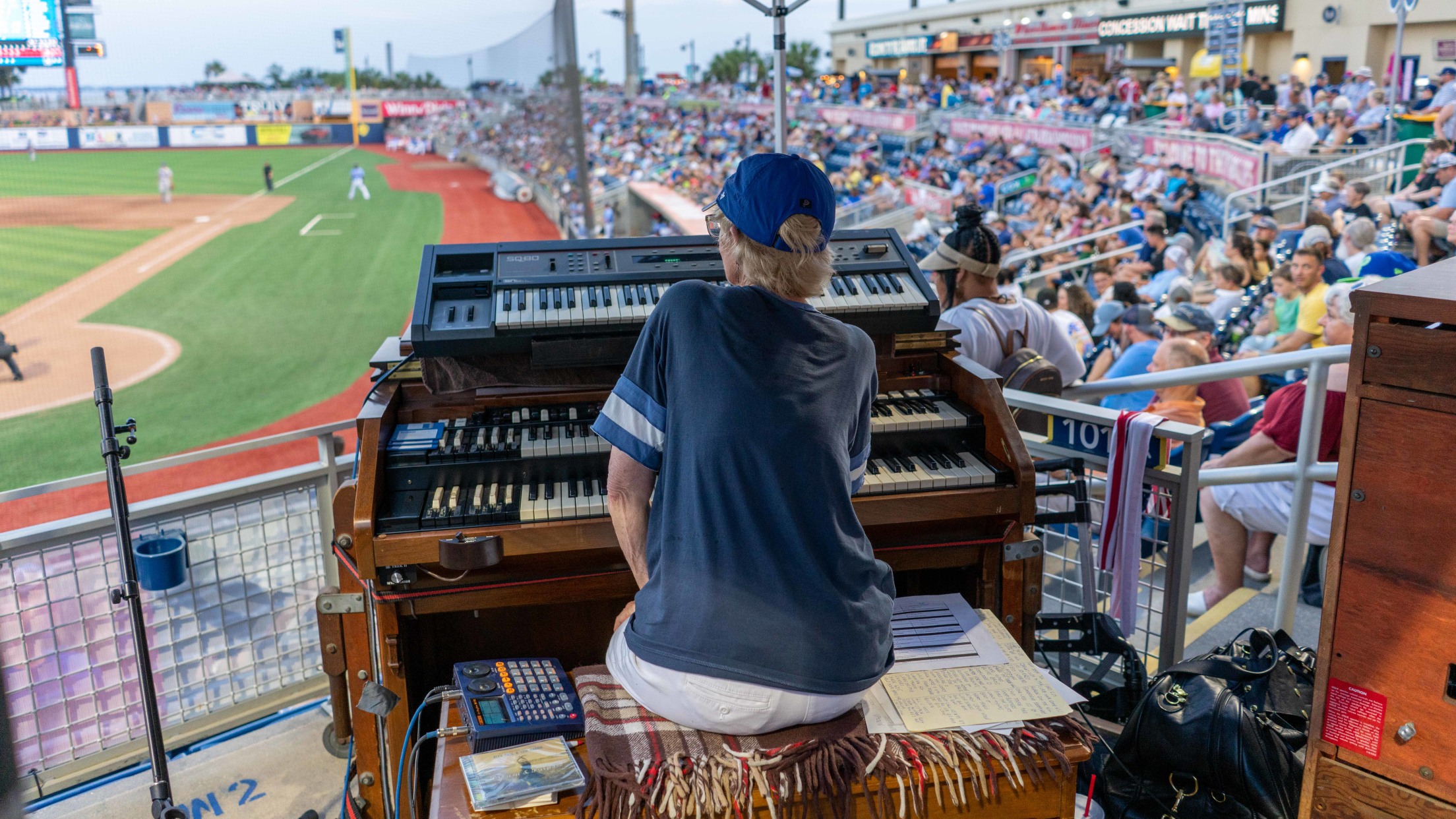 Amid a sellout crowd at Blue Wahoos Stadium, famed organist Nancy Faust entertained throughout the game and post-game fireworks with her one-of-a-kind skills. (Nino Mendez/Pensacola Blue Wahoos)
The Blue Wahoos created one of the most special game experiences Saturday night in their 10-year history. All the better that it included a fifth-straight victory against the Tennessee Smokies with a 5-3 triumph again forged by pitching and defense to maintain Pensacola's sizeable first-place lead. But even the game
The Blue Wahoos created one of the most special game experiences Saturday night in their 10-year history.
All the better that it included a fifth-straight victory against the Tennessee Smokies with a 5-3 triumph again forged by pitching and defense to maintain Pensacola's sizeable first-place lead.
But even the game and win shared a stage with so much else happening.
"I think this was the greatest night we've ever had at the ballpark," said Blue Wahoos co-owner Quint Studer. "So many people came up to say how much they enjoyed it."
Amid a heat index north of 100 degrees at Blue Wahoos Stadium, a sellout crowd of 5,000-plus reveled in a night that included various keepsake moments.
There was a surprised wedding proposal on the pitcher's mound before the National Anthem.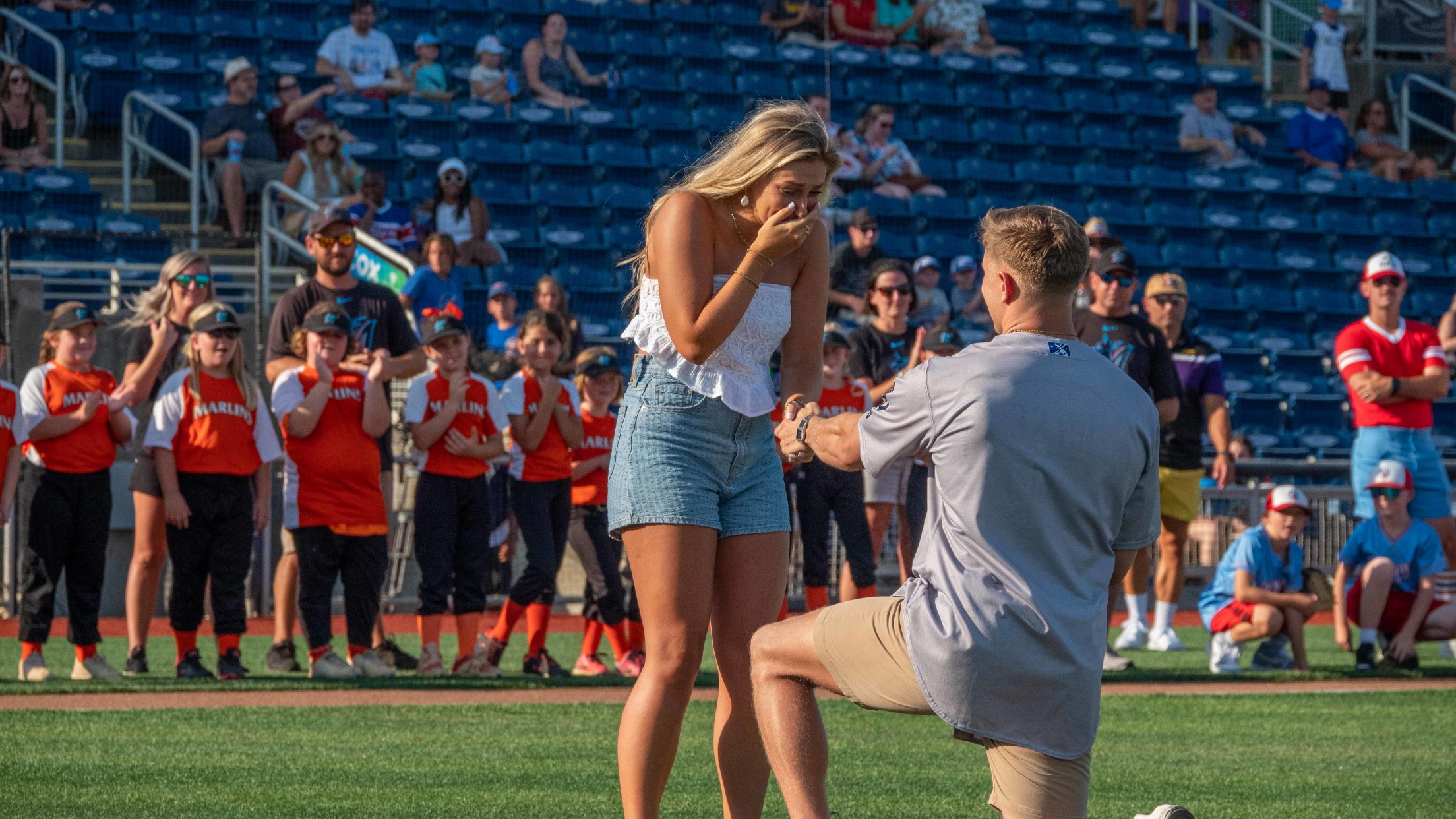 The incomparable Hall of Fame baseball organist Nancy Faust, 75, who was an institution for 41 years at Chicago White Sox games, playing medleys as only she can, all the way through the post-game fireworks show and continuing encores as people asked for more.
"Wasn't she great?" Studer said. "I just loved having her and having an organist. It makes it so much easier to carry on a conversation and still have the entertainment:"
There was a Home Run For Life after the fifth inning for a 4-year-old boy battling through a disease.
The game and the win was further elevated by post-game fireworks provided by the Woodlands Medical Sppecialist.
And Blue Wahoos pitcher Jeff Lindgren, whose parents and family drove in Saturday from Illinois, battled through a rocky first inning to get his season's first win, then stayed on the field with to watch the fireworks.
"Just a very special night," said Lindgren, who had a season-best nine strikeouts, one shy of tying his career high, and allowed just one walk in his six innings of work. "It makes you feel really good about everything, especially when a team battles like that.
"Had my family in town. And it was awesome to have everyone here and all the cool moments that happened."
The win kept the Blue Wahoos with a 4.5-game lead over the Biloxi Shuckers, who won their fourth straight game Saturday in Chattanooga against the Chattanooga Lookouts. The Blue Wahoos travel to Biloxi next week to close out the first half schedule. With seven games left, beginning with Sunday's homestand finale, the team has a desired position.
"We are all rallying together right now," Lindgren said. "We have great team chemistry and we are just building off that every night. Everyone has each other's back and we just go out there and play hard together and it is going to be tough to beat us when we are together like that every night.
Some of that unity was evident from the Saturday's outset.
The first inning was the defining one for both teams.
Lindgren gave up a leadoff triple, hit the next batter, then yielded a two-run double by Matt Mervis, one of the rising prospects with the Smokies, the Chicago Cubs affiliate. Chase Strumpf then followed with a single.
But a lineout from Bryce Ball to Blue Wahoos first baseman J.D. Osborne became an easy double play. Lindgren then recorded his first strikeout to escape worse damage in the inning.
"That was huge," Lindgren said. "Just seeing that ball go into the glove and getting two outs and help me reset was amazing. It helped me settle down a little bit and then we built off that and competed the whole time and got through it."
As Lindgren toweled off, took a deep breath in the dugout, his teammates instantly tied the game with the first two at-bats. Ray-Patrick Didder led off with a double. Troy Johnson continued his big-play swings with a moon-shot over the left-center wall.
More fireworks ensued. Catcher Paul McIntosh coaxed a walk. Griffin Conine then went opposite-field over the left field wall to give the Blue Wahoos a 4-2 lead. Devin Hairston, the ninth batter of the inning, then hit a run-scoring single to complete the five-run rally.
Tennessee starter Riley Thompson lasted only seven batters before getting pulled.
"Right when Didder hit that ball I knew (Smokies) were in trouble," Lindgren said. "It really hyped me back up, and got me back locked in, so it was great to have that support behind me in the first inning to calm me down and make me feel more comfortable."
From that point, Lindgren settled into a groove. Relievers Eli Villalobos and Colton Hock did the rest in the final three innings to seal the win. With the crowd on its feet and Faust helping with energy, Hock retired the Smokies in order for his sixth save.
"The slider was there all night," LIndgren said "I told Paul after the first inning we needed to go to it more. It was working well, I was able to locate it and that made my heater (fastball) play as well. Then obviously, our defense had my back and made me feel comfortable out there."
Lindgren, who grew up in Champagne, Illinois, said he was award of Nancy Faust, the Chicago resident who became famous for playing the organ from 1970-2011 at White Sox games.
"It was pretty cool," he said. II grew up a Cubs fan, though, so had had that rivalry growing up. But it was fun. It was awesome being out there."
GAME NOTABLES
--- The Blue Wahoos win Saturday was their 10th in the last 11 home games.
--- Bradlee Thomas, a member of the U.S. Air Force stationed in Warner-Robbins, Ga., proposed to his girlfriend Heather, a Gulf Shores, Alabama resident with the crowd cheering and emotions flowing between the couple. It followed a video Thomas created that was played on the video board. A story on this will appear on Sunday on the website.
--- The Home Run For LIfe provided by Ascension Sacred Heart Pensacola, had 4-year-old LIam Alaawah joined by his mother and father and older sister on the field following the fifth inning. Both teams' players came out in support. Liam waved to the crowd as his father held his hand.
--- There were several youth baseball teams on the field prior to the National Anthem, including a team from Louisiana and another from Crestview.
WANT TO GO?
BLUE WAHOOS HOMESTAND FINALE
WHO: Tennessee Smokies vs. Blue Wahoos.
WHEN: Sunday, 4:05 p.m.
WHERE: Blue Wahoos Stadium.
TICKETS: Online at www.bluewahoos.com/tickets. Box office opens at Noon on Sunday.
RADIO: ESPN-Pensacola (99.1 FM and 1330 AM and WYCT 98.7 HD4).
TV: YurView (check provider) and MILB.tv (streaming) through www.milb.com/live-stream-games with subscription discount using BLUE WAHOOS.
PROMOTIONS: Father's Day Sunday, the Blue Wahoos will wear specialty uniforms in honor of Gen. Chappie James, a Pensacola native who became the first four-star general in U.S. Armed Forces history. There will also be Family Sunday with kids able to run the bases and family toss in outfield.