Familiarity Brings Respect As Blue Wahoos Begin New Partnership With Miami Marlins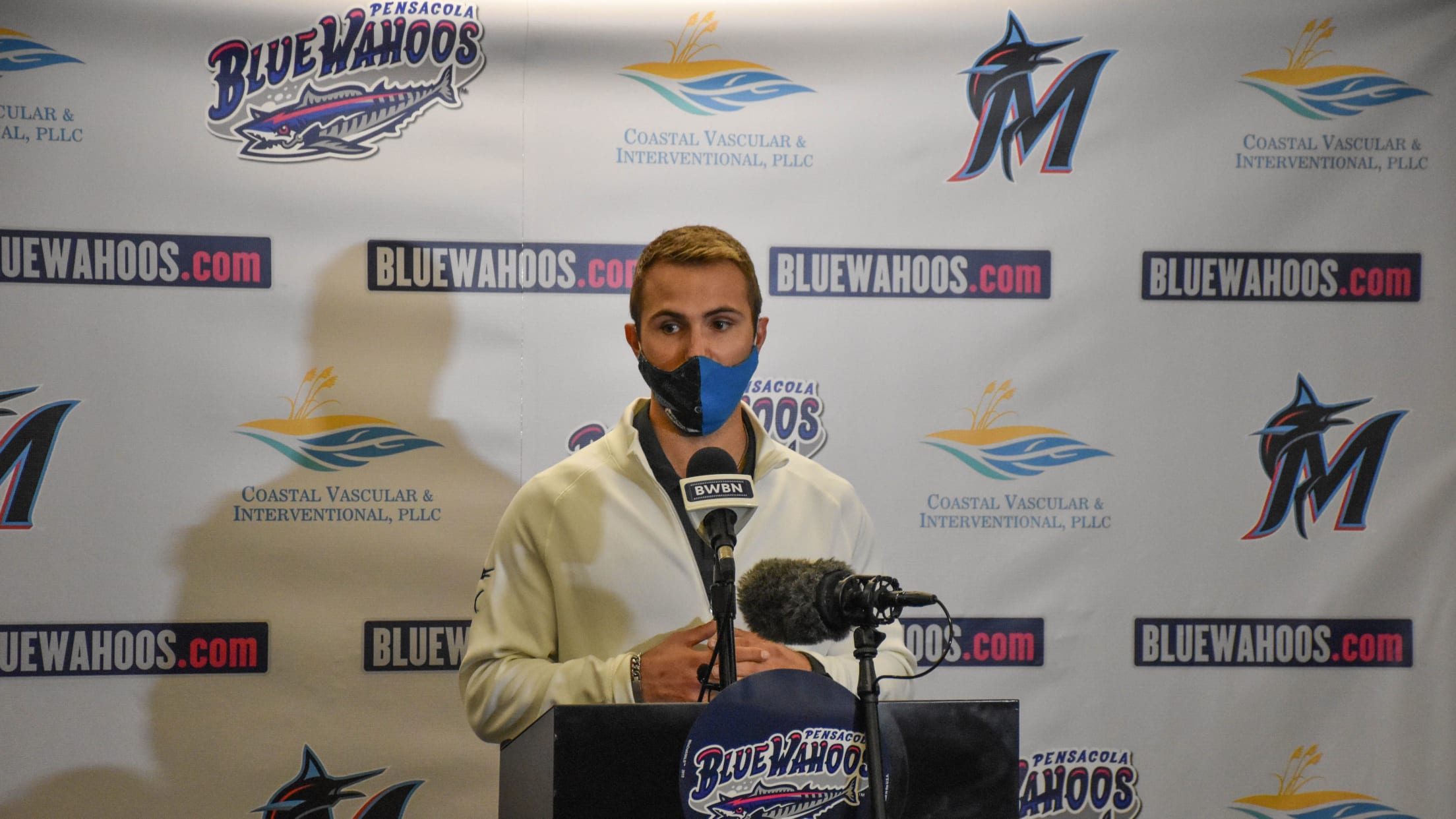 Miami Marlins director of minor league operations Geoff DeGroot addresses Pensacola area media representative on Jan. 7 at Blue Wahoos Stadium. (Daniel Venn)
As co-members of the Southern League, the Miami Marlins had familiarity with the Pensacola Blue Wahoos and their distinction in Minor League Baseball. There is now a direct connection. Mutual respect gained from the Marlins having the Jacksonville Jumbo Shrimp as their former Double-A affiliate has been reinforced in Pensacola's
As co-members of the Southern League, the Miami Marlins had familiarity with the Pensacola Blue Wahoos and their distinction in Minor League Baseball.
There is now a direct connection.
Mutual respect gained from the Marlins having the Jacksonville Jumbo Shrimp as their former Double-A affiliate has been reinforced in Pensacola's new partnership.
"We did play here quite a bit and vice versa, and talking to our staff, they always spoke very highly of their time here," said Geoff DeGroot, the Marlins director of minor league operations, who visited Pensacola and Blue Wahoos Stadium for the first time January 7.
The visit followed the invitation on Dec. 9 the Blue Wahoos received from Major League Baseball to become the Marlins' new Double-A affiliation. Jacksonville received an invitation on the same day to become Miami's Triple-A team in the revamped Professional Development Leagues.
The process is expected to be finalized later in January.
"I think that says a lot about an organization too is how they treat a visiting club when they come to town," DeGroot said. "Our organization had nothing but great things to say.
"It is an amazing facility, an amazing community and we are just super excited to be here."
During his visit, DeGroot had breakfast with Jonathan Griffith, president of Studer Retail and Entertainment, at the Bodacious Brew Café on Palafox Street. He rode around the downtown area. He met with team co-owners Quint and Rishy Studer.
He received a thorough tour of Blue Wahoos Stadium and all the player areas in both team clubhouses. He also met with Pensacola area media representatives at a press conference inside the Blue Wahoos clubhouse, which now has Marlins' logos decorating the wood lockers.
"First class and blown away," said DeGroot, 27, who joined the Marlins organization in 2018 following his own professional baseball career. "It is probably the best Double-A facility in terms of quality that I have gotten to walk around, so we are all about providing first class amenities in places for our players to play and this is just that.
"I couldn't be more excited about that. And just getting to walk around the city, this seems like an awesome community, an awesome downtown area and I think our players will really enjoy their time here."
The Marlins have a minor league system with a consensus rating among the Top 10 in baseball. Their major league team completed a dramatic turnaround in the abbreviated 2020 season, reaching the post season for the first time since 2003.
The Marlins followed with a dramatic sweep of the Chicago Cubs in the National League wild card playoff series. Their loss against the Atlanta Braves in the NL Division Championship Series was the Marlins first playoff series loss in franchise history.
The proposed Player Development Licenses between the MLB and MILB teams could exist for as long as 10-years, so both the Marlins and Blue Wahoos are looking at a long-term partnership.
"We are building a first class organization in Miami and it is very apparent to me that Quint runs his businesses in the same manner," DeGroot said.
DeGroot fielded a variety of questions during his press conference Jan. 7 at Blue Wahoos Stadium. Here is a sampling.
WHAT ARE THE MOST IMPORTANT THINGS YOU LOOK FOR TO BENEFIT YOUR PLAYERS?
"The first thing is the way the front office and everybody treats them. It is everybody you work with. And it's just clear that this is a first-class organization. They are going to treat our players well and go out of their way to do things in the best interests of them. And then everything around the facility, the overall space and square footage, the lounge area, it was clear this place was built to be comfortable for our players. They spend so much time here and it is very welcoming to them. The dugouts, the batting cage, it is everything we look for."
WITH THE REORGANIZATION OF MINOR LEAGUE BASEBALL. WHAT IMPACT WILL THAT HAVE AND HOW WILL IT AFFECT THE MARLINS?
"Obviously, there are still a lot of rules and regulations that need to be released, but just the general idea of making things more geographically aligned makes a ton of sense for us. It will make it a lot easier for the players in terms of travel. Making sure facilities are up to par is something that is great for our players as well. Overall, I think it will make things a lot easier from an operational standpoint on both organizations."
FROM THE OUTSIDE LOOKING IN, IT SEEMS LIKE THERE WAS A MASSIVE TURNAROUND IN THE MARLINS ORGANIZATION LAST YEAR. WHAT WAS IT LIKE TO EXPERIENCE THAT?
"It's pretty cool to have been here for the past 3 years and it's just a huge credit to everybody in our organization. The tireless, relentless work they have put in from Day One. That's players, support staff, front office, coaches, everybody. It's a group effort. And a tip of the cap to our ownership group for setting the culture and setting the standard early on and holding everybody accountable to that. It has been a really rewarding time. Last year was very challenging in the beginning and it's still challenging. But for us to make the post season was really great for our organization. First time since 2003, but still have a long way to go. We are not satisfied until we are contending for championships and winning championships."