Blue Wahoos' Jeff Lindgren Has Memorable Game On Unforgettable Night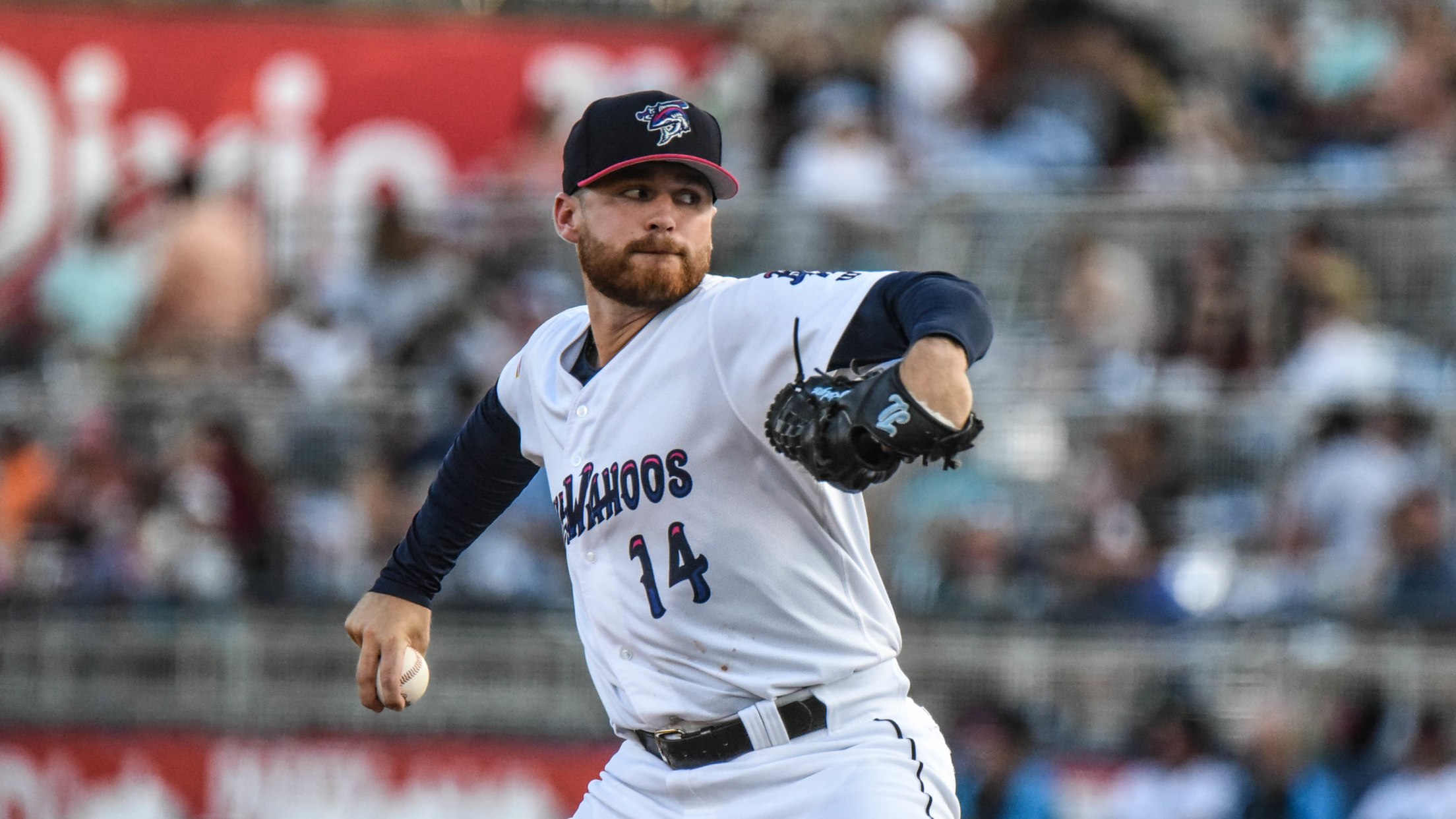 Jeff Lindgren had a career-high 10 strikeouts and allowed just one hit in his seven innings to lead the Blue Wahoos to a 6-0 win against Biloxi. (Daniel Venn)
Jeff Lindgren was down the right field line, warming up Saturday night as the Blue Wahoos starting pitcher, when he suddenly experienced an unforgettable moment. A capacity crowd filing into Blue Wahoos Stadium suddenly went silent. Both teams paused final preparations. Players stared at the video board. The emotion was
Jeff Lindgren was down the right field line, warming up Saturday night as the Blue Wahoos starting pitcher, when he suddenly experienced an unforgettable moment.
A capacity crowd filing into Blue Wahoos Stadium suddenly went silent. Both teams paused final preparations. Players stared at the video board. The emotion was palpable.
On the giant screen, continual list of all the victims, all the heroes, who lost their lives 20 years ago in the 9/11 terrorist attacks, kept scrolling. Somber music filled the ballpark.
"It was a thing I have never been a part of before," said Lindgren said, who turned to Blue Wahoos pitching coach Tim Norton to relay that sentiment as he warmed up.
"It was pretty awesome," Lindgren said. "Just hearing the pop of the glove with everyone at the video board listening to something and to respect everyone who took part in that."
The 24-year-old right hander, a 24th round pick by the Miami Marlins in 2019 out of Illinois State, then went out and created another special memory.
He matched his longest outing, yielding just one hit and producing a career-high 10 strikeouts in seven innings, helping lead the Blue Wahoos to a 6-0 victory against the Biloxi Shuckers to end a four-game losing streak.
Two relievers, Josh Roberson and Andrew McInvale followed with scoreless innings to complete the one-hitter. Peyton Burdick and J.J. Bleday both crushed home runs. The defense was solid.
It was a marked contrast to the four prior games this week against Biloxi, which all ended with frustrating losses and lack of run production.
The difference Saturday, before a sellout crowd of 5,038 on the season's final Saturday home game, began with how Lindgren shined on the mound.
"It was really fun to go out there in front of this (sellout) crowd," said Lindgren "Defense picked me up. Made a lot of good plays. And the hitters came to play today, hitting the ball around the yard and made it a lot easier for me to just relax out there and pitch.
"A pretty important game for us after a tough week, because we are still trying to make a little playoff push, so hopefully this keeps us back on track."
While the Blue Wahoos (55-53) didn't gain ground in the playoff race, they gained solace by playing their best game of the week's series.
On a day that commemorated the 20th year that has passed since 9/11, the Blue Wahoos had an array of various poignant moments to honor the memories.
"It really just calmed me down and the energy around the park was pretty cool," Lindgren said. I think it honestly helped me just to stay calm and get going in the game."
It also became a day where two of the Marlins' minor league affiliates – the Beloit (Wisc.) Snappers as the other – both had combined one-hitters in wins.
For Lindgren, his 20th start this season was his best one. He had a two-hit shutout in six innings August 15 against the Montgomery Biscuits in Blue Wahoos Stadium.
"I keep learning every day," he said. "Norty (Norton) and our pitching coordinator have helped me out a lot with learning how the hitters take approaches toward me and how I need to pitch backwards to them."
The Blue Wahoos flipped the script Saturday on the Shuckers by finally jumping to a sizable early lead. Lazaro Alonso hit a two-out double off the centerfield wall to score Bleday, after he reached on a walk in the first inning.
In the decisive third inning, Peyton Burdick hit another moonshot homer – a two-run blast – over the left center wall. It scored Kameron Misner who had preceded with an RBI double. Bleday then hit a two-run homer in the eighth that scored Misner.
The series concludes Sunday (4:05 p.m.) with the Blue Wahoos playing their final regular-season home game. The Blue Wahoos trail the Birmingham Barons (61-52), who have won five straight against Rocket City, by 3.5 games.
GAME NOTABLES
--- The game's theme was a solemn one, paying tribute to the 9/11 terrorist attack that occurred on Sept. 11, 2001. The memorials included the Blue Wahoos using Section 113, Row K to block off with ribbons on row of seats, a red carpet and red velvet rope stanchions.
Each seat had a note affixed paying tribute to the 20th commemoration of the attack and those who have lost their lives in the war on terror.
--- Major League Baseball provided all teams across all levels with a special-created video that was played at all ballparks along with a red/white/blue ribbon logo.
--- In addition to designating a seat memorial, the Blue Wahoos used their video board to play a 10-minute roll of all the names who lost lives on 9/11. There was also a joint color guard of Pensacola Police and Pensacola Fire Department.
--- The National Anthem was performed by the First Baptist Church of Gulf Shores. The choir also performed God Bless America.
--- Most among the sellout crowd was treated to the final Saturday fireworks show of 2021, courtesy of game sponsors Lewis Bear Company and Buffalo Rock.
BLUE WAHOOS HOME FINALE
WHAT: Final Regular Season Home Game.
WHO: Biloxi Shuckers vs. Blue Wahoos.
WHEN: Sunday, 4:05 p.m. (Gates open at 3 p.m.)
WHERE: Blue Wahoos Stadium.
RADIO: ESPN-Pensacola (99.1 FM, 1330 AM), Chris Garagiola on play-by-play.
PROMOTIONS: 2021 Team Photo Giveaway. The first 2,000 fans will receive a team picture poster. Plus, children attending will be able to run bases and families can play catch in outfield for final time this season.
TICKETS: Available online at www.bluewahoos.com or at stadium box hours before game.