Braves Fall Short, But Break Up Bid For Perfection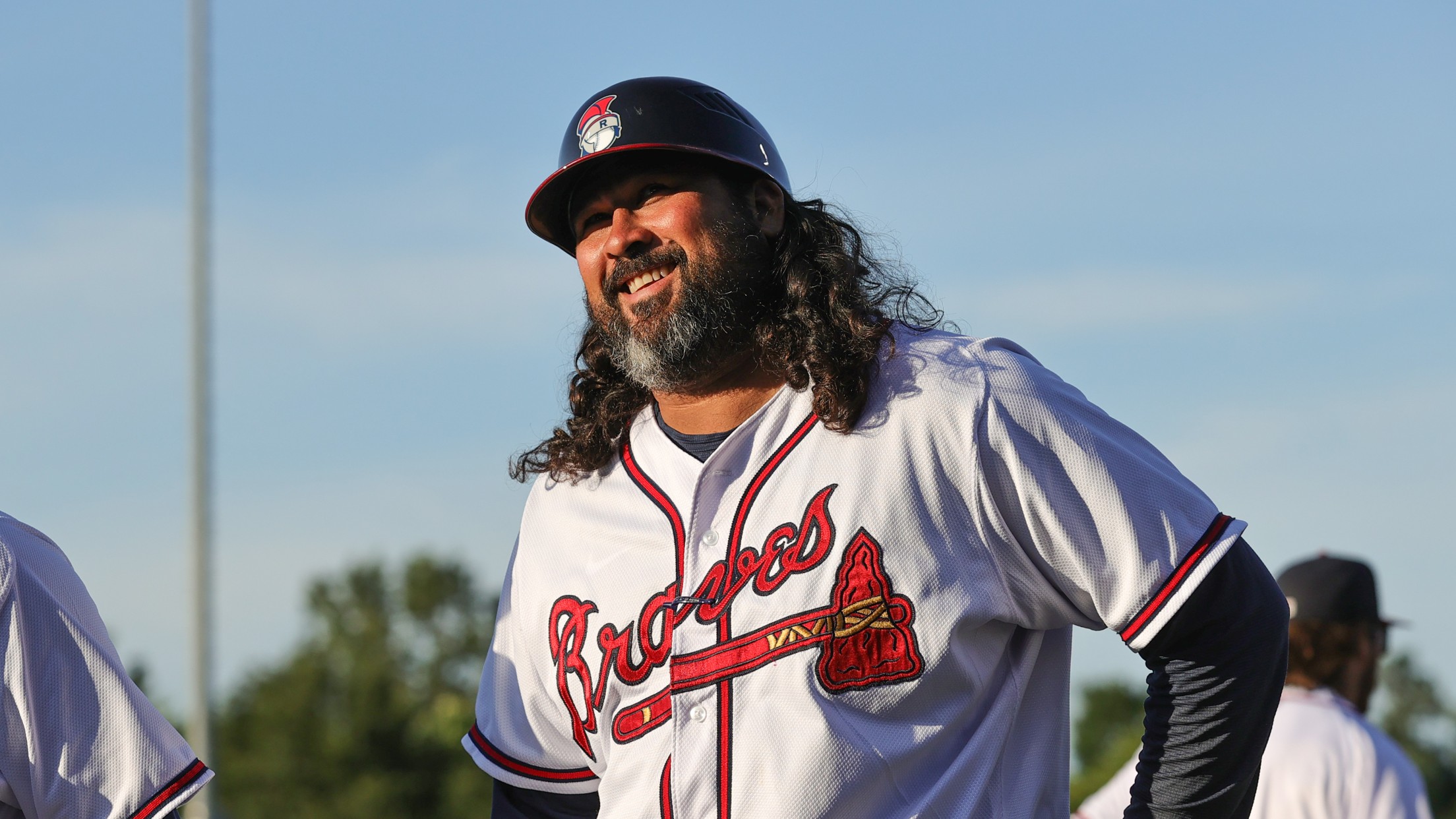 Rome manager Kanekoa Texeira smiles before the Braves and Blue Rocks game on June 11th. (Mills Fitzner)
ROME, GA – It was a picturesque Saturday night at AdventHealth Stadium as the Rome Braves and Wilmington Blue Rocks met for the fifth game of the six game stint, with Luis De Avila getting the starting nod for the Rome Braves and Tim Cate on the bump for the
ROME, GA – It was a picturesque Saturday night at AdventHealth Stadium as the Rome Braves and Wilmington Blue Rocks met for the fifth game of the six game stint, with Luis De Avila getting the starting nod for the Rome Braves and Tim Cate on the bump for the Blue Rocks.
De Avila would find himself in early trouble as Nick Banks drove in the game's first run in the bottom of the first with a ground out that scored leadoff man Darren Baker. Yasel Antuna would add on to the Blue Rocks lead with a one run single to plate Jose Sanchez in the top of the third, and Drew Mendoza would score the third and final run for Wilmington with a single in the top of the fifth with a line drive single to left.
Tim Cate would be the night's storyline, as the lefty was perfect through five and one third of an inning. The lefty would sit down eleven Rome hitters before Cade Bunnell would smack a single right back up the middle to spoil the perfect game bid. Cody Milligan would drive in Bunnell on a single to put the Braves on the board in the bottom of the sixth, and that would be the end of the night for Wilmington's Tim Cate.
Rome would keep trying to claw back, and would draw the score within one with a Justyn-Henry Malloy ground out that scored Vaughn Grissom from third. Grissom would lead off the bottom of the seventh with a single, but an error by Wilmington would put the Rome star at third with no outs. However, the Wilmington pitching staff would come up when it counted most, shutting down the Braves' bats over the last two frames.
After taking game five by a final score of three runs to two, Wilmington now moves to one game above .500 with twenty-seven wins. Rome's record now sits at thirty-one wins and twenty-five losses. The Braves and Blue Rocks will wrap up the six game stint, and Rome will cap off a twelve game homestand tomorrow with a 2:00 pm first pitch. Lefty Lisandro Santos is scheduled to start for the Braves, and Mitchell Parker gets the ball for Wilmington.