Lambert brothers still growing together
Rockies, White Sox righties thriving in respective systems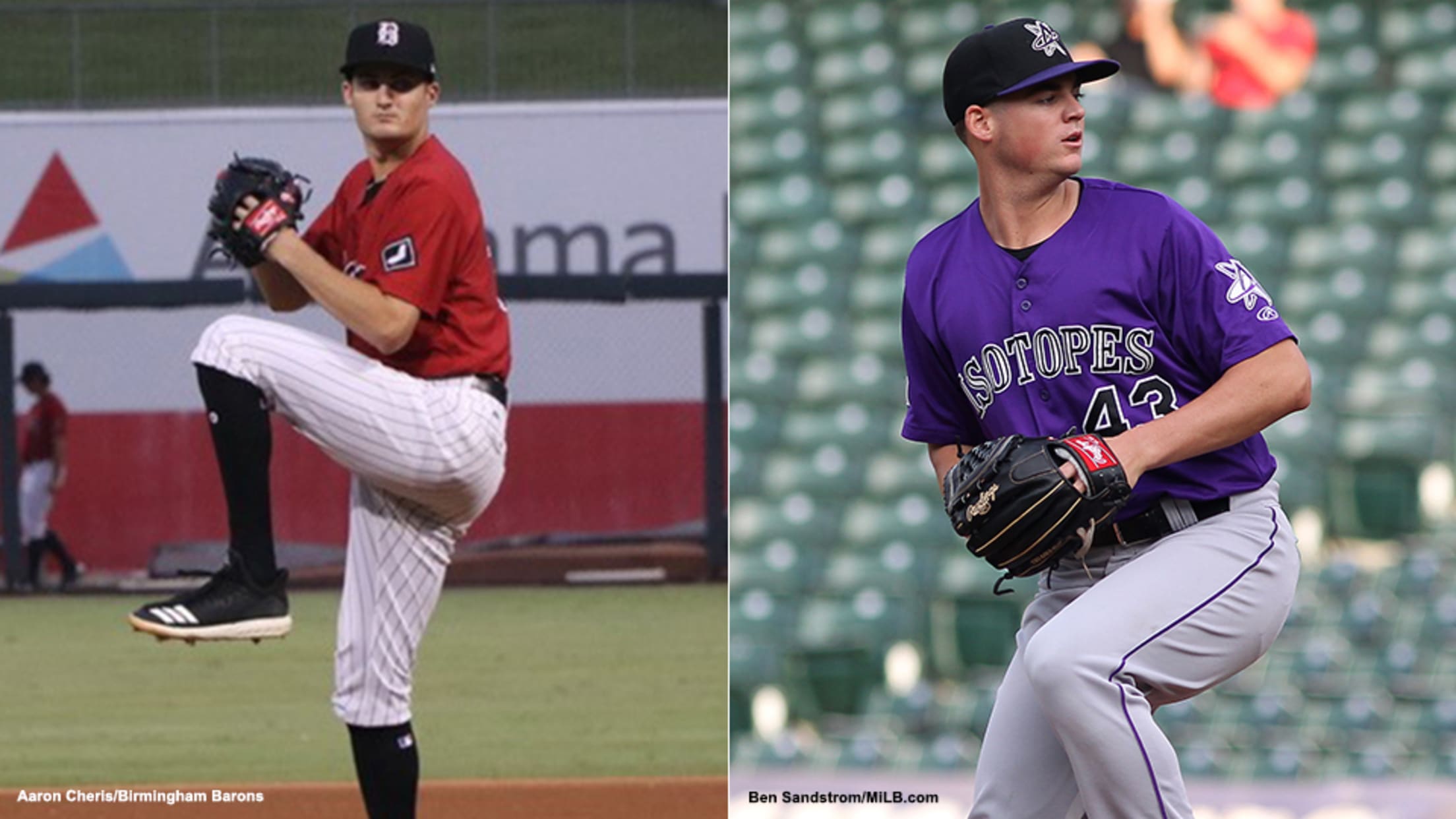 Brothers Jimmy Lambert and Peter Lambert have combined for 210 strikeouts over 217 innings in different systems this season.
Growing up in Southern California, Peter Lambert and Jimmy Lambert always had a special relationship within their tight-knit family of seven.But as siblings are wont to do, they competed against each other in just about any imaginable activity. Whether in Ping-Pong, the latest video game or backyard shenanigans, each brother had
Growing up in Southern California, Peter Lambert and Jimmy Lambert always had a special relationship within their tight-knit family of seven.
But as siblings are wont to do, they competed against each other in just about any imaginable activity. Whether in Ping-Pong, the latest video game or backyard shenanigans, each brother had an insatiable drive to win.
"We're just super-competitive. We always have been," Peter said. "It just really pushes us to do better."
That desire to one-up the other translated into success on the baseball diamond for the Lambert brothers early on. Only two years apart -- Jimmy is 23 and Peter is 21 -- the pair of right-handers drove each other to do better in every aspect of the game. Each brother enjoyed seeing the other improve almost as much as he enjoyed winning himself... almost.
Through that balance of competitiveness and support, they carved out individual paths to get to where they are today -- within shouting distance of reaching their shared ultimate goal of pitching in the Major Leagues. Each has made his own positive impact within his organization this season, Peter as the second-ranked Rockies prospect (No. 86 overall) and Jimmy as the No. 21 White Sox prospect.
And even as they've piled up accolades along the way, being able to go through the development process together has been their most meaningful reward.
"Some people have their dad or something like that, but it's rare to have your brother that's going through the exact same thing as you, here at the same time and you're able to talk to each other," the older Lambert said. "It's just an advantage to have that relationship. I'm his biggest fan and I think he is mine, so hopefully one day we can match up in the big leagues."
Their parents, mostly watching from their home in the suburbs of Los Angeles, could not be more pleased with the way their sons have worked to hit goals and grown as people through their efforts.
"It's been phenomenal to see them progress through the two systems and it's been a lot of fun," their father Jim Lambert said. "It's been pretty exciting both watching them move on, progress and be successful to the extent that they've been successful thus far."

Diverging paths
Because of the timing of their birthdays -- Jimmy was born on Nov. 18, 1994 and Peter on April 18, 1997 -- the Lambert brothers didn't play together through their Little League and teenage travel ball years, except at home. But in 2013, the siblings were finally presented an opportunity to shine on the same field.
That spring, Jimmy was finishing up his senior year at San Dimas High School, where he entrenched himself as a valuable two-way player. Peter, meanwhile, was entering his sophomore season and catching on with the varsity club. Jimmy dominated on the hill with 13 wins and a 1.18 ERA en route to a Second Team All-State award, and Peter floated around the infield and batted .383.
It was a short 30-plus game stint, but the two brothers wearing the same uniform gave the family some memories that they'll cherish for a long time.
"There were a lot of fun years watching them go through San Dimas High School," Jim Lambert said. "And, yeah, they did only play one year together, and it was great. I enjoyed it. We all enjoyed it."
After Jimmy graduated, he opted to join the college ranks 4 1/2 hours north at Fresno State. Peter blossomed into one of California's most dominant high school arms, boasting a perfect 13-0 record and 0.34 ERA his senior year to earn All-Region First Team status and a nod as a 2015 Perfect Game 2nd Team All-American. He also got an offer to play for UCLA.
The Lambert family gathered in their home on the first night of the MLB Draft that June and learned that one of them would get the chance to play pro ball. Peter was taken with the second pick of the second round, at No. 44 overall, by the Rockies. He elected to forgo his college commitment and sign his first professional contract.
"It was a crazy year," he said. "It was the first time my family and I had been through something like that, so it was a huge learning experience. Going through the Draft, I had the nerves and all that, but it all worked out."
The older right-hander, in the meantime, had posted a 4.66 ERA in his sophomore season with the Bulldogs. As thrilled as Jimmy was to see his younger brother taken so early in the Draft, he also used that day as a push. If Peter could establish himself as a highly sought arm out of high school, Jimmy was sure he could do the same in his third year at Fresno State.
He did, producing his best collegiate season in 2016 with a 10-2 record and a 3.18 ERA across 97 2/3 innings. It was enough to grab the attention of professional scouts, and sure enough, for a second straight year the Lamberts had reason to celebrate in mid-June. Jimmy was drafted by the White Sox in the sixth round.
"It's always been a dream of mine and [Peter's] dream to play professional baseball," the older brother said. "So that was my goal, Day 1 stepping onto campus. It was to put myself in good position to get drafted in a good spot after my junior season. After my sophomore year was when he got drafted, and I saw it, and I'm sure there was some added motivation there. But then next thing you know, I was putting myself in good position my junior year and I was joining him in the Minors."

Making strides
In 2017, Jimmy's first full year as a professional, he experienced enough success at Class A Kannapolis to earn a promotion to Class A Advanced Winston-Salem. But the Carolina League challenged him, and it showed. He made 14 starts for the Dash and finished with a 5.45 ERA and 1.51 WHIP -- numbers he wasn't accustomed to seeing.
Coming into this season, newly minted White Sox quality control coach Everett Teaford presented him with some data. Analyzing pitches using TrackMan points, Teaford made a discovery about Jimmy's two-seam fastball. The sinking action that Jimmy relied on wasn't as prevalent or as helpful in terms of getting hitters out as previously believed. On the other hand, his four-seam fastball proved to be more than adequate to get the job done.
The elder Lambert revamped his repertoire during Spring Training and hasn't looked back. In a second Carolina League stint, he trimmed his ERA by nearly two runs to 3.95 while holding a 3.03 FIP, per FanGraphs. Even more impressively, he raised his Class A Advanced strikeout rate from 17.7 percent in 2017 to 28 percent this year. And with those improvements, he earned a midseason promotion to Double-A Birmingham, where he went 3-1 with a 2.88 ERA through five starts before being sidelined with a left oblique strain at the end of July. Between the two levels, he's compiled a career-best 110 strikeouts over 95 2/3 innings.
"I attribute the difference between this year and last year, basically, all to that information. So I think it's huge," he said. "I was throwing a two-seam fastball thinking that it was sinking, but, in reality it wasn't sinking, according to the data. It was obvious to me that I was getting hit when I was throwing it.
"I was presented the information that I have a four-seam with plus carry. Just being able to throw that and get swings and misses on that, and kind of get that in early in the counts and get ahead and get to the off-speed stuff has helped tremendously. And it's the same thing with my curveball. It's a plus curveball. And I wasn't throwing it as much in the past, but the data is telling me I should throw it, and I started throwing it."
Richard Dotson, a 12-year Major League veteran who's in charge of the Birmingham pitching staff that includes six ranked prospects, has seen plenty of talented arms in his day. In the older Lambert, he sees a pitcher who's taken the right steps to develop a solid breaking pitch to work in conjunction with the hard stuff.
"With Jimmy's stuff, his curveball has gotten so much better," the pitching coach said. "His changeup is very good and I wouldn't say he's bagged [the two-seam fastball], but he's thrown more four-seams than two-seams. That's good stuff and it makes sense. ... Jim seems like he pays attention to what he's doing and takes notes."
The younger Lambert has also put together a breakout campaign in 2018. After battling with the hitter-friendly confines of the California League with Class A Advanced Lancaster last year, Peter started this season with Double-A Hartford, posting the Eastern League's best ERA (2.23) and WHIP (0.99). He recorded 75 strikeouts in 92 2/3 frames, but had impeccable control with 1.17 walks per nine innings while allowing 5.7 percent of his fly balls to jump out of the park.
On June 30, just three days after his older brother had been sent to the Southern League, Peter earned his first chance in the Pacific Coast League. Once again in an environment that favors hitters, he holds a 4.71 ERA and 1.78 WHIP in a small six-start sample at the Minors' highest level. He offers a similar pitch mix as his brother, working off a fastball, changeup, curveball and slider.
"It's definitely been a learning experience for me going from Double-A to Triple-A," he said. "My mindset is to keep doing what I was doing and don't try to be somebody I'm not. Don't try to throw harder or make my pitches more nasty. ... It was just going out there and pound the zone and throw strikes and just get ahead of hitters, basically."
Staying close
While they're no longer under the same roof all year, the Lambert brothers haven't lost anything in their relationship. In fact, going through the Minors at the same time has only strengthened their bond. In the offseason, they live together and work out together. During the season, they check in with each other nearly every day.
When they have some down time, they try to track each other's starts via MiLB.TV or on the radio. Wielding similar pitches, they sometimes bounce ideas off each other about how to approach hitters or situations.
"If there's ever a time he's struggling or doing well, I want to know," Jimmy said. "And the same goes for him. He's basically my best friend. We're basically going through the same stuff and basically at the same level -- obviously he's at Triple-A now. We're very similar pitchers, so we're able to pick each other's brains and feed off each other. It's definitely nice to have that."
With the Majors one step away for Peter, the younger brother is focused on making improvements to his game rather than worrying about a potential callup.
But considering that the brothers are both in the upper levels of the Minors and pitching well this season, it's not hard to imagine them facing one another in an interleague matchup at some point in the next couple years.
"That would be something," Peter said. "Our parents wouldn't know what to do with themselves, but that would be a lot of fun."
Jimmy admitted that he's allowed himself to think about not only that possibility, but also another slightly more improbable one.
"It's definitely out in the distance a little bit, but we're closing the gap on the Major Leagues and [starting against each other] happening," he said. "So hopefully we're able to match up at some point in the near future or maybe even play on the same team."
But even if neither event takes place, the Lambert family couldn't be happier to see the brothers come as far as they have.
"I'm just proud of what they've accomplished and the way that they've conducted themselves through the process," Jim Lambert said. "It's just been a great experience for [their] mom and me and [their] siblings as well. I just appreciate that."
Andrew Battifarano is a contributor to MiLB.com. Follow him on Twitter, @AndrewAtBatt.