Crim's Dominant Season Earns MVP Honors
Hook named NWL Manager of the Year, Garcia and Leal All-Stars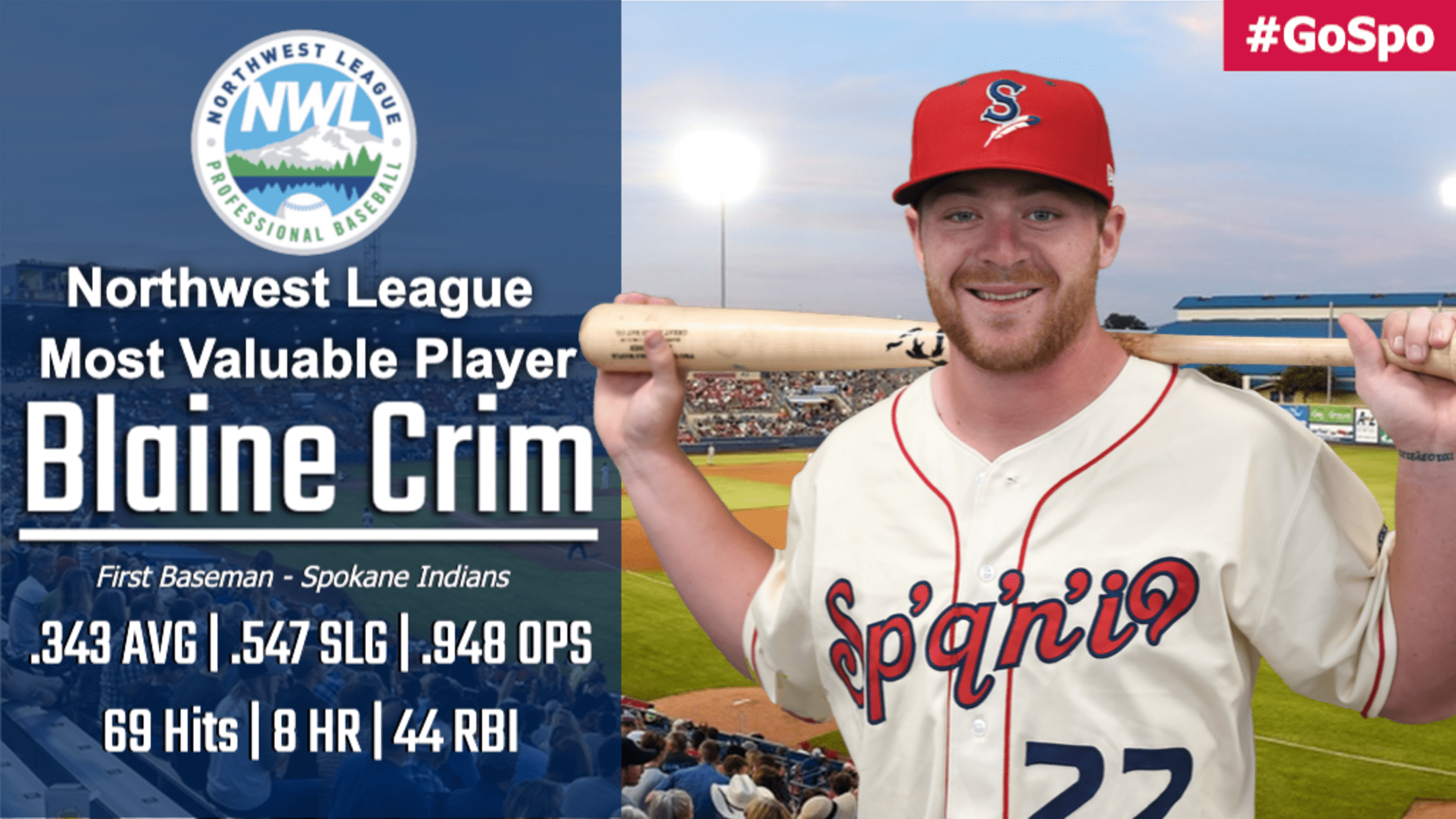 SPOKANE, Wash. - The Spokane Indians remarkable 2019 campaign received some significant league-wide recognition on Thursday headlined by first baseman Blaine Crim being named the Northwest League Most Valuable Player. He follows up Curtis Terry's MVP award last season, making it the first time the Indians have won consecutive MVP
SPOKANE, Wash. - The Spokane Indians remarkable 2019 campaign received some significant league-wide recognition on Thursday headlined by first baseman Blaine Crim being named the Northwest League Most Valuable Player. He follows up Curtis Terry's MVP award last season, making it the first time the Indians have won consecutive MVP awards since 1989-1990 (Dave Staton/Matt Mieske).
Crim leads the Northwest League in a plethora of categories. His 69 hits, .343 batting average, 44 RBI, .547 slugging percentage, and .948 OPS lead all current Northwest League hitters. He's also top five in both doubles (15) and home runs (8). He's done it all while striking out just 27 times in 219 plate appearances over 50 games.
The Alabama-native has been the consistent rock of the Indians lineup all season long. He's hit above .300 in June, July, and August. On the road, he has a .381 average and a whopping 1.043 OPS. Even more impressive, the 19th round pick has shone brightest in clutch moments. In 59 at-bats with runners in scoring position, the product of Mississippi College is batting an incredible .458. With two outs and runners in scoring position, he's 16-for-35 with two homers and 15 RBI.
Crim isn't the only Indians' award winner in 2019. Kenny Hook took home Northwest League Manager of the Year honors as well. In his first season as Spokane's skipper, Hook has led the Indians to a 42-29 overall record and a First Half NWL North Division Championship. The Indians are on pace for their most wins since 2008 (51), the last year they won the NWL Championship. Coincidentally, Tim Hulett, the Indians manager that season, is the last Spokane manager to win the award ('08 and '10).
Last but not least, Indians' catcher David Garcia and reliever Werner Leal join Crim as members of the NWL Year-End All-Star Team. Garcia is batting .274 this season with five homers and 27 RBI. The catcher is second on the team in doubles (13) and third in runs scored (33). Leal leads Spokane with four saves. The right-hander from Venezuela has struck out 55 hitters in 45.1 innings and sports a minuscule 0.60 ERA. At home this season, Leal has given up just one run in 25.1 innings and opponents are hitting a measly .111 against him.
Don't miss your opportunity to come see the Northwest League MVP Blaine Crim and the first place Spokane Indians. You have just two more regular season opportunities to come see your hometown team at Avista Stadium. For tickets to any of the two remaining home games this season, CLICK HERE or call the Spokane Indians Ticket Office at (509) 343-6886.

OFFICIAL RELEASE FROM THE NORTHWEST LEAGUE
On Thursday the Northwest League announced the 2019 NWL Year-End All-Star Team, along with the league's Most Valuable Player, Pitcher of the Year, and Manager of the Year.

All eight Northwest League teams are represented.
NWL President Mike Ellis Statement:
"It's been another memorable season of Northwest League Baseball with some outstanding individual performances throughout the league. Those who were named to the 2019 Year-End All-Star Team should take great pride in such a prestigious honor. We admire your hard work and dedication to your craft. Congratulations, you are amongst the best of the best this season."
2019 Northwest League Individual Honors
Most Valuable Player
Blaine Crim Spokane
Pitcher of the Year
Deyni Olivero Hillsboro
Manager of the Year
Kenny Hook Spokane
2019 Northwest League Year-End All-Star Team
(Statistics through 8/27/19 game)
Lineup
C David Garcia Spokane
| .273 AVG / 5 HR / 13 2B / 27 RBI / 32 Runs |
1B Blaine Crim Spokane
| .343 AVG / .551 SLG / 8 HR / 44 RBI |
2B Kelvin Melean Tri-City
| .322 AVG / 14 2B / 27 RBI / 20 Runs |
3B Aaron Schunk Boise
| .329 AVG / .540 SLG / 6 HR / 23 RBI / 31 Runs |
SS Patrick Frick Everett
| .301 AVG / 12 2B / 21 RBI / 44 Runs |
OF Edmond Americaan Eugene
| .278 AVG / 16 2B / 26 RBI / 34 Runs / 13 SB
OF Alexander Canario Salem-Keizer
| .300 AVG / 8 HR / 16 2B / 36 RBI / 35 Runs |
OF Kristian Robinson Hillsboro
| .319 AVG / 9 HR / 35 RBI / 29 Runs / 14 SB |
DH Franklin Labour Salem-Keizer
| .307 AVG / .639 SLG / 14 HR / 34 RBI / 37 Runs |
Pitchers
P Deyni Olivero Hillsboro
| 7-2 / 1.81 ERA / 40 K |
P Marcos Tineo Hillsboro
| 6-3 / 2.32 ERA / 64 K |
P Kervin Castro Salem-Keizer
| 5-3 / 2.74 ERA / 58 K |
P Adam Kloffenstein Vancouver
| 4-4 / 2.16 ERA / 56 K |
P Werner Leal Spokane
| 3-1 / 0.62 ERA / 52 K |