Duvall's 30th Homer Backs Wilson's 10th Win in 8-2 Victory
Stripers trim magic number for a playoff berth to one with rout of Norfolk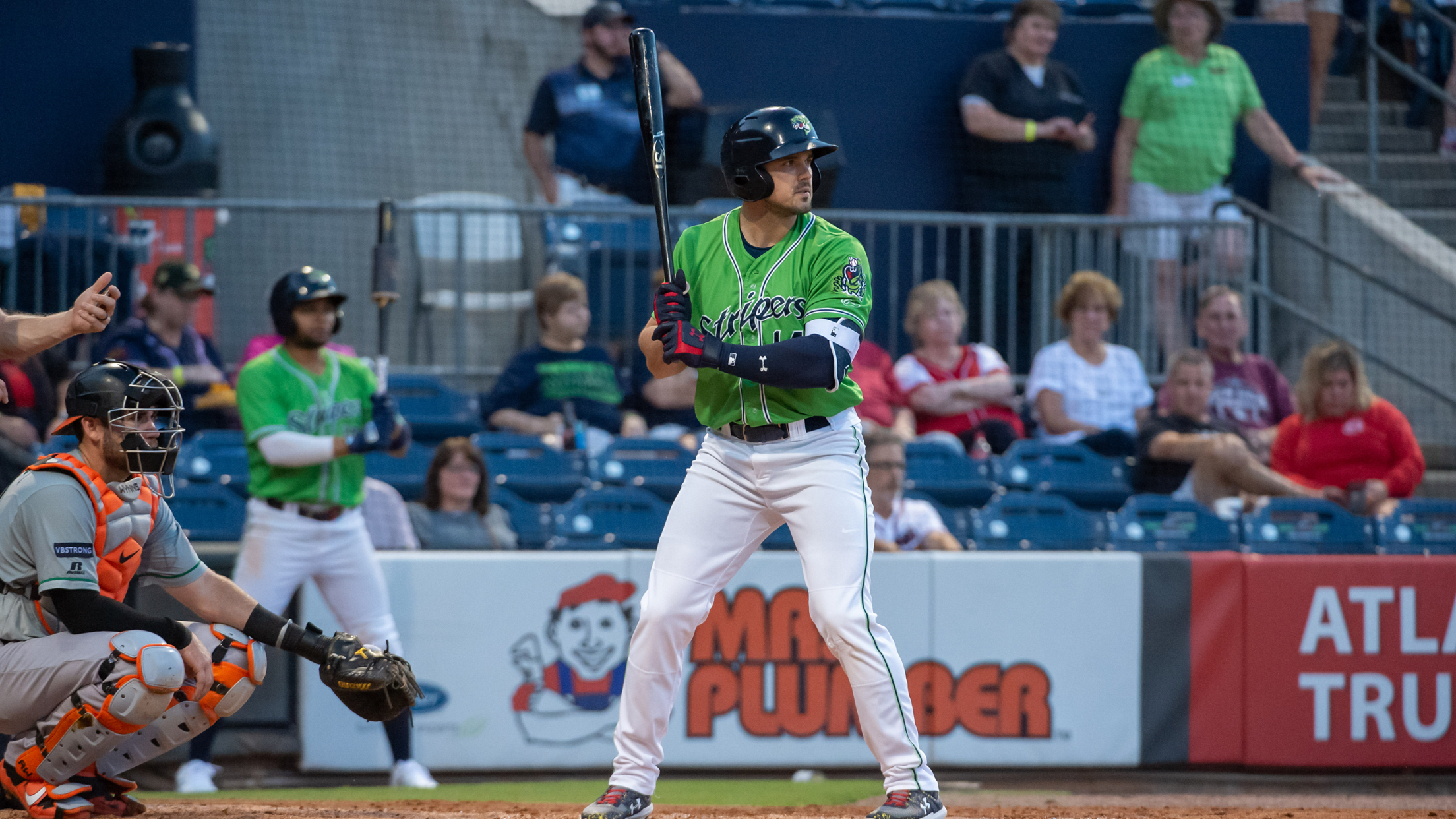 Duvall became the first player in Gwinnett franchise history to reach 30 homers. (Bernie Connelly/Gwinnett Stripers)
LAWRENCEVILLE, Ga. - Adam Duvall hit his 30th home run of the season, and Bryse Wilson tossed 7.0 two-run innings for his 10th win as the Gwinnett Stripers (77-56) beat the Norfolk Tides (56-77) 8-2 on Tuesday night at Coolray Field. With the win, the Stripers' magic number to clinch
LAWRENCEVILLE, Ga. - Adam Duvall hit his 30th home run of the season, and Bryse Wilson tossed 7.0 two-run innings for his 10th win as the Gwinnett Stripers (77-56) beat the Norfolk Tides (56-77) 8-2 on Tuesday night at Coolray Field. With the win, the Stripers' magic number to clinch a Governors' Cup Playoff berth is one (over Durham), while their magic number to clinch the International League South Division title is three (over Charlotte).
Scoring Recap: The Tides took a 1-0 lead in the second inning on an RBI single from Zach Vincej. In the fourth, the Stripers tied the game at 1-1 on an RBI double from Austin Riley and took a 3-1 lead on a two-run double from Sean Kazmar Jr. Gwinnett made it 7-1 in the fifth as Johan Camargo lined an RBI double and Duvall (30) hit a 436-foot three-run homer to left-center off Dean Kremer. Norfolk cut the lead to 7-2 in the sixth on a 378-foot solo homer from Mark Trumbo (3) off Wilson. Gwinnett added one more run in the eighth on an RBI single from Luis Marté to make it 8-2.
Stripers Stats: Wilson (W, 10-7) allowed two runs on nine hits, walked one and struck out nine over 7.0 innings. Jeremy Walker struck out two over 2.0 perfect innings. At the plate, Camargo went 3-for-4 with two doubles and an RBI, Riley went 2-for-4 with a double and an RBI, Duvall went 1-for-3 with a homer and three RBIs, and Kazmar Jr. went 1-for-4 with a double and two RBIs.
Tides Stats: Kremer (L, 0-2) worked 5.0 innings and yielded seven runs on nine hits. Offensively, Trumbo went 1-for-4 with a homer and one RBI.
Quote: "I continued to mix my pitches and have kept hitters off balance," Wilson said. "I was able to keep executing pitches and help the team get a win."
Postgame Notes: Wilson became the second pitcher in Gwinnett history to win six consecutive starts, joining Kanekoa Texeira (6-0 from July 20-August 15, 2015). During that 6-0 span, he leads the IL in ERA (0.90), WHIP (0.95), and BAA (.214). Duvall is the first player in Gwinnett history to produce a 30-homer season. Camargo has hit safely in all 11 games since joining the Stripers on August 17, batting .522 (24-for-46) with seven extra-base hits, 11 RBIs, and a 1.277 OPS.
Next Game (Wednesday, August 28): Gwinnett vs. Norfolk, 7:05 p.m. at Coolray Field. RHP Huascar Ynoa (2-5, 5.06 ERA) for the Stripers vs. LHP Ty Blach (0-0, 7.71 ERA) for the Tides. Radio Broadcast: 6:50 p.m. on 97.7 and 93.5 FM "The Other Side of the River."