Eastern Shore Legends: Jimmie Foxx
Sudlersville native second player to hit 500 home runs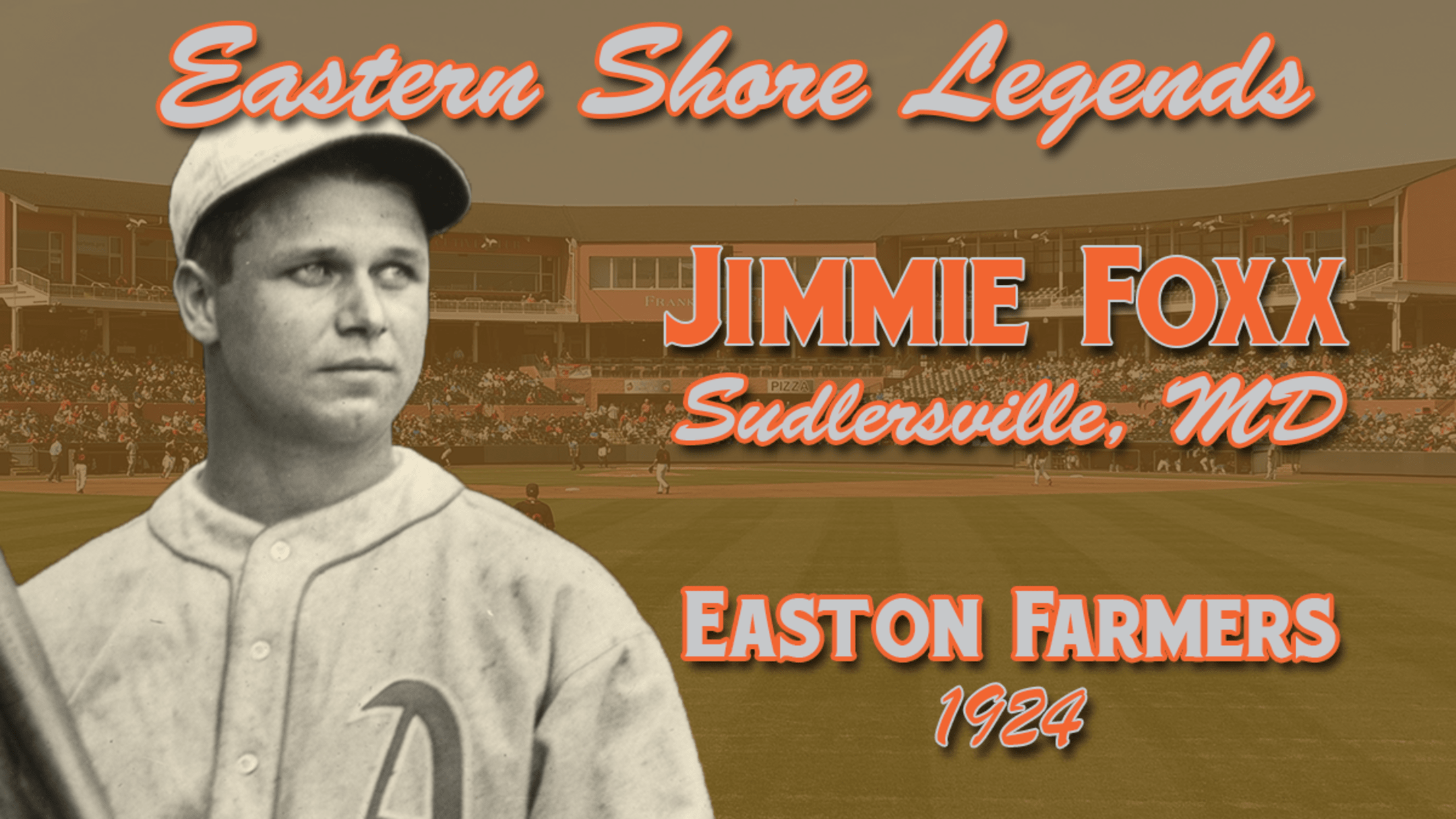 In 1924, there was a rumor around the Eastern Shore about a power-hitting 16-year-old farm boy. Some said he could hit a baseball almost a mile. One area manager wanted him on his team. Home Run Baker, himself already a legend, traveled to Sudlersville, Maryland, to find the young farmer,
In 1924, there was a rumor around the Eastern Shore about a power-hitting 16-year-old farm boy. Some said he could hit a baseball almost a mile. One area manager wanted him on his team. Home Run Baker, himself already a legend, traveled to Sudlersville, Maryland, to find the young farmer, and he did. Jimmie Foxx would join his Eastern Shore League team and begin a career that made him one of the most fearsome hitters the game has ever seen.
Before he became known as "Double X" or "The Beast," James Emroy Foxx was born in Sudlersville on October 22, 1907. Right off the bat, he had baseball blood pumping in his veins: his father Dell played baseball for the town and taught his son the game. Thanks to the work he did around his family's farm, young Jimmie developed record-breaking speed, and he became a high school star in sports like soccer, track and field, and baseball.
In 1922, when Foxx turned 15, the Class-D Eastern Shore League played its inaugural season. Two years later a new team started playing in Easton; its manager was Frank "Home Run" Baker, a Trappe native who had returned home to manage the Farmers after a Hall-of-Fame major league career. Baker had heard rumors of Foxx's prowess and promptly signed him. Even at just 16, Foxx was one of the best hitters in the entire league: in 76 games he hit .296 with 10 homers, tied for fifth-most in the ESL.
Baker's old team, the Philadelphia Athletics, took an interest in the Eastern Shore's latest slugging prospect and purchased his contract for bargain of $2,000. Foxx watched from the bench for the rest of 1924 and made his major league debut as a 17-year-old on May 1, 1925. He split his time that summer between Philadelphia and the minor leagues in Newark and Providence, and it would take him until the end of the 1927 season before he latched on as a regular at Shibe Park.
By his age-21 season in 1929 – already his fifth in the majors – Foxx's famous power started to reveal itself. He hit .328 with 33 homers and 118 RBIs, finishing fourth and sixth in the American League, respectively. With Foxx maturing into a lineup that already featured future Cooperstown inductees Mickey Cochrane and Al Simmons, the A's were locked and loaded for a return to glory not seen since the days of Baker in the 1910s.
Philadelphia blitzed its way through the AL in 1929, winning 104 games and finishing a full 18 games ahead of the second-place Yankees. In the World Series they easily handled Rogers Hornsby and the Chicago Cubs in Five Games. The Series marked a true coming-out party for Foxx: in Game 1 he busted a scoreless deadlock with a seventh-inning home run, dedicating the blast to his newborn son, Jimmie, Jr. He went yard again in Game 2 and singled twice in a 10-run seventh inning in Game 4, helping his team turn an 8-0 hole into a 10-8 victory that effectively iced the series. In the five games, Foxx hit .350 with two homers, and five RBIs. Double X had arrived.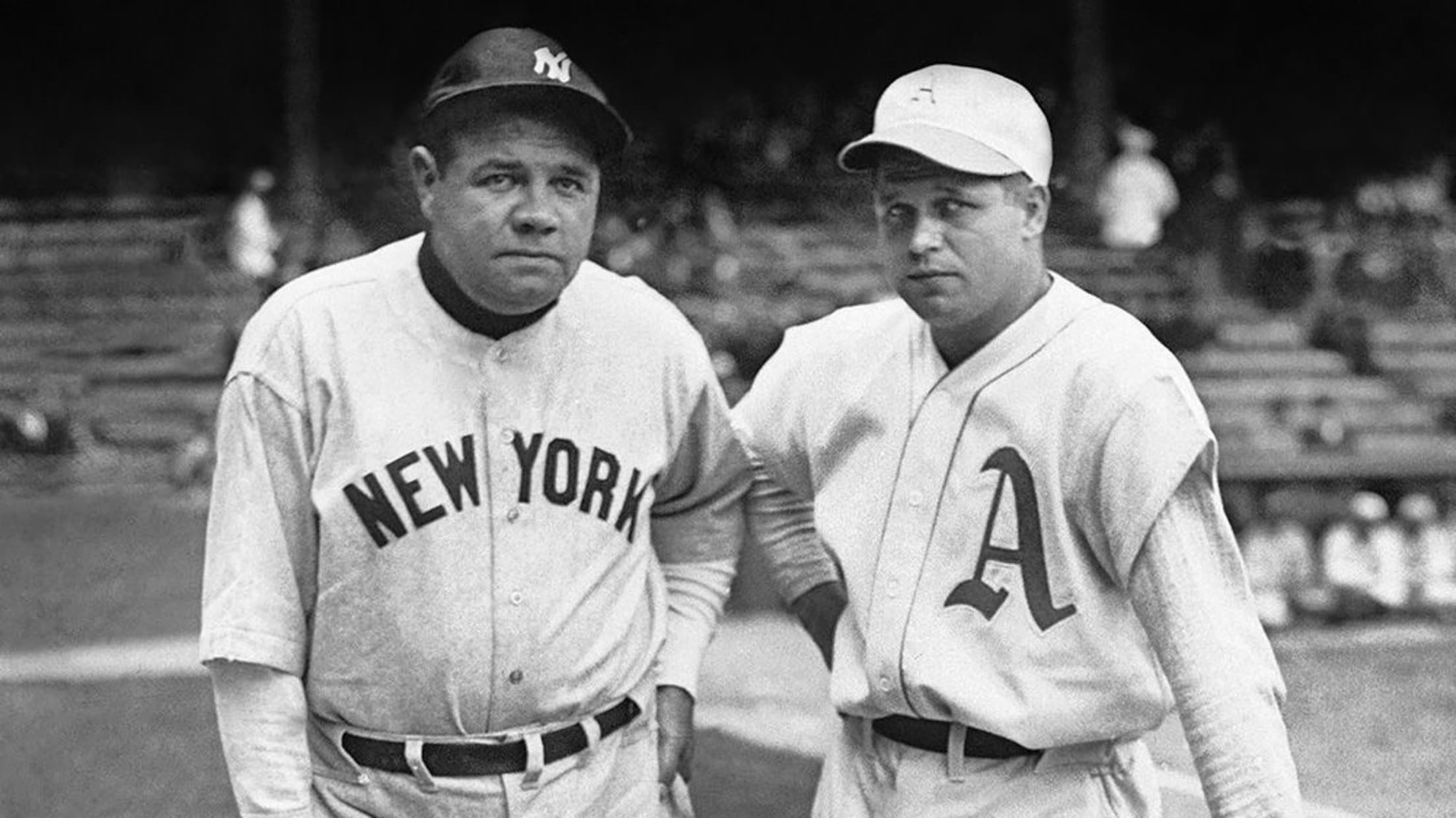 Foxx continued his dominance in 1930: he led the A's with 37 homers and finished second behind Simmons with 156 runs driven in. Philadelphia kept up the pace in the standings, winning 102 games to set up a showdown with the St. Louis Cardinals. With the series tied 2-2, Foxx delivered another signature Fall Classic moment. Game 5 entered the ninth inning scoreless, and Foxx told his teammates he would "bust up the game right now." He did, bashing a two-run homer to give the A's a 2-0 win and 3-2 series advantage. They closed the deal two days later at Shibe Park, giving Connie Mack his fifth and final World Series crown.
The A's were even better in 1931, winning 107 games but ultimately bowing to the Cardinals in a seven-game World Series rematch. The Series was a third and final one for Foxx, a bona fide October legend: in 18 Fall Classic games he slashed .344/.425/.609 with four home runs, 11 RBIs, and a remarkable 1.034 OPS.
Though Philadelphia lost pace with the Yankees and others in the following years, Foxx entered the prime of his career. His 1932 line was hands-down his best: he smashed 58 home runs to challenge Babe Ruth's single-season record, hit .364, drove in a league-leading 169 runs, and posted a career-best 1.218 OPS. Foxx ran away with the AL MVP award that season. The next year he did it again with a flourish, winning the Triple Crown by leading the Junior Circuit in average (.356), home runs (48), and RBIs (163).
Plagued by recurring financial troubles, Mack was forced to disassemble his team the way he did with the Baker-led dynasty of 20 years prior. Foxx was traded to the Boston Red Sox for scraps after the 1935 campaign, but the change of scenery did little to slow down the 28-year-old slugger. He hit 41 home runs in his first season at Fenway Park. After a rare down year in 1937, Foxx roared back to win his third MVP award in 1938: he won his second batting title with a .349 average, plated a career-high 175 runs, and finished second with 50 round-trippers to just miss out on another Triple Crown.
In 1939 Foxx led the AL for the fourth and final time with 35 homers and finished second behind Joe DiMaggio in the MVP voting. He played two more full years for the Red Sox before being traded to the Cubs in the middle of the 1942 season. Foxx sat out 1943 and played in just 15 games for Chicago in 1944, then in 1945 he closed out his career for Philadelphia's other team, the Phillies. He hit the final seven home runs of his career and even moonlighted as a pitcher, boasting a 1.59 ERA in nine appearances (two starts).
At the time of his retirement, Double X was the only other slugger spoken of in the same breath as the Great Bambino. Foxx's 534 clouts were second all-time behind only Ruth until 1966 when Willie Mays surpassed him. He was the second man to ever, and first right-hander, to hit 500 home runs; he reached the plateau just shy of 33 years old and held the mark as the youngest to reach the 500 Club until Alex Rodriguez overtook him in 2007. Foxx earned Hall-of-Fame induction in 1951, still a relatively young man of 44 when he was enshrined in Cooperstown.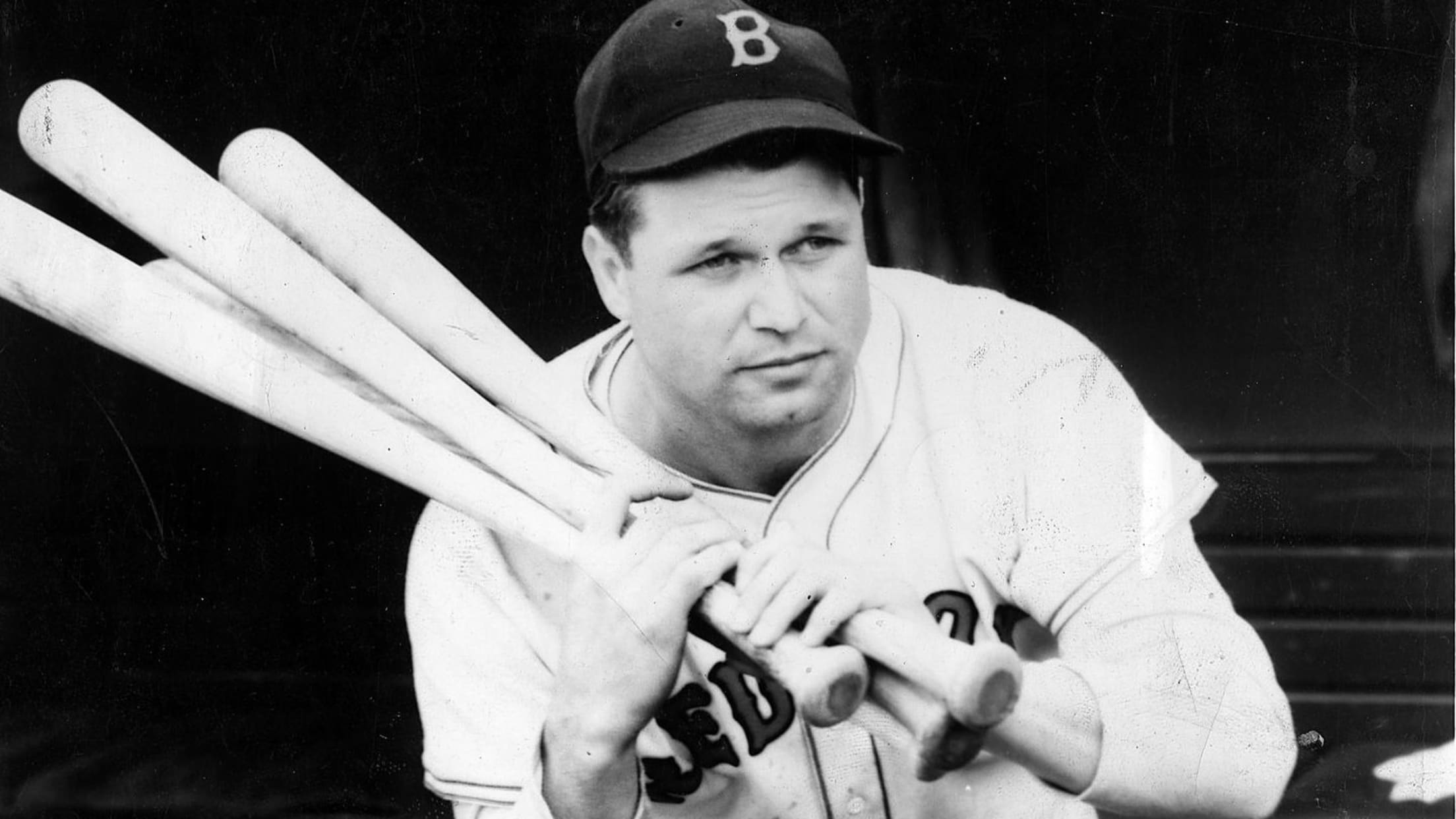 One year after entering the Hall, Foxx returned to the game as a coach. He managed the playoff-bound Fort Wayne Daises of the All-American Girls Professional Baseball League in 1952. In the late 1950s he coached at the University of Miami, at that point not quite the national power it would become. He closed his coaching days on staff for the Minneapolis Millers, then the Triple-A affiliate for the Red Sox.
Jimmie Foxx died from choking during dinner with his brother at his Miami home on July 21, 1967, a couple months shy of his 60th birthday. His legend lives on after his passing. He was inducted into the Philadelphia Baseball Wall of Fame and the Boston Red Sox Hall of Fame in 1979 and 1997, respectively. In the 1992 movie A League of Their Own_, Foxx served as an inspiration for the Tom Hanks character Jimmy Dugan, a former big league tasked with managing in the AAGPBL. At the end of the century, _The Sporting News deemed him the 15th-greatest ballplayer of all-time.
In one more parallel to his mentor and predecessor Baker, Foxx received ultimate recognition from his hometown. In October 1997, on what would have been his 90th birthday, the town of Sudlersville dedicated a statue to its favorite son. The statue still stands at the corner of Main and Church Streets, a fitting tribute to its larger-than-life counterpart.