Eight-Run Fourth Inning Helps Lock Series Win for Woodpeckers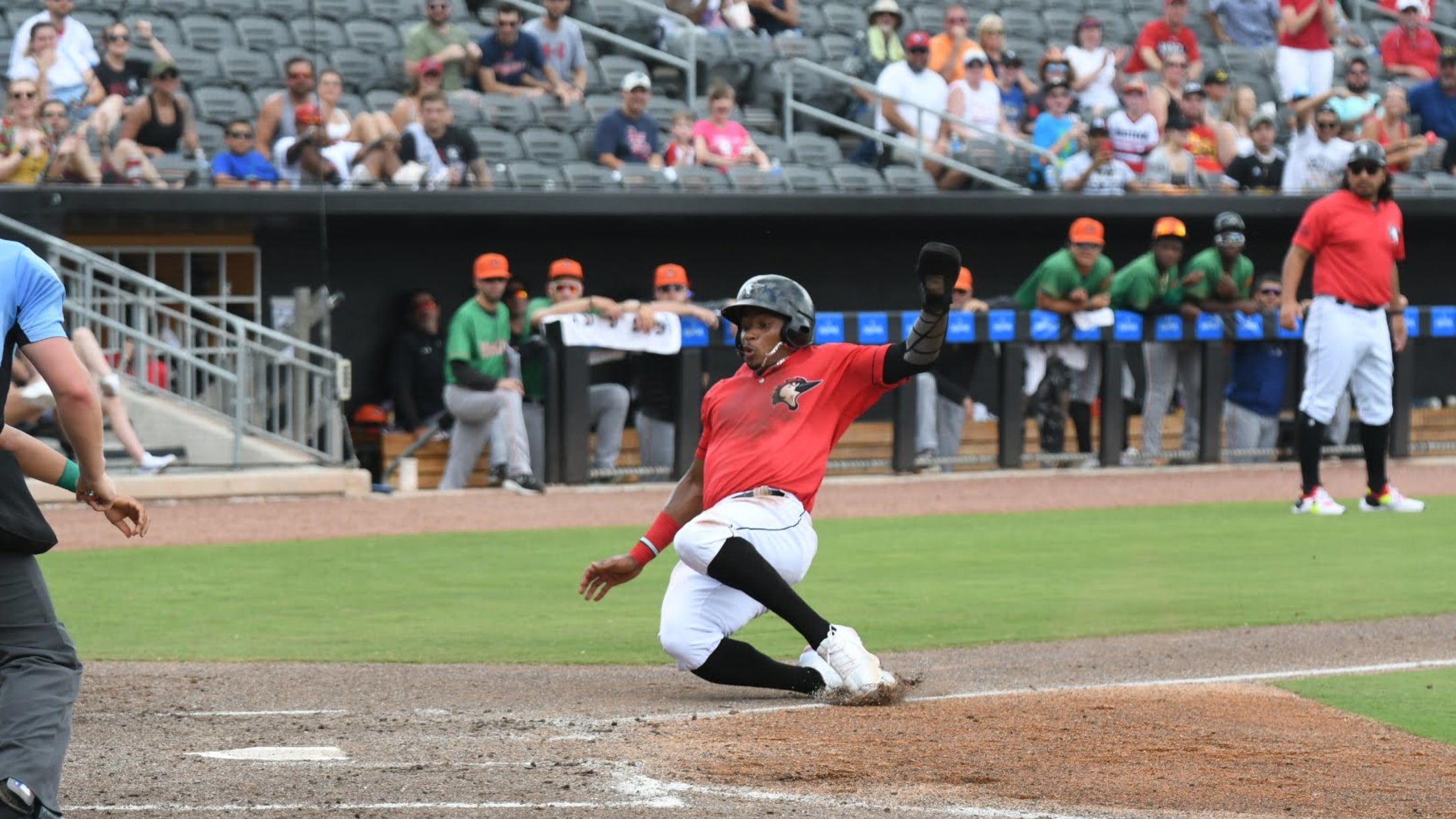 FAYETTEVILLE, NC - The Fayetteville Woodpeckers (26-33) used an eight-run rally in the fourth to defeat the Down East Wood Ducks (32-27) 14-8 on Sunday afternoon at Segra Stadium. The win secures the second straight home series win for Fayetteville and closes the homestand going 9-4 overall. Peyton Plumlee retired
FAYETTEVILLE, NC - The Fayetteville Woodpeckers (26-33) used an eight-run rally in the fourth to defeat the Down East Wood Ducks (32-27) 14-8 on Sunday afternoon at Segra Stadium. The win secures the second straight home series win for Fayetteville and closes the homestand going 9-4 overall.
Peyton Plumlee retired the side in order to start the game before surrendering the first run of his afternoon on a Cody Freeman solo home run in the second inning. Keyber Rodriguez and Alejandro Osuna each singled, and were brought home on base hits by Angel Aponte and Jayce Easley to take a 4-0 lead.
Fayetteville countered with a three run second inning that began with a double by Zach Daniels. Luke Berryhill and Sean Mendoza were both hit by pitches to load up the bases against Mason Englert (L, 4-3). Yohander Martinez scored Daniels with a sac-fly and J.C. Correa brought two more runs home with a double down the right field line to make it 4-3.
The four-run comeback was completed after Daniels drew a walk with two outs in the third, and came all the way around on a hit-and-run line drive into left from Berryhill.
The Woodpeckers broke the game open in the fourth with an eight-run rally, at one point scoring 12 unanswered runs. Mendoza reached on a throwing error by Englert and advanced to second on a Martinez single. Correa connected with his second hit of the game to bring in a run to take the 5-4 lead. With runners at the corners and no one out, Justin Dirden tripled and drove in two more runs to chase Englert from the game. With Nick Lockart in, Dirden was brought home on a sacrifice fly by Nerio Rodriguez to make it 8-4. Daniels walked to extend the inning for Berryhill, who blasted a home run to spring ahead 10-4. The pattern continued with Corona walking, and Mendoza drilling another two-run shot to cap the inning at a 12-4 lead.
After Down East scored two runs against Whit Drennan in the fifth, Shea Barry (W, 2-1) took over and got the final out of the inning. He pitched through the eighth, struck out three, and allowed only one run on an Aponte inside-the-park home-run in the sixth.
Fayetteville added on two more runs in the sixth to make it 14-7. Jose Betances pitched the top of the ninth and allowed an RBI double to Dustin Harris before striking out Alejandro Osuna to close the game.
The Woodpeckers will enjoy and off day on Monday before starting a road series against the Salem Red Sox on Tuesday, with first pitch scheduled for 7:05 p.m. E.T. Starting pitchers are still TBA.
FULL BOX SCORE: Wood Ducks vs. Woodpeckers Box Score | 07/11/21 (milb.com)