Home or road, Tebow drawing fans in droves
Mets outfielder brings crowds, and teams must prepare for surge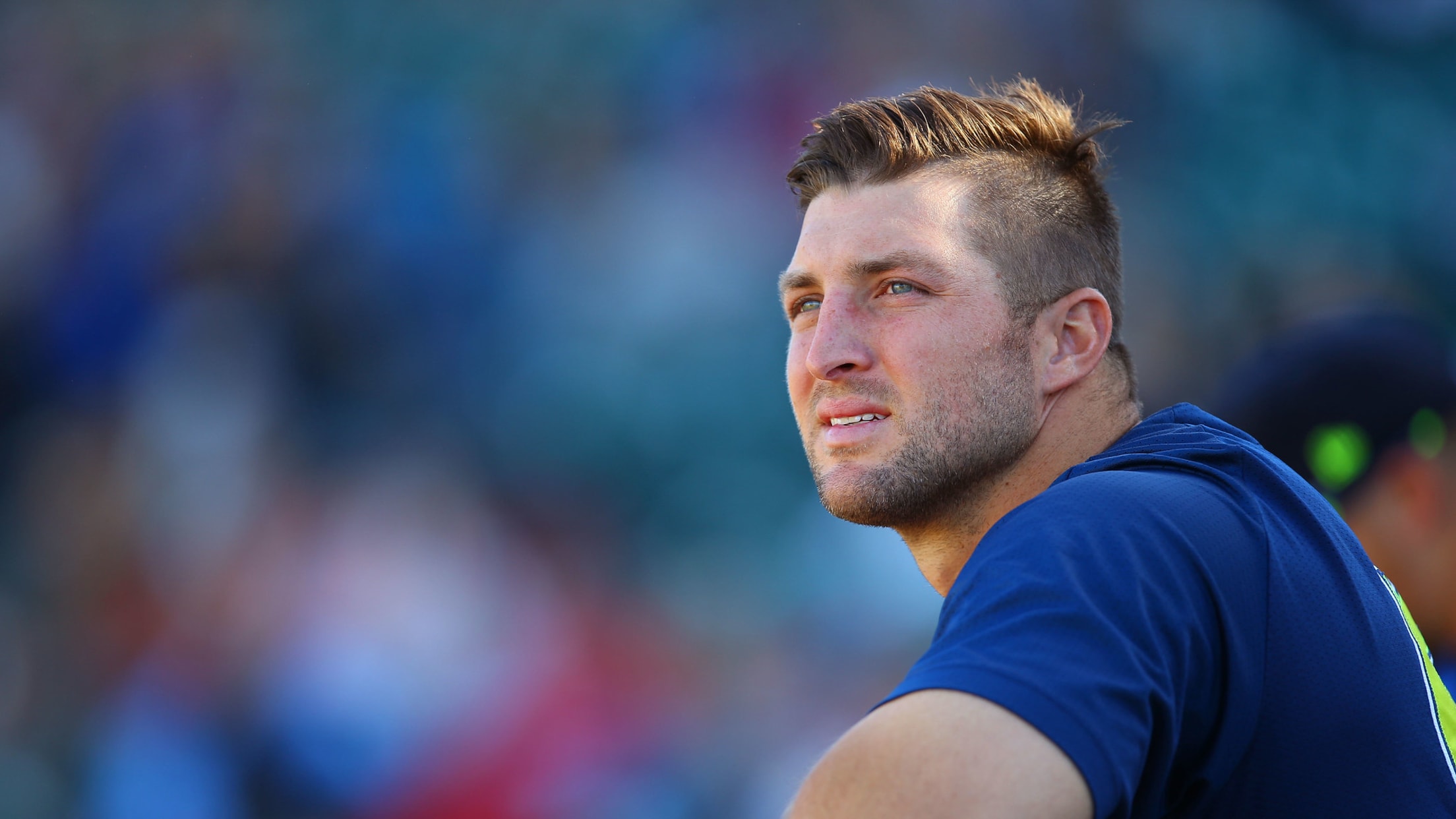 Tim Tebow looks on from the dugout during a game with Class A Columbia. (Danny Wild / MiLB.com)
LAKEWOOD, New Jersey -- Sherry Harris leaned over the padded railing along the left field line clutching a toddler's onesie. As the grounds crew watered the infield after the opening game of Monday's doubleheader between the Class A Columbia Fireflies and the Lakewood BlueClaws, Harris, like many in attendance, was
LAKEWOOD, New Jersey -- Sherry Harris leaned over the padded railing along the left field line clutching a toddler's onesie. As the grounds crew watered the infield after the opening game of Monday's doubleheader between the Class A Columbia Fireflies and the Lakewood BlueClaws, Harris, like many in attendance, was eagerly watching for one player to emerge from a dugout tunnel.
"I'm a Gator," Harris said. "I'm a real Gator. I went to school there. We watched him over the years and I like him. I like what he stands for. I like the way he plays."
He, of course, is Tim Tebow. Harris, who drove to Lakewood from nearby Middletown, New Jersey, had on a well-worn No. 15 Florida Gators football jersey. She held a baby-sized Tebow shirt in her hand.
"I have his book and we're trying to get his jersey for my grandson signed," she said. Her husband, also a Florida alum, stood behind her smiling. He'd bought the tickets for Mother's Day weekend, though rain forced the couple to postpone their pilgrimage for a couple days.
"It was a gift to me," she said, "because I'm a big Tebow fan."
Harris was one of thousands who journeyed to FirstEnergy Park on Monday for a chance to watch Tebow play for the Fireflies. Many of the fans came in Gators apparel, others held New York Jets jerseys in search of an autograph. One fan even brought a full-sized football helmet.
After fielding balls in the outfield during pregame batting practice, Tebow jogged in and spent close to 10 minutes signing for just about every fan lined up in left field. He worked his way slowly down the wall -- smiling for selfies, signing souvenirs and delighting fans. This was the moment they'd come for.
Tebow, 29, remains a polarizing figure in the baseball universe. The Heisman Trophy winner-turned-Minor Leaguer is hitting .236 with two homers, seven extra-base hits and 11 RBIs in 30 games in the South Atlantic League. He went 0-for-3 on Monday, striking out in each of his first two at-bats.
Regardless of performance, his presence on the field has been a huge draw both at home and on the road. Not surprisingly, Columbia leads the league in average and total attendance this year, drawing 5,214 per game and 104,274 in 20 contests. (The team averaged 3,785 last season, their first in existence.) According to Baseball America, Tebow is pulling in an extra 2,399 fans per game on the road this season as compared to other visiting clubs, while attendance has spiked 120 percent in Hickory for games against Columbia and 82 percent in Augusta.
Fireflies president John Katz told the New York Daily News this weekend that attendance is up 30 percent this season.
"Things have been positive for us," he told the paper. "You put more people in the ballpark and you're going to sell more beer and hot dogs."
Of course, the increased attention is something host teams have to prepare for. Greg Giombarrese, Lakewood's director of media relations, said the Phillies affiliate had 22 credentialed media members for Monday's game. He helped accommodate a pregame Tebow interview with Kathie Lee Gifford of NBC's Today Show and said the club had to beef up security upon the request of the Fireflies. When Tebow made his way up the left field line, signing autographs before the doubleheader, he was surrounded by reporters from ESPN, a private security guard and two uniformed police officers.
Lakewood put tickets for the Columbia series on sale a week before the rest of its schedule, on March 21. Giombarrese said the first game of the series, May 13, sold out in four days. Both Monday and Tuesday's games were sold out as well, with only standing-room tickets available. Monday's attendance was 8,741, another impressive figure, especially for a weekday. Lakewood on average draws about 4,800.
"We were here in 2011 when Bryce Harper came, and there were definitely a lot of people who came out to see Harper, but that was the first day," Giombarrese said. "That pales in comparison to this."
Tebow, who has no shortage of critics and doubters, wasn't in the lineup for Monday's Game 2, but when Fireflies right fielder Ricardo Cespedes briefly went down in pain after chasing a foul ball near the home bullpen, fans began chanting the former quarterback's name.
Christa Bramante (center) waves to Tim Tebow alongside BlueClaws usher John Blondina on Monday night.
Christa Bramante drove 120 miles with a friend from East Stroudsburg, Pennsylvania, to see Tebow. She brought a sign and held a bible study guide that Tebow penned as part of his recent book, Shaken.
"I've read all his books and his inspirational bible studies," she said. "I'm really into Christianity and I feel like that's a good reason to play a sport and to connect with someone. I feel like he's a great athlete, and I think he's going to go to the Major Leagues. You just have to keep believing. He's inspirational for me."
Tebow spoke to the media Sunday and talked about his challenges so far. Before joining the Mets last September, the former NFL star hadn't played baseball since his high school days.
"You're starting all over after 12 years, so you've got to put in a lot of work," he said, according to the New York Post. "You also have to be mentally tough because baseball is a game of failure. You have to be able to learn from it."
Usher John Blondina has worked at Lakewood's ballpark for 12 years. A native of Toms River, New Jersey, he described the Tebow scene as "crazy" and praised the outfielder for his willingness to meet fans.
"I wished him luck, thanked him for signing and what he's doing. He signed a lot of balls," said Blondina, who occasionally had to remind fans to keep their distance from the dugout.
"[It's] crazy. Real crazy. All for him," he said of the crowd. "Some are really, really polite -- they did what I asked. There was a couple, I said, 'Please, you gotta leave, It's time to go.' It worked out."
Lakewood has hosted a few high-profile players over the years, including a 2007 rehab appearance by former Phillies slugger Ryan Howard. That game drew 10,032 fans, according to Giombarrese. Fans also poured into Lakewood when Harper visited with Hagerstown in 2011, his first full season in the Minors.
"Tebow is much more friendly than Harper," Blondina said. "Harper, if he was having a good day, he signed. If he was having a bad day, he wouldn't sign."
Blondina turned toward the Fireflies' dugout.
"He's not having a good day," he said, "but he still was signing. First class, Tebow."
Shawn O'Neill of West Long Branch, New Jersey, had a prime spot at the end of a ramp leading out of Columbia's dugout near third base. He wore a Gators T-shirt and held up his blue Tebow jersey.
"[I'm here] just for Tebow, just to see him," he said. "I'm a huge Gators fan. I followed him in college, followed him with the Broncos, the Jets. I root for him, any team he's on, I root for."
O'Neill said his wife bought him tickets to the game months ago.
"This is awesome -- this is very exciting. I'm nervous, I'm trying to get this thing signed," he said. "I'm rooting for him. Hopefully he can make it up to the big leagues."
Tebow began the season in storybook fashion, hitting a home run in his first at-bat. He went deep again two days later and seemed to be the all-or-nothing power hitter many speculated he'd be. The left-handed outfielder has struggled to find his power stroke since, however. He has four doubles, 33 strikeouts and 10 walks.
"He looks good," O'Neill said. "He's doing better than most people thought. Everyone thought he wouldn't do much, but he's doing pretty well. And he's been hitting lately."
From a logistics perspective, Lakewood, like other teams in the SAL, has needed to embrace the Tebow traveling circus. Giombarrese said the club considered adding portable bathrooms in the stadium parking lots and setting up overflow media areas.
"Our pressbox can't accommodate all the media," he said.
"We have more staff, more product," said Jim McNamara, the BlueClaws' vice president of ticket sales. "We have extra security -- the gates open earlier. We want to make sure people aren't waiting on line. We want them to get in quickly, so it's a little bit of doubling and tripling up on stuff -- people and product -- to make sure it goes as smoothly as possible."
Despite all the extra work -- Lakewood's front desk receptionist juggled a nonstop flow of phone calls Monday -- the team has been happy to host the series.
"I think it's fun," McNamara said. "We try to offer the fans something they're not going to get anywhere else, as a general rule in Minor League Baseball. But I think to see a Heisman Trophy winner play baseball? It's great."
"I hope he makes it. I hope he goes all the way," Blondina said. "He's a Class-A person, he's respectful and when the kids were all asking him to sign, he stayed until it was lineup time. That's classy. You can't ask him to do anything more than that."