Former Shuckers Set For MLB Postseason Action
12 Former Players Projected To Be On Postseason Rosters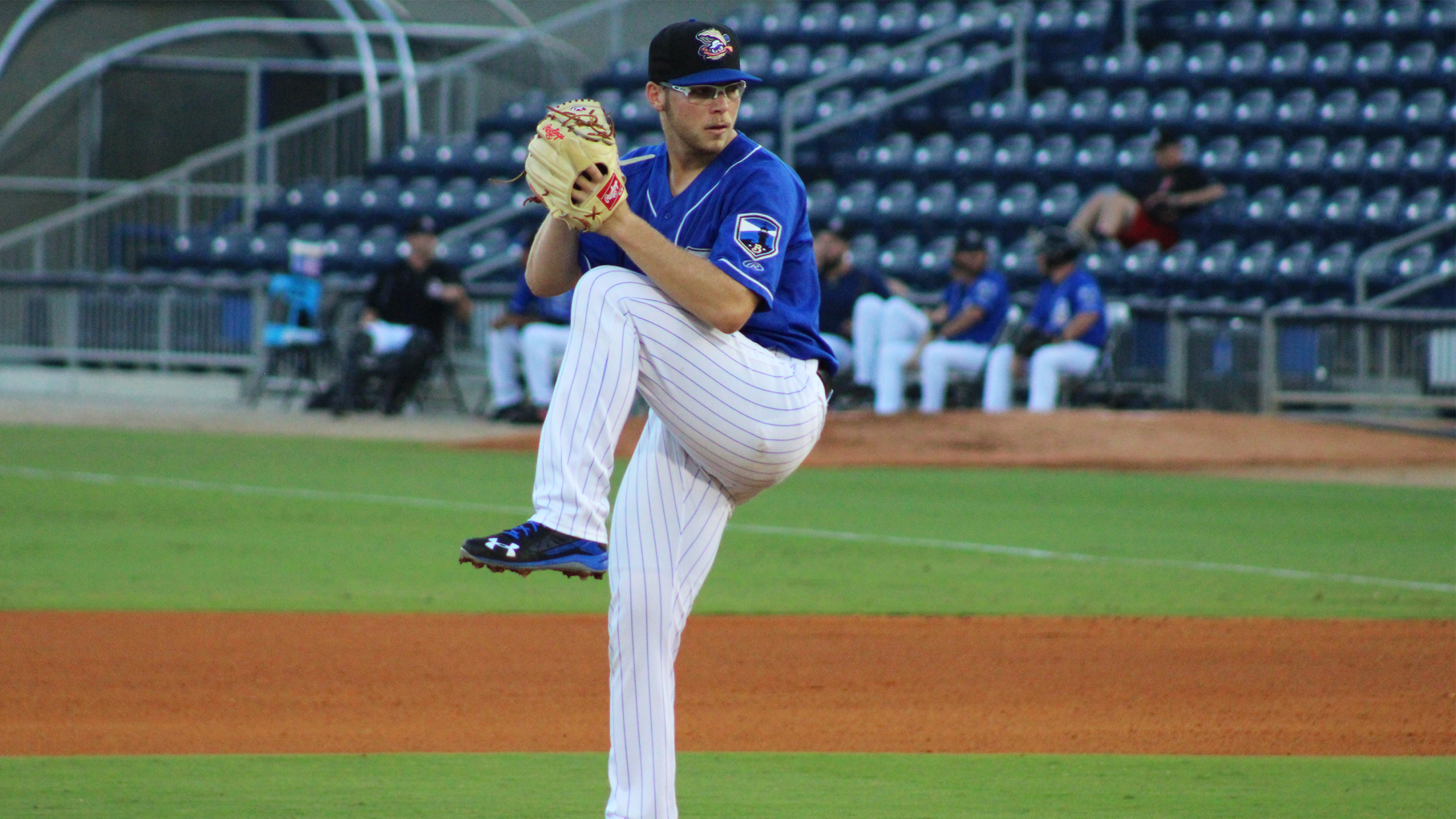 With the 2021 MLB Playoffs underway, 12 former Biloxi Shuckers are likely to appear on the postseason rosters of four of the nine teams remaining in the playoffs. Milwaukee Brewers (8): Corbin Burnes, Brandon Woodruff, Freddy Peralta, Josh Hader, Adrian Houser, Brent Suter, Tyrone Taylor and Jake Cousins. Tampa Bay
With the 2021 MLB Playoffs underway, 12 former Biloxi Shuckers are likely to appear on the postseason rosters of four of the nine teams remaining in the playoffs.
Milwaukee Brewers (8): Corbin Burnes, Brandon Woodruff, Freddy Peralta, Josh Hader, Adrian Houser, Brent Suter, Tyrone Taylor and Jake Cousins.
Tampa Bay Rays (2): Brett Phillips and Drew Rasmussen
Los Angeles Dodgers (1): Corey Knebel
Atlanta Braves (1): Orlando Arcia
Corbin Burnes: The 2021 National League ERA champion and N.L. Cy Young favorite, Burnes spearheaded the Brewers' rotation in 2021, going 11-5 with a 2.43 ERA across 167.0 innings, striking out 234 batters and walking just 34 hitters. Along with taking home the first ERA title in Brewers' franchise history, Burnes owned the best strikeout rate (35.6%) in baseball and threw the first eight innings of the Brewers' second no-hitter in franchise history.
8 IP | 0 H | 0 R | 1 BB | 14 K

A night to remember for Corbin @Burnes16. pic.twitter.com/z9fIZAC0ZI

— Bally Sports Wisconsin (@BallySportWI) September 12, 2021
According to Reviewing the Brew, Burnes set or tied 45 Brewers or Major League records in 2021 (you can read about all of them here). This shouldn't come as a surprise to Shuckers' fans, who saw Burnes during his 2017 Brewers' Minor League Pitcher of the Year campaign in which he went 3-3 with a 2.10 ERA in 16 starts with Biloxi.
Corbin Burnes 7 K's through 5 scoreless IP. Got his Opp. AVG for the season back down under .200 where it belongs. #Shuckers pic.twitter.com/UTtYaDVGWp

— Nolan Bratt (@BrewersFarm) August 4, 2017
Brandon Woodruff: Were it not for the dominance of Burnes, Woodruff would have a case of his own to claim the N.L. Cy Young this season. The righty from Tupelo, MS will still earn votes as his 2.56 ERA is the fourth-best earned run average in all of baseball. Woodruff also surpassed 200 strikeouts, K'ing 211 hitters across his 30 starts. During his 2016 stint with the Shuckers, in which he was named the 2016 Brewers' Minor League Pitcher of the Year, Woodruff went 10-8 with a 3.01 ERA in 20 starts, walking just 30 batters and striking out 124. He was named the Southern League Player of the Month for July that year, the first Player of the Month honor for any player in the Shuckers' history.
Brandon Woodruff and Corbin Burnes are the second pair of @Brewers teammates to strike out 200+ in a season.

The other pair is Zack Greinke and Yovani Gallardo in 2011. pic.twitter.com/A8cTefxCxD

— MLB Stats (@MLBStats) September 22, 2021
Freddy Peralta: Low ERAs were a theme with the Brewers' three-headed monster of a starting rotation this year, with Peralta pitching to a 2.81 ERA in 28 appearances, 27 starts, for the Brew Crew. Because of an injury, Peralta missed some time in 2021 and did not pitch enough innings to qualify for the league leaders in the National League. However, across his 144.1 innings, Peralta struck out 195 batters and accumulated a 10-5 record. Peralta also had a sensational stay in Biloxi in 2017, posting a 2.26 ERA in 13 appearances, 11 starts, with the Shuckers. He struck out 12 batters on August 28, 2017, still tied for the most strikeouts in a single game in Shuckers' history
From yesterday: Freddy Peralta's annihilation of Jacksonville. All of his career-high 12 K's on the night. #Shuckers pic.twitter.com/Kx5SDMn0uq

— Nolan Bratt (@BrewersFarm) August 30, 2017
Josh Hader: For a fourth consecutive season, Josh Hader was one of the most dominant relievers in all of Major League Baseball. Winner of the 2018 and 2019 Trevor Hoffman Award for the best reliever in the National League, Hader is primed to take home the honor for a third time in his career after recording a 1.23 ERA in 40 appearances and converting 34 of 35 save opportunities in 2021. In 58.2 innings, the southpaw struck out 102 batters and held opponents to a .127 batting average against. After being acquired from the Houston Astros in 2015, Hader joined the Shuckers' starting rotation and pitched to a 2.79 ERA in 7 starts before going 2-1 with a 0.95 ERA in 11 starts with the Shuckers in 2016.
Corbin Burnes and Josh Hader complete the second no-hitter in Brewers history 👏

◽️ Burnes: 8 IP, 14K, 1 BB
◽️ Hader: 1 IP, 2 K

🎥 @BallySportWIpic.twitter.com/pso4eDLMk6

— The Athletic (@TheAthletic) September 12, 2021
Adrian Houser: Another piece acquired from the Astros, Houser was a stalwart in the Brewers' rotation, filling in the fourth spot behind Woodruff, Burnes and Peralta with a 10-6 record with a 3.22 ERA in 28 appearances, 26 starts. Houser tossed the Brewers' first complete-game shutout since September of 2014 when he went 9.0 scoreless against the Cardinals on September 4 at American Family Field.
Yo Adrian!

Houser goes the distance. pic.twitter.com/oX57Hd3OkC

— MLB (@MLB) September 5, 2021
Houser's ability to go the distance should come as no surprise to Shuckers' fans as Houser tossed the first complete game in team history on September 11, 2015, against the Pensacola Blue Wahoos, going 9.0 innings and allowing just three hits while striking out 10. It is one of just three nine-inning complete games in Shuckers' history. Houser also pitched for Biloxi in 2016 before undergoing Tommy John surgery and returned to the Shuckers in 2018 during his recovery before joining the Big-League team.
Brent Suter: The Raptor (or this year, The Vulture) has remained an integral piece of the Brewers' bullpen in 2021, accumulating a 12-5 record in 61 appearances, leading the Brew Crew in wins while recording a 3.07 ERA. Suter was part of the first Biloxi Shuckers team in 2015, going 5-3 with a 1.95 ERA in 20 appearances, 11 starts before a promotion to Colorado Springs. Suter also returned to Biloxi on Major League rehab in 2019 and made two scoreless appearances while also starring as the Raptor in a Shuckers' promotional video.
We had a raptor sighting (@bruter24) at MGM Park! Join the Shuckers on Tuesday, August 13th for our next T-Shirt Tuesday! The first 250 fans will receive a Shuckers themed Jurassic World t-shirt. #ShuckYeah pic.twitter.com/ErLvyHJb9e

— Biloxi Shuckers (@BiloxiShuckers) August 6, 2019
Tyrone Taylor: The Shuckers' career leader in games, at bats, hits and doubles finally broke through to the Crew on a consistent basis in 2021, playing in 91 games and hitting .247 with nine doubles, three triples and 12 home runs to go along with 43 RBI with Milwaukee. Taylor hit a pair of grand slams for the Brewers in 2021, including a first inning bomb against Adam Wainwright in a game against the Cardinals on September 23. In 287 games with Biloxi from 2015 to 2017, Taylor hit .247 with 41 doubles, five triples, 13 home runs and 83 RBI.
Tyrone Taylor hits a grand slam for the Brewers and it looks like the Cardinals 11-game win streak could be coming to an end pic.twitter.com/0vsCK71bon

— Talkin' Baseball (@TalkinBaseball_) September 23, 2021
Jake Cousins: A member of the 2021 Shuckers, Cousins shot through the Brewers Minor League system after signing in mid-2019 out of the independent ranks. In eight games with the Shuckers, Cousins went 3-for-3 in save opportunities and did not allow a run in seven of his eight outings. He jumped to Nashville where he also made eight appearances, pitching to a 1.86 ERA before earning a call up to Milwaukee on June 21. Cousins did not allow a run through his first 17 appearances with Milwaukee and finished the season with a 2.70 ERA over 30 appearances. With Devin Williams out for the playoffs, Cousins has a chance to see high-leverage situations late in games for the Brewers.
World, meet Jake Cousins.#ThisIsMyCrew pic.twitter.com/GENDKhoNtC

— Milwaukee Brewers (@Brewers) June 22, 2021
Drew Rasmussen: Pegged as the Game Three starter (if he's not needed before that) for the A.L. East Champion Tampa Bay Rays, Rasmussen started the season in the Brewers' bullpen. He was traded to the Rays as part of the Willy Adames deal, pitched at Triple-A Durham and was eventually recalled to the Rays roster. Rasmussen initially pitched out of the bullpen but moved back into a traditional starting role in mid-August. No surprise that the Rays, who originally drafted Rasmussen in the first round in 2017, have the flame thrower as one of their primary postseason starters. Rasmussen spent a majority of 2019 with the Biloxi Shuckers in his first professional season. The righty was mostly on an innings and pitch count limit but registered a 3.54 ERA in 22 appearances, 18 starts, with the Shuckers. This won't be the first postseason outing in professional baseball for Rasmussen as he pitched in the Shuckers Game Four matchup against the Blue Wahoos and their Game Five matchup with the Jackson Generals in the 2019 Southern League Playoffs.
ALL OF US ARE DREW RASMUSSEN AFTER THIS CATCH BY MANUEL MARGOT! @RaysBaseball lead 3-0 over the Astros! #RaysUp pic.twitter.com/itQjb01OZx

— Bally Sports Sun: Rays (@BallyRays) September 30, 2021
Brett Phillips: Immortalized in Biloxi for his opossum incident, Phillips placed himself in postseason-lore by delivering the walk-off in Game 4 of the 2020 World Series against the Dodgers. He's likely to be on the roster as a platoon player for the Rays again in 2021 after appearing in 118 games and mashing nine doubles, three triples, 13 home runs and 44 RBI with Tampa Bay this season. Though he delivered some big hits for the Rays this season, he is perhaps best remembered for his outing on the mound in a blowout this summer.
Thoughts on Brett Phillips' first career pitching appearance?😂 pic.twitter.com/HouRp63pBM

— The Sporting News (@sportingnews) July 3, 2021
Phillips was also acquired with Josh Hader and Adrian Houser from the Astros and appeared in 23 games with Biloxi in 2015. During the 2016 season, Phillips spent the whole year with the Shuckers, hitting .229 with 14 doubles, six triples, 16 home runs and 62 RBI. He tied the franchise record with three home runs in a game, one of just four players in team history to hit three homers in a single contest, and at the time tied a franchise record with six RBI in a game on May 7 against the Blue Wahoos.
Orlando Arcia: Arcia started the season with the Brewers before he was traded to the Atlanta Braves on April 6. The former Shuckers' Gold Glove shortstop spent most of the season with Triple-A Gwinnett but appeared in 32 games with the N.L. East Champion Braves, driving in 13 runs and scoring 15. Arcia ended the season on the Braves active roster but is still on the fence about his spot on the Braves' postseason roster, which does not have to be set until 10 am Central on Friday.
While with Biloxi in 2015, Arcia was named a Southern League Mid-Season and Post-season All-Star, while also earning a MiLB.com Organizational All-Star nod. He was selected to the MLB Futures Game, won the MiLB Gold Glove at shortstop and was picked as the MiLB.com Staff Choice for Breakout prospect. In 127 games with Biloxi, Arcia hit .307 with 37 doubles, seven triples, eight home runs and 69 RBI while also stealing 25 bases. He is the Shuckers' single season leader in batting average and hits (157) and is tied for the single-season record in triples.
Shuckers fan favorite Orlando Arcia concludes Walk Off Weekend with a shot to left-center field for the win! #ShuckYeah 🦪 | #WalkOffWeekend pic.twitter.com/gOed7gEeho

— Biloxi Shuckers (@BiloxiShuckers) May 24, 2020
Corey Knebel: Call this one a stretch, but Knebel did pitch in three games with the Shuckers during their 81-win season in 2018, recording a pair of holds in 2.2 scoreless innings. Knebel was traded to the Los Angeles Dodgers in December of 2020 and this season went 4-0 with a 2.45 ERA in 27 appearances with the Dodgers, registering seven holds and converting three-of-five save chances. He is already on the Dodgers wild card roster as they take on the Cardinals.
SHUCK-Lights 5/3 vs Jacksonville: Corey Ray provides the first walk-off of the season for the Shuckers in a dramatic and powerful fashion, while Corey Knebel added a strong rehab outing on Thursday night. pic.twitter.com/kMBid6JAoK

— Biloxi Shuckers (@BiloxiShuckers) May 4, 2018
The 2022 Biloxi Shuckers schedule has been announced and Shuck Nation Memberships, Flex Plans and group outings are now available for the 2022 season. Event spaces at MGM Park can be booked for private events during the offseason by calling (228) 271-3486.
ABOUT THE BILOXI SHUCKERS:
The Biloxi Shuckers are the Double-A Affiliate of the Milwaukee Brewers. The Shuckers play at MGM Park in Biloxi, Mississippi and are members of the Double-A South. For more information, please visit biloxishuckers.comand follow us on Twitter @biloxishuckers and at facebook.com/biloxishuckers.