Fitzgerald Hits For Cycle As Ems Drub Dust Devils
Fitzgerald needed only five innings to complete the cycle while Marco Luciano belted his first homer as an Emerald in what was a total rout at PK Park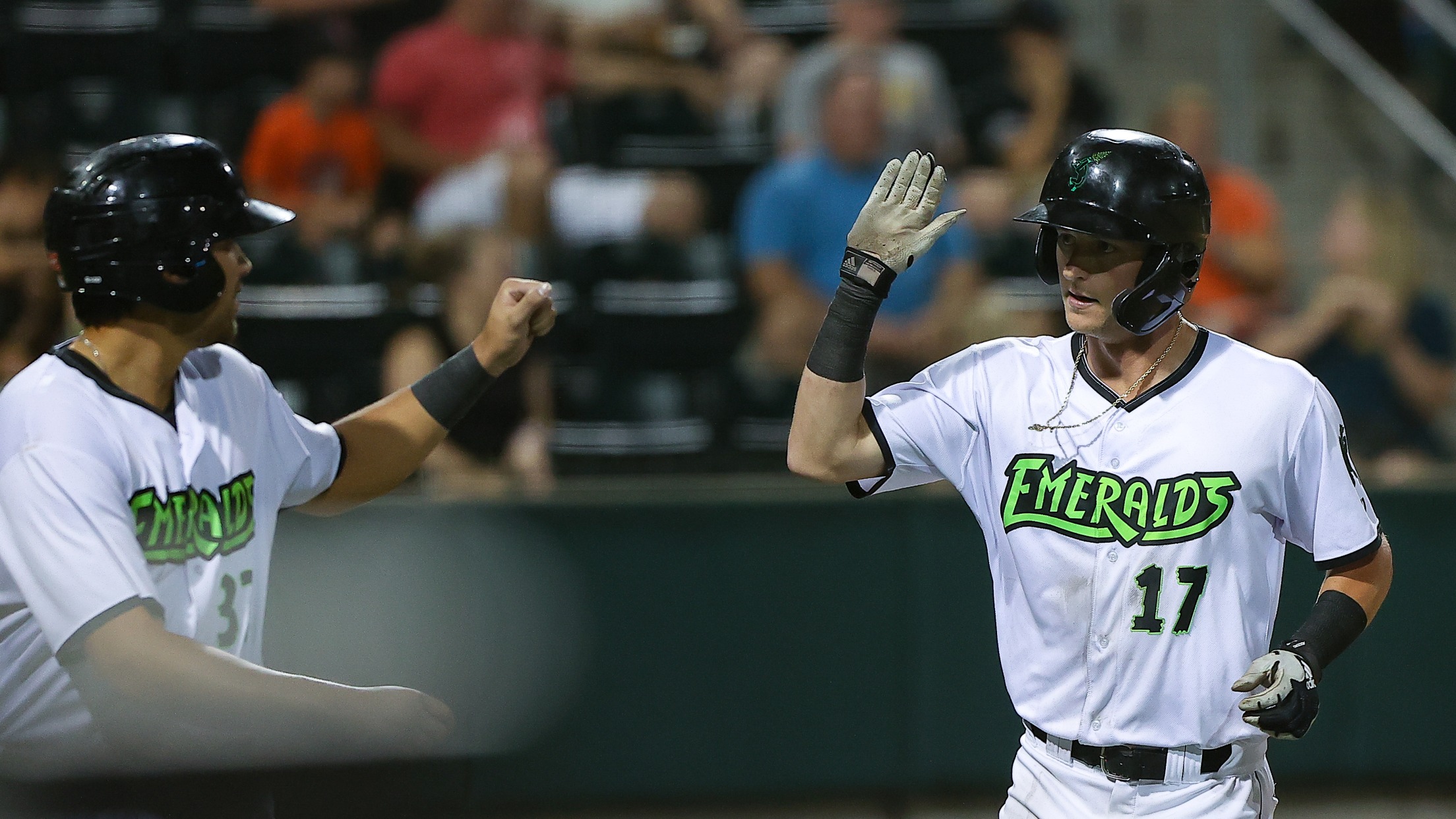 Twenty-two runs were scored at PK Park on Friday night. The Eugene Emeralds (48-34) scored twenty of them. It was virtually no contest from the very first inning as the Emeralds cruised to a 20-2 win over the visiting Tri-City Dust Devils (31-51) in the fourth game of a six-game
Twenty-two runs were scored at PK Park on Friday night. The Eugene Emeralds (48-34) scored twenty of them. It was virtually no contest from the very first inning as the Emeralds cruised to a 20-2 win over the visiting Tri-City Dust Devils (31-51) in the fourth game of a six-game series at PK Park.
THE DETAILS:
Winning Pitcher: Conner Nurse (2-7, 5.91 ERA): 6.0 IP | 2 H | 1 R | 1 ER | 2 BB | 9 K

Losing Pitcher: Jack Dashwood (0-1, 11.37 ERA): 2.0 IP | 8 H | 7 R | 4 ER | 1 BB | 1 K

Save: LOL

HR(s): Eugene: Luciano (1), Fitzgerald (13) | Tri-City: Del Valle (10), Herrera (5)
HOW IT HAPPENED: Simply put, there's A LOT to get to so let's jump right in.
For the fourth consecutive game to start the series, the Eugene offense struck first and they did so early.
Armani Smith put the Ems up 1-0 in the first with an RBI triple to deep right-center that scored Ismael Munguia who had doubled to lead off the bottom of the inning, and Smith came into score two batters later when Tyler Fitzgerald legged out an infield single (remember that infield single) to put the Ems up by a deuce heading to the second.
In that second inning, Marco Luciano, playing in just his second game as an Emerald after being promoted from Low-A San Jose forty-eight hours earlier, launched a towering shot 49° off the bat that landed on the roof over the bullpen in right for his first homer as an Emerald, a three-run blast that ballooned Eugene's lead up to 5-0 in the second.
🗣️ GET OFF THE SHED.

Marco Luciano with his first High-A homer!

📐 49° launch angle on that one 😯#GoEms x #SFGiants pic.twitter.com/yyeKIdBvJM

— Eugene Emeralds (@EugeneEmeralds) August 7, 2021
Later in the inning, Tyler Fitzgerald – who had no triples on the season entering last week's series in Everett – tagged his second triple in as many weeks to score Sean Roby, and Ricardo Genovés brought home Fitzgerald one batter later with a double to right that made it 7-0 Emeralds after just two innings of play.
One inning later, the Emeralds offense put up another crooked number as a Carter Aldrete walk, Tyler Flores single, Ismael Munguia RBI single, Armani Smith walk, Sean Roby two-RBI double, and Tyler Fitzgerald RBI double all together accounted for four more runs and an 11-0 lead for the Emeralds after three.
The Emeralds offense was held in check in the fourth while Tri-City tallied a run in the top of the fifth, but the Ems proceeded to break out of that brief three-out slump by plating three runs in each of the ensuing three consecutive innings.
Tyler Fitzgerald came to the plate in the fifth with runners on the corners and sitting just a homer shy of the cycle, and Fitzgerald promptly completed that cycle in emphatic fashion, mashing an absolute no-doubter to left-center field for what was his team-leading thirteenth homer of the season that – and this deserves reminding – completed the cycle IN JUST FIVE INNINGS.
🚨 TYLER FITZGERALD JUST HIT FOR THE CYCLE 🚨

🚨🚨🚨 IN FIVE INNINGS 🚨🚨🚨#GoEms x #SFGiants pic.twitter.com/mFp6GWFOFR

— Eugene Emeralds (@EugeneEmeralds) August 7, 2021
Tyler Flores may not have completed a cycle, but he did account for one of the hardest hit homers in recent PK Park memory, belting a three-run homer 109 MPH off the bat and 432 feet to right field to continue the offensive onslaught and make it a 17-1 game.
Oh my goodness. OH MY GOODNESS.

We are out of captions so we're just going to let Tyler Flores' bat do the talking here 🗣️

1⃣0⃣9⃣ MPH off the bat 🚀#GoEms x #SFGiants pic.twitter.com/7vgDARZfAS

— Eugene Emeralds (@EugeneEmeralds) August 7, 2021
In the seventh, after a Sean Roby leadoff single that was followed by a Tyler Fitzgerald double, Ricardo Genovés brought both baserunners home with a double to center field, and three batters later Tyler Flores brought Genovés in from second with a single to right field that helped Eugene break the twenty-run threshold.
Tri-City added a run in the ninth, but they came up just eighteen runs shy of forcing extras as Eugene cruised to their most lopsided victory of the season, a 20-2 drubbing of the visiting Dust Devils.
Lost in the madness of the offensive explosion was the stellar outing by Conner Nurse who picked up his second win of the season while firing just the fifth six-inning outing by an Emeralds starting pitcher this season.
With the win and Everett's loss on Friday, the Emeralds now find themselves just 3.5 games out of first place after starting the week 7.5 games behind the AquaSox.
PEAK PERFORMERS:
Tyler Fitzgerald – 3B: The guy hit for the cycle. In five innings. FIVE. Not sure what else we need to add there, but we will also include that Fitzgerald finished the night with a game-high six RBIs while going 5-for-6 at the plate.
Conner Nurse – RHP: It was an exceptional outing for the young right-hander who finished the night with 6.0 IP, two hits, one earned run, two walks and nine strikeouts (ties career-high).
Conner Nurse is dealing tonight ♣️♥️♠️♦️

Ties his career high with 9 K's! #GoEms x #SFGiants pic.twitter.com/qIKov2m5Zh

— Eugene Emeralds (@EugeneEmeralds) August 7, 2021
Tyler Flores – 1B: Doesn't usually bode well for the opposing team when the guy in the #9 spot in the lineup is hitting 432-foot bombs. That's exactly what Flores did on Friday night, finishing the evening 3-for-5 at the plate with four RBIs.
Ismael Munguia – CF: Munguia continues to be one of the best table setters in the circuit, finishing Friday night 5-for-6 with an RBI and four runs scored.
Everyone, honestly: When you score twenty runs and limit the opposing team to just three hits, you can guarantee that pretty much everyone played some part in the action.
WHAT'S NEXT: The Eugene Emeralds continue their series with the Tri-City Dust Devils (Los Angeles Angels) on Saturday at PK Park.
You can catch all the action Matt Dompe on the call via MiLB.tv, 95.3FM The Score, MiLB.com or on the MiLB app.
Because the Emeralds also scored six runs on Friday, fans can use the promo code 'TIX4SIX' when purchasing tickets online at www.EmeraldsBaseball.com before first pitch on Saturday to get 50% off box seat tickets to ANY remaining Emeralds home game.
Tickets to Emeralds home games are available at www.EmeraldsBaseball.com or by calling (541) 342-5367.
Stay up to date with the Emeralds by following the team on Facebook, Twitter and Instagram.