Crouse's free spirit a perfect fit for Rangers
Spokane righty's unorthodox delivery, eccentricities OK with club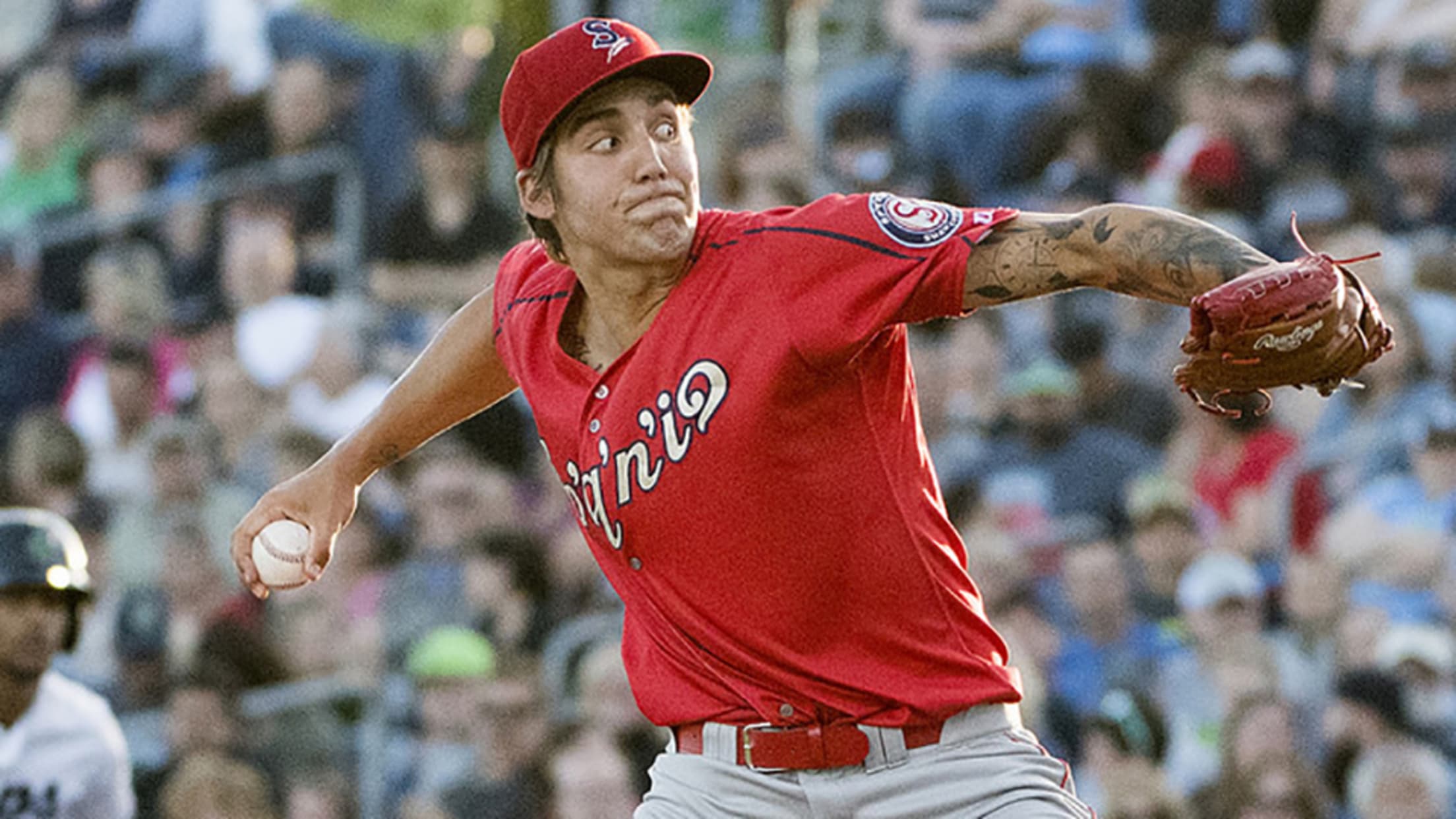 Hans Crouse has averaged 11.2 strikeouts per nine innings this season. (Jared Ravich/MiLB.com)
Hans Crouse slowly raises his bent left leg to a 90-degree angle at the midsection of his 6-foot-4 frame, stalls briefly, then cocks his right arm back and unfurls a pitch toward his target.Crouse's windup is slow and methodical at first, then bursts into an aggressive follow-through that results in
Hans Crouse slowly raises his bent left leg to a 90-degree angle at the midsection of his 6-foot-4 frame, stalls briefly, then cocks his right arm back and unfurls a pitch toward his target.
Crouse's windup is slow and methodical at first, then bursts into an aggressive follow-through that results in a mid-90s fastball clapping against the catcher's glove. Don't look for him to repeat it precisely every time, though. Texas' fourth-ranked prospect mixes in some quirky ancillary deliveries, such as a Johnny Cueto-like shimmy and a Daisuke Matsuzaka-esque over-the-head windup.
It's an unorthodox pitching style, but it suits Crouse well.
"I think it's individual and it's different -- and I think in some sense, people take different as bad," Class A Short Season Spokane pitching coach Jono Armold said. "I don't look at it that way. They talk about his mechanics and say, 'Oh, they make me wince.' And I challenge that you don't know what you're looking at. From a delivery perspective, it's pretty sound."
His delivery is far from the only eccentricity Crouse displays on the bump. He often mutters to himself between pitches, and he likes to kick around and groom the dirt on the mound -- ala former Tigers pitcher Mark "The Bird" Fidrych.
"When I'm out on the mound, I'm just loose. I couldn't really care less what someone thinks of me, as long as I'm not hurting that person," the 19-year-old right-hander said. "I'm just going to be me out there. I've always been me ever since I was a little kid. I've always been a little unique and I've always wanted to separate myself from the crowd. The way I do it out on the mound is obviously a little different, but it works for me and I'm going to stick with it until someone says it ain't working anymore."
Crouse, who picked up a Pitcher of the Week award earlier in July, isn't afraid to admit he's also a little different off the mound. He designs his own tattoos, which adorn his left arm. A native of Dana Point, California, he grew up minutes away from the beach and enjoys surfing.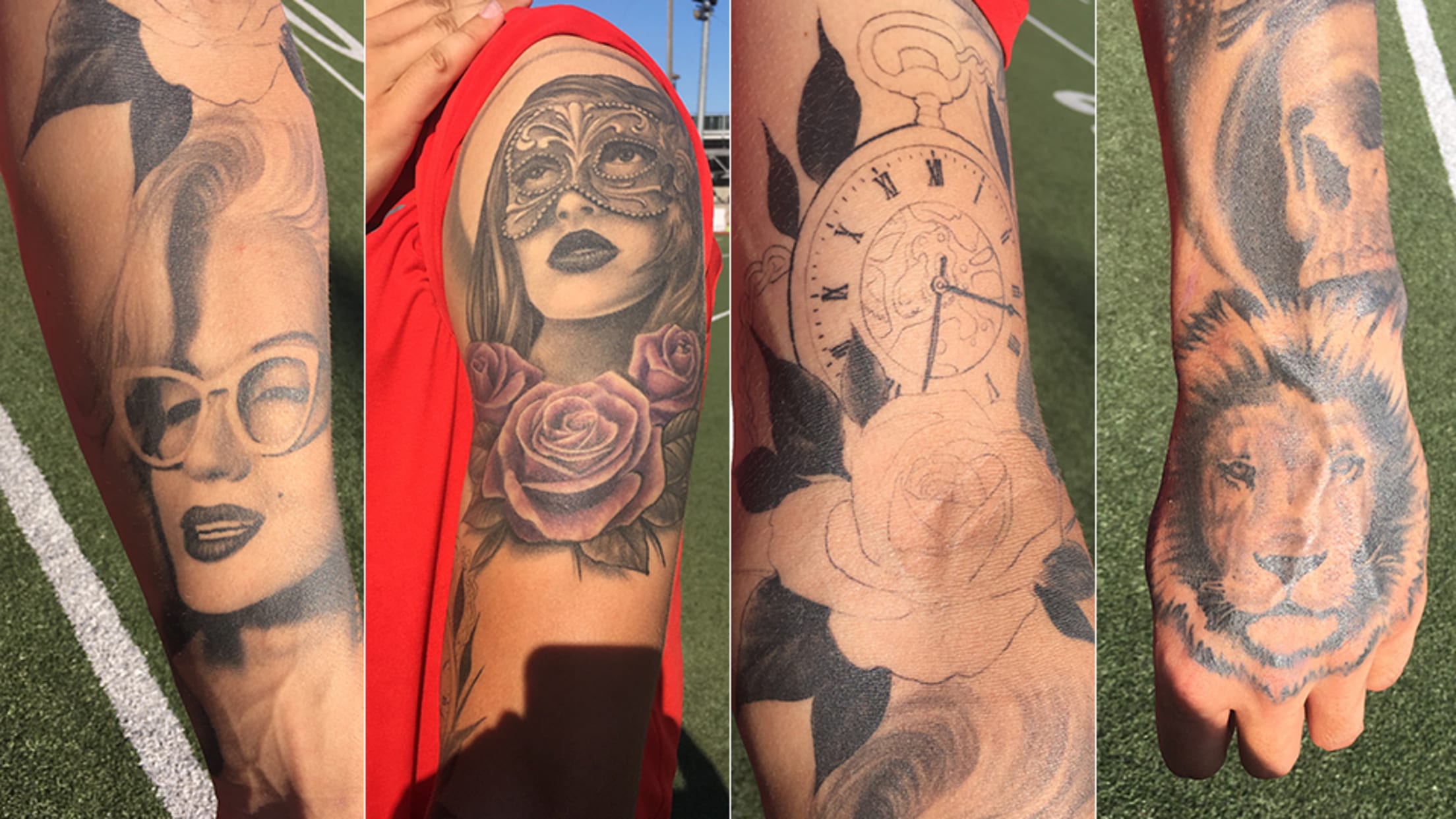 "I can just go out there alone and I don't need anyone else to go out there to surf. I can get lost in my thoughts and think to myself," Crouse said.
As zen and peaceful as he is on a surfboard, on the mound he's an intense competitor -- and has been ever since his Pony League days in Dana Point.
"I tell myself two words when I'm out there: 'laser focus,'" Crouse said. "I'm going to put my hat down and it's going to be me and the glove, and that's it. That's what I'm going to be focused on, every pitch, every inning.
"Off the mound, off the field, I'd say I'm a pretty quiet kid. I'm obviously a little different with how I go about my business. But on the mound I've got to be focused the whole time, because I've got a job to do for my teammates behind me."
He didn't always feel so locked in on baseball, though. As a young kid, Crouse didn't have the attention span for the game and stopped playing when he was 8 years old. His grandfather, John Crouse, urged him to stick with it.
"I went back out there and I've loved it ever since," Crouse said.
He played up the next season with his older brother, Marrick, who was selected in the 11th round of the 2015 Draft by the Blue Jays but instead enrolled in the University of Southern California.
The nudge to return to the ballfield was hardly the last way his grandfather would influence Crouse. His parents split up before his first birthday, and due to their issues with drug abuse, his grandparents -- John and Robin Crouse -- took custody of and raised the two boys. They provided Crouse a stable environment, one in which he could blossom into the person he is today.
"I can guarantee you this: I would not be where I am now if it weren't for my grandparents," Crouse said.
And it was at their house in 2017 that Crouse gathered with about 50 of his closest friends and family members to watch the Draft. Crouse's agent believed the compensation round would be a likely landing spot, but instead the righty slipped into the second round and was taken No. 66 overall by the Rangers.
Because of the team that took him, he wasn't upset by the later-than-anticipated selection. Before the Draft, his agent mentioned a few organizations he perceived as good fits for Crouse. The Rangers were on the top of the list.
"The thing I love about the Rangers and what I respect about them, 100 percent, is that the first thing they said the moment I showed up in Arizona is, 'We are not going to mess with your mechanics at all right away, and we're just going to let you go out there and pitch and compete,'" Crouse recalled. "'If we see something we need to correct, we're obviously going to do it, but right now it's just all about you and competing.'
"So far, they haven't said anything to me about it, and that's been really awesome, to have that confidence in me right away."
It's paid off. Crouse boasts a 2-1 record and a 2.21 ERA in the Northwest League this season. His start against Eugene on July 13 was dominant: seven one-hit innings with 11 strikeouts.
His mechanics may evolve as he traverses through the Minors, but scouts tend to agree his potential is colossal. His fastball is 70-grade, according to MLB.com. That heater combined with his burgeoning breaking pitches could someday land him on the front end of a big league rotation.
Whatever the future holds, it's clear Crouse will continue to compete intensely on the mound and remain true to himself.
"I guess you could call him a kid at heart," Armold said. "Obviously, an eccentric personality. Outgoing, but reserved in his own right. He's got his own little quirks and stuff, but he's Hans Crouse. He's himself."
Josh Horton is a contributor to MiLB.com. Follow him on Twitter @joshhortonMiLB