Hillcats Rebound with Victory Over Red Sox 
Planez Goes Yard Twice to Propel Lynchburg to Game One Win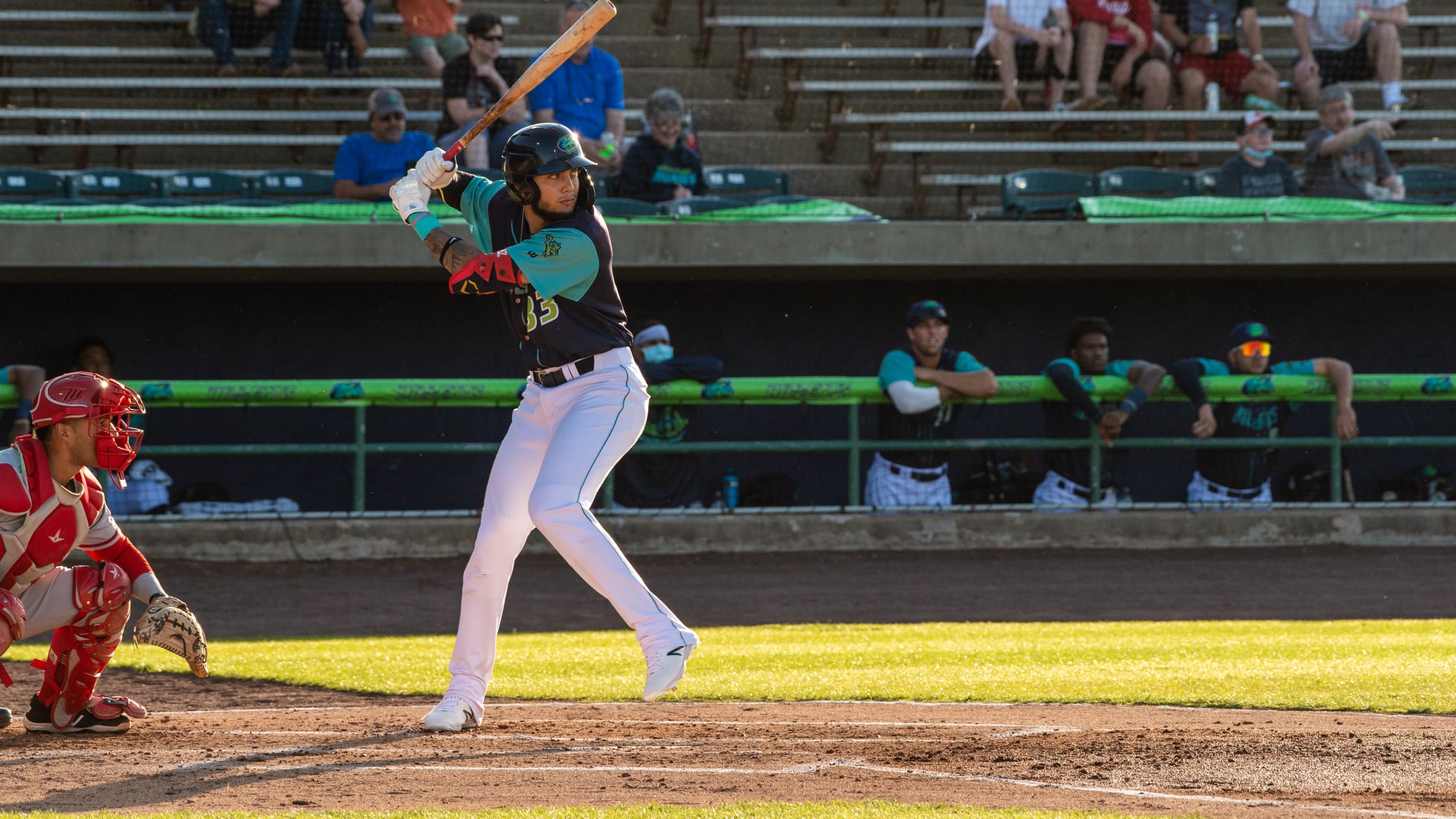 (Lindsay Carico)
Lynchburg, Virginia – Alexfri Planez blasted the Lynchburg Hillcats' (15-9) first grand slam of the year and 'Cats racked up five runs in the bottom of the fourth to end a fifteen inning scoreless streak in a 7-5 win over the Salem Red Sox (12-13). HOW IT HAPPENED
Lynchburg, Virginia – Alexfri Planez blasted the Lynchburg Hillcats' (15-9) first grand slam of the year and 'Cats racked up five runs in the bottom of the fourth to end a fifteen inning scoreless streak in a 7-5 win over the Salem Red Sox (12-13).
HOW IT HAPPENED
Hillcats' starter Xzavion Curry (3-0) and Salem hurler Shane Drohan (1-1) kept things scoreless until the bottom of the fourth when Lynchburg broke the game open. Yanier Diaz kicked the frame off with a single to left field, moving to third on a passed ball and throwing error from Salem catcher Alex Erro. After Johnathan Rodriguez walked, Andres Melendez roped a base hit to right-center that scored Diaz. With two on Cody Farhat reached on a bunt that was bobbled by Drohan, loading the bases in time for Alexfri Planez to step up to the plate. The Hillcats' slugger brought everyone home when he crushed a 1-2 pitch over the left field wall to make it 5-0 Hillcats after four innings of play.
For the third time in five starts Xzavion Curry pitched five scoreless innings, fanning six in his standout start on the mound.
In the top of the sixth Gilberto Jimenez singled to shallow left and while Curry got Matthew Lugo out, the Hillcats sent out a new pitcher in Zach Hart. A single and a throwing error allowed Jimenez to score, with two more runs coming through on a single and a bases loaded hit by a pitch. Hart fanned Nick Yorke, but new Hillcats' hurler Daritzon Feliz came in to retire the final batter and end the inning with Lynchburg up two.
With the Red Sox in striking distance, Alexfri Planez created some more separation in the bottom of the sixth. Planez became the third Hillcat to hit two home runs in a game when he smoked the first pitch he saw to left for a solo bomb. A batter later Angel Martinez got in on the fun, mashing a solo-shot of his own to put the Hillcats up 7-3.
The Red Sox tallied in the top of the seventh and ninth, but Feliz and Jerson Ramirez ended all hopes of a comeback combining for three and a third innings in relief to give Lynchburg a 7-5 victory over Salem.
INSIDE THE BOX SCORE
19-year-old Angel Martinez now has thirteen RBIs on the year.
The Red Sox ended Jerson Ramirez's 13.0 inning scoreless streak in the top of the ninth, however the Hillcats' closer still earned his fourth save of the year.
WHO'S NEXT
The Hillcats are back in action at 6:30pm on Wednesday night for another matchup with Salem.