Isotopes cool off Grizzlies 7-3 on Wednesday
Tony Kemp (9) and Tyler White (8) extend hit streaks in defeat with two knocks apiece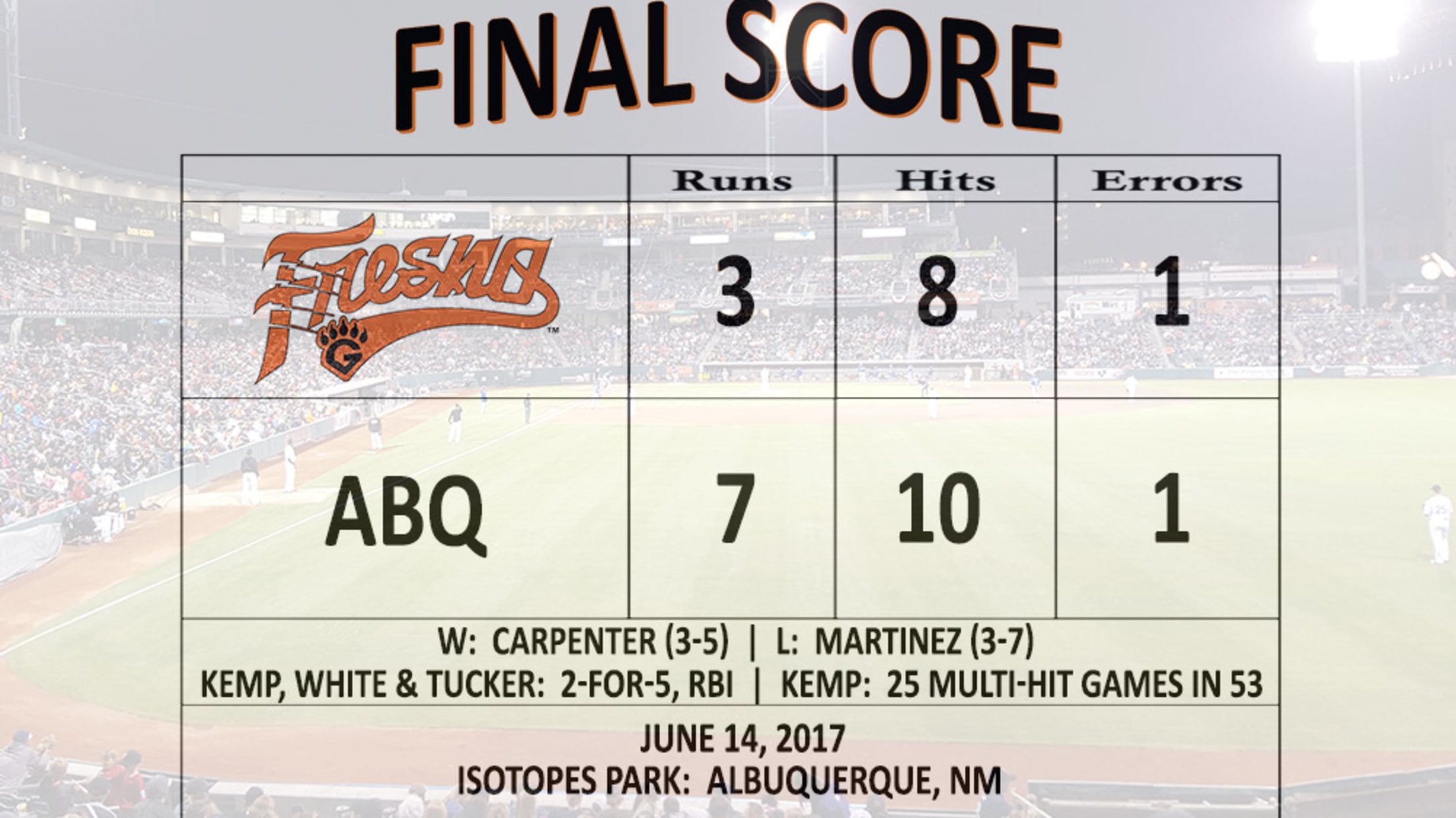 Amidst a 6-3 road trip and a 9-4 June, the Fresno Grizzlies (32-34) were cooled off by the Albuquerque Isotopes (32-33) on Wednesday night, 7-3 at Isotopes Park. Fresno is still striving to get back to .500 for the first time since April 23, when they were 9-9 following a
Amidst a 6-3 road trip and a 9-4 June, the Fresno Grizzlies (32-34) were cooled off by the Albuquerque Isotopes (32-33) on Wednesday night, 7-3 at Isotopes Park. Fresno is still striving to get back to .500 for the first time since April 23, when they were 9-9 following a 5-2 home win over Salt Lake. Winners of three straight twice on this trip, the Grizzlies were stymied in pursuit of their first four-game road win streak this season.
Albuquerque drew first blood, with a Ryan McMahon solo homer, his first career in Triple-A after being summoned from Double-A Hartford two weeks ago. The Isotopes added three more runs in the third, in an eight-batter, four-hit inning. Noel Cuevas, Jordan Patterson and Cristhian Adames each rapped an RBI single during a string of four consecutive ABQ base knocks.
Still trailing 4-0 in the sixth, Fresno broke through with a leadoff double from Tyler White (2-for-5), his third double of the series in two games, extending a hit streak to eight games. White would score a batter later on Preston Tucker's RBI single, his club-leading 48th run driven in. Tucker (2-for-4) has now hit safely in eight of nine games and 15 of his last 18.
Isotopes starter Ryan Carpenter (3-5) went five innings, scattering four hits, a walk and an earned run. Carpenter's nine strikeouts were a season-high for a single pitcher against the Grizzlies. It was just the 13th time this season in 66 games that Fresno faced a left-handed starting pitcher (6-7), and Wednesday was their second match-up against Carpenter in 2017. Fresno's 14 strikeouts as a lineup was the most they've struck out in a game this season.
Grizzlies starter David Martinez (3-7) narrowly missed his fifth consecutive quality start (minimum 6 IP, 3 or fewer ER), spreading six hits over six innings, with three walks and four strikeouts. The four runs he allowed were earned.
Fresno chipped away again in the seventh, when White delivered his second RBI knock of the night, scoring Alejandro Garcia from second after a leadoff walk and a Jon Kemmer hit by pitch. The Albuquerque lead was reduced to 4-2. White continued to hit over .500 in what is now an eight-game hit streak, on a 17-for-33 stretch (.515). White has three homers, six doubles, 11 RBI, nine runs scored and five walks during the streak.
Albuquerque put things out of reach in the eighth, with a three-run inning aided by a pair of Grizz errors. Rosell Herrera's two-run single with the bases loaded did the bulk of the damage, and the lead was 7-2.
Tony Kemp's first inning single extended his current club-long hit streak to nine games. He added another RBI single in the ninth to make it a 7-3 final, driving home Garcia after he led the inning with a single, and moved over on a Kemmer groundout. Kemp (2-for-4) achieved his 25th multi-hit game of the season, tying the departed Derek Fisher for the club lead. Kemp has multiple hits in a remarkable 47% of his games started/played (53), and has also hit safely in 15 of his last 18 games, matching Tucker.
The third of this four-game set will be Thursday evening at 6:05 PT (7:05 MT) at Isotopes Park in Albuquerque. Probable starters are right-handers Kyle Smith for the Grizzlies, who will make his Triple-A debut after being promoted from Double-A Corpus Christi on Wednesday, and Barry Enright (3-1, 4.37) for the Isotopes.