Fortune favors bold on Isotopes' center field hill
Slope creates highlight-reel chances for adventurous defenders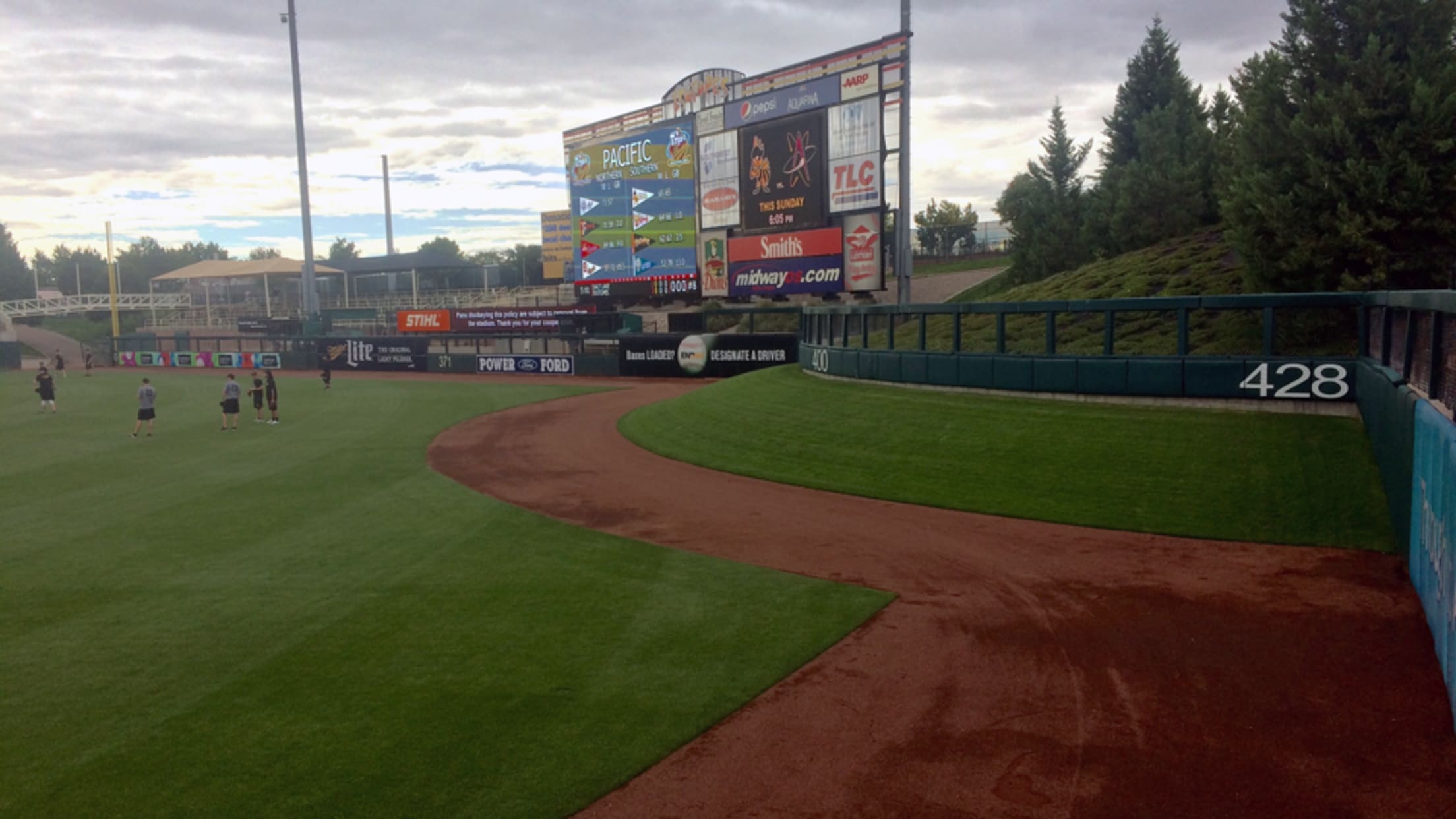 Players, coaches and Isotopes staff members say the hill in center field is steeper than it looks in photos and on video. (Josh Jackson/MiLB.com)
ALBUQUERQUE, New Mexico -- When Triple-A Albuquerque manager Glenallen Hill welcomes a new center fielder to Isotopes Park, he offers a bit of advice. But you could hardly call it a word of caution."Just go play on the hill," the skipper said. "Treat it like you're 12 years old. That's
ALBUQUERQUE, New Mexico -- When Triple-A Albuquerque manager Glenallen Hill welcomes a new center fielder to Isotopes Park, he offers a bit of advice. But you could hardly call it a word of caution.
"Just go play on the hill," the skipper said. "Treat it like you're 12 years old. That's part of your home field that you've got to get use to. Have some fun with it. It's not something that we tell them to stay off of, because it's part of the park."
After the removal of Tal's Hill at Houston's Minute Maid Park last year, the center-field slope at Isotopes Park stands as a unique feature in affiliated professional baseball. Over a swath of 127 feet from left-center to right-center, the ground abruptly rises four feet above the warning track, hitting its height 20 feet back at the wall. The far corners are 428 feet from home plate, and the middle of the wall is at 400 feet.
"It's a lot steeper than a lot of people think [before they see it up close]," Albuquerque center fielder Mike Tauchman said. "It's a lot steeper, from what I've heard from people who've dealt with both, than the one that used to be in Houston. But it kind of flattens out at the top, so it's actually unique in that way."
The 26-year-old Rockies prospect has played more than 130 games with the Isotopes since last season, and he's made more than his fair share of eye-popping plays on the slope.
"Early on in 2016, I made sure I was getting a lot of reads on it, just during BP, just getting comfortable with it. The most important thing is, you just have to be really aggressive," Tauchman said. "A lot of teams come in and they're really concerned about it and adjust their play based on it, but I think our guys, we just try to treat it like anything else. You know it's there, but you're aggressive and you go up it hard and aggressively and that lets your natural athleticism take over."
He added that throwing from the hill presents its own surprises.
"I try to set my sights about 50 feet shorter, then the ball kind of goes there. I almost try to throw it straight into the ground, if I'm on top of the hill throwing the ball down," he said. "Otherwise, you just kind of launch it, if you just try to throw it to the guy. You almost have to underestimate your throw, and it kind of ends up going where you want it to go."
The tradition of bold outfielders who've conquered the hill dates back to Isotopes Park's grand opening in 2003 (three years after the ballpark in Houston opened). Josh Suchon, the Albuquerque broadcaster, has seen everybody who's come through since 2013 and heard about fantastic catches by many who came before -- including former Dodgers prospect Jamie Hoffmann, whose July 26, 2010 charge straight up the hill for a grab robbed a home run from Nashville's Matt Gamel and has become a local legend. A blown-up photo of the catch hangs in the hallway between the Isotopes' press box and radio booth.
Watch: Youtube Video
"Some people call it Hoffmann's Hill. Some people call it the 'Topes' Slope," Suchon said. "When I got here I heard those, and I was originally calling it 'Topes Slope, but it's really hard to say, especially on the air when you're describing [the game action]. Now if it's in the middle of the action, I just call it the hill. If it's more of a casual mention, I'll call it Hoffmann's Hill, and I'll explain."
In Suchon's first year with the Isotopes, who were a Marlins affiliate from 2003-2008 and a Dodgers affiliate from 2009 until they became a Rockies affiliate for the 2015 season, he called impressive plays by Tony Gwynn Jr. and Matt Angle.
"Gwynn and Matt Angle attacked," the broadcaster recalled. "And I mean attacked. They ran up the hill like it was an offseason workout. That's because they both were here enough years that they got used to it. I think the guys who, especially the road guys who come here for the first time, sometimes they backpedal."
Backpedaling or other cautious maneuvering can often bite a player in the backside. Opposing center fielders sometimes position themselves nearly at the warning track to prevent the hill from sneaking up on them, but that tactic allows balls that would otherwise be outs to drop in front of them for singles.
"[Visiting outfielders] just aren't used to the ground suddenly changing on them, and not panicking," Hill, the 'Topes manager, said. "I think it plays a little bit of a factor. I think when teams come in here and their fielders actually go and take some balls off the bat or take some balls off the fungo, and they experience what it's like to run up the hill, it helps them out. I think if they do not do that, it can definitely affect the outcome of a ball that's catchable.
"We've been pretty blessed to have very aggressive outfielders," he added. "That helps, versus having an outfielder who plays a little more cautiously."
Among those aggressive outfielders this season, in addition to Tauchman, are Noel Cuevas and Raimel Tapia. When they make a grab out there, the team believes the impact can be greater than the one out that goes in the books as a result.
"It definitely can be a momentum-changing play. Any time there's a ball up there, there always is that uncertainty that something crazy can happen," Tauchman said. "In most parks, if you hit a ball in one of the corners out there, in most parks, it would be a home run. Being able to make a play for an out when it would be at a minimum an extra-base hit, it's a big boost for the team. It's a big momentum play. But our guys, whether it's Tap or me or Cuevas or whoever's out there, those plays are fun, and those are plays that can get you on SportsCenter."
Suchon has enjoyed observing different approaches each player takes to the slope.
"Tapia's had a bunch of them. Tapia usually falls down. Tauchman, he stays on his feet and makes the catch," he said. "[Joc Pederson] didn't have that many chances when he was here. It's weird -- even though he was here the entire season, he didn't actually have that many chances. I think he was ultra-cautious early in the season, understandably so, and then became more confident and more aggressive later in the year."
Another outfielder who made a big name for himself with the Dodgers took an entirely other tack. Matt Kemp came to Albuquerque for a three-game rehab assignment in June 2013.
"I actually had a nightmare that he re-injured himself going up the hill. And I told him the next day -- I don't know why, I shouldn't have," Suchon said. "I remember Kemp looking out there, and he goes, 'Yeah, I'm not going up that thing. I'll just wait for it to roll down.'"
The grounds crew at Isotopes Park doesn't have that luxury, of course. They have to bring out a rotary mower for that part of the field, and getting water to all parts of the hill can be a challenge.
"When we're mowing it, we're literally walking at a 45-degree angle," said head groundskeeper Craig Sampsell, who's heard a story of a crew member getting into trouble up there with an aerating machine a couple years ago, before Sampsell joined the 'Topes.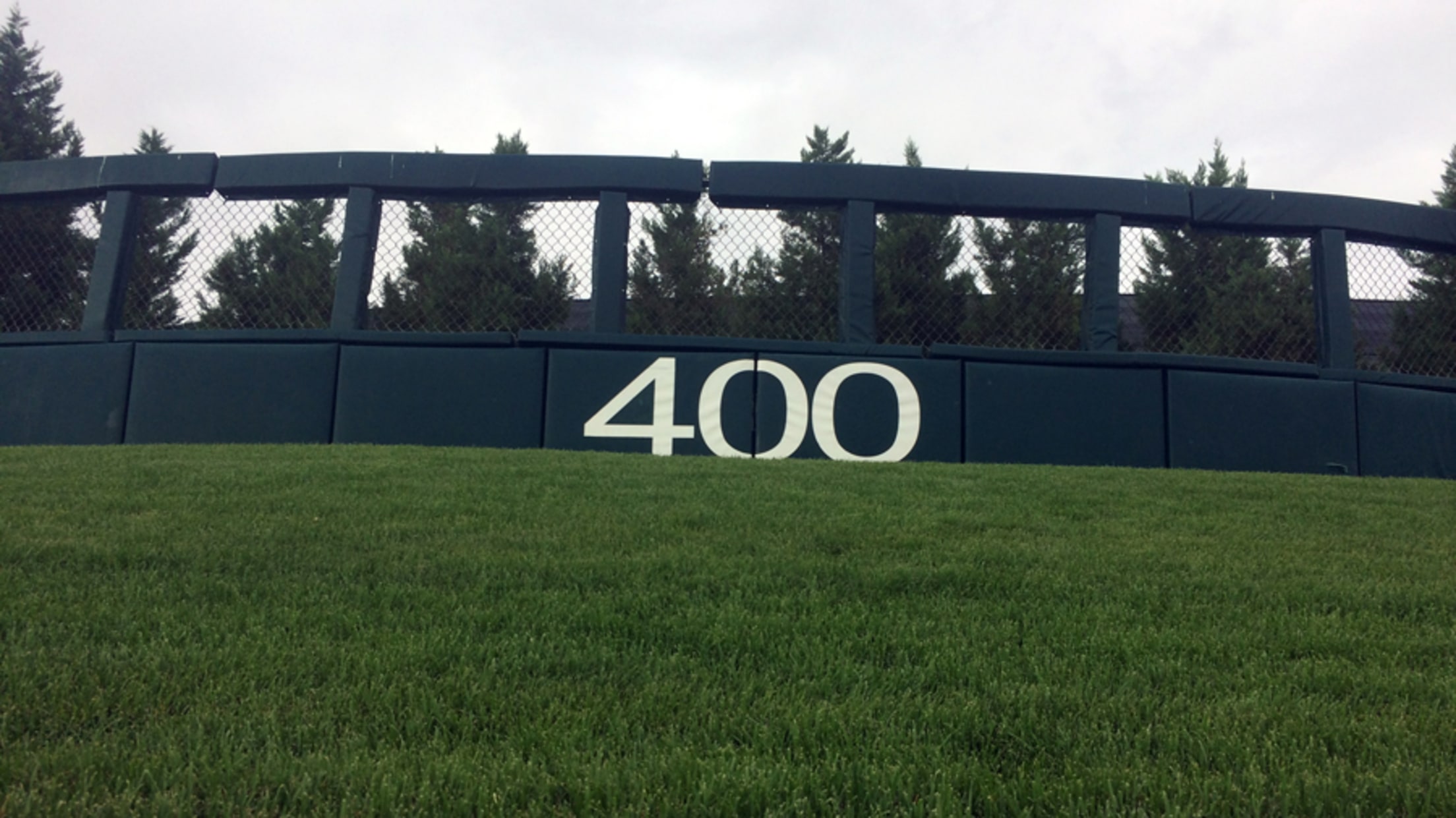 "It's kind of an awkward machine to use," he said. "It's slow, it's bulky, it's hammering needle tines into the grass. [The crew member] was trying to get up on one of the corners, and he got the machine stuck. He was almost pinned against the back wall just because it's such a tight turn and an awkward angle for all of it."
Awkward though the hill may be in some ways, it's cherished in others.
"Every ballpark is unique," Tauchman said. "Every ballpark has its distinct home-field style, their distinct flavor, and for us, here, it's the hill."
Josh Jackson is a contributor to MiLB.com. Follow and interact with him on Twitter, @JoshJacksonMiLB.