Keys and Mudcats Postponed
Doubleheader Slated For Tuesday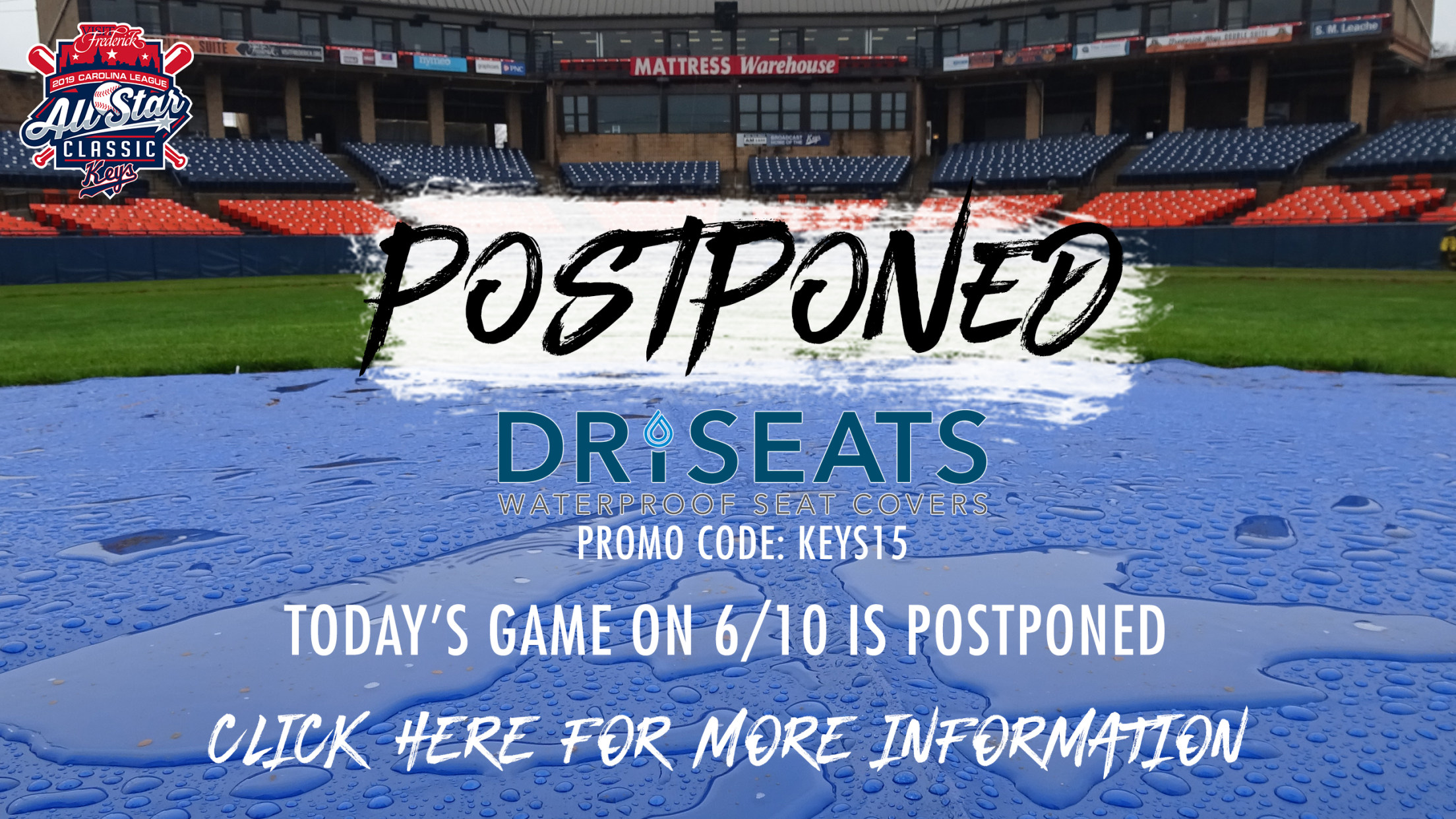 FREDERICK, MD - Monday night's contest between the Frederick Keys and Carolina Mudcats has been postponed due to rain. With the rain out, the Keys and Mudcats will play a doubleheader on Tuesday, June 11 before playing the series finale on Wednesday. Tuesday's twinbill will begin at 5 p.m. with
FREDERICK, MD - Monday night's contest between the Frederick Keys and Carolina Mudcats has been postponed due to rain. With the rain out, the Keys and Mudcats will play a doubleheader on Tuesday, June 11 before playing the series finale on Wednesday. Tuesday's twinbill will begin at 5 p.m. with gates opening at 4. Tuesday's Guaranteed Win promotion will still be in effect for the doubleheader.
Tickets for tonight's game can be exchanged for any remaining 2019 regular season game based on availability. All exchanges must be made at the box office. Fans with tickets to Tuesday's games receive admission to both games.
On Tuesday, the Keys will start left-hander Cameron Bishop (0-4, 4.36) in game one against Matt Smith (1-5, 4.05) for the Mudcats, while Noah Zavolas (3-2, 3.47) takes the mound for Carolina in game two. For tickets to Tuesday's doubleheader, fans can call the box office at 301-815-9939 or visit frederickkeys.com.
The three-game homestand against the Mudcats is the Keys' last series at Nymeo Field in the first half as the team will play a five-game set against the Salem Red Sox at Hayley Toyota Field starting Thursday, June 13. Nymeo Field will host the 2019 Visit Frederick Carolina League All-Star Classic on Tuesday, June 18. Currently, all reserved seats are sold out, while limited field seats and general admission seating is available. Fans interested in attending the game should purchase their tickets quickly before it is too late. For tickets, fans can call 301-815-9939 or visit frederickkeys.com.