Limited Tickets Remaining for Wednesday's Game
SeaWolves Celebrate America with the Largest Fireworks Show in UPMC Park History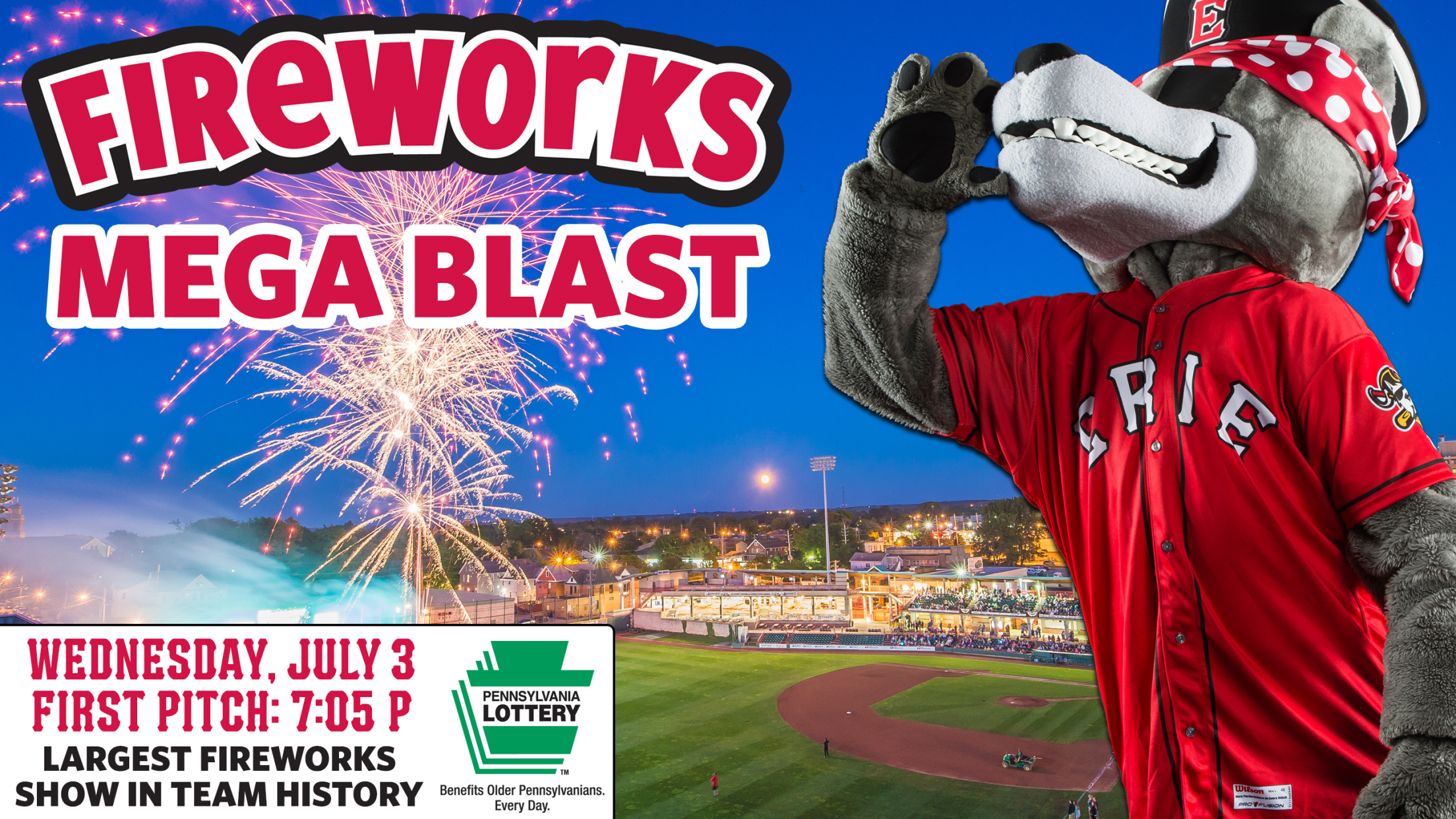 The Erie SeaWolves, Double-A Affiliate of the Detroit Tigers, will host a Mega Blast Fireworks Spectacular to commemorate America's birthday on Wednesday, July 3 at UPMC Park. Limited seat availability remains for the game against the Binghamton Rumble Ponies. Fans are strongly encouraged to buy their tickets in advance of
The Erie SeaWolves, Double-A Affiliate of the Detroit Tigers, will host a Mega Blast Fireworks Spectacular to commemorate America's birthday on Wednesday, July 3 at UPMC Park. Limited seat availability remains for the game against the Binghamton Rumble Ponies.
Fans are strongly encouraged to buy their tickets in advance of Wednesday night's game. Tickets can be purchased at the UPMC Park ticket office or online at SeaWolves.com. Fans may also select Mobile Entry with their online purchase and use their mobile device to gain entry into the ballpark. Due to the large crowd expected, all gates will open 30 minutes early. The season ticket holder gate will open at 5:15 p.m., and the main entry gate will open at 5:30 p.m. Game time is 7:05 p.m.
"As of 6 p.m. today, there were fewer than 30 tickets remaining in the Dugout Box Seat sections and fewer than 300 tickets remain in the Baseline Box Seat sections," SeaWolves Assistant General Manager of Communications Greg Gania said. "The July 3 game in 2018 was a sellout with a UPMC Park record crowd of 7,020 fans so we would like to encourage all fans to purchase in advance rather than at the door."
The Mega Blast Fireworks Spectacular, presented by the Pennsylvania Lottery, will be the largest fireworks show in UPMC Park history, topping the previous largest fireworks show on July 3, 2018. It will be the equivalent of more than two regular ballpark fireworks displays. The show will be produced by Zambelli Fireworks of New Castle, PA. The fireworks will be accompanied by a live performance on the field by the Erie Philharmonic Brass Quintet.
Also, on July 3, the SeaWolves will hold their annual All-American BBQ Picnic. For only $30, fans can enjoy a 90-minute, all-you-can-eat buffet featuring BBQ chicken, pulled pork, macaroni and cheese, potato salad, watermelon, cookies and more. The offer, available only with advance purchase by noon on Wednesday, includes a ticket to the game.