Unsworth trying to make history for Africa
With King Felix's help, he strives to be homeland's first Major Leaguer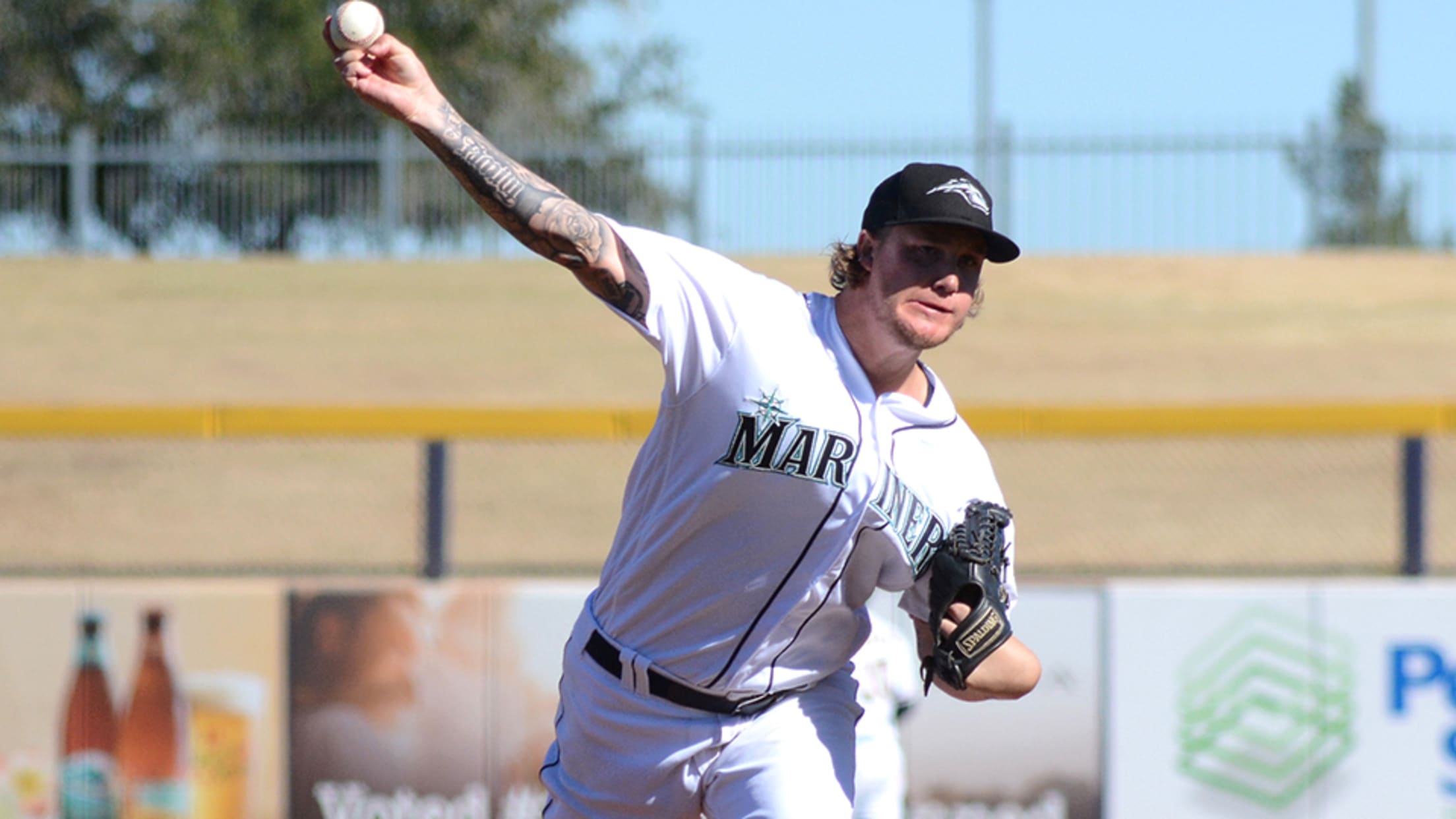 Dylan Unsworth went 4-1 with a 3.00 ERA in the Arizona Fall League last year. (Buck Davidson/MiLB.com)
With long blond hair peeking out from under his cap and tattoos up and down his right arm, Dylan "Sharkie" Unsworth may have the look of a modern-day pitcher. But the truth is, he's one of a kind.A native of Durban, a city on South Africa's East Coast, Unsworth is
With long blond hair peeking out from under his cap and tattoos up and down his right arm, Dylan "Sharkie" Unsworth may have the look of a modern-day pitcher. But the truth is, he's one of a kind.
A native of Durban, a city on South Africa's East Coast, Unsworth is trying to become the first player from Africa to make it to the Major Leagues.
"Everybody back home knows exactly what it means to me, just being here," Unsworth said. "It's taken me eight years to get to where I am today. When I came over at age 16, I wanted to be over on this side, so to be where I am today, it's truly a blessing."
Unsworth is one of two South Africans, along with Pirates shortstop Gift Ngoepe, to have reached the upper Minors. Soon it may not be that rare to see players from Africa climb the baseball ladder.
In 2011, Major League Baseball established an academy on the continent called the MLB African Elite Camp. Since its inception, the camp has attracted teenagers from South Africa, Uganda, Kenya, Tanzania, Zimbabwe, Nigeria, Ghana and Ivory Coast.
Unsworth's journey started when he was 6 years old and played tee ball in his home country. Rather than focus on soccer, rugby or cricket like his fellow South Africans, he fell for a sport that most of his countrymen have never played.
Originally an outfielder, Unsworth stepped up when his team needed a pitcher. His teammates and coaches liked what they saw and encouraged him to continue in that direction. Unsworth went to the MLB European Baseball Academy in Italy, where he caught the eye of Mariners scout Wayne Norton.
Two weeks later, the 16-year-old Unsworth starred for the South African National Team in the World Cup in Barcelona. Norton showed up to watch the right-hander, and when he landed back in South Africa, the scout was waiting for him with a contract.
Eight years later, Unsworth is on the verge of breaking a barrier that a few years ago seemed unattainable.
"There's a lot of people who've supported me," he said. "My brother, Donovan, flew in from St. Louis for my Spring Training debut against the White Sox last week. He went on Facebook Live to get some videos and let everyone know what was going on pitch by pitch. It was awesome to have my best friend here for that."
Along the way, Unsworth has earned the support of Mariners marquee pitcher Félix Hernández. Despite being from completely different backgrounds -- Hernandez is from Venezuela -- the duo's pitching style is similar.
Unsworth doesn't overpower hitters with velocity. Instead, the 24-year-old relies on a good changeup and terrific command to keep hitters off-balance.

"Spring Training is going really well. It's been exciting to learn from one of the best. Felix has really taken me under his wing," he said. "He's been telling me that I've got really good stuff, I just need to use it and go after hitters like he does."
Hernandez and Unsworth's relationship goes beyond this year's camp. Over the fall, Hernandez took his family to Cape Town for vacation and relied on Unsworth to help him get a feel for the Rainbow Nation.
"I was actually in the Fall League, so he communicated with me via text messages and was asking me questions about traveling around Cape Town and where to go and what are good places to eat. I was able to give him some information to use."
As any good South African would, Unsworth told his fellow hurler that he couldn't leave without enjoying a braai. Barbecues are to Americans what braais are to South Africans.
"We don't do barbecues. He got a chance to have a braai and he enjoyed that as well. Actually, he said he almost bought a house down there so, he must've liked it," Unsworth said with a laugh.
Proud of how much Hernandez enjoyed his homeland, Unsworth did wish "King Felix" got the chance to try biltong, a popular food consisting of cured, dried meat that is enjoyed all over the southern part of Africa.
Unsworth spent all of last year with Double-A Jackson. He came out of the gates in impressive fashion, compiling a 3-1 record, 1.16 ERA and 1.05 WHIP in 46 1/3 innings before a hamstring injury cut his season short.
Then the Mariners sent Unsworth to the AFL, where he went 4-1 with a 3.00 ERA and a 1.23 WHIP for the Peoria Javelinas.
Unsworth has made his way into two games so far this spring, both times working out of the bullpen, and has yet to allow a run. In three innings of work, the 6-foot-1 righty has allowed just one hit and struck out five.
"I've been coming out of the bullpen and it's nothing too serious right now, just getting some innings," he said. "The team has spoken to me about how I could be in the starting rotation or I could be a setup or long relief guy. But I'm not too concerned about that right now. I'm just feeling good and trying to keep that going."
No matter what his role ends up being, Unsworth is just happy to compete for a spot on the roster. In his eight years with the Mariners, Unsworth has seen his fair share of ups and downs.
"I came over when I was 16 and there were some tough times. I was going right into the deep end and had to figure things out for myself at such a young age when everybody else is much older and has a lot more baseball experience," he explained. "One of the toughest parts of my career was in 2015 when I got taken out of the starting rotation at Jackson and had to figure things out of the bullpen. I went through a tough time going from Double-A to Class A Advanced when it was my goal that year to be in Double-A. There was definitely some tough thoughts and negativity."
To get out of the funk, Unsworth turned to his mother, some 9,000 miles away, for advice.
"I spoke to my mom and we prayed and said let's go back to basics and take things day by day," he said. "And the following year, after all the downfalls, I was an All Star and got selected for the Fall League. And I've just been trying to keep moving forward."
Should Unsworth keep doing so, he will end up in the history books.
Michael Leboff is a contributor to MiLB.com.