Dillard connects, entertains through viral videos
Brewers reliever brought lip-synching skills to Latin awards show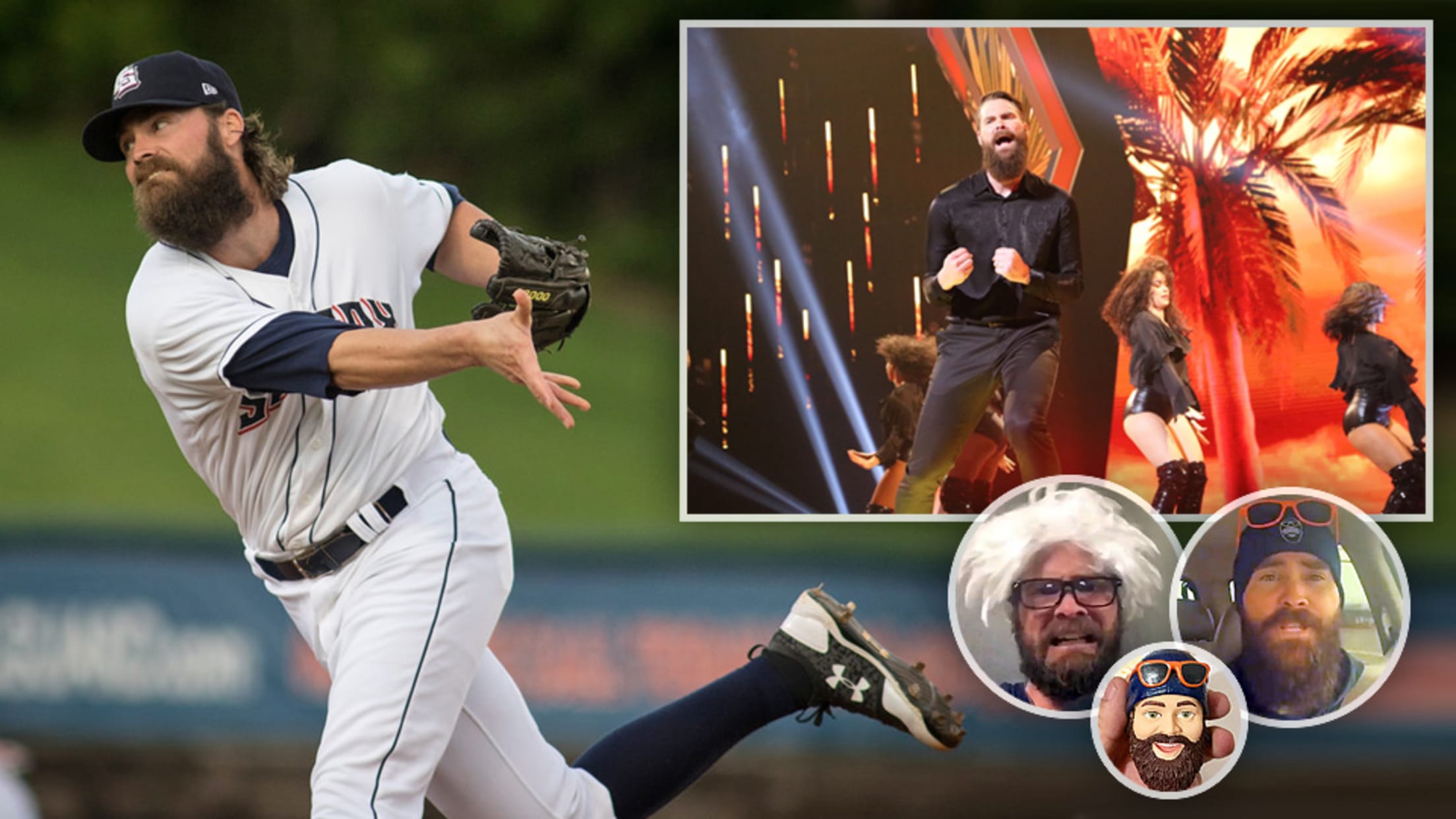 Drafted in 2002, Tim Dillard is 82-56 with a 3.92 ERA and 876 strikeouts over 1,252 2/3 career innings in the Minors. (Bobby Stevens/MiLB.com)
After all the practice, Tim Dillard was ready for the show. Top athletes were watching, his wife was in attendance and his kids were glued to the TV back home, all excited to watch his big debut. Taking the stage at last month's Premios Univision Deportes -- or Univision Sports
After all the practice, Tim Dillard was ready for the show.
Top athletes were watching, his wife was in attendance and his kids were glued to the TV back home, all excited to watch his big debut.
Taking the stage at last month's Premios Univision Deportes -- or Univision Sports Awards -- Dillard felt like he did nearly 10 years ago when he stepped on a big league field for the first time.
"Don't mess up. Don't trip," he told himself before his big moment.
Admittedly out of his comfort zone, the Brewers farmhand acted, lip-synched and danced to "Andas en mi Cabeza" by Chino y Nacho and Daddy Yankee for the Latin awards show.
Univision discovered Dillard after the 34-year-old hurler made several videos of him and teammates lip-synching to Spanish and reggaeton songs.
Dillard first fell in love with the music back in 2003 as his Latin teammates blasted it in the clubhouse and on the field. With catchers from the Dominican Republic, Puerto Rico, Colombia, Mexico and Venezuela, he used the music to connect and break the language barrier. Before long, Dillard himself was blasting the likes of Don Omar and Nicky Jam. Though he still only knows a little Spanish, the pitcher went viral with his music videos.
"Looking back at the videos from the past season, it's all striking on how much we did, how much we dressed up, the stunts we did. Luckily nobody got hurt," Dillard said with a laugh. "But I don't know. That's just how I operate. It's not always looking for a picture or a video -- it's just looking at the other side of whatever is going on. I try to be positive. And I know that sounds kind of cliché, but I look to have fun. I love to have fun."
Algo Contigo @GdZOficial pic.twitter.com/ojUSFDPawM

— Tim Dillard (@DimTillard) May 21, 2017
Dillard's been making videos as long as he can remember, but it's a lot easier these days.
"I don't have to have the huge VHS camera that sits on your shoulder," he said.
Along with his brothers, Andy and Jeff, the Florida native performed skits and songs as gifts for their grandparents. Their mom, Mary Jane, would hold the lights while their dad, former Major Leaguer Steve, held the camera.
As Dillard got older, he continued to entertain. In high school, he ignored the invisible barrier of cliques, making sure no one felt excluded.
"I tried to hang out with everybody, and I think the older I got, I don't really know why I was doing that, but I think that -- not only baseball, but in a general sense -- it's about relationships," he said. "That's why I love connecting with people over Twitter, just to hear someone's story and talk to them. It doesn't take a lot of effort and some people, they want to get to know other people and I embrace that. I think it's great."
Dillard joined Twitter on April 3, 2013 during one of the most trying times of his career. After electing free agency in October 2012 and "getting fired in Mexico" a few months later, the right-hander found himself in independent ball.
Not knowing what was going to come next, his wife, Erin, thought social media would be a great place for her husband to share his silly ideas and musings so that they could be enjoyed by more than just an audience of one. She also thought it could help for life after baseball.
"I was in a basement, I was staying with a host family. Independent baseball is obviously not affiliated with any Major League team, so I didn't really know what was next in my career, if I was ever going to play again," he said. "I was away from my family, and so I kind of got Twitter as an outlet of the way I am, in a creative or eccentric way. I didn't know what I was going to do with it."
🚌TRIP Vol. 3 pic.twitter.com/1ihVTGtw9M

— Tim Dillard (@DimTillard) August 28, 2017
When players in Double-A Biloxi think about a promotion to Triple-A Colorado Springs, they think about the usual bonuses: one step closer to the Majors, better competition, bigger stadiums. But there's been one unique plus to joining the Brewers' top affiliate over the past couple years.
"Guys who would go up to Triple-A would get to be in his videos," infielder Nate Orf said. "In a weird way, it became part of making it to the next level, to be a part of Dillard's whole production."
Dillard started out by focusing 30 seconds at a time. In 2015, he challenged his teammates to sing "Take Me Out to the Ballgame" without saying the word "the," or quickly name all 15 American League teams. One day, then-teammate Brent Leach introduced Dillard to the lip-sync app Dubsmash -- and the clubhouse was never the same.
Before long, Dillard was performing the same Elvis Presley album his dad would play when he was a kid. But instead of using a bulky camera for his grandparents, he was using a camera phone for all his social media followers. After playing cards and board games for a decade, Dillard found a new way to stay busy during rain delays and road trips.
"I just embraced it as 'Hey, this is another way for team camaraderie. This is another way for guys to just hang out and on a small scale, come together and make something,'" he said. "And on the bigger scale, that's what we do on the field."
#TBT ...vol.7 pic.twitter.com/R1Mjd0qBzy

— Tim Dillard (@DimTillard) January 4, 2018
Dillard's favorite videos became the ones in which he got the most people involved. Orf was initially amazed by how seriously Dillard took the productions and has enjoyed seeing the quality of the videos continue to progress. He also couldn't believe how the director could make "horrendous actors" look good on camera.
"If you're having fun with the people you're around, I think you're going to perform better and it's going to make the team better off," Orf said. "This year, with the team we had, was the most fun I've ever had and personally the best numbers I've ever put up and our team was extremely successful. … I think Dillard, what he can do on the field as a pitcher is impressive, but also what he does in the locker room, I think it means more than anybody could put a number on."
In his 15 pro seasons, Dillard has learned a lot about the game. He's a favorite for players like Orf to come to with questions. The 2002 34th-round pick doesn't like talking about himself, though. Admitting he's not the best pitcher in the world, Dillard prefers to share what he's seen and heard from guys like Jason Kendall and Randy Wolf, rather than what he's done.
The only times Dillard says he's serious is when he's on the field. As a reliever, the 6-foot-4 hurler never wants his teammates -- especially the starting pitcher -- to think, "Oh great, here comes the funny guy." Dillard takes pride in his craft, and so do the Brewers, drafting him twice and re-signing him five times. (He even invented a stat, PONAR, to better measure the reliability of relievers.)
"I know how it is to not have a jersey and to think you're done. It's that healthy fear of 'Is that it?' 'Did I already miss it? Is it not going to happen again?' And I didn't like that feeling," he said. "So when I finally did end up getting another jersey, it was more special. That was over five years ago and I'm still playing. To me, if you've never gone through that, it's really hard to appreciate it in that way."
Folks in the Milwaukee front office have told Dillard they trust him, both on and off the field, confident he has a chance to return to Majors, and that he won't do anything inappropriate on camera. With every video, Dillard makes sure nothing's offensive -- he asks Latin players often about the content of the Spanish songs he chooses -- and that his kids (Brooks, 9, Camryn, 7, and Hayes, 2) would be able to watch.
"When he's gone a lot, they'll be like, 'What did dad post today?'" Erin Dillard said. "And we'll pull it up and watch them before bedtime. I think it helps him connect with his kids, too. They can see him when he's not here and see what he's doing."
While Dillard relishes being a part of a team, he said players need an outlet for their individualism, a place to be themselves and show fans who they are off the field. Micah Johnson paints, and Matt Pare and Cody Decker also make videos. Dillard's old teammate, Lindsay Gulin played badminton on the side and went on to compete in an Olympic training camp.
"If your whole joy is built on baseball, with so many ups and downs, it's going to be a rough time," Dillard said. "You need these outlets of creative videos or playing cards or playing guitar in the clubhouse or whatever it is."
At first look, Dillard's social media feeds are full of Latin music, movie quotes and Harry Caray impressions. But more than that, they're a look behind the curtain of athletes who are dreaming of lobster while working hard on a deli platter budget. They show friendships being made on back fields and bus rides.
"I'm a little out there. I do a lot of weird stuff. To me, not that 'life's too short,' but I love to have fun," he said. "I can't stand when I'm in the clubhouse and somebody's like 'Oh man, this hard road trip!' I'm sitting there like, 'Yeah, but that's life! It doesn't matter what you're doing, life's hard. Let's just have some fun and see what we can do that's outrageous.'"
"Ho HEY"
song by @thelumineers pic.twitter.com/OdW69Gvm9f

— Tim Dillard (@DimTillard) August 10, 2017
Kelsie Heneghan is a contributor to MiLB.com. Follow her on Twitter @Kelsie_Heneghan.