Minor Leagues mourn passing of Schwechheimer
Baseball visionary made mark on three teams since interning in '78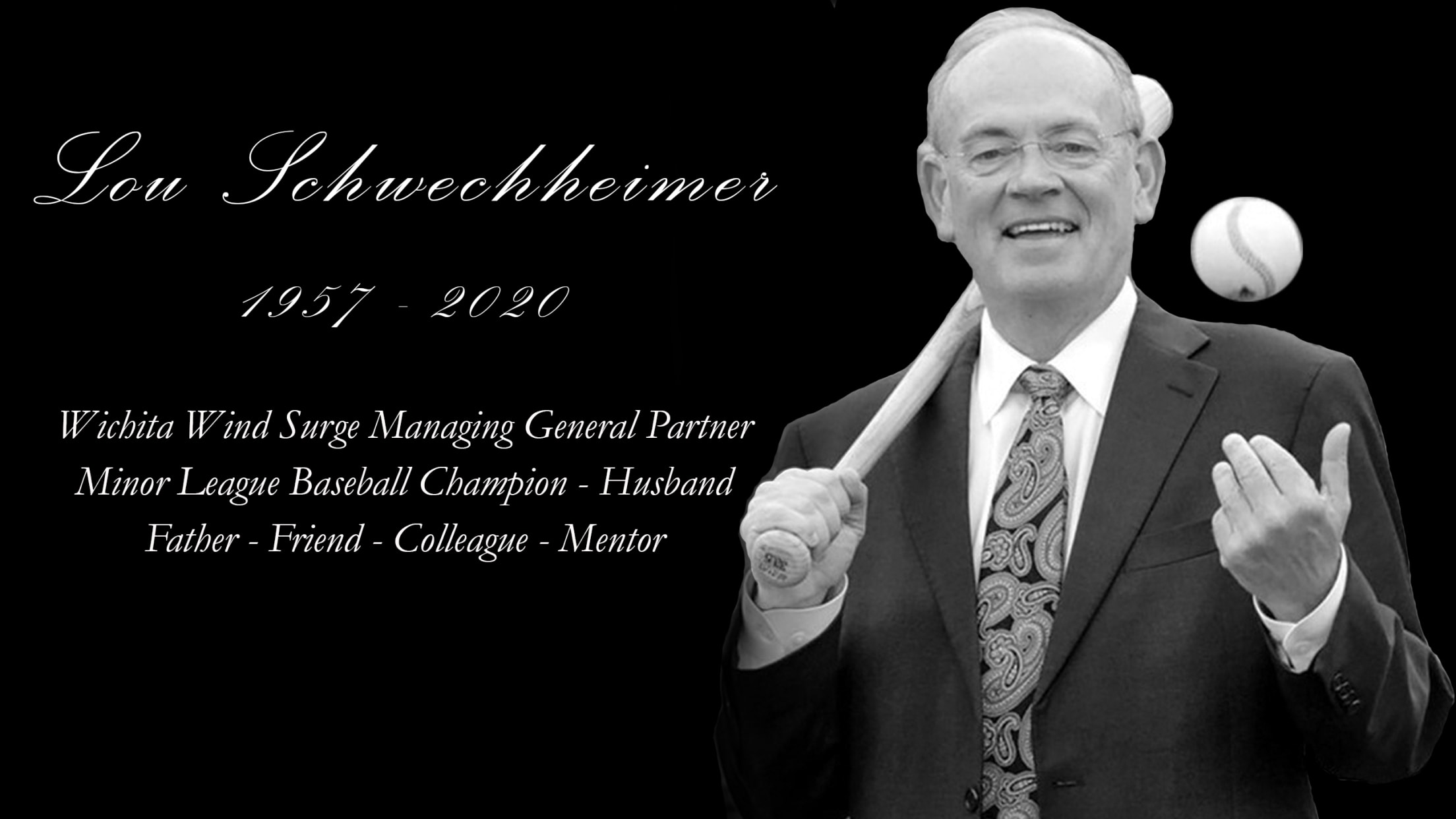 Lou Schwechheimer was an instrumental force for three Minor League Baseball franchises in four cities.
Lou Schwechheimer, an executive who played an outsized role in shaping the landscape of Minor League Baseball in the 21st century, died on Wednesday of complications due to the COVID-19 virus. "The passing of Lou Schwechheimer is devastating to the Wichita Wind Surge and Minor League Baseball family," Minor League
Lou Schwechheimer, an executive who played an outsized role in shaping the landscape of Minor League Baseball in the 21st century, died on Wednesday of complications due to the COVID-19 virus.
"The passing of Lou Schwechheimer is devastating to the Wichita Wind Surge and Minor League Baseball family," Minor League Baseball president Pat O'Conner said. "Lou was a passionate, caring and giving person. His commitment to Pawtucket, New Orleans and Wichita was genuine and heartfelt. Lou's vision and drive was inspiring. He will be sorely missed. Our thoughts and prayers go out to Lou's wife, Jane, and his daughter, Jenn."
Schwechheimer, 62, was the majority owner of the Wichita club, which was slated for its inaugural campaign as the Triple-A affiliate of the Miami Marlins before the pandemic forced the cancellation of the Minor League season. Had the Wind Surge debuted this year, they would have done so at the new Riverfront Stadium that was largely a product of Schwechheimer's ingenuity.
"He spent all his time and effort getting that new ballpark built, and he never got to see a game in it," International League president Randy Mobley said. "Lou and I got into the game at roughly the same time and we grew up in game together. We've always had a special relationship.
"As I've thought about things over the last few hours [since his death], I keep thinking about how he was such a big picture guy. He always had grand thoughts -- big, grand ideas -- whether it be about how they were going to promote a July 4th event in Pawtucket or buying a ballclub or building a ballpark."
The Wind Surge released a statement Wednesday afternoon emphasizing the magnitude of Schwechheimer's contributions to the team and its new home.
"There are no words to express the loss to the entire Wind Surge family," senior vice president and general manager Jared Forma said. "Lou was truly one of a kind, someone who never met a stranger. He will be deeply missed by his family and many friends, which included an extended baseball family. Our thoughts and prayers go out to Lou's wife and daughter at this difficult time.
"The Wind Surge team will work tirelessly to fulfill Lou's dreams and visions for the great city of Wichita, a place he was proud to call home. We will ensure his legacy lives forever at Riverfront Stadium."
An alumnus of Northern Essex Community College in Haverhill, Massachusetts, and a graduate of the University of Massachusetts, Schwechheimer began his career in Minor League Baseball while he was still a student more than 40 years ago. After writing to the Red Sox, he took an internship with Triple-A Pawtucket in 1978. He stayed with the club through the end of the 2015 season.
The year before Schwechheimer arrived, the PawSox had drawn a mere 70,000 fans. By January 1986, Schwechheimer had worked his way up to general manager and part-owner, and he'd begun to transform the franchise into one of the Minors' strongest. In 1987 and again in 1992, he was named International League Executive of the Year. At the end of the campaign when he received the honor a second time, the PawSox could look back on six straight seasons of setting attendance records (drawing over 370,000 in '92), and The Sporting News added to the laurels by naming Schwechheimer its Minor League Executive of the Year.
"Our fans know they will always see some great players ... " Schwechheimer told the publication while accepting the award. "But you can't judge us just by wins and losses. We want to make sure there is a Major League feel to things, from the seats to the clubhouses."
The Sporting News praised him for being so committed to that attention to detail that he was often seen standing in the parking lot greeting fans as they arrived. He also, the paper reported, strengthened the team's bond with its city and pushed fundraising efforts for ALS research, youth groups and a local shelter for abused children. He was a good citizen on the business side of baseball, Mobley stressed.
"The other thing that keeps coming to me is how he was such a team player," the IL president said. "He was always concerned about other people in the league. He thought of how things are going to affect [other organizations]. Going into a discussion, he always had in the forefront of his mind, 'How this going to affect the masses?' as opposed to what might be in his individual best interest."
Branch Rickey, president of the Pacific Coast League, saw plenty of that collaborative and entrepreneurial spirit.
"How well I recall when Mr. Schwechheimer, I write 'Mr.' with fond respect and kindest regard, with his New England drawl, came into the Pacific Coast League from his many decades of immersion in Pawtucket baseball, jumping in with both feet and, as was so typical of him, never pausing to appreciate himself an outsider in the slightest," Rickey wrote in an email Thursday. "His passion for baseball, his love of life, his zest for people transformed every obstacle into something everyone wanted to join with him in solving. Forward momentum was his only physics in life."
Upon leaving the PawSox and the International League, Schwechheimer went to work as a managing general partner at the Caribbean Baseball Initiative with a mission of bringing Minor League Baseball back to Cuba.
"He was well-known for those efforts in the Caribbean," Mobley said. "Through those efforts, he was trying to use baseball to bridge gaps between countries. Again, a big picture guy."
It was also in late 2015 that Schwechheimer took the reins as managing general partner and principal owner of the Class A Advanced Charlotte Stone Crabs of the Florida State League and the Triple-A New Orleans Zephyrs of the PCL. He was determined to revitalize the New Orleans franchise, working on a 2017 rebrand that made national headlines with the unveiling of the Baby Cakes, then bringing the team to Wichita, a city of nearly 400,000 that hadn't had a Minor League team since the departure of the Double-A Wranglers following the 2007 season.
"Wading into the challenges of bringing Triple-A baseball to Wichita was simply the most wonderful, newest challenge he could tackle and the coalitions that he brought about with the city, the state and businesses in creating the extraordinary new stadium that now has been proudly produced -- is testimony to Lou," Rickey wrote. "Simply one more achievement in a long career of accomplishments. He never seemed to want to look back. He never needed to, because what was ahead of him was so exciting."
In addition to the accolades earned during his tenure with Pawtucket, Schwechheimer was inducted to the International League Hall of Fame in 2019.
"Lou Schwechheimer was a pillar on which the Pawtucket Red Sox franchise was built," PawSox vice chairman Mike Tamburro, who preceded Schwechheimer as the team's GM, said upon the induction. "His hard work, vision and creativity allowed the PawSox to take their place among Minor League Baseball's premier clubs."
The statement from the Wind Surge described Schwechheimer as "driving force behind the return of affiliated baseball to Wichita and the construction of Riverfront Stadium." That combination of energy and vision will be greatly missed in the PCL, the league president acknowledged.
"He was beyond just a cherished friend and trusted partner, he was one of those out-of-the-box, contagious personalities in our membership," Rickey wrote. "Losing him leaves a big hole in our league, an open wound in our hearts. Our hearts will heal but it will take some considerable time, a lasting reflection of what he has meant to us."
Josh Jackson is an editor for MiLB.com. Follow and interact with him on Twitter @JoshJacksonMiLB.