Missions Complete Comeback to Clinch Series Victory Against the Hooks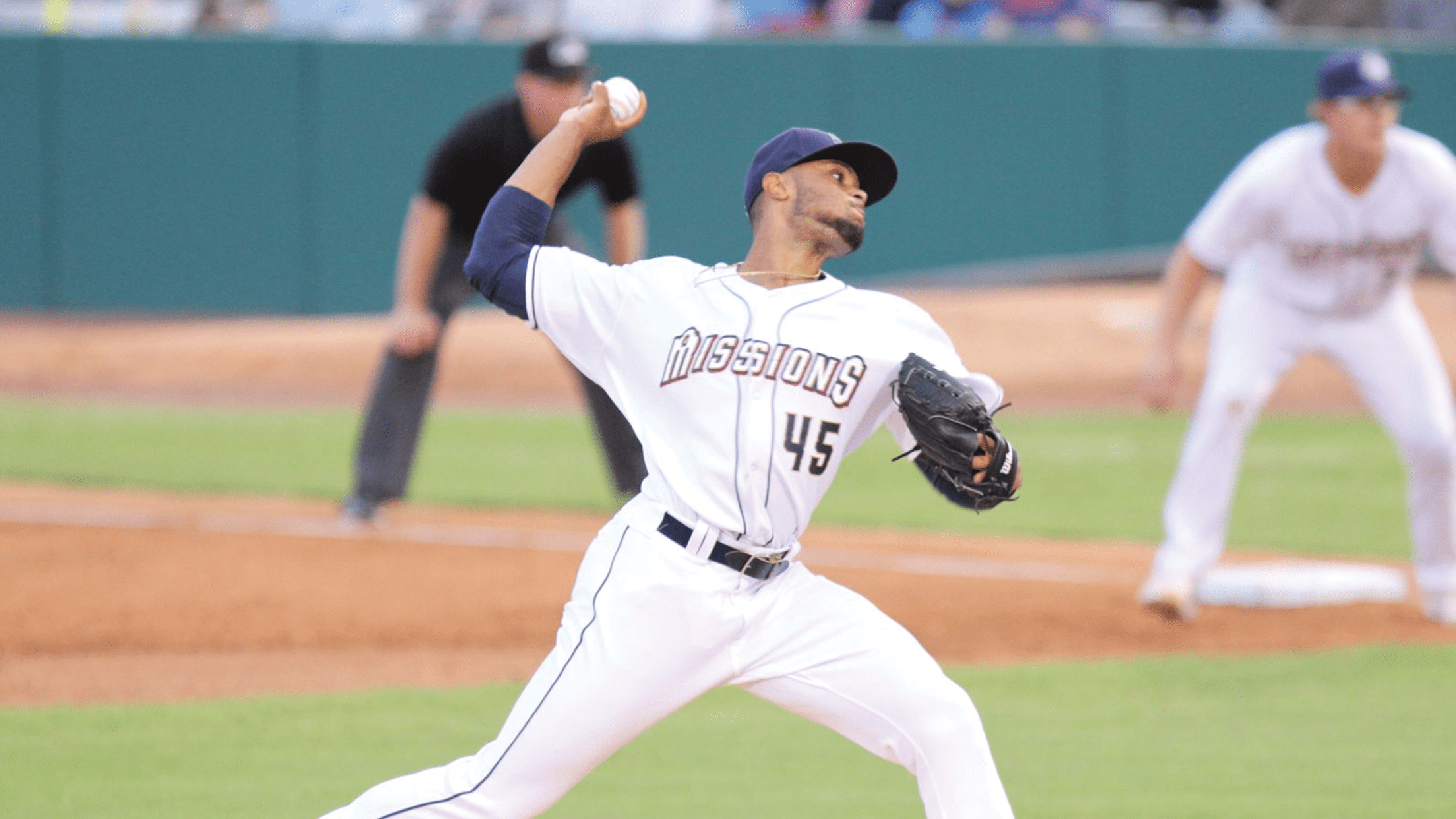 SAN ANTONIO – After trailing 4-2, the San Antonio Missions scored eight runs across the sixth, seventh, and eighth innings to complete the comeback and clinch the series victory over the Corpus Christi Hooks. San Antonio walked nine more times in this game and Esteury Ruiz increased his on-base streak
SAN ANTONIO – After trailing 4-2, the San Antonio Missions scored eight runs across the sixth, seventh, and eighth innings to complete the comeback and clinch the series victory over the Corpus Christi Hooks. San Antonio walked nine more times in this game and Esteury Ruiz increased his on-base streak to 26 games. The Missions are now 11-15 on the season.
Reggie Lawson was the starting pitcher for the Missions, making his fourth appearance of the season. After losing his first three decisions, he struggled again out of the gates. Lawson allowed a lead-off double to Wilyer Abreu. He walked Enmanuel Valdez and then allowed both runners to advance after throwing a wild pitch. Yainer Diaz provided the big blow of the inning, connecting on a three-run home run. His third long ball of the season gave Corpus Christi a 3-0 lead.
The Missions had a chance to cut into the deficit in the top of the second inning. Jorge Ona started the inning with a double. Korry Howell extended his hitting streak to seven games after hitting a single. With two runners on and no outs, Chris Givin and Agustin Ruiz both struck out. Chandler Seagle flew out for out number three.
Jose Bravo was the starting pitcher for the Corpus Christi Hooks. After tossing two scoreless innings, the Missions got to Bravo in the third inning. Esteury Ruiz hit a double to start the inning. Ruiz came around to score after stealing third base and reaching home on a throwing error from catcher Luke Berryhill. Connor Hollis drew a walk and stole second base. He came around to score after a double from Domingo Leyba. The Missions trailed 3-2.
Lawson was replaced by Ryan Lillie for the start of the third inning. Corpus Christi added an insurance run off Lillie courtesy of two hits. After a strikeout to start the inning, Justin Dirden and Cesar Salazar hit back-to-back singles. With Dirden on third, Salazar stole second base. Dirden came around to score after Bryan Arias hit a sacrifice fly. The Hooks took a 4-2 lead.
After scoreless innings in the fourth and fifth, the Missions stormed back to take the lead with a four-run sixth inning. Facing Jose Betances, Howell and Givin drew back-to-back walks to start off the inning. A wild pitch moved both runners into scoring position. After Agustin Ruiz drew a walk, Howell came around to score on a wild pitch from Betances. Chandler Seagle drove in Givin with a single to center field. Jojanse Torres replaced Betances after the Seagle single. The Missions executed a double-steal with Ruiz and Seagle advancing into scoring position. On the stolen base attempts, a throwing error from Berryhill allowed Ruiz and Seagle to score. The Missions took a 6-4 lead.
The Missions increased their lead in the top of the seventh inning by scoring three runs without recording a hit. With one out in the inning, Ona was hit by a pitch and Howell drew a walk. Ona came in to score after Givin reached base on a fielding error. Howell came around to score after a wild pitch from Torres. After a walk to Agustin Ruiz, Matt Ruppenthal replaced Torres on the mound. Givin came around to score after Ruiz stole second, and Berryhill was charged with another throwing error. The Missions improved their lead to 9-4.
Corpus Christi began their comeback attempt in the bottom of the seventh inning. Facing Carlos Belen, Berryhill drew a walk and Shay Whitcomb reached on a fielder's choice. Berryhill came around to score after Justin Dirden singled to right field. After a fly out, Arias drew a walk. Whitcomb came around to score after Ross Adolph singled to left field. The Missions still had a 9-6 lead.
The Missions added an insurance run in the top of the eighth inning. Hollis drew a walk and advanced to second with a successful stole base. After recording the second out of the inning, Ona doubled and scored Hollis to make it a 10-6 lead.
Angel Felipe came on to pitch in the eighth inning for the Missions. After a scoreless inning, Corpus Christi attempted another comeback in the bottom of the ninth. Dirden drew a lead-off walk and Cesar Salazar hit a single. With Dirden at third base, Arias hit into a double play and Dirden came around to score. Felipe retired the final batter of the game to clinch the 10-7 victory.
Post-Game Notes
With the win, San Antonio improves to 11-15 on the season
Esteury Ruiz has reached base in all 26 games played this season
Team: Six stolen bases
Korry Howell (#14 Padres prospect): 1-1, 2 R, 3 BB
Reggie Lawson (#18 Padres prospect): 2.0 IP, 3 H, 3 ER, 4 BB, 2 K
Tirso Ornelas (#25 Padres prospect): DNP
Agustin Ruiz (#26 Padres prospect): 0-3, R, 2 SB, 2 BB, 2 K
The San Antonio Missions wrap-up their six-game series in Corpus Christi on Sunday, May 8th. Right-hander Nolan Watson (0-1, 12.66) is scheduled to start for the Missions. Right-hander Jimmy Endersby (0-1, 1.31) is scheduled to start for the Hooks. The first pitch will be at 5:05 p.m.
The San Antonio Missions are the Double-A affiliate for the San Diego Padres. This is the 120th professional season for the San Antonio Missions. Single game tickets are available now and can be purchased online or at the 1st Base Box Office. Season seat memberships are available now. For more information call 210-675-PARK (7275) or visit samissions.com.
---