NATURALS MASH THREE MORE HOMERS IN 9-1 WIN OVER WICHITA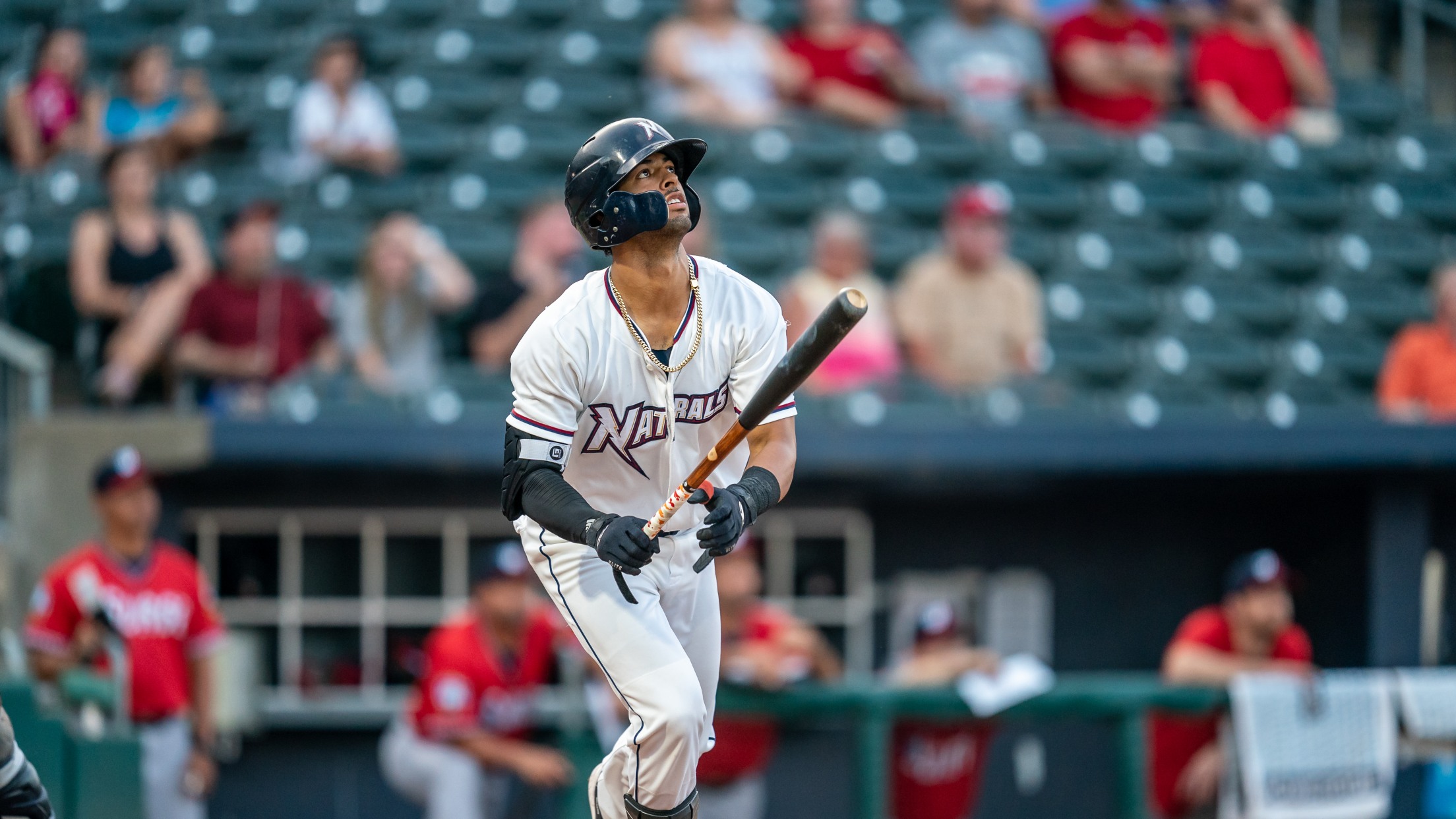 MJ Melendez connected on his Minor League best 25th home run of the season in the victory over Wichita on July 30, 2021. (Alan Jamison)
The Northwest Arkansas Naturals offense combined for three home runs, including MJ Melendez' MiLB-best 25th, and the pitching staff did not walk a batter in a second straight blowout win at Arvest Ballpark, 9-1 over the Wichita Wind Surge on Friday night. For just the second time this season, Naturals
The Northwest Arkansas Naturals offense combined for three home runs, including MJ Melendez' MiLB-best 25th, and the pitching staff did not walk a batter in a second straight blowout win at Arvest Ballpark, 9-1 over the Wichita Wind Surge on Friday night.
For just the second time this season, Naturals pitchers did not issue a walk, starting with 4.1 innings from Foster Griffin, carrying over to 3.2 from Josh Dye and 1.0 from Andrés Sotillet.
Dye pitched his longest outing of the season, taking over for Griffin with one out in the fifth and pitching through the end of the eight. Dye allowed just one hit over his 3.2 scoreless, while striking out four. He followed up a performance where Griffin, who allowed just one run on three hits, also struck out four, including his 200th as a Natural.
The Naturals three home runs stretched their team home run streak to 17 consecutive games, including each of the first 16 games of the second half of the 2021 season.
The last seven have all been multi-homer games, including three straight with three long balls.
The first homer of the night came off the bat of Melendez (MLB Pipeline's No. 13 Royals' prospect), his Minor League-best 25th of the season, giving him sole possession on the MiLB home run leaderboard. His two-run shot at the time broke a 1-1 tie in the third inning, scoring Clay Dungan from first and putting the Naturals up 3-1.
After Dairon Blanco singled, Freddy Fermin connected on his third homer in as many nights, also a two-run shot that extended the lead to 5-1.
Emmanuel Rivera and Vinnie Pasquantino each drove in runs in the fourth inning, then Blake Perkins added two more in the fifth with another two-run homer, his second straight night with a long ball, his fourth of the season.
Collectively, six of the Naturals' nine starts recorded a hit, while all nine either scored, drove in a run or both.
Winners of two straight, Northwest Arkansas (39-36) is just 3.5 games out of first place in the Double-A Central North Division, which is held by Wichita (43-33). The week-long series with the Wind Surge continues Saturday, with a 6:05 p.m. start and Jonathan Heasley (MLB Pipeline's No. 12 Royals' prospect) pitching for the Naturals.