Reyes tallies four RBI as Hens rally to defeat Cubs
Three-run eighth propels Toledo to 5-3 win over Iowa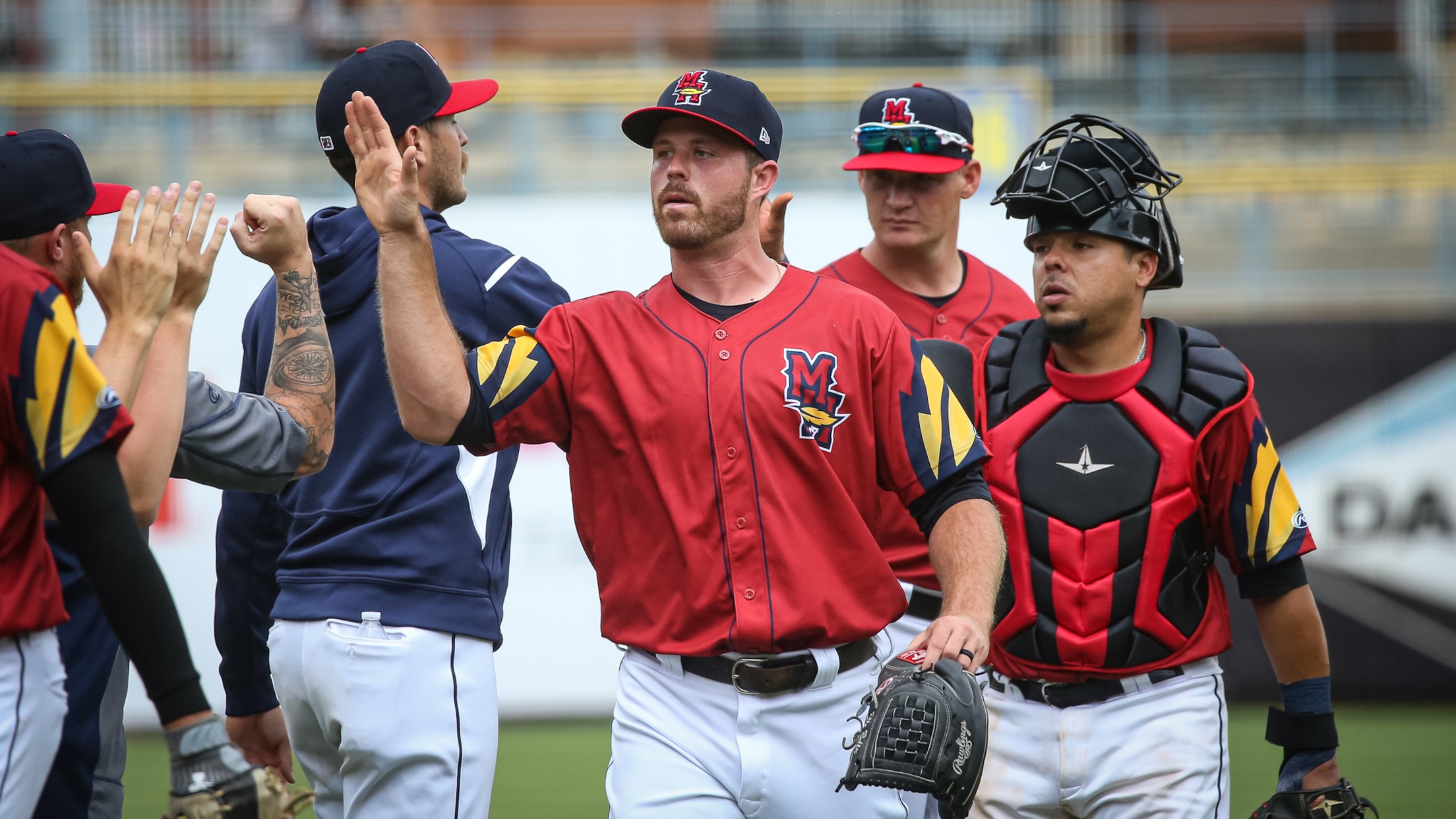 TOLEDO, Ohio – Victor Reyes hit what proved to be the decisive two-run double in the bottom of the eighth inning to cap a four-RBI night and lift the Toledo Mud Hens to a 5-3 victory over the Iowa Cubs on Friday at Fifth Third Field. With the Mud Hens
TOLEDO, Ohio – Victor Reyes hit what proved to be the decisive two-run double in the bottom of the eighth inning to cap a four-RBI night and lift the Toledo Mud Hens to a 5-3 victory over the Iowa Cubs on Friday at Fifth Third Field.
With the Mud Hens (35-27) trailing 3-2 in the bottom of the eighth inning, Willi Castro lined a base hit that deflected off the glove of Iowa (25-36) third baseman Abiatal Avelino and into shallow left field. Renato Núñez then grounded into a fielder's choice to third, but both runners were safe due to a missed catch error by second baseman Tyler Ladendorf. Two pitches later, Reyes sliced a double off the top of the left-field wall that scored Castro and pinch-runner Jacob Robson, with Reyes advancing to third on the play at the plate. Kody Clemens promptly lifted a sacrifice fly to deep center that knocked in Reyes and gave the hosts a 5-3 lead, which held on to be the final tally.
In all, Reyes finished 2-for-4 with a two-run triple in addition to his two-RBI double and run, while Castro ended the night 2-for-4 with a double and a pair of runs. Núñez reached base three times, going 0-for-3 with a walk and two runs, as Clemens went 0-for-3 with a sacrifice fly.
Drew Hutchison did not factor in the decision despite completing six innings of work, surrendering two earned runs on seven hits and five walks while striking out three. Henry Martinez was credited with his second Triple-A win of the year, conceding a solo home run while fanning two batters in as many innings, before Wladimir Pinto shut out the Cubs in the ninth inning for his third save of the campaign.
Iowa left the bases loaded in the first frame, but manufactured a run to open the scoring an inning later. Nick Martini lined a leadoff single up the middle, advanced to second on Avelino's sacrifice bunt, and came around to score when Ian Miller dropped a two-out single into shallow left-center.
The Cubs added another run in the top of the fourth inning to double their advantage. Martini drew a walk, before Avelino and Ladendorf lined back-to-back singles to load the bases with one down. Martini was forced out at home on Miller's fielder's choice to third, only for Andrew Romine picked up a walk that allowed Avelino to score.
The Mud Hens pulled even with a two-out rally in the bottom of the sixth. Castro spoiled Iowa starter Matt Swarmer's no-hit bid with a double into deep left-center, and advanced to third when Núñez reached on a throwing error by Avelino. The error kept the inning alive for Reyes, who lined a triple into the right-field corner to drive in both runners and make it a 2-2 ballgame.
Iowa temporarily jumped back in front a half-inning later, as Michael Hermosillo pulled a solo homer just over the 344-foot marker in right. The one-run lead lasted until Toledo netted three runs on two hits, an error and a sacrifice fly in the home half of the eighth.
What's Next:
The Mud Hens look for their fourth win in five games against Iowa when the two teams return to Fifth Third Field on Saturday. First pitch is set for 7:05 p.m.
Hens Notes:
• Victor Reyes recorded his second four-RBI game of the season. He was 2-for-5 with a double, a two-run homer and four RBI on May 13 at Indianapolis.
• Willi Castro made his season debut in a Toledo uniform on Friday, marking his first Triple-A appearance since Aug. 23, 2019 at Columbus.
• At the conclusion of Friday's game, Drew Hutchison ranked second in the Triple-A East with 69 strikeouts.
• The Mud Hens are 3-1 against Iowa in the regular-season series despite being outhit in each game.