Salt Lake Bees Release 2019 Schedule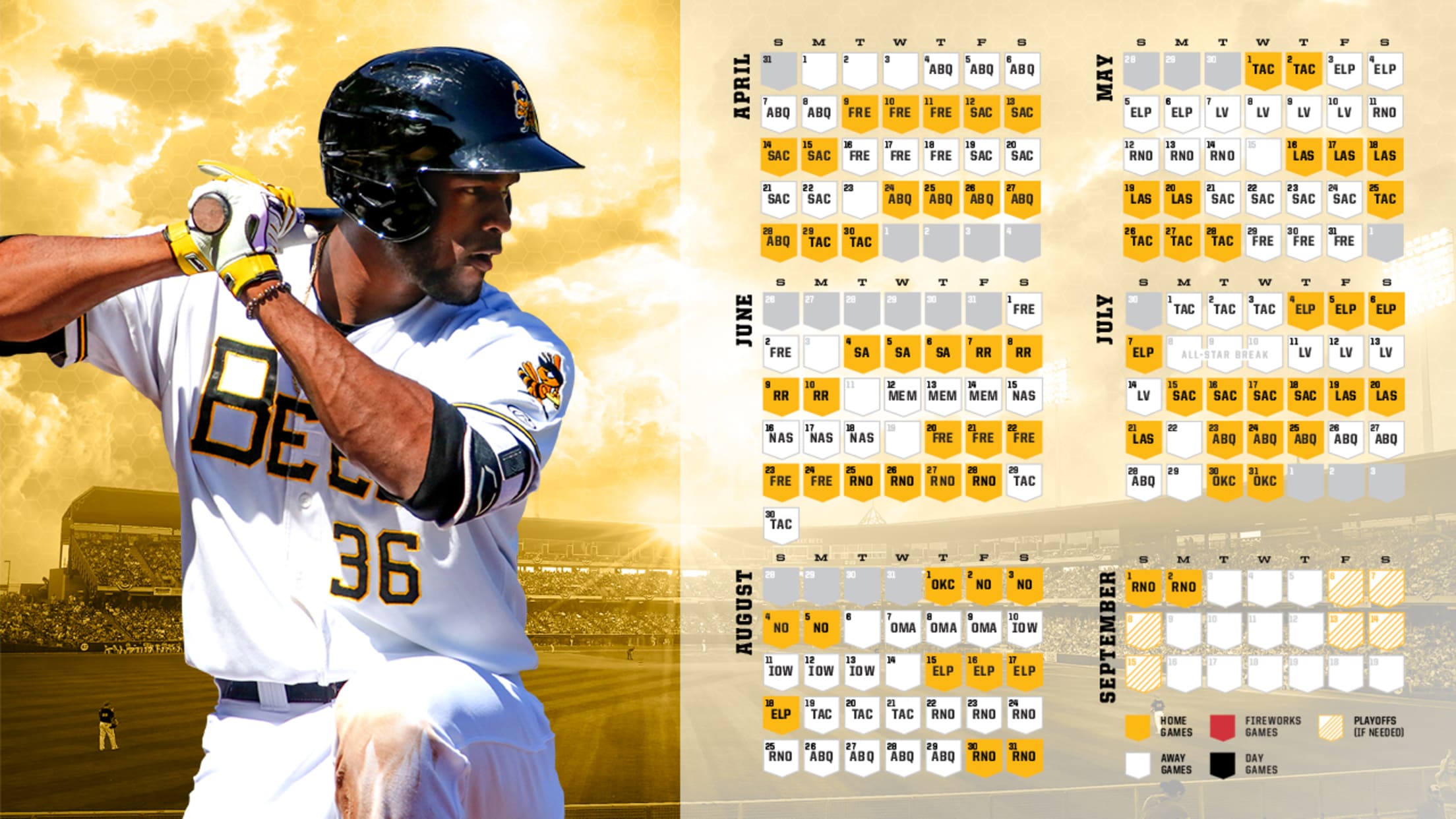 SALT LAKE CITY (Aug, 31, 2018) - The Salt Lake Bees announced the dates for their 2019 regular season schedule today. The Bees begin their 25th Anniversary season at division rival Albuquerque on April 4, before opening the home schedule on Tuesday, April 9 at Smith's Ballpark against the Fresno
SALT LAKE CITY (Aug, 31, 2018) - The Salt Lake Bees announced the dates for their 2019 regular season schedule today. The Bees begin their 25th Anniversary season at division rival Albuquerque on April 4, before opening the home schedule on Tuesday, April 9 at Smith's Ballpark against the Fresno Grizzlies. The team will wrap up the summer slate on Labor Day, Sept. 2nd at Smith's Ballpark against the Reno Aces
The 70-game home schedule is divided into 12 homestands over the five-month season. By month the Bees have 14 home games in April, 11 in May, 16 in June, 16 in July, 11 in August and two in September. A total of 21 games at home come on Friday or Saturday and the Bees play 43 of their 70 games during the summer months. Game times, fireworks dates and promotions will be announced this winter.
Salt Lake will play the seven other teams in the Pacific Conference (Albuquerque, El Paso, Fresno, Las Vegas, Reno, Sacramento, Tacoma) 16 times each with eight games coming at home and eight on the road. In cross-conference play the Bees will host the newest PCL-team San Antonio, along with Oklahoma City, New Orleans and Round Rock. Next year the team will travel to Iowa, Memphis, Nashville and Omaha.
The entire home schedule can be found on www.slbees.com. The 2018 season wraps up with four more home games this weekend against the Fresno Grizzlies with Fan Appreciation Night on Friday with postgame fireworks and a Labor Day matinee at 12:05 to end the season.
--slbees.com--
About the Salt Lake Bees
The Salt Lake Bees have spent 18 seasons as the Triple-A affiliate of the Los Angeles Angels and will continue to be the top affiliate of the Angels through the 2022 season. While with Los Angeles, Salt Lake owns five division championships and two trips to the Pacific Coast League Finals. Smith's Ballpark, the home of the Bees, is consistently voted as one of the best ballparks in baseball, including a Top 10 Ballpark in the United States by Better Homes and Gardens. In 2015 the Bees were awarded the Bob Freitas Award by Baseball America as the top franchise in Triple-A. For more information visit www.slbees.com.