SEC Night will highlight Generals next homestand
College football ticket giveaways, fireworks set for Saturday tilt with Chattanooga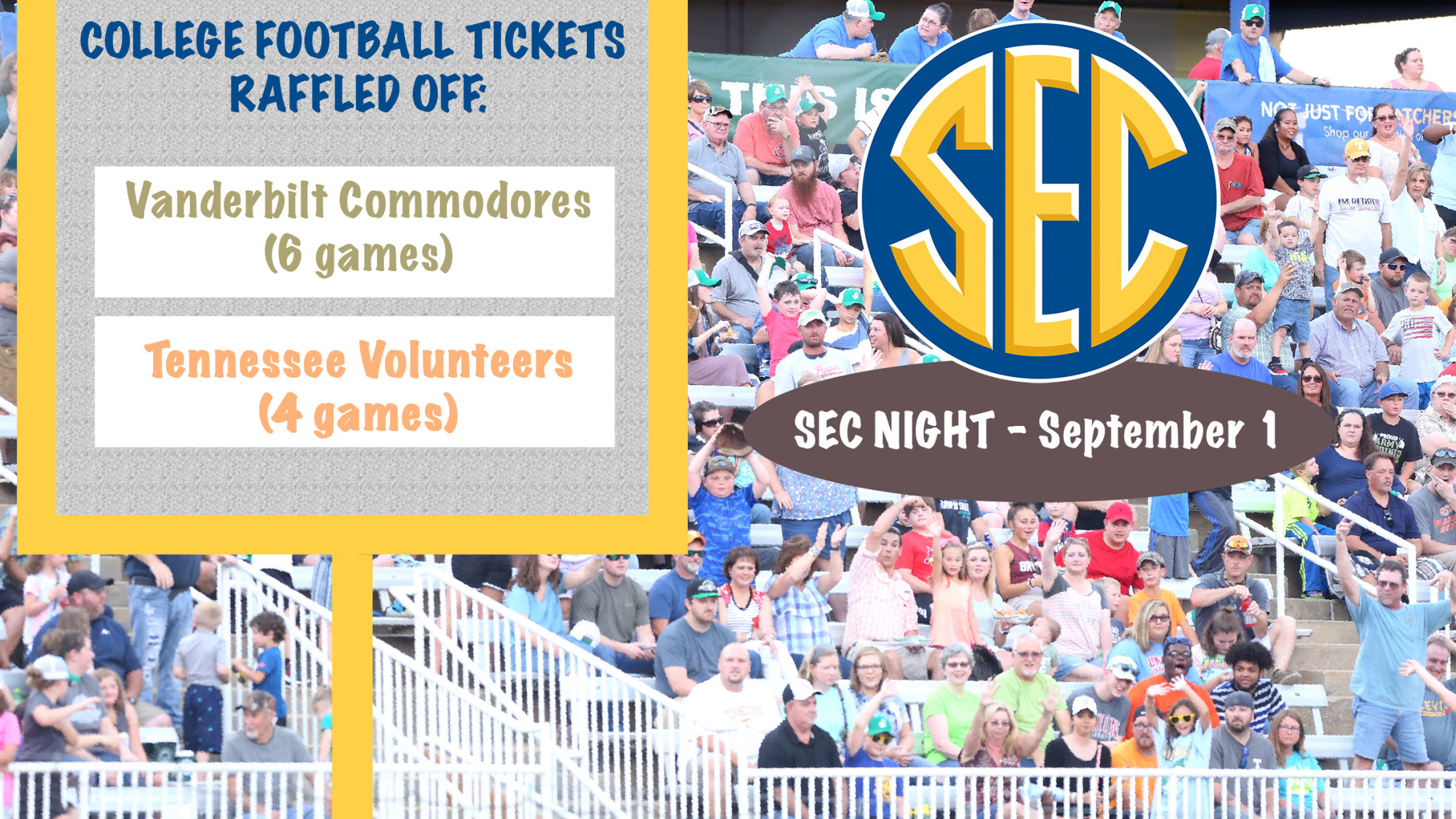 UPDATE: Three more pairs of college football tickets have been added to Saturday's give-away list, making 12 in total.JACKSON, Tenn. - The Jackson Generals, the Double-A affiliate of the Arizona Diamondbacks, will give away a dozen pairs of 2018 college football tickets on Saturday, September 1, as part of SEC
UPDATE: Three more pairs of college football tickets have been added to Saturday's give-away list, making 12 in total.
JACKSON, Tenn. - The Jackson Generals, the Double-A affiliate of the Arizona Diamondbacks, will give away a dozen pairs of 2018 college football tickets on Saturday, September 1, as part of SEC Night at The Ballpark at Jackson.
The annual event will highlight the final regular-season homestand for the Generals (66-59), as they take on the Chattanooga Lookouts (57-66) in a five-game series before the playoffs begin on September 5.
Among the twelve pairs of tickets raffled off during the game, four will feature the Tennessee Volunteers taking on SEC East Division opponents, with three of those games being held at Neyland Stadium in Knoxville. Six of the ticket pairs will include the Vanderbilt Commodores, most notably their November 24 matchup with the Vols at Vanderbilt Stadium in Nashville. Two of the ticket pairs will set fans up to see Vanderbilt battling non-conference opponents, including a September 29 visit from the Tennessee State Tigers. UPDATE: To round out the Volunteer State, one of the ticket pairs will give fans a chance to see the Memphis Tigers host the UCF Knights at the Liberty Bowl in Memphis on October 13.
UPDATE: As an added bonus, the Generals have secured two more pairs of college football tickets to raffle off that feature non-Tennessee programs in the Southeast region. One of the additional ticket pairs will give fans a chance to see the reigning national champion Alabama Crimson Tide host the Arkansas State Red Wolves on September 8 at Bryant-Denny Stadium in Tuscaloosa, Ala. The other ticket pair spotlights a late-season SEC battle, when the Auburn Tigers will visit the Ole Miss Rebels at Vaught-Hemingway Stadium in Oxford, Miss. on October 20.
In addition to the gridiron giveaways, the Generals' September 1 game against the Chattanooga Lookouts will feature the last regular-season fireworks show, arranged in coordination with various fight songs from Southeastern Conference schools. The high-excitement evening will be the focal point of a five-game series that incorporates a number of promotions:
Thursday, August 30 - Dollar Dogs and Drinks on Thursday (presented by Disaster Services),
Friday, August 31 - Food Truck Friday (presented by Leaders Credit Union), with an appearance by the Hub City Hippos
*Monday, September 3 - Belly Buster Monday (Labor Day - 2:05 pm CT first pitch), sponsored by Leaders Credit Union
Both Sunday, September 2, and Monday, September 3 will be 2:05 pm CT games. Generals fans can go online to get tickets at JacksonGeneralsBaseball.com or dial 731.988.5299 to reserve their seats today!
SEC Night Ticket Giveaways (grouped by host) (Generals vs. Chattanooga, September 1, 6:05 pm CT)
Nevada at Vanderbilt - September 8
Tennessee St. at Vanderbilt - September 29
Ole Miss at Vanderbilt - November 17
South Carolina at Vanderbilt - September 22
Florida at Vanderbilt - October 13
Tennessee at Vanderbilt - November 24
Florida at Tennessee - September 22
Kentucky at Tennessee - November 10
Missouri at Tennessee - November 17
Arkansas State at Alabama - September 8
UCF at Memphis - October 13
Auburn at Ole Miss - October 20
UP AND COMING AT THE BALLPARK:
PLAYOFFS!
Games 1 and 2 of the North Division Series will be held at The Ballpark at Jackson on September 5 and 6 at 6:05pm CT.
For tickets and more information about the Generals, dial 731.988.5299
or log on to our ticket page at JacksonGeneralsBaseball.com!
The Jackson Generals, a West Tennessee franchise since 1998, are the Double-A minor league affiliate
of Major League Baseball's Arizona Diamondbacks. In 2017, The Ballpark at Jackson was named the Professional Sports Field of the Year by the Tennessee Turfgrass Association.