South Texas Small School Softball All-Stars Announced
Winter Baseball Banquet is January 30 at Ortiz Center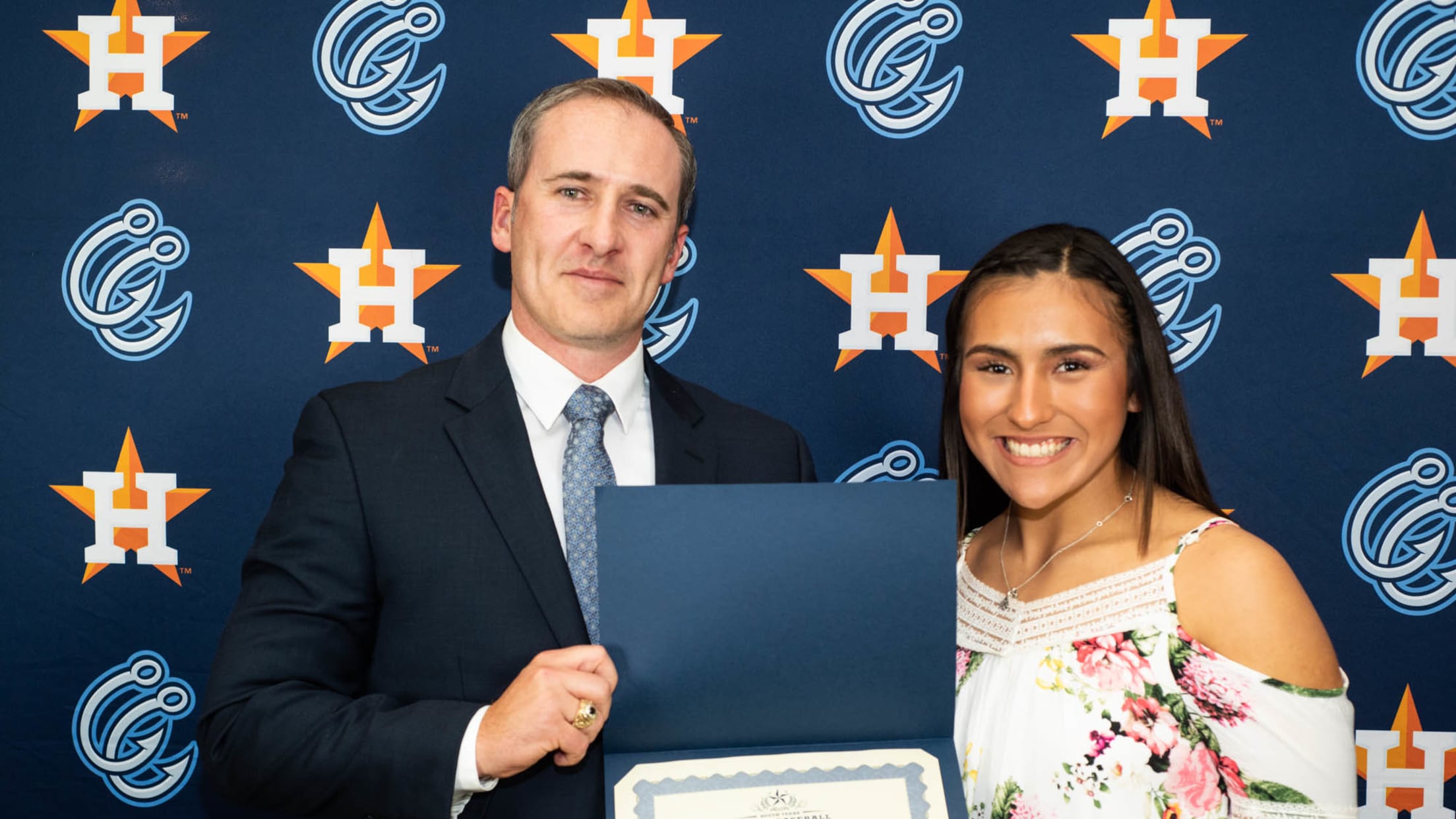 Hooks General Manager Wes Weigle presenting SGA pitcher Carissa De Los Santos her All-Star certificate at the 2019 South Texas Winter Baseball Banquet. De Los Santos went on to a 4A All-State season for the Lions. (Charlie Blalock)
CORPUS CHRISTI - Four Santa Gertrudis Academy Lions highlight the 2020 South Texas Preseason Small School Softball All-Star Team, the Hooks announced Monday.The 15-person squad will be honored at the 16th annual South Texas Winter Baseball Banquet, presented by Whataburger, on Thursday, January 30 at the Ortiz Center in Corpus
CORPUS CHRISTI - Four Santa Gertrudis Academy Lions highlight the 2020 South Texas Preseason Small School Softball All-Star Team, the Hooks announced Monday.
The 15-person squad will be honored at the 16th annual South Texas Winter Baseball Banquet, presented by Whataburger, on Thursday, January 30 at the Ortiz Center in Corpus Christi. Tickets, priced at $55, are on sale now at the Whataburger Field Box Office. Call 361-561-HOOK (4665) to order by phone. Doors open at 6:30.
SGA teammates Breana Carr, a three-time Preseason All-Star, 2019 3A All-State pitcher Carissa De Los Santos, 2019 District 31-3A Defensive Player of the Year Jackie Garza and all-district third basewoman Yadi Lopez. De Los Santos, the 2019 district MVP, tallied 204 strikeouts with a 1.10 ERA in 152 innings in the circle while batting .520 with six home runs and 48 RBIs.
Sinton earned a pair of honorees in senior pitcher Haley Smith and 2019 District 31-4A Newcomer of the Year Annie Kay, a sophomore.
Other honorees include Rockport-Fulton junior southpaw Siarah Galvan, who was named to the 4A All-State squad as a sophomore, and Three Rivers junior hurler Isabelle Lopez and San Diego senior catcher Zaleigh Perez, who repeat as all-star recipients.
The all-stars were nominated and voted on by area Class 4A, 3A, 2A and private school coaches.
2020 South Texas Winter Softball Banquet Preseason Small School Softball All-Star Team
Pitchers: Carissa de los Santos, Santa Gertrudis Academy, Jr., Haley Smith, Sinton, Sr., Siarah Galvan, Rockport-Fulton, Jr., Isabelle Lopez, Three Rivers, Jr., Carolina Esquivel, A.C. Jones (Beeville), So.
Catcher: Zaleigh Perez, San Diego, Sr.
First Base: Makayla Mendez, A.C. Jones (Beeville), Sr.
Second Base: Olivia Gutierrez, Orange Grove, Sr.
Third Base: Yadi Lopez, Santa Gertrudis Academy, Sr.
Shortstop: Jackie Garza, Santa Gertrudis Academy, Jr.
Outfield: Breana Carr, Santa Gertrudis Academy, Sr., Annie Kay, Sinton, So., LeeAnn Hinojosa, Bishop, Sr.
DP: Madison Vela, Odem, Jr.
Utility: Madison Alegria, Riviera Kaufer, Sr.