Yokley's dream taking flight with Peoria
Cardinals righty back on the mound after Air Force commitment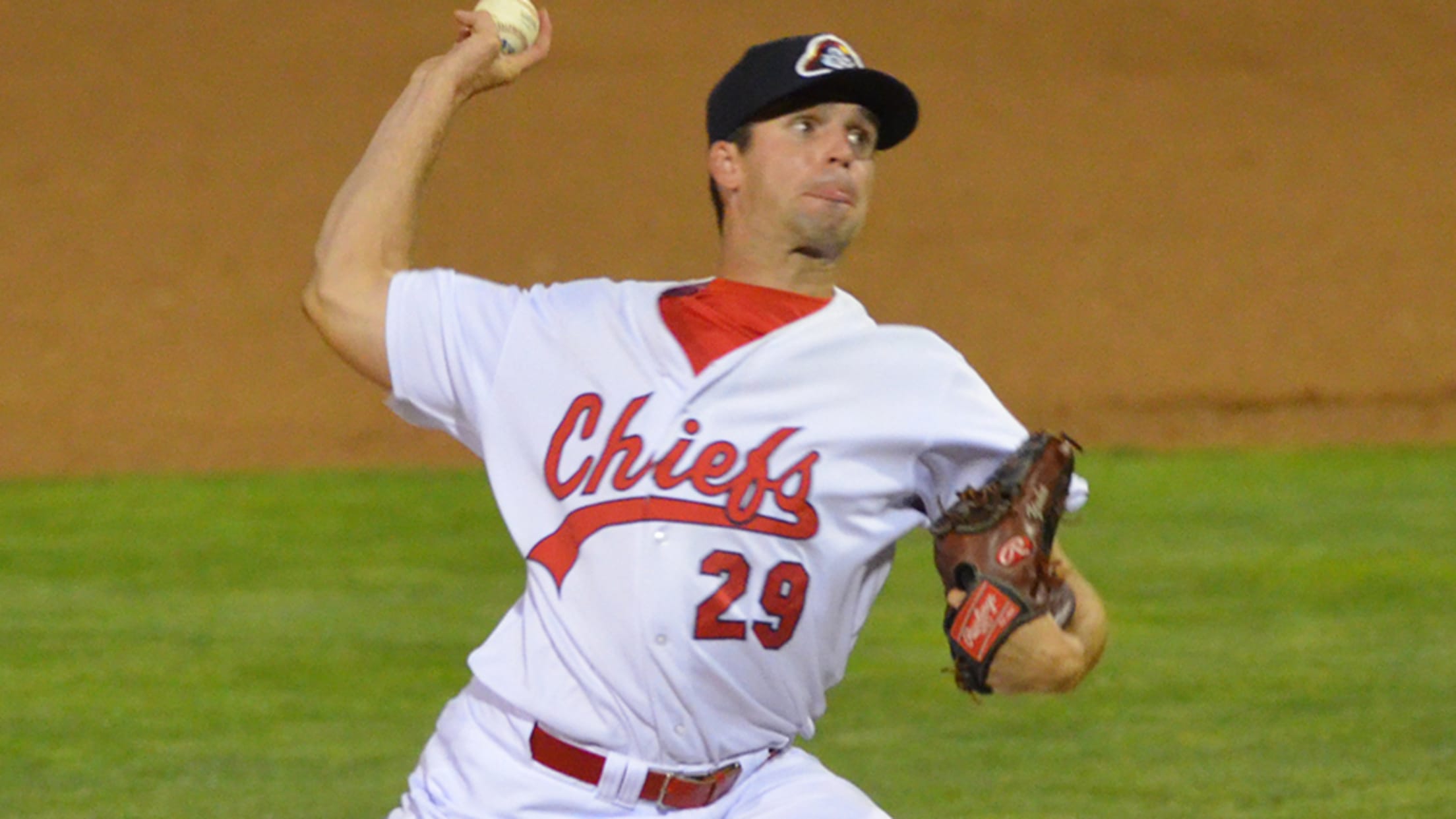 Ben Yokley is 2-1 with a 2.45 ERA and is holding opponents to a .154 average through six appearances. (Allison Rhoades/Peoria Chiefs)
Ben Yokley's path as a professional baseball player has been anything but routine. A graduate of the Air Force Academy, the 25-year-old right-hander has taken a circuitous route to where he is today, but as the 2018 season winds down, his dreams of becoming a big leaguer are once again
Ben Yokley's path as a professional baseball player has been anything but routine. A graduate of the Air Force Academy, the 25-year-old right-hander has taken a circuitous route to where he is today, but as the 2018 season winds down, his dreams of becoming a big leaguer are once again front and center.
It wasn't always so cut and dried, however.
Born in Arvada, Colorado, Yokley didn't have a typical childhood. His father, Joe, is a petroleum engineer, a job that kept the Yokleys on the move.
"I was born in Colorado, but because of my father's job, we moved around several times," he said. "I lived in Scotland and in [St. John's, Newfoundland] Canada before we headed down to Louisiana. We ended up going back to Arvada when I was about to start high school."
Spending much of his early years in Canada and Scotland -- areas not exactly known as baseball hotbeds -- Yokley didn't learn the game as a youngster. When the Yokleys moved to back to the States, settling in the New Orleans area, his father signed him up to play baseball.
"I didn't know anything about the game," Yokley said. "Everything for me was soccer or curling. But I started to play, got into pitching and I was hooked. That's all I've ever wanted to do since then."
Yokley pitched for Ralston Valley High School in Arvada, where he lettered three years in baseball and earned Jefferson County 5A League MVP honors during his senior year in 2011. Despite that success, he didn't receive much in the way of scholarship offers -- none from Division I colleges -- until Air Force head coach Mike Kazlausky came calling.

Aiming high
"It was my senior season," Yokley recalled. "Coach Kazlausky got in touch with me and said to come check them out, so I did. I was immediately impressed. I saw the respect the cadets had for each other and for the mission duty required after graduation. It all came together for me after that. It was a D-I school, close to home and provided job security post-graduation. The chance to play there was the best offer I received from any of the other colleges I spoke to."
There were no serious ambitions for a baseball career at that point, but that gradually increased during his collegiate tenure. Yokley and Tampa Bay spoke briefly during his junior season, which didn't amount to anything come Draft time. The right-hander returned for his senior year in 2015 and posted a 3.97 ERA with 45 strikeouts in 34 innings. The season ended with Yokley becoming the program's all-time leader in appearances with 95.
"It didn't really hit me [about a possible professional career] until my sophomore year," Yokley said. "I hit 95 [mph] on the gun for the first time and thought to myself, 'Wow. I might be able to do this.' So, I focused on improving and working as hard as I could to get to a place where I might be a viable option for a team."

Ben Yokley set an Air Force record for most appearances. (Air Force Academy)
The Cardinals, who had a recent history selecting a college athlete bound to post-graduation military commitments, took notice. St. Louis selected Mitch Harris in the 13th round of the 2008 Draft out of the United States Naval Academy and waited five years before he could begin his career in 2013. Harris debuted in the Majors two years later but was released in May 2017.
But with a precedent set and experience dealing with it, the Cards selected Yokley in the 29th round in 2015.
"In the back of my mind, I knew there was a possibility of getting drafted," he said. "As a competitive athlete playing in college, that's what you aim for. But I didn't talk to anyone from the Cardinals that year, so it was a bit of a surprise when they called."
Yokley made his professional debut several weeks later with Rookie-level Johnson City and finished with a 5.40 ERA in seven appearances. But with the season over and his military obligations staring at him, he set aside his Major League aspirations while not knowing when -- or if -- he'd have the chance to chase them again.
"It was a little bittersweet when I was drafted," Yokley said. "It was my goal to play professional baseball but on the Air Force side of things, it was an unknown situation. There have only been a handful of players [15] drafted out of Air Force since the program started in 1957. I spoke to [2013 Blue Jays Draft pick] Garrett Custons about his experience, but he decided to forgo baseball and remain on active duty. I knew I wanted to play, and it was my plan to eventually return to the game."
To do that, Yokley had to fulfill the standard five-year commitment required by the U.S. military upon graduating. He trained as a pilot for a short time, manning a Diamond DA-20 light aircraft at Vance Air Force Base in Oklahoma. But becoming a military aviator meant two years of training plus an additional 10-year service commitment.
Wanting to chase his baseball dreams, the would-be pilot decided to exit the cockpit. His request and approval to be reclassified as a flight medic came two days before he was set to begin the full-scale pilot training program.
"I don't think people quite understand how difficult a job it is to be a pilot," Yokley said. "I have so much respect for guys that do that, but I wanted to try and continue my baseball career. That just wouldn't have been an option if I had continued down that path. I guess you could say I made the decision that I'd rather be studying opposing lineups than the fuel consumption of a DA-20."

On guard
With two years of duty under his belt, Yokley applied to a program that would let him forgo his remaining active commitment in exchange for doubling his reserve requirements. The process was anything but stress-free, but last February First Lieutenant Yokley was released from active duty in the Air Force and joined the Colorado Air National Guard. He will report during the offseason by providing support for a squadron of F-16 Fighting Falcon jet fighters out of Buckley Air Force Base in Aurora, Colorado. Due to his agreement, he will serve five years in the National Guard.
"It was an eight-month process to get the paperwork and everything else done so I could play again," he said. "I had my fingers crossed the entire time, and when I heard it was approved, I immediately switched back into the mode of a ballplayer. It all happened so quickly at the end, but the process to get there was long and stressful."
Yokley kept in touch with the Cardinals, whom he praised for sticking with him despite the unknown.
"St. Louis has been amazing throughout," he said. "They knew I had my commitment and they stuck with me, expecting it to be five years. I stayed in contact with [Cardinals director of player development] Gary LaRoque and [administrator Minor League operations] Tony Ferreira. They welcomed me back and were as excited as I was."
But like the uneven route that led to his baseball career, Yokley faced one more obstacle as he began his first Spring Training. He had been dealing with a sore right hip for several years. An MRI and X-ray revealed a complete tear of the labrum in his hip, forcing him to undergo surgery.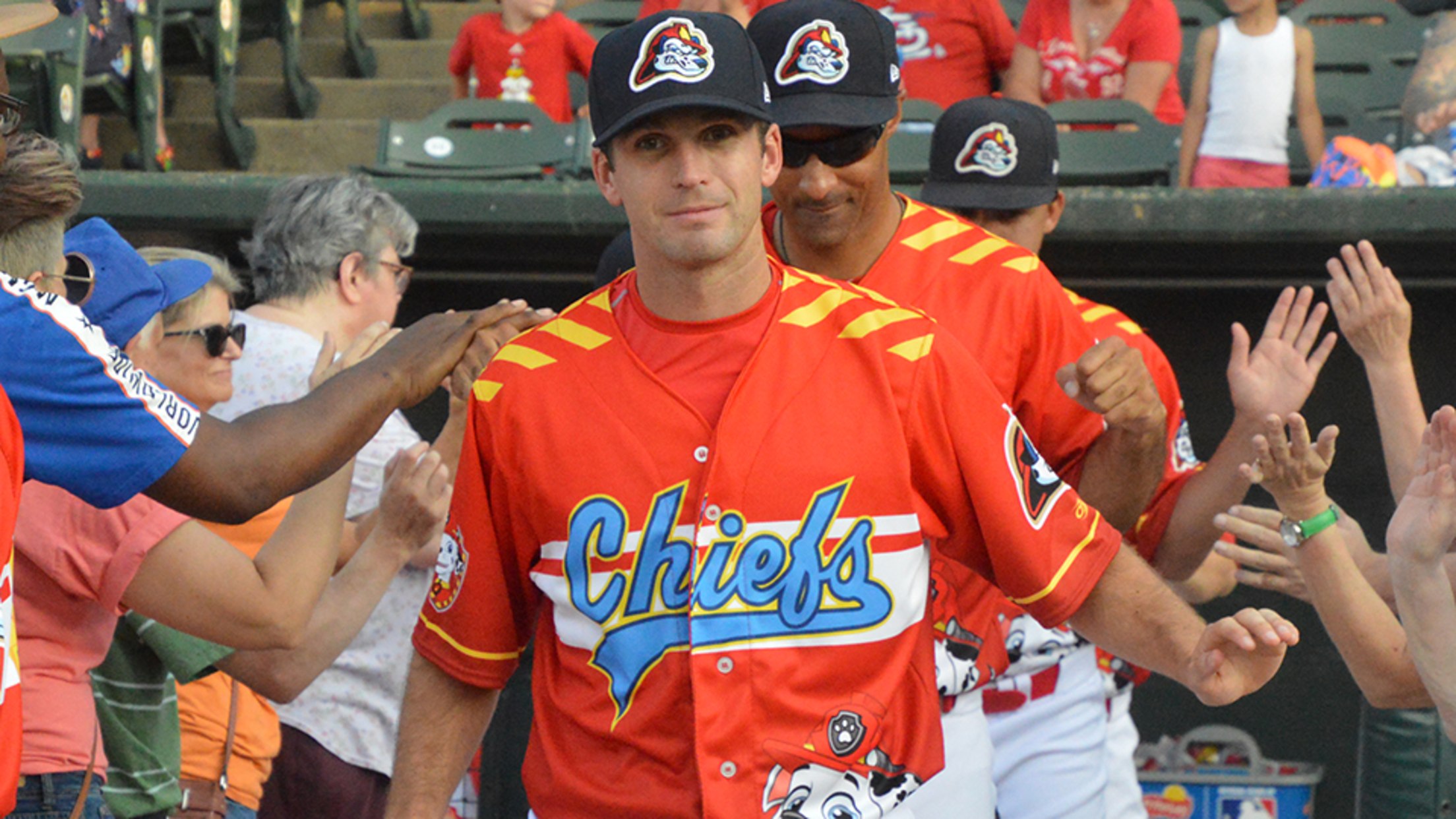 Ben Yokley earned his first career win on July 27. (Allison Rhoades/Peoria Chiefs)
"Day two of Spring Training," Yokley said of his test results. "So we went in and got it taken care of. I wasn't expecting to even be throwing off a mound until early August, but I was pitching in live games [on rehab assignment] by the end of June. The entire staff was amazing in helping me get back so quickly."
Yokley appeared in three rehab games in the Rookie-level Gulf Coast League before he was assigned to Class A Peoria on July 18. He stepped onto the mound the next day for his first truly competitive action in nearly three years.
"It was a rush of all kinds of emotions," Yokley said. "I was so happy to be back out there. I really wasn't sure if I ever would get another chance to pitch as a professional again. When I was away from baseball, I couldn't even watch it on television. I saw guys I played with [in 2015] rising through the ranks and I wanted that to be me, so badly. I was happy for them, but it was also tough on me. So, when I got back on the mound [on July 19], I was dealing with a lot of nervousness. I did my best to take it all in before I threw my warmup tosses and I said to myself, 'This is how I wanted it to be.'"
If early indications mean anything, Yokley doesn't appear to have missed a beat. He earned his first Minor League win on July 27 and is 2-1 with a 2.45 ERA through his first six games with Peoria. He's fanned 11 batters in 7 1/3 innings and has held opponents to a .154 average. Although he's the elder statesman of the Chiefs' roster at nearly 26 years old, Yokley has fit right in among his new teammates.
"These guys are amazing," he said. "It's been fun learning from them and getting to know them. At this level, we're all trying to move up as quickly as possible. Some of those bus trips are as long and tough as you hear about in stories, but I'm just happy there is a bus trip. I'm not doing a typical 9-to-5 job and then going home and watching Netflix. I love playing baseball, the grind and everything that goes with it."
With the Chiefs speeding toward a Midwest League playoff berth, Yokley should get the opportunity to experience his first taste of postseason baseball. But despite being focused entirely on becoming a Major Leaguer, those he went to school with and who served alongside him during his time in the Air Force are never far from his mind.
"I have a tremendous appreciation for anyone actively serving," he said. "All the people I graduated with and who are on active duty ... I could never adequately express how much they and what they do means to me."