Stewart's Two Homers, Four Hits Leads Tides in Win
Norfolk Records 12 Runs, 19 Hits in Series Finale Victory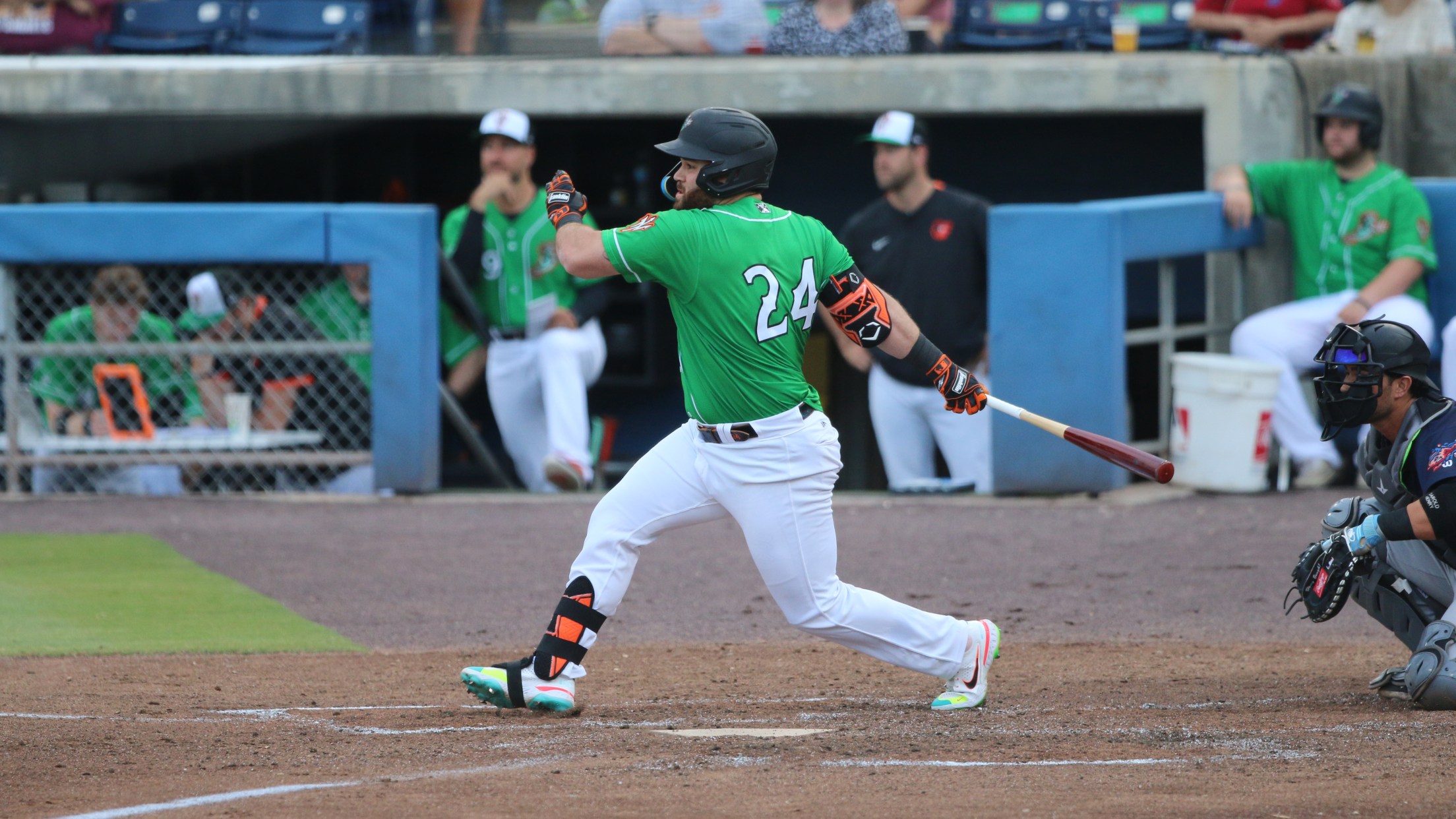 DJ Stewart (Sydney Smith)
ROCHESTER, NY. --- The Norfolk Tides (51-59) beat the Rochester Red Wings (50-61), 12-7, Sunday at Frontier Field. The Tides end the series with a 3-3 split, returning to Harbor Park Tuesday to host the Durham Bulls. Norfolk scored in the first inning again today when DJ Stewart hit a
ROCHESTER, NY. --- The Norfolk Tides (51-59) beat the Rochester Red Wings (50-61), 12-7, Sunday at Frontier Field. The Tides end the series with a 3-3 split, returning to Harbor Park Tuesday to host the Durham Bulls.
Norfolk scored in the first inning again today when DJ Stewart hit a two-run single for the early lead. He struck again in the third with a solo home run, followed by an RBI double by Shayne Fontana later in the inning to make the game, 4-0.
The Tides scored another in the fourth when Jordan Westburg ripped an RBI single to left. But Rochester responded in the bottom half with their first runs of the game on a two-run shot by Jake Alu, making it 5-2, Norfolk.
A five-spot was put up in the fifth for the Tides, starting with the second homer of the game for Stewart. Cadyn Grenier hit an RBI double later in the inning. Gunnar Henderson followed with a two-run double, then Westburg also had an RBI double to extend the Tides lead to 10-2.
Tides starter Matt Harvey would allow one more run in the bottom of the fifth when David Dahl with a sacrifice fly. Harvey finish the night with his third win of the season, going 5.0 innings and allowed the three runs on five hits (one homer) and three walks while striking out three. He threw 70 pitches, 43 for strikes.
More scoring came in the seventh for both teams. Kyle Stowers hit an RBI single up the middle to give the Tides their biggest lead of the game at 11-3. But Rochester would end up scoring four runs. Dahl hit an RBI double, Riley Adams and Nick Banks hit RBI singles, then Jecksson Flores walked with the bases load to make the score 11-7.
Henderson capped the Tides victory with a solo home run in the ninth, giving Norfolk the, 12-7, victory. The Tides have a scheduled league off day tomorrow before hosting the Durham bulls on Tuesday. Neither team has announced their probables.
POSTGAME NOTES
TOP GUNNAR: Going 3-for-6 with two runs, a double, a home run and three RBI today was Gunnar Henderson...it was his second homer of the month (August 5 vs. Nashville) and 10th this season...Gunnar has hit safely in 21 of 24 games (since July 10), batting .326 (31-for-95) with 22 runs, five doubles, two triples, five homers, 15 RBI, 14 walks and two hit-by-pitches (.423 OBP).
THAT'S MY DJ!: Hitting multiple homers today was DJ Stewart, who went 4-for-5 with two runs, two home runs and four RBI...he now has 30 home runs in his Tides career, which ranks fourth all time as an Orioles affiliate (since 2007)...he trails Josh Bell (32) for third...the last time he hit multiple homers in a game was with Baltimore on August 12, 2021 vs. Detroit, hitting two.
THE GRASS IS GRENIER: The third Tide to have at least three hits today was Cadyn Grenier, who went 3-for-5 with three runs, two doubles and an RBI...it was his third three-hit game of the season, wiht the previous happening on May 21 at Charlotte...it was his first multi-hit game since June 21 at Lehigh Valley.