Stripers Rally, Survive in Ninth for 11-10 Win 
Travis Snider hits go-ahead homer in Gwinnett's third-straight win at Charlotte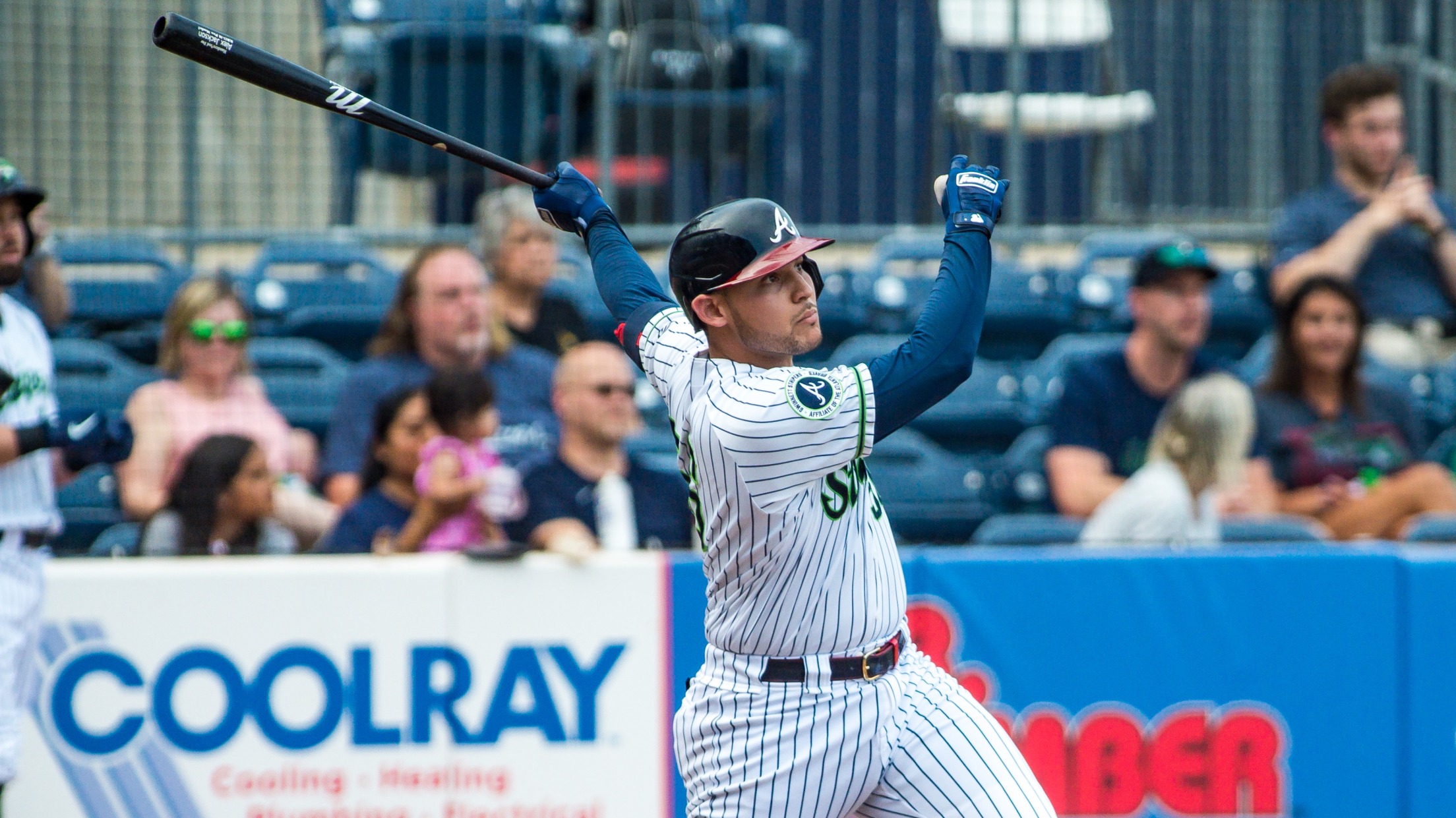 Alex Jackson hit his second grand slam of the season in Gwinnett's 11-10 win at Charlotte on Thursday. (Will Fagan/Gwinnett Stripers)
CHARLOTTE, N.C. – The Gwinnett Stripers (29-34) rallied from an 8-3 deficit after six innings and held on to beat the Charlotte Knights (25-36)11-10 with a wild finish at Truist Field on Thursday night. Decisive Play:Travis Snider hit a two-run home run (3) off Connor Sadzeck (L, 2-1) in the
CHARLOTTE, N.C. – The Gwinnett Stripers (29-34) rallied from an 8-3 deficit after six innings and held on to beat the Charlotte Knights (25-36)11-10 with a wild finish at Truist Field on Thursday night.
Decisive Play:**Travis Snider** hit a two-run home run (3) off Connor Sadzeck (L, 2-1) in the eighth to give Gwinnett a 9-8 lead. Yolmer Sánchez earned the eventual game-winning RBI with a bases-loaded walk in the ninth to put the Stripers up 11-8. Charlotte's Deivy Grullon hit a double that scored two with two outs in the ninth, but Travis Demeritte and Jason Kipnis teamed up to throw out Yermín Mercedes at the plate to end the game.
Key Contributors:**Alex Jackson** smashed a grand slam (9) in the seventh inning to bring the Stripers within one run at 8-7. He finished 1-for-5 with five RBIs. Demeritte led Gwinnett in hits with two, including a solo homer (8) in the fourth. Trevor Kelley, Thomas Burrows (W, 2-0), and Víctor Arano combined to keep Charlotte off of the scoreboard in innings six through eight.Jacob Webb (S, 3) held on for the save.
Noteworthy:Despite allowing 10 runs for the first time this season, the Stripers remain unbeaten (10-0) when scoring in double figures. Demeritte has homered in each of his last three MiLB games, including a rehab appearance with the Florida Complex League Braves on July 10. Jackson has belted two of Gwinnett's four grand slams this year.
Next Game (Friday, July 16): *Gwinnett at Charlotte, 7:04 p.m. at Truist Field. RHP *Jasseel De La Cruz (1-2, 6.55 ERA) for the Stripers vs. RHP Alex McRae (2-3, 4.89 ERA) for the Knights. Radio Broadcast: 6:49 p.m. on MyCountry993.com.
*Next Home Game (Tuesday, July 20): *Gwinnett vs. Norfolk, 7:05 p.m. at Coolray Field (Family Value Tuesday, $2 hot dogs, $1 desserts, presented by Coolray Heating & Cooling).