Switch-hitting outfielder Bryce Johnson sparks Flying Squirrels' offense with breakout season
How learning to switch-hit at Sam Houston State "revolutionized" Johnson's baseball career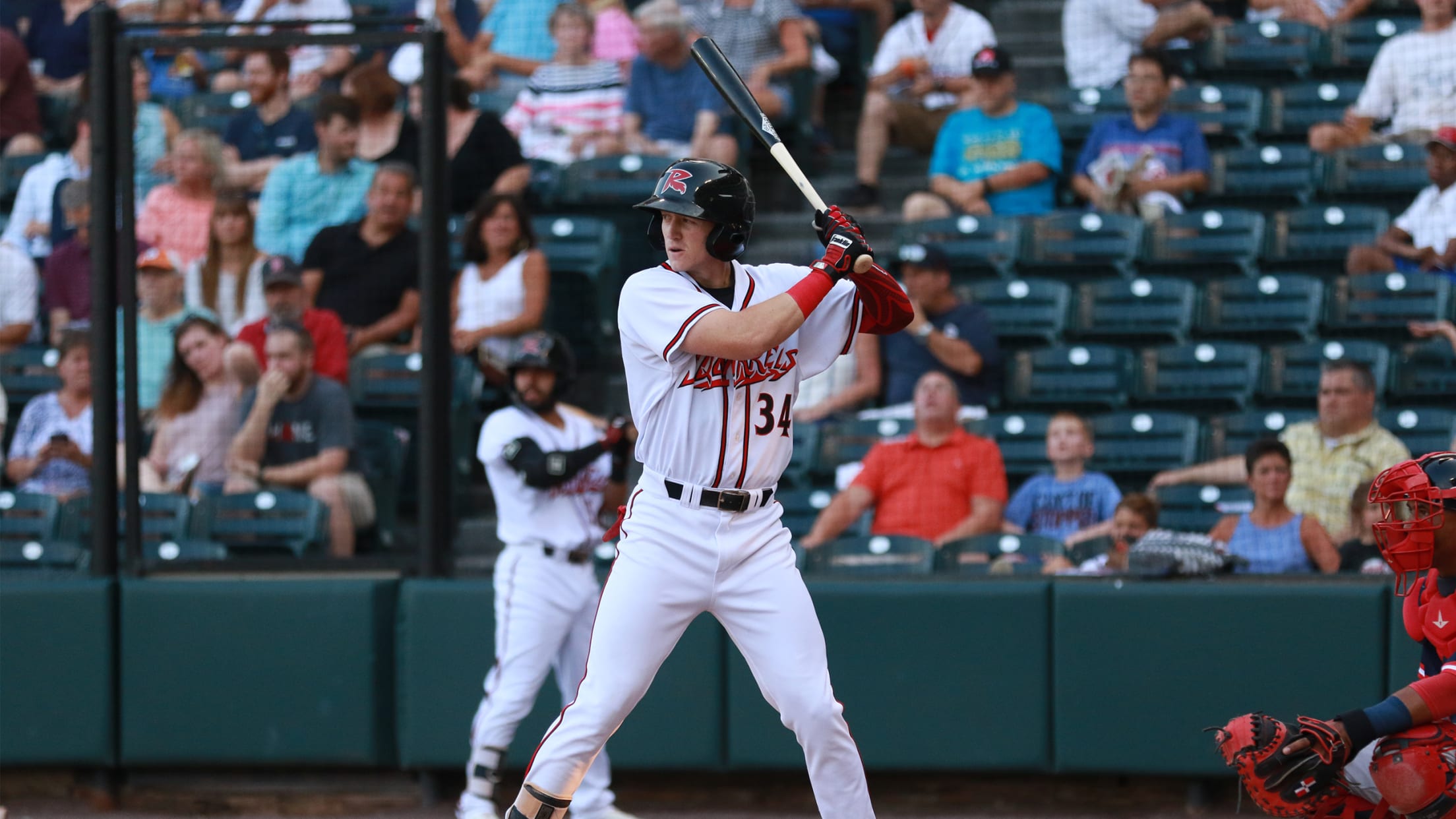 Since his promotion to Double-A on June 26, Bryce Johnson leads the Flying Squirrels in doubles (10) and is tied for the team lead in hits (37) and home runs (3). (Real Life Studios)
Originally published in Issue No. 10 of The NutshellWhen Bryce Johnson was a kid, he walked up to a golf ball with a right-handed set of clubs and took a perfect left-handed swing. From that moment on, his dad Darrell Johnson knew Bryce wouldn't be confined to just one side of
Originally published in Issue No. 10 of The Nutshell
When Bryce Johnson was a kid, he walked up to a golf ball with a right-handed set of clubs and took a perfect left-handed swing. From that moment on, his dad Darrell Johnson knew Bryce wouldn't be confined to just one side of the plate.
"It just was natural when he started swinging the golf club left-handed, it was like I noticed it immediately," Darrell Johnson said. "It was clear he could swing just the same left-handed as right-handed."
Despite that natural ability, Johnson took just one at-bat left-handed from the first time he played organized baseball when he was eight years old to his freshman year of college.
"I hit lefty once in high school, and I think I struck out on three pitches," Johnson said. "I went to our head coach in high school and I told him, 'Hey, I'm never doing this again, don't worry.'"
He spent his freshman year of college at Sam Houston only batting right-handed. Even though he hit .310 and ended the year on a 13-game hitting streak, Bearkats head coach Matt Deggs knew there was untapped potential. After the final game of the that year, Johnson sat down with Deggs to talk about his career goals. Deggs, who took notice of Johnson's "through the roof" speed and athleticism, recognized - just like Darrell Johnson - that switch-hitting might be the key to Johnson's development.
That summer, Johnson returned home to Cypress, Texas, with a plan to work on a left-handed swing. Johnson and his dad spent a couple of hours every day in the garage hitting into a net, determined to make sure the swing would pass the test against high-velocity pitches when he returned to campus in the fall.
"Every day I hit off the machine left-handed almost all day, all practice, whatever it took," Johnson said. "The whole fall, in all our fall games and all our practices, I hit nothing but left-handed. It was rough against live arms for a lot of that fall."
Deggs, now the head coach at the University of Louisiana at Lafayette, remembers Johnson's work ethic trumping any doubts he had about the experiment working.
"When he started hitting off live pitching in the fall, there were definitely ups and downs," Deggs said. "He kept working on it and working on it. Once a month, I would ask him, 'Do you want to keep doing this?' And he always remained sure about it and stuck with it."
Johnson recalls feeling like he had the hang of his new lefty swing by December. Two months later, in his first at-bat of the season, Johnson stepped into the left-handed batter's box and roped a triple off the center field fence.
"There was a pretty special look in his eye when he got to third base," Deggs said. "That was a pretty special moment between us. It was like instant validation for all the work he'd put in, instant validation that he could hit from the left side."
The rest of Johnson's sophomore season was prolific. He led the team with a .345 average and .418 slugging percentage, while his 90 total hits ranked 20th nationally and were seventh-most in a single season in Bearkats history.
"(Switch-hitting) totally revolutionized Bryce's career, there's no doubt about it," Deggs said. "Bryce went for it, got great at it, and he'll probably be in the big leagues one day because of it."
After following up his breakout sophomore season with a team-best .350 average and 32 multi-hit games during his junior season, the Giants selected Johnson in the sixth round of the 2017 Major League Baseball draft, making him the highest-drafted Bearkats player since 2013.
Since June 26-when he made his Flying Squirrels debut-he leads the team in runs scored (21) and doubles (10), is tied for the team lead in hits (37), home runs (3) and RBIs (17) and is second on the team in average (.266).
"I've been doing the right-handed swing for almost 20 years," Johnson said. "The left-handed swing has only been four years, so it's still a work in progress. I wouldn't be here today without the switch-hitting. But we're just getting started."