Beede's gem goes for naught in 1-0 loss to Bees
Right-hander throws season-high seven innings, allows just three hits, strikes out eight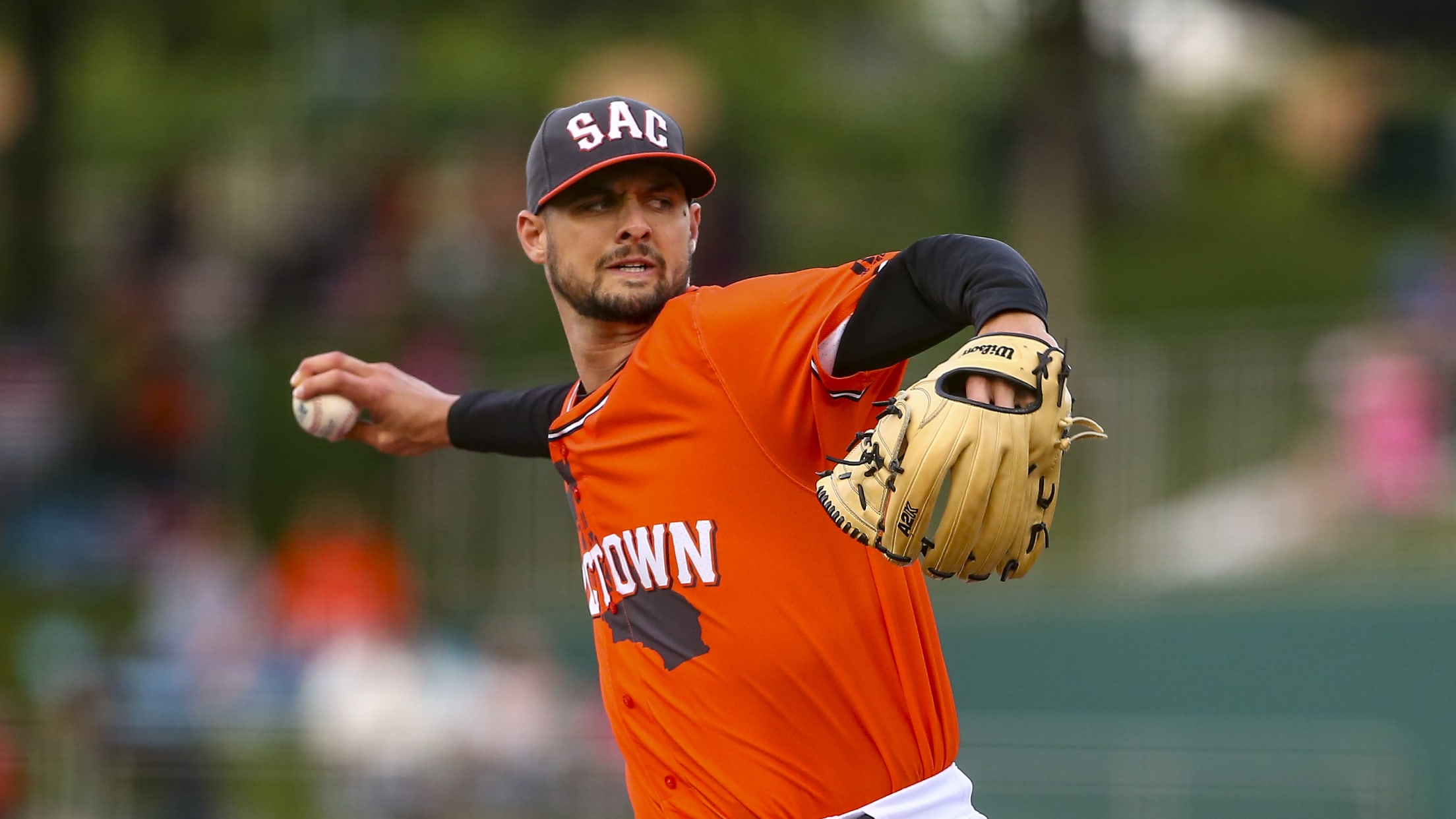 West Sacramento, Calif. - The Sacramento River Cats (22-26) got a tremendous performance from starter Tyler Beede but were unable to get anything going at the plate for a second straight night, dropping the series-finale 1-0 to the Salt Lake Bees (22-25).Beede continued to flash Major League stuff for the
PCL notes: Beede building on staff success
Giants prospect back in bigs after dominant run with River Cats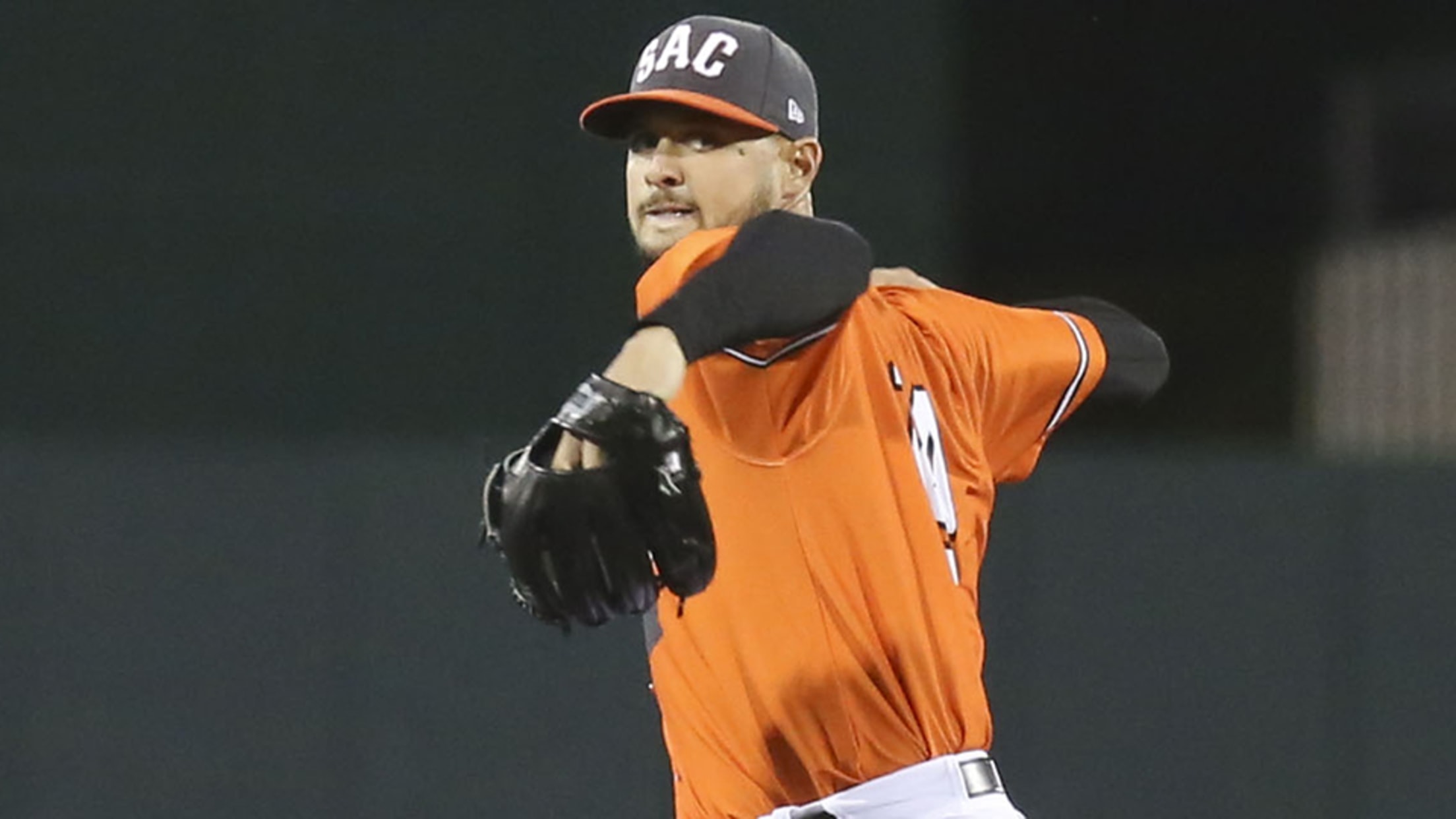 The explosion of offense in Triple-A has been well documented this season.Collectively, Pacific Coast League teams had a 5.25 ERA through Saturday and had allowed 804 home runs through 576 games, while the International League has seen its teams post a 4.88 ERA and 555 home runs in 474 games.Much
Beede stays hot for first win of the season
Home runs from Mike Yastrzemski and Mac Williamson power River Cats in 4-3 win
Tacoma, Wash. - The Sacramento River Cats (12-10) held off the Tacoma Rainiers (8-15) in a nail-biting 4-3 victory behind another strong outing from Tyler Beede.Beede continues to be ace-like for the River Cats this season. He was fantastic once again Saturday night, tossing five innings of one-run ball, striking
Beede shuts down Bees for River Cats' third straight win
Avelino collects three hits as Sacramento moves to 5-1 against Salt Lake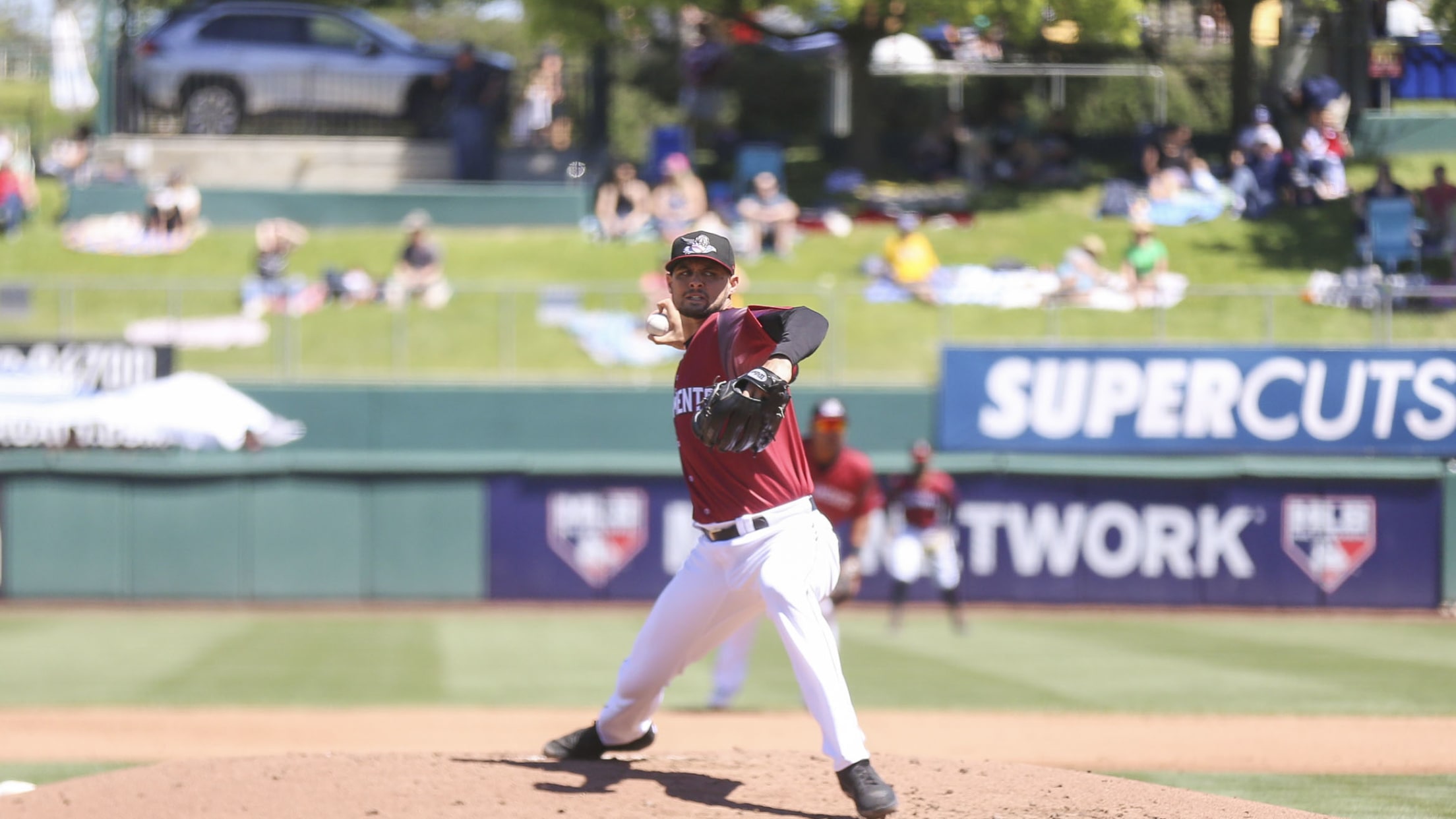 West Sacramento, Calif. - The Sacramento River Cats (9-8) used another excellent start from right-hander Tyler Beede on Sunday to beat the Salt Lake Bees (4-12) 3-2 for their third straight victory.Beede was magnificent in his fourth start of the season, though he did not factor into the decision. The
Five-run ninth inning dooms River Cats
Breyvic Valera goes 3-for-4 in tough 8-4 loss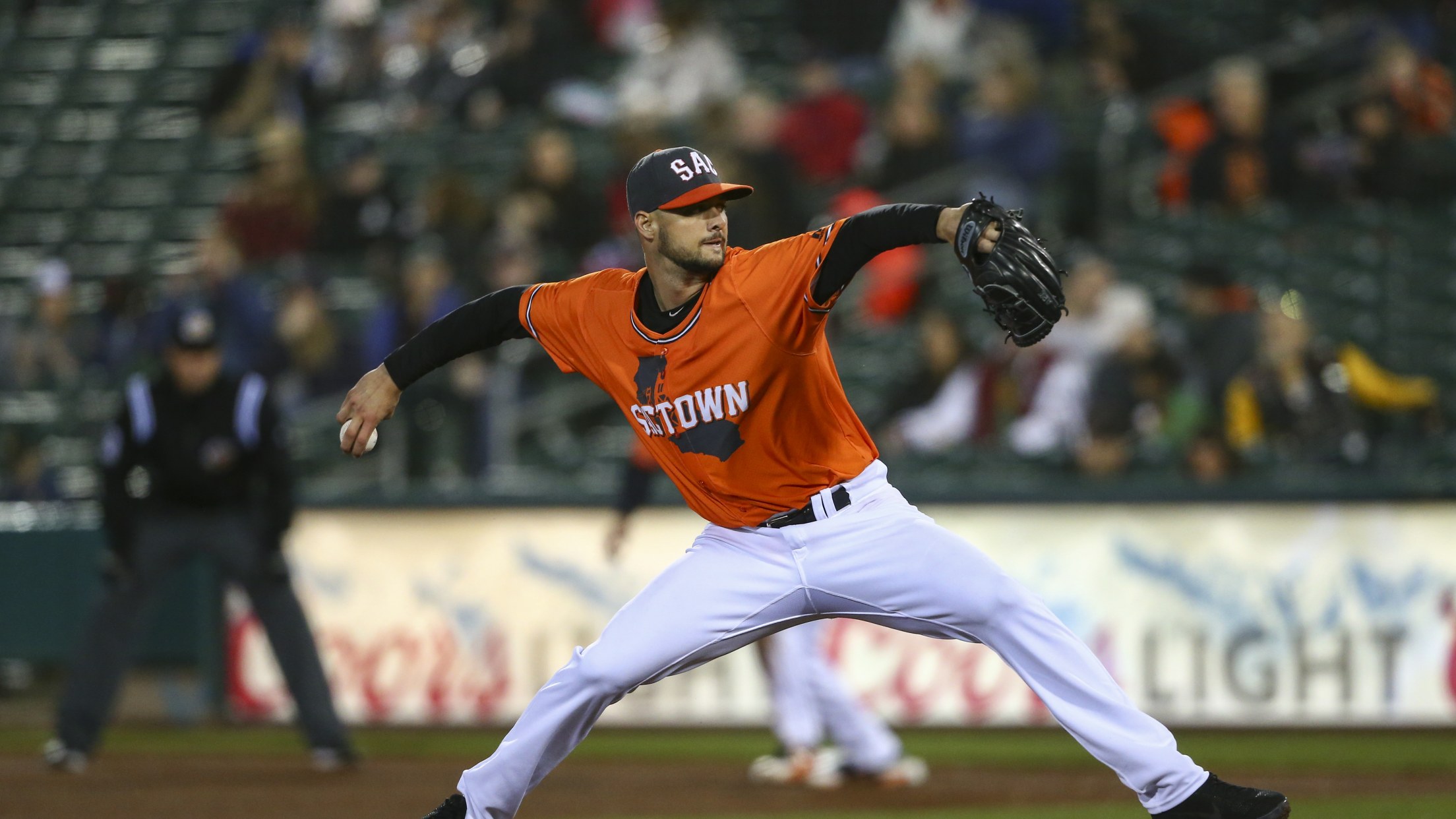 West Sacramento, Calif. - The Sacramento River Cats (6-6) held the high-powered Las Vegas Aviators (10-3) in check for much of the night, but the league's highest scoring offense came on late to take the series opener 8-4.River Cats' starter Tyler Beede was solid once again in his third start
Toolshed: Top prospects getting early jumps
Robert, Taveras among those putting 2018 struggles in the past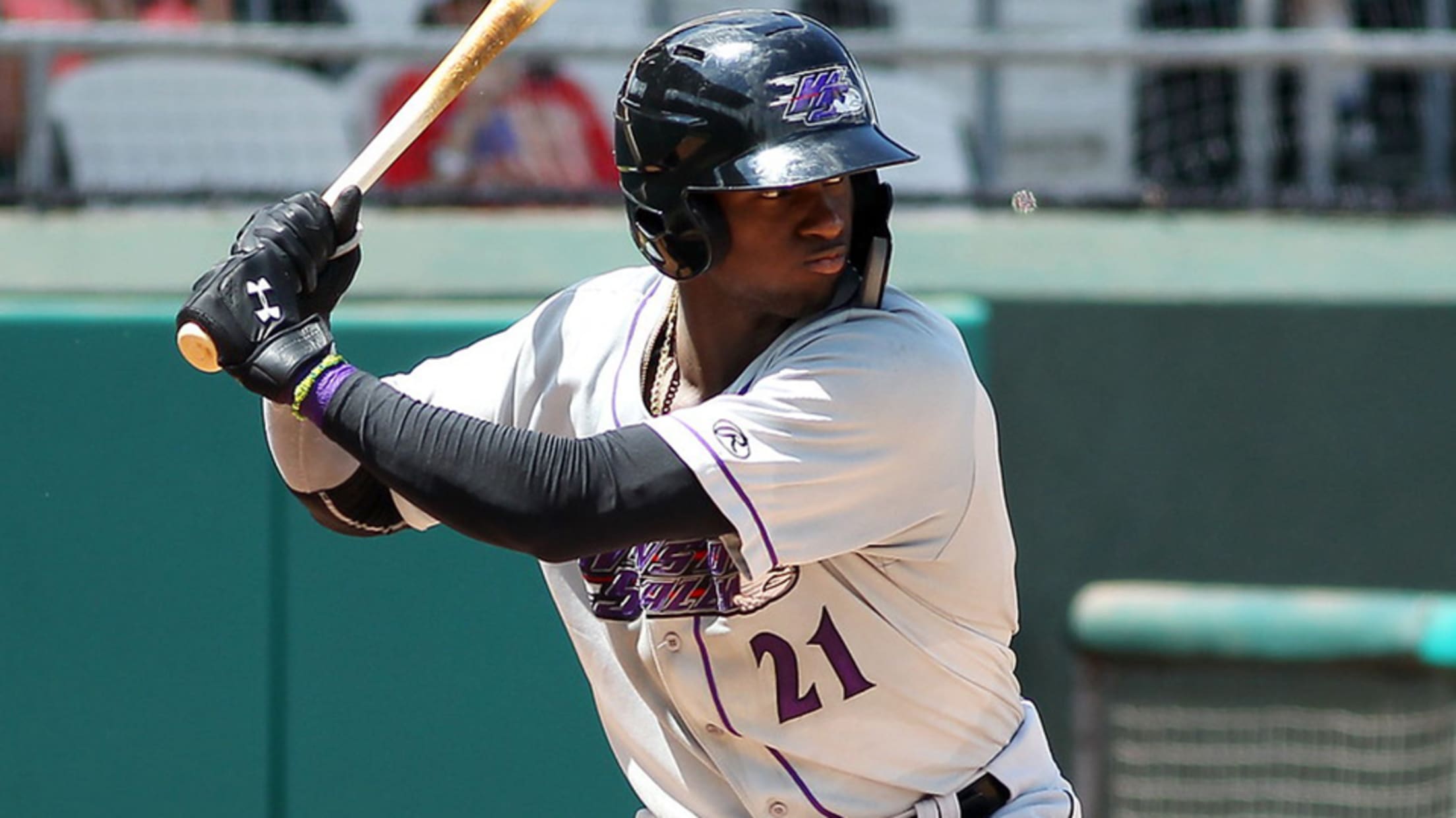 Speaking after his perfect game bid for Double-A Harrisburg on Wednesday, No. 4 Nationals prospectWil Crowe provided a revealing sentiment about how the first week of the Minor League season feels to some players. "After the first one, it was good to have that one out of the way," he said.
River Cats strike first but fall silent late
Two hits apiece for Vogt and Avelino in 5-1 loss to Aviators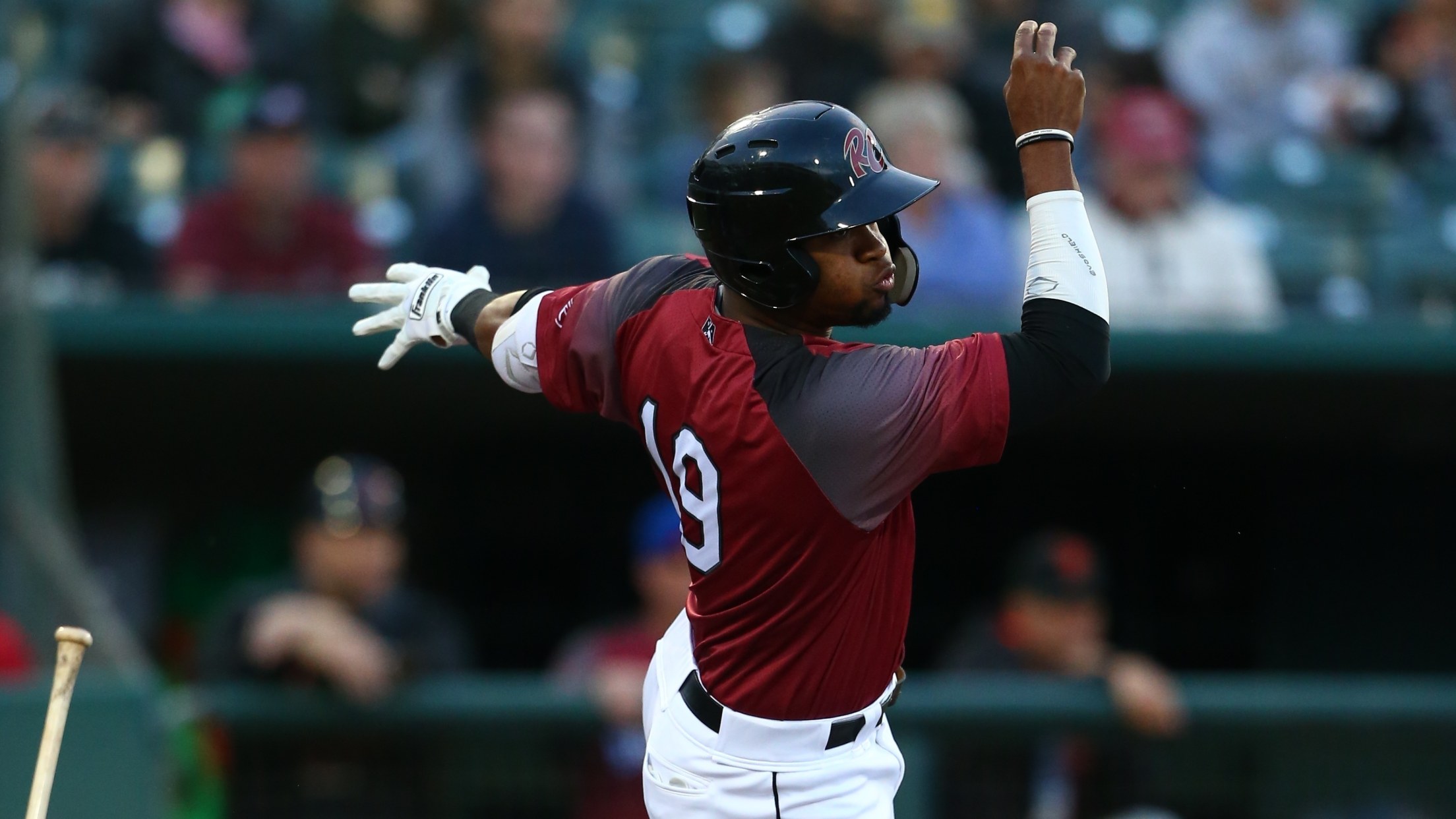 Summerlin, Nev. - The Sacramento River Cats (4-3) scored first once again but were held in check for the remainder of the game by Las Vegas Aviators (6-1). The River Cats would go on to allow five unanswered runs to drop game two of this three game series by a
Beede strikes out eight in season debut
Vogt clubs first River Cats homer but bullpen squanders lead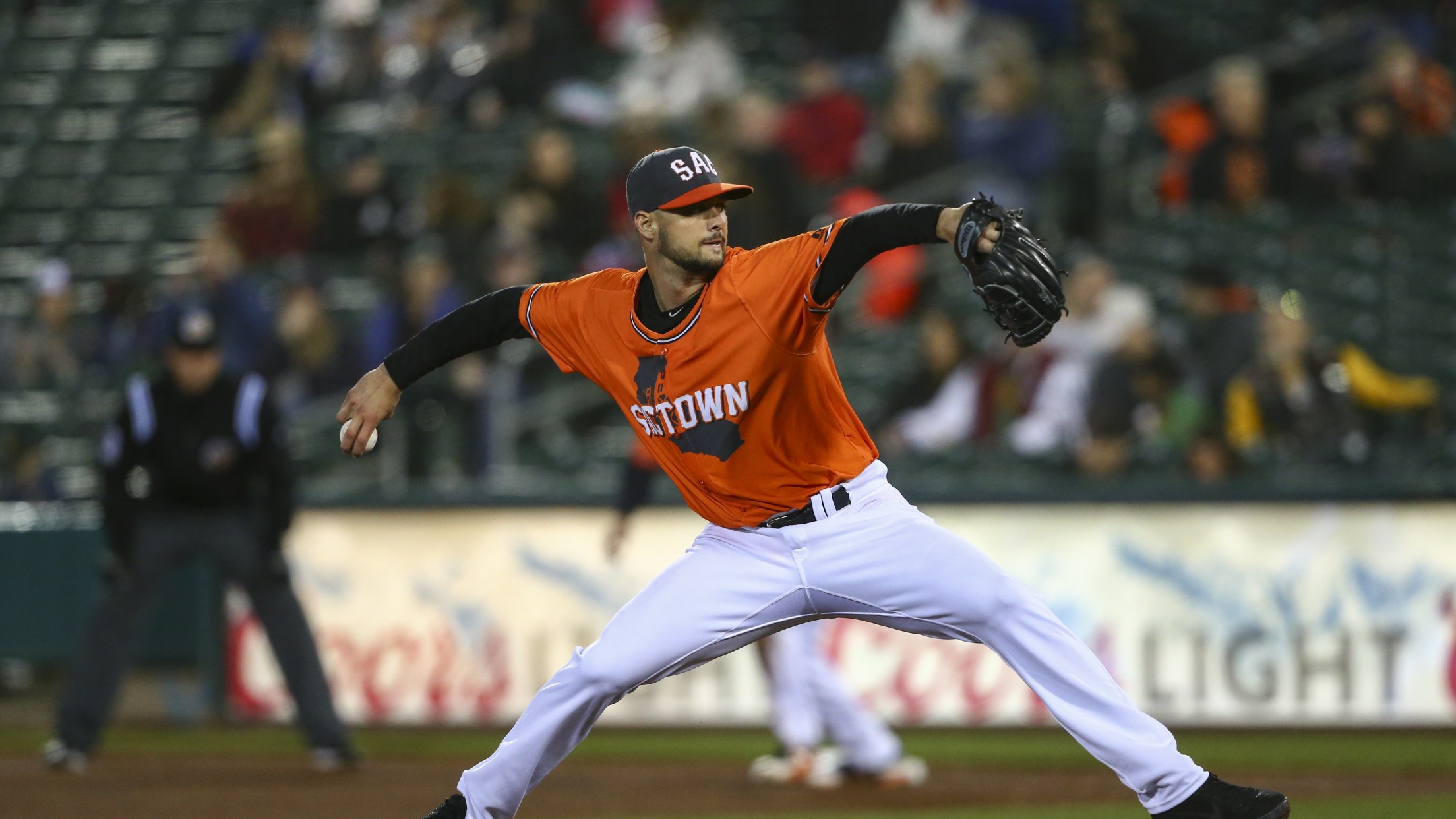 West Sacramento, Calif. - Right-hander Tyler Beede returned to the mound as a starting pitcher and delivered an impressive performance for the Sacramento River Cats (1-1), but the club fell 6-5 to the Tacoma Rainiers (1-1) in game two of the season.After being moved to the bullpen in 2018, Beede
Giants Prospect Primer: Bart runs express
Catcher climbs system; Black, Beede, Shaw knock on MLB door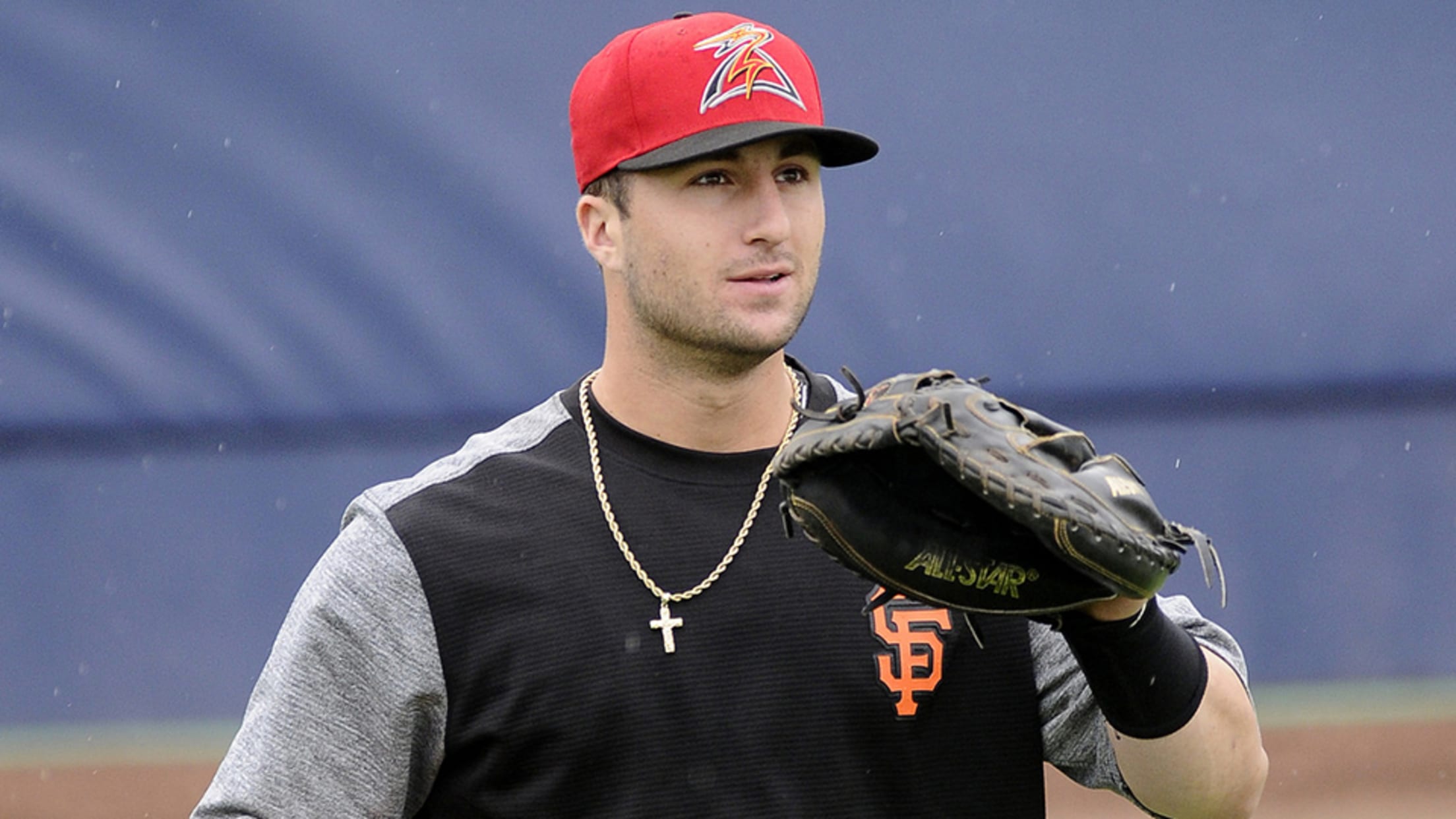 Some players are on the verge of stardom, others are entering a crucial phase of their development and still others are getting their first tastes of full-season ball. With the 2019 season approaching, MiLB.com takes a look at the most intriguing prospects from each MLB organization.Full-season debutant: Joey Bart, CAfter
River Cats have no answers for Grizzlies in finale
Stassi and Calixte each collect two hits in 15-1 loss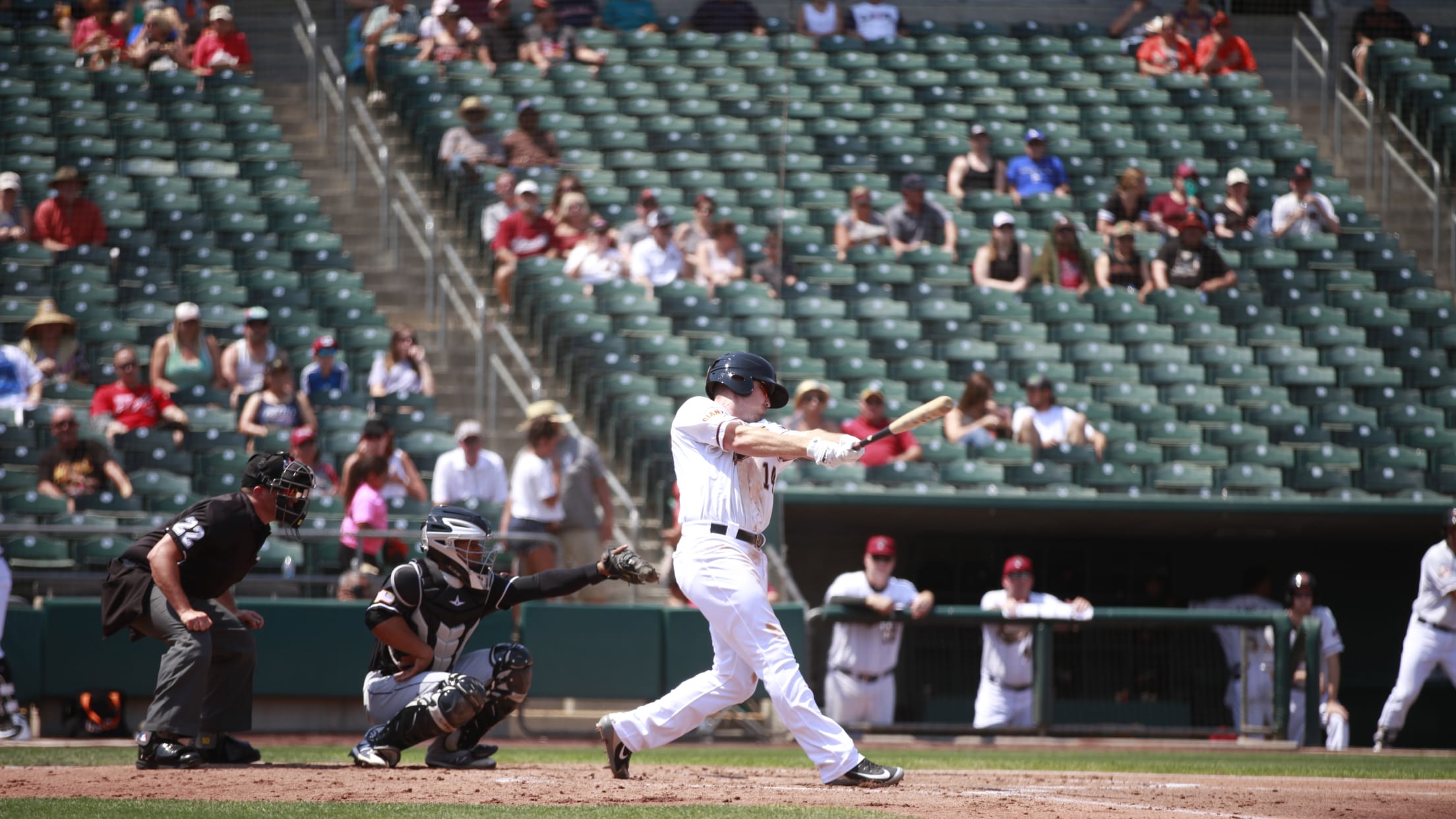 WEST SACRAMENTO, CA - The Sacramento River Cats (50-79) fell behind early to the Fresno Grizzlies (75-54) and the interstate rivals did not let up, tying season-highs for opponents hits (19) and runs (15) in the 15-1 blowout.
Bourjos homers in loss to Grizzlies
Center fielder collects two hits including his second home run of season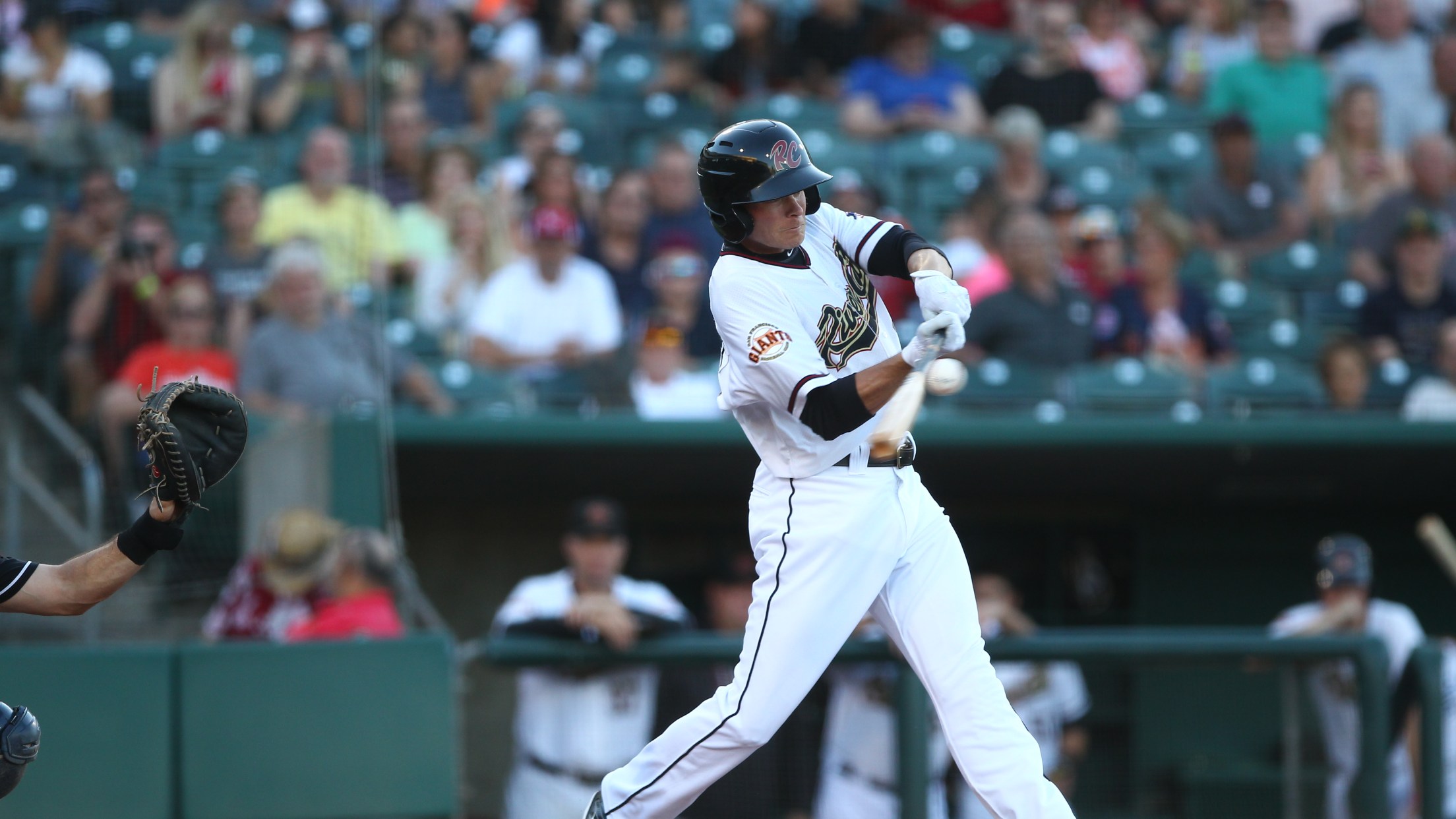 WEST SACRAMENTO, CA -- The Sacramento River Cats (50-77) kicked off a ten-game homestand with a 9-2 loss to the Fresno Grizzlies (73-54).Center fielder Peter Bourjos led the offense, which was held to just five hits, with two knocks featuring a solo home run in the fifth inning.The bullpen did
Shaw's 22nd home run highlights Monday matinee
Shaw leads Pacific Coast League by hitting a home run every 14.77 at bats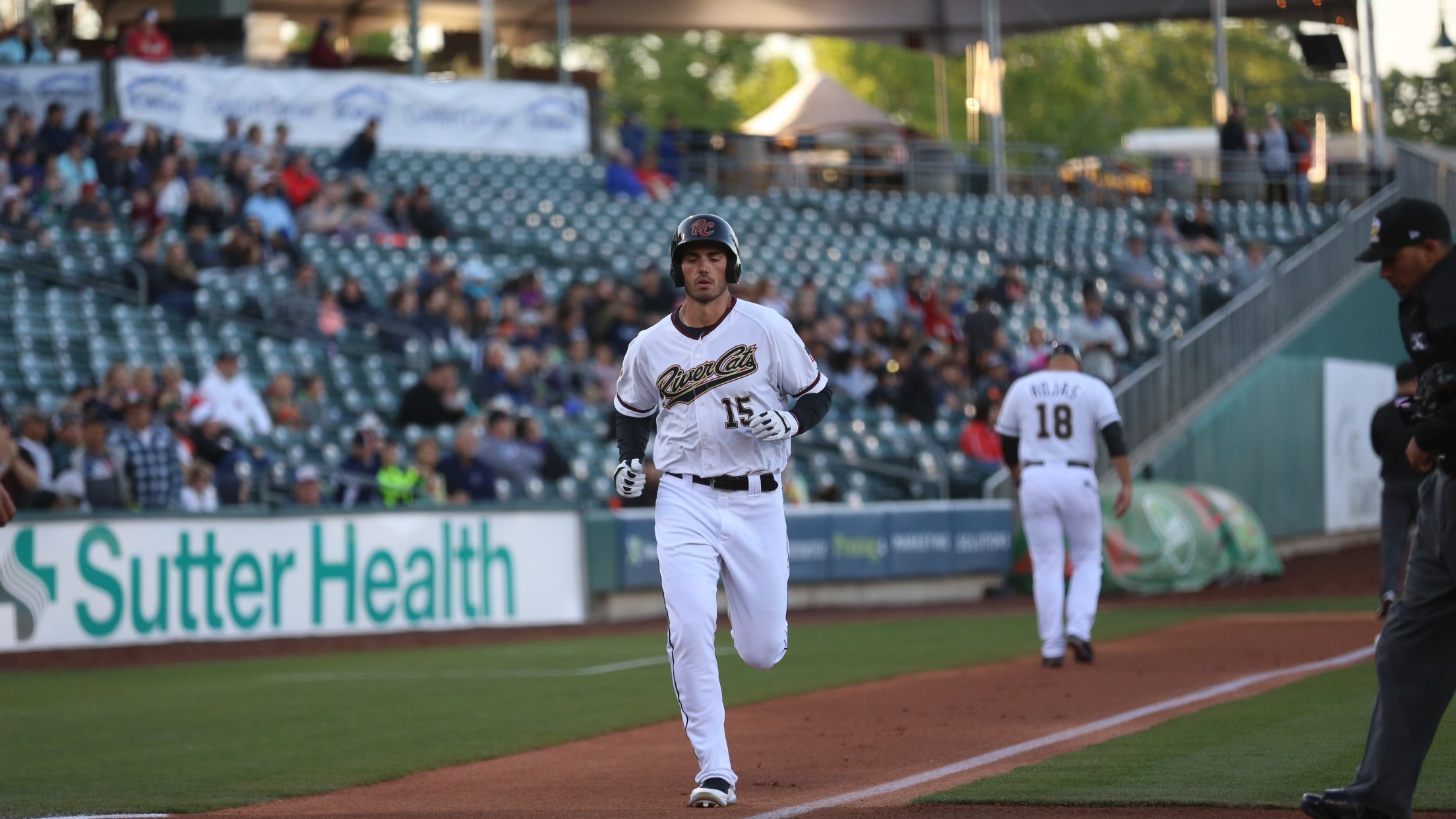 WEST SACRAMENTO, CA - In a Monday matinee series finale, the Sacramento River Cats (44-64) managed just one run on a Chris Shaw laser home run to right field. The Iowa Cubs (40-67) jumped on Daniel Camarena early in his return to the River Cats rotation as the River Cats
Blanco's late RBI lifts River Cats over Grizzlies
Sacramento records 13 hits and bullpen shuts down Fresno in one-run victory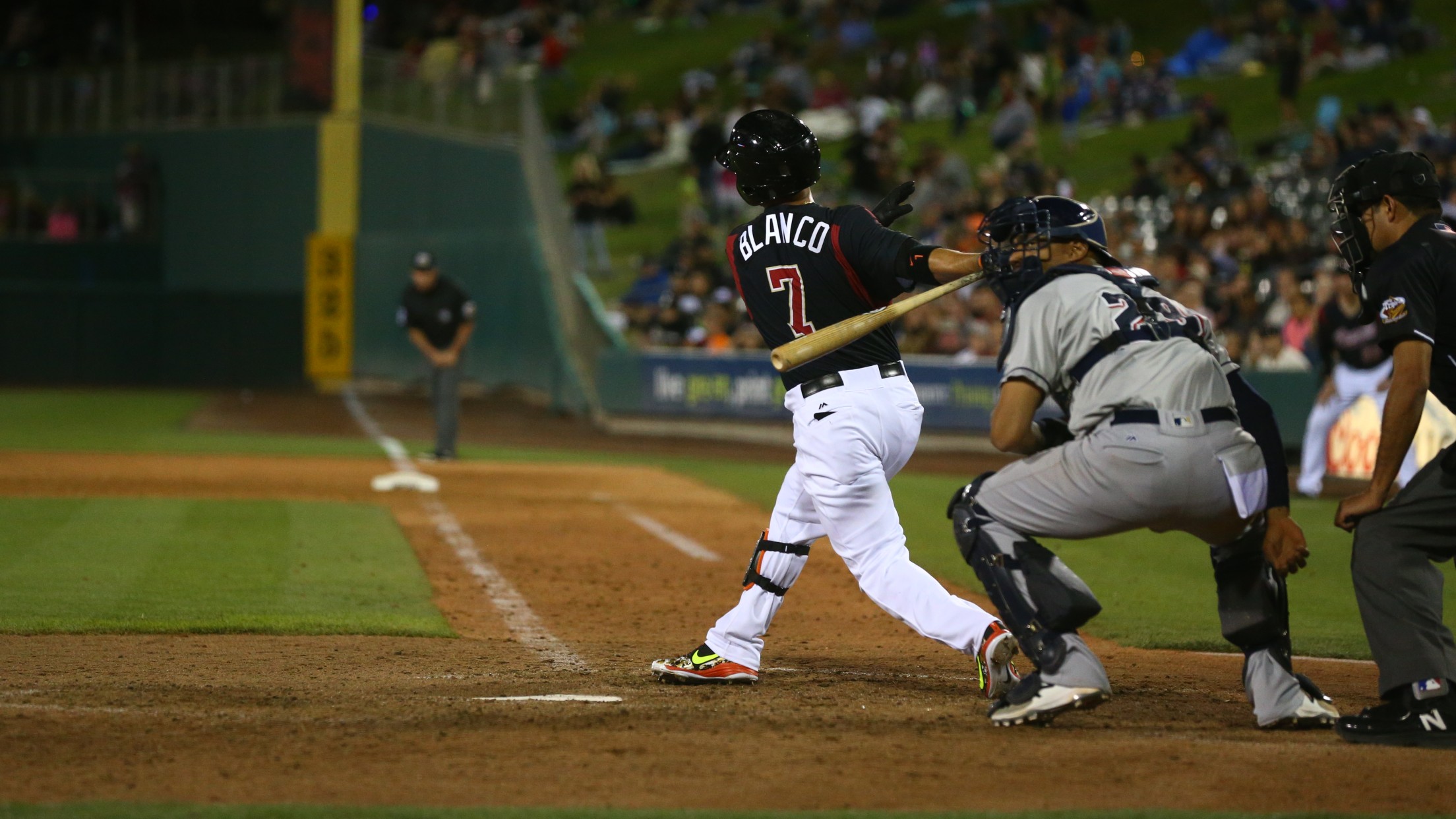 FRESNO, CA - In a tight ballgame that featured many hits but few runs, the Sacramento River Cats (41-54) edged the Fresno Grizzlies (54-40) 4-3 thanks to an eighth inning double from designated hitter Grégor Blanco.
Duggar's league-high 27th double leads quiet offense
Gomez goes 2-for-3 but River Cats fall 8-1 after early deficit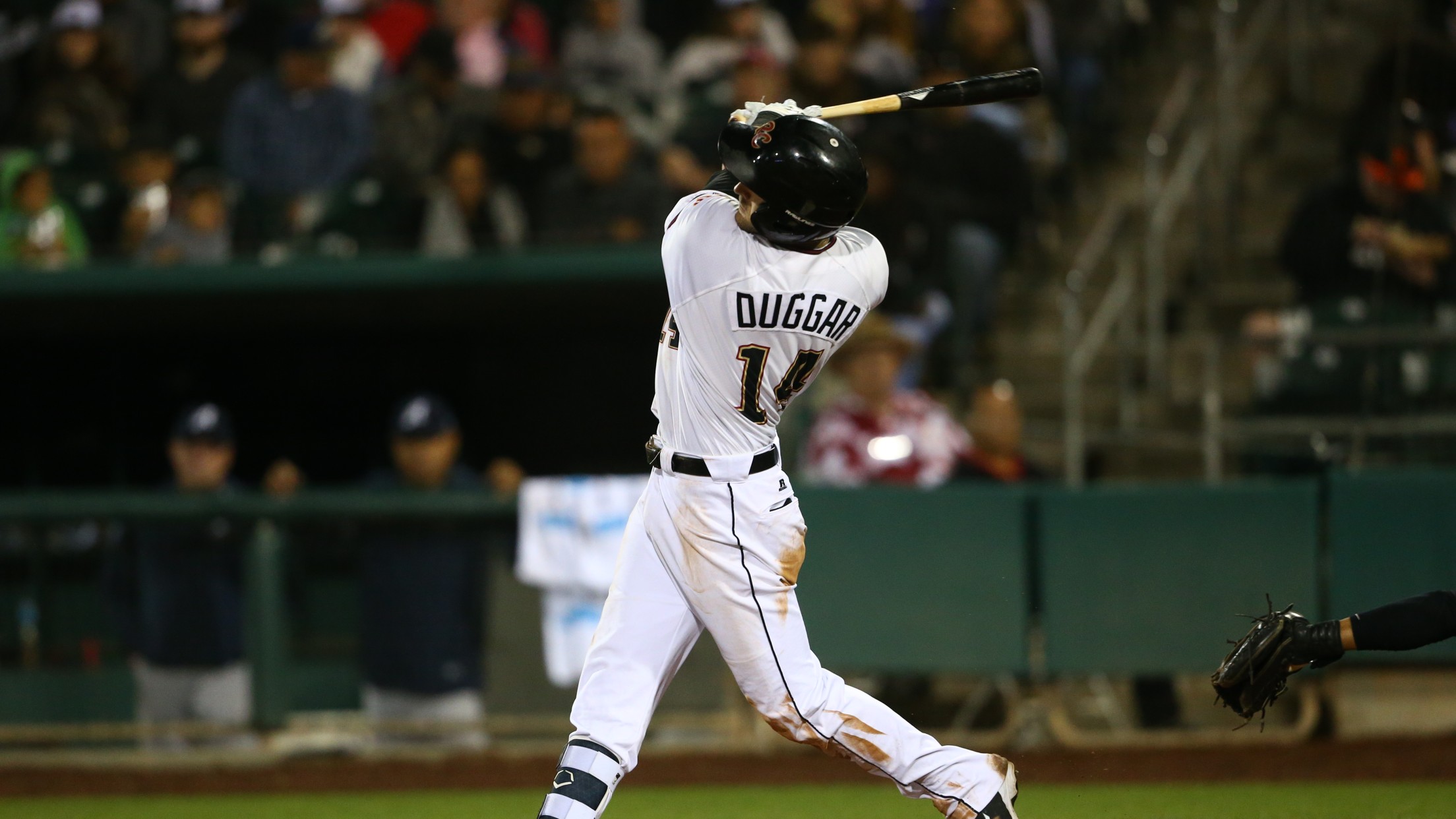 RENO, NV - After two straight games with near-miraculous comebacks, the Sacramento River Cats' (39-50) offense could not get anything going against the Reno Aces (41-48), eventually dropping game four of the series 8-1.
Cueto sharp in rehab appearance with River Cats
Giants' right-hander gets through 3.2 innings, strikes out four, and throws 48 pitches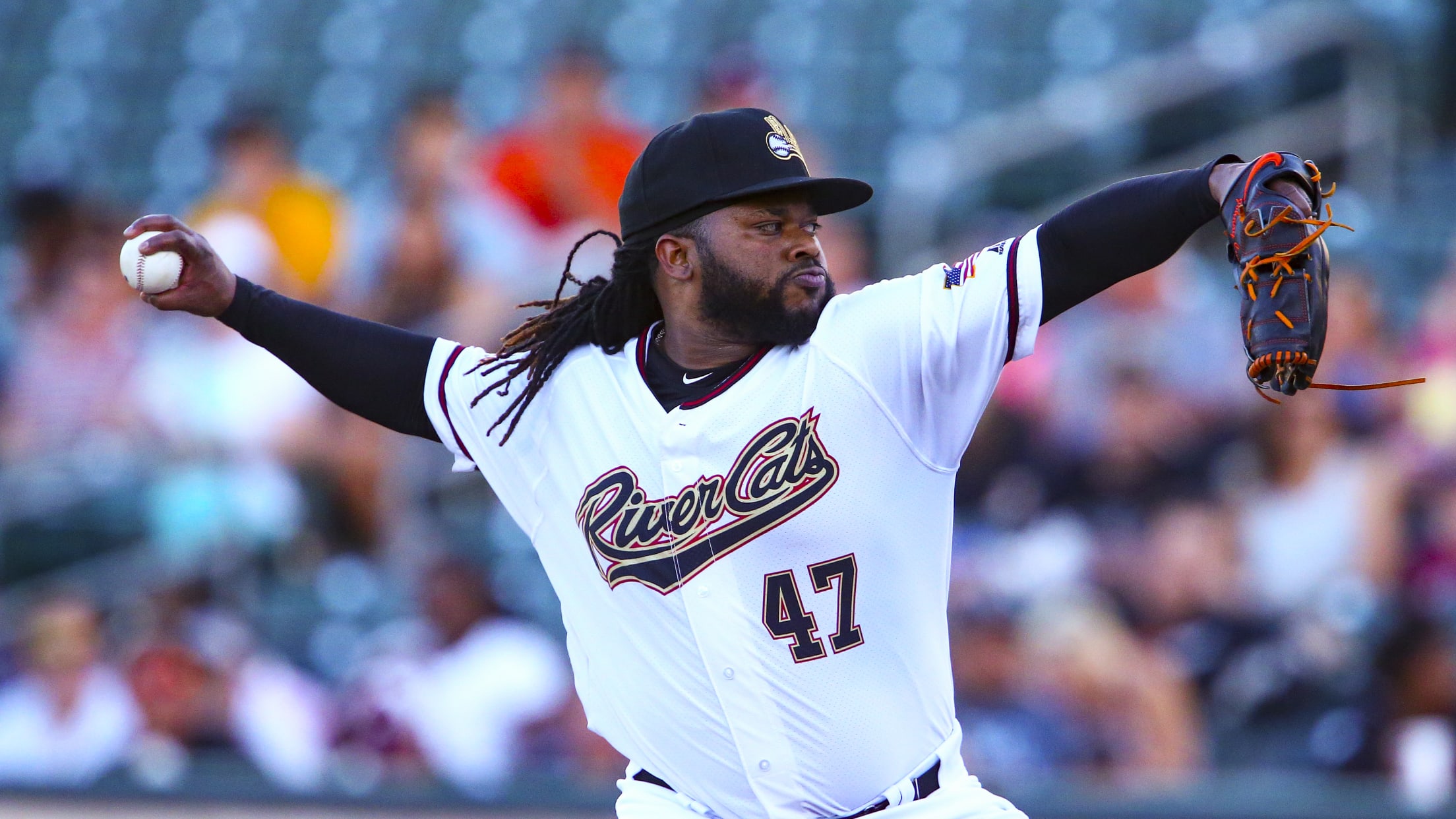 The Sacramento River Cats (33-42) had an energetic crowd on hand Saturday evening to watch a brilliant first rehab start from San Francisco Giants' right-hander Johnny Cueto. The offense, however, was dormant once again as the River Cats fell to the El Paso Chihuahuas (38-37) 3-1. Sacramento has only scored
Jones homers in River Cats' series finale with Sky Sox
Ryder Jones smashes 50th career minor-league home run in 7-1 loss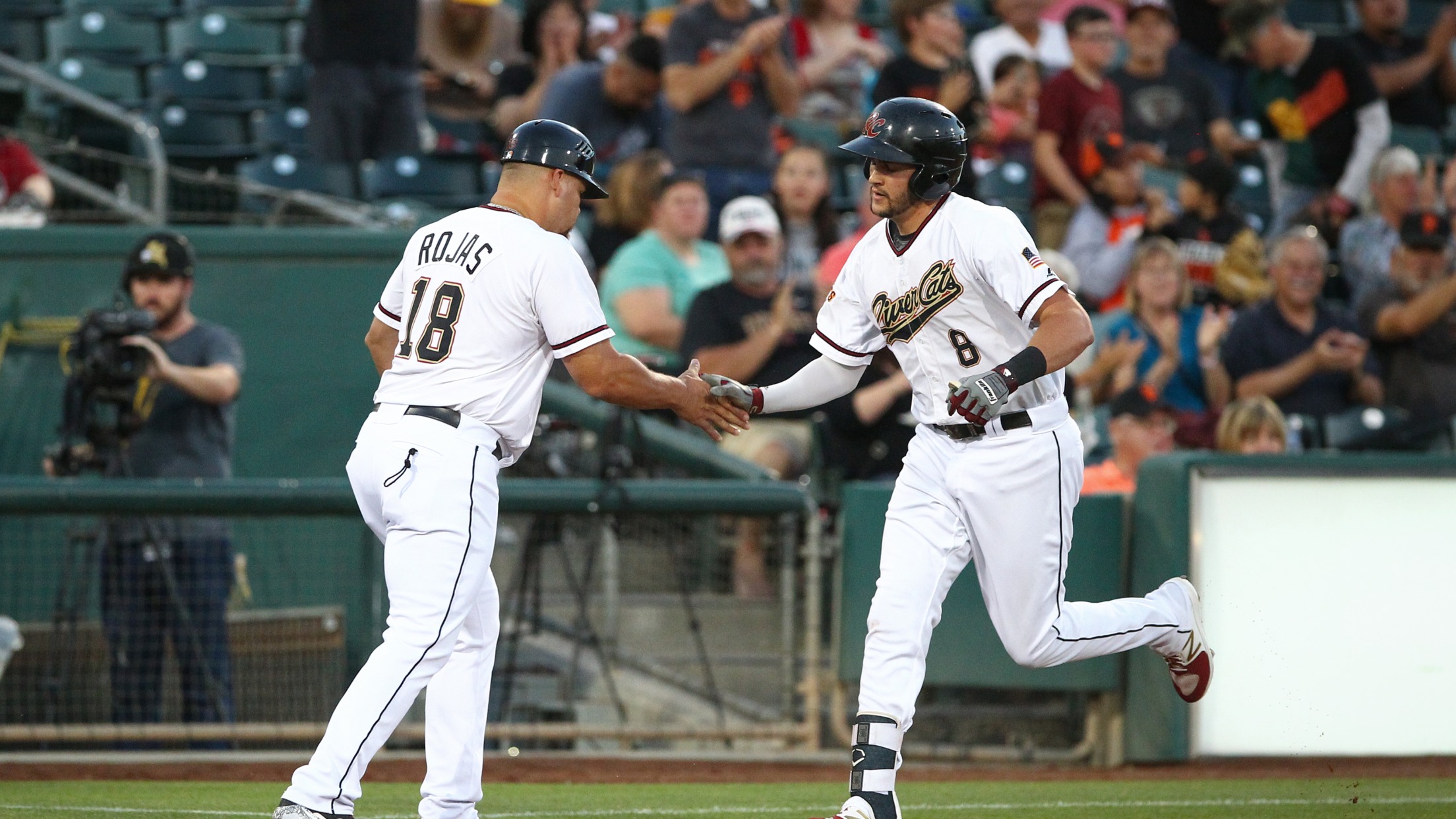 WEST SACRAMENTO, CA -- The Sacramento River Cats (31-34) had pitching struggles early, and a home run from Ryder Jones was all they could muster offensively against the Colorado Springs Sky Sox (33-29), as they dropped the series finale 7-1.River Cats starting pitcher Tyler Beede recorded just two outs and
Duggar walks off for River Cats in four-hit game
Camarena strikes out seven in 5.1 innings as River Cats win 3-2
WEST SACRAMENTO, CA - The Sacramento River Cats (31-33) won 3-2 in walk-off fashion on Sunday afternoon against the Colorado Springs Sky Sox (32-29). Outfielder Steven Duggar's fourth hit of the game chased home Orlando Calixte in the ninth to back another stellar outing from starter Daniel Camarena.
Shaw returns to lineup after missing 18 games
Freeman records two hits and an RBI, but Dodgers even up series with River Cats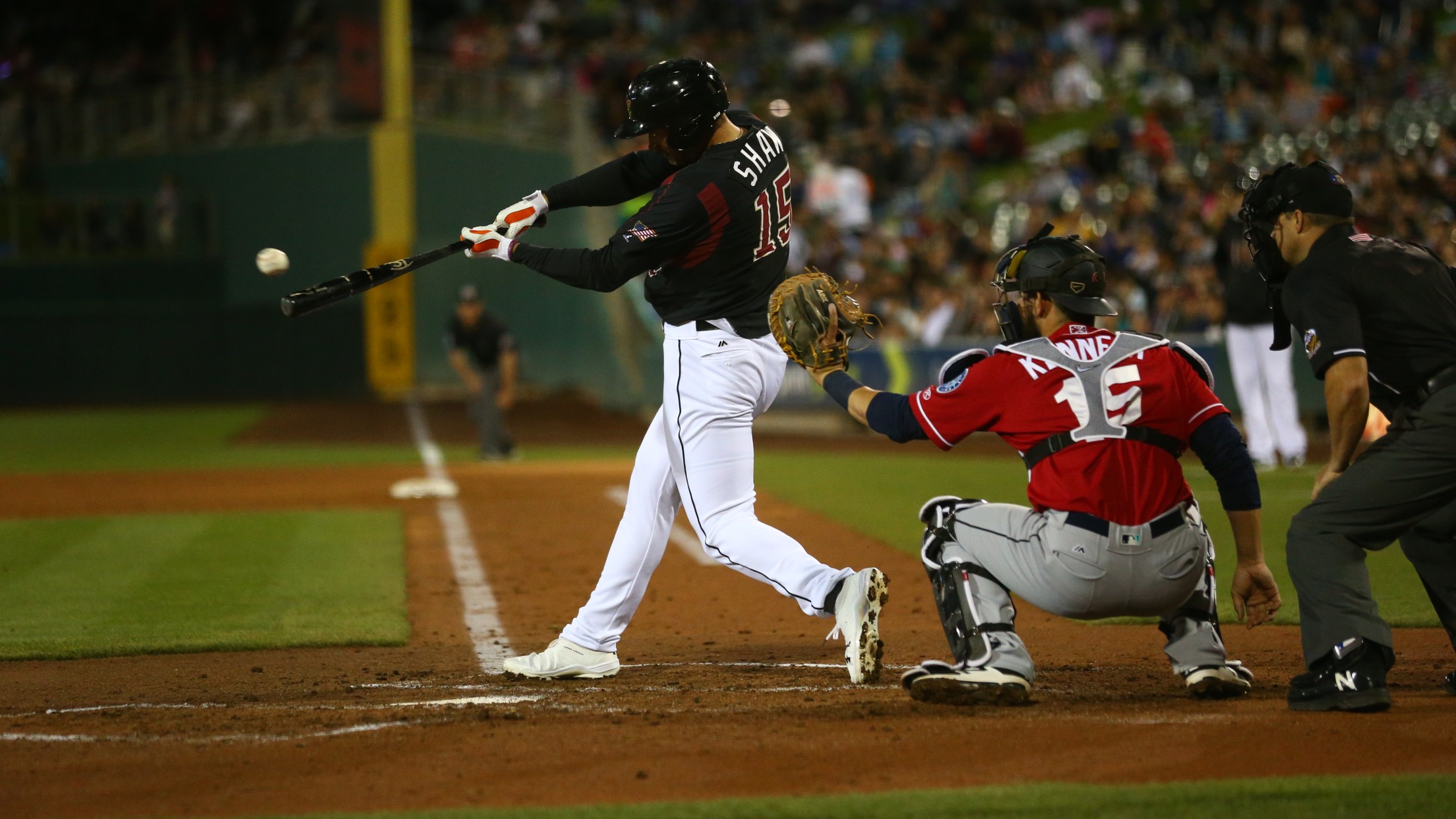 WEST SACRAMENTO, CA - The Sacramento River Cats (29-31) fell to the Oklahoma City Dodgers (34-21) 9-3 on Wednesday night, despite the return of Giants' number two prospect and team home run leader, outfielder Chris Shaw.
Beede strikes out seven in win over El Paso
Jones crushes three-run homer in first to jumpstart River Cats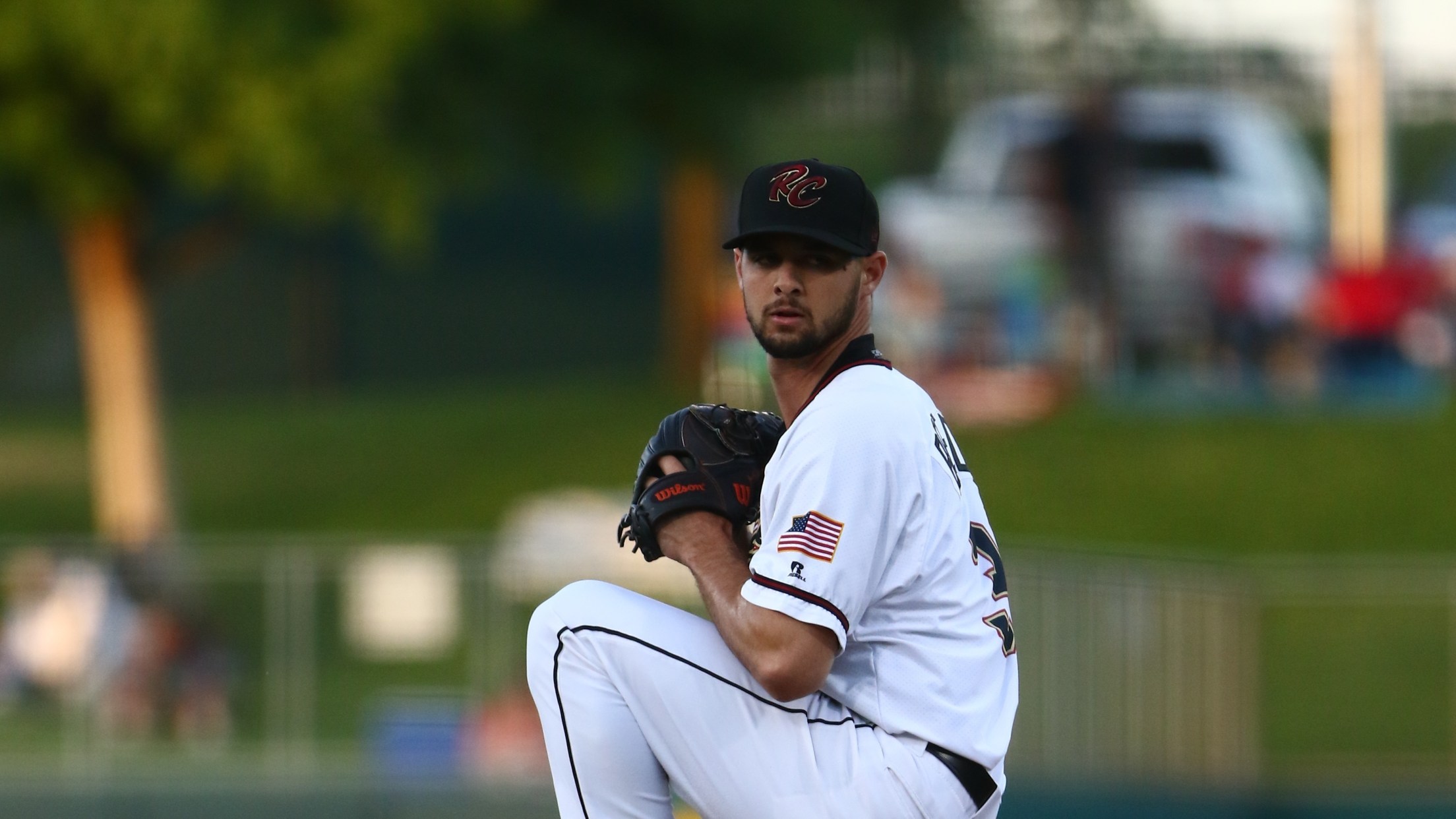 EL PASO, TX -- Right-hander Tyler Beede issued five free passes, but allowed just one hit and one run as the Sacramento River Cats (27-29) won 8-1 for their second victory in a row over the El Paso Chihuahuas (27-29).Beede struck out seven to tie his season-high, which he set
Duggar's four extra base hits lead River Cats to victory
Menez dazzles over seven scoreless in spot start for Sacramento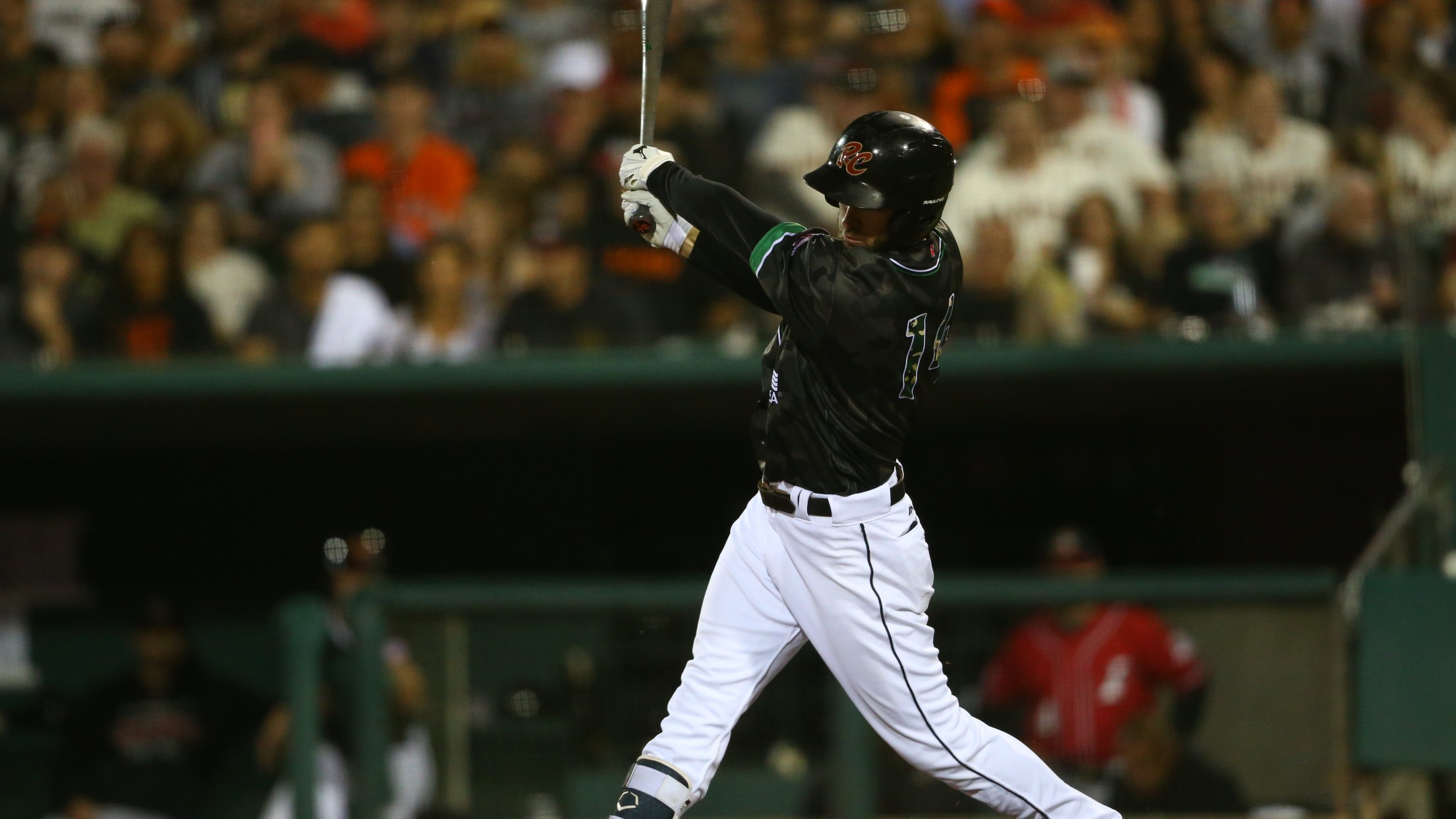 EL PASO, TX - The Sacramento River Cats (26-29) defeated the El Paso Chihuahuas (27-28) by the final score of 7-3 on Thursday night thanks to four extra base hits from leadoff man Steven Duggar and a brilliant performance from lefty Conner Menez.
Bumgarner dominates in epic 2-0 River Cats win
Bumgarner strikes out eight in first rehab start, Calixte chips in with inside-the-park home run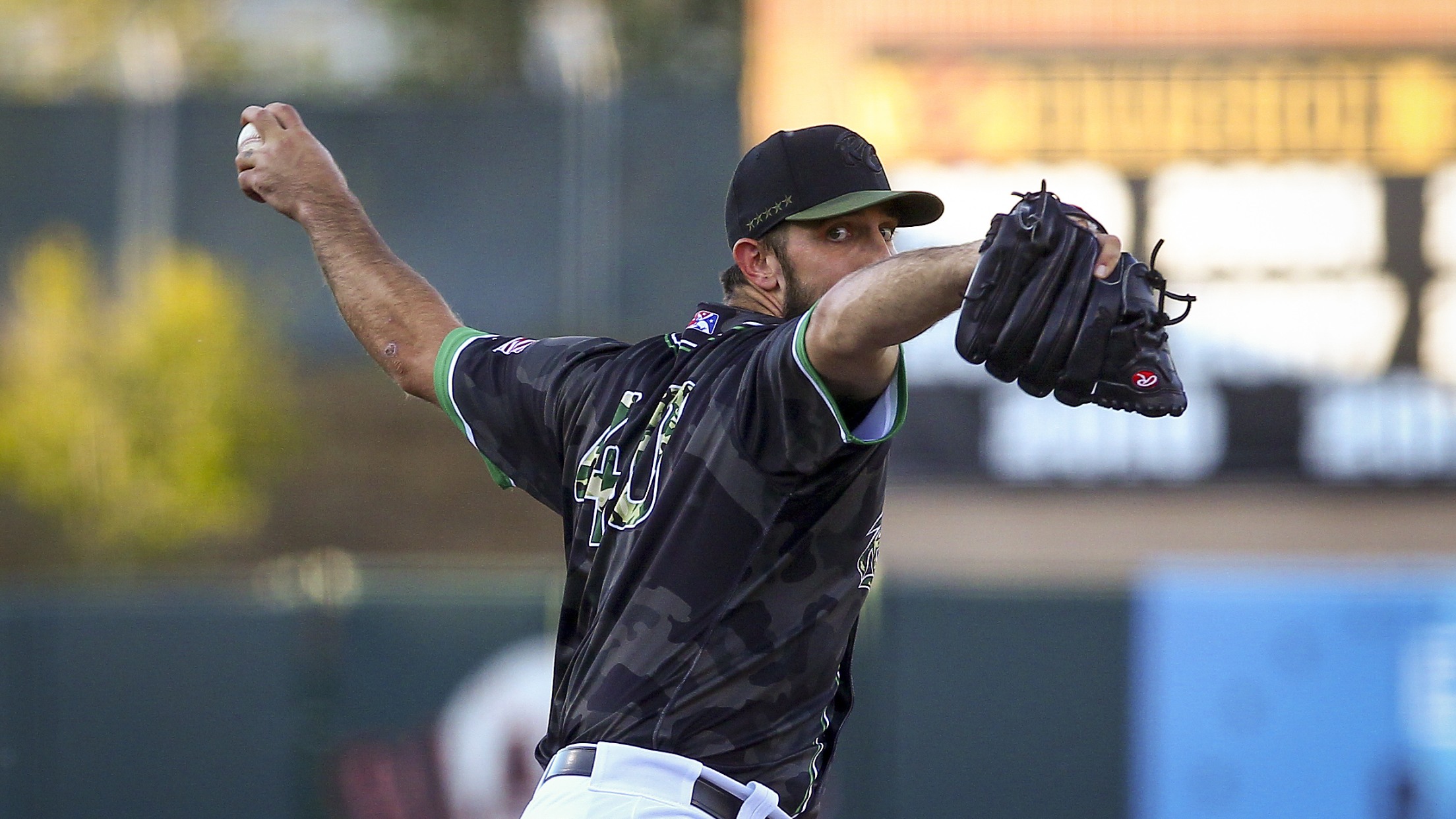 WEST SACRAMENTO, CA - A packed house was on hand at Raley Field to see Madison Bumgarner lead the Sacramento River Cats (24-26) to a thrilling 2-0 victory over the Albuquerque Isotopes (26-24). Four Sacramento pitchers combined on a two-hit shutout, and Orlando Calixte put an exclamation point on the
River Cats routed by 51s to begin homestand
Melancon pitches scoreless inning in first rehab appearance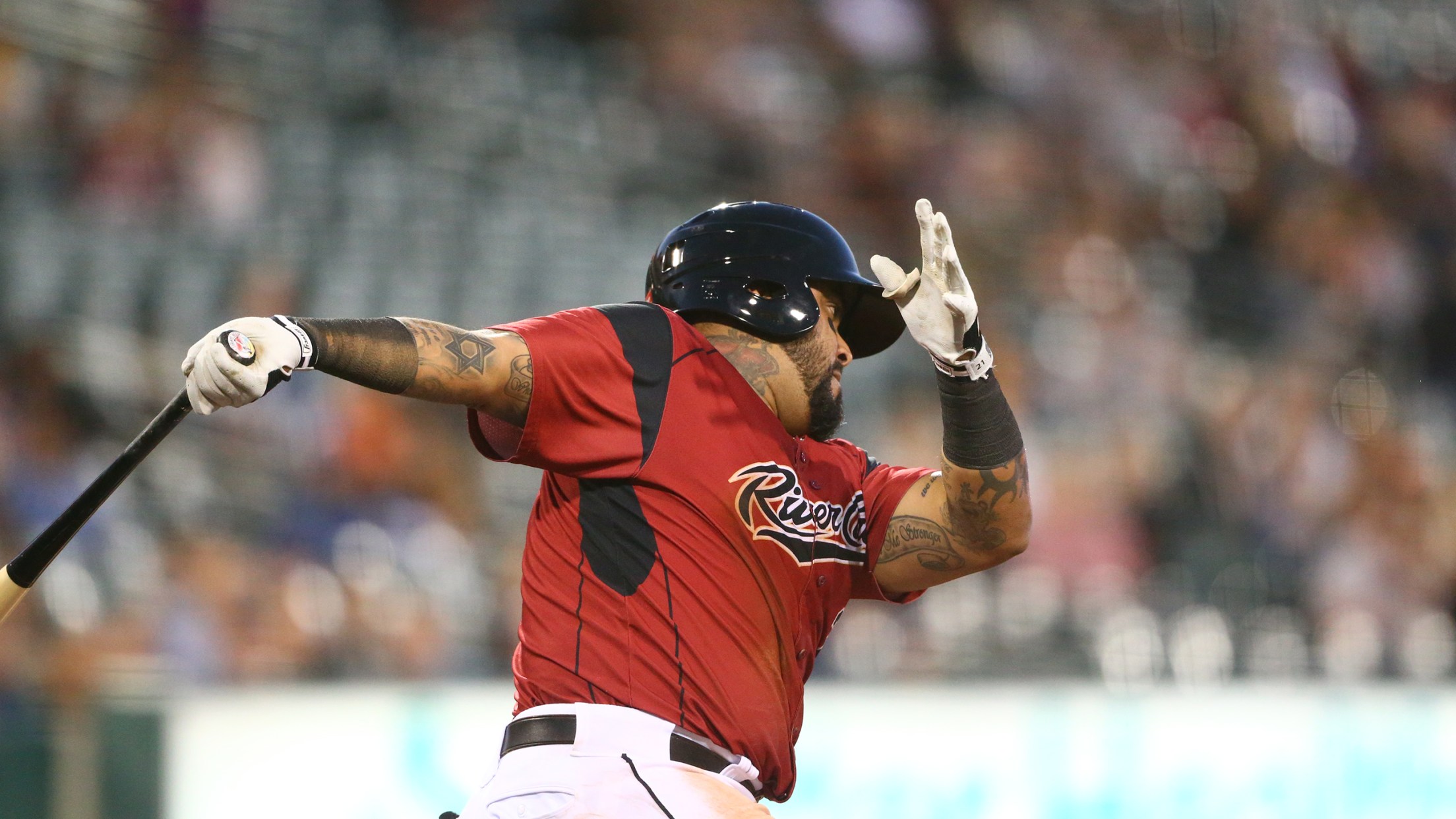 WEST SACRAMENTO, CA -- The Sacramento River Cats (22-23) were held to zero extra-base hits for just the second time all season in Monday night's 9-1 loss to the Las Vegas 51s (18-27).Two Vegas pitchers combined to allow one run on six hits and three walks as the River Cats
River Cats drop final game of series
Sacramento scores first, but Tacoma scores late to win series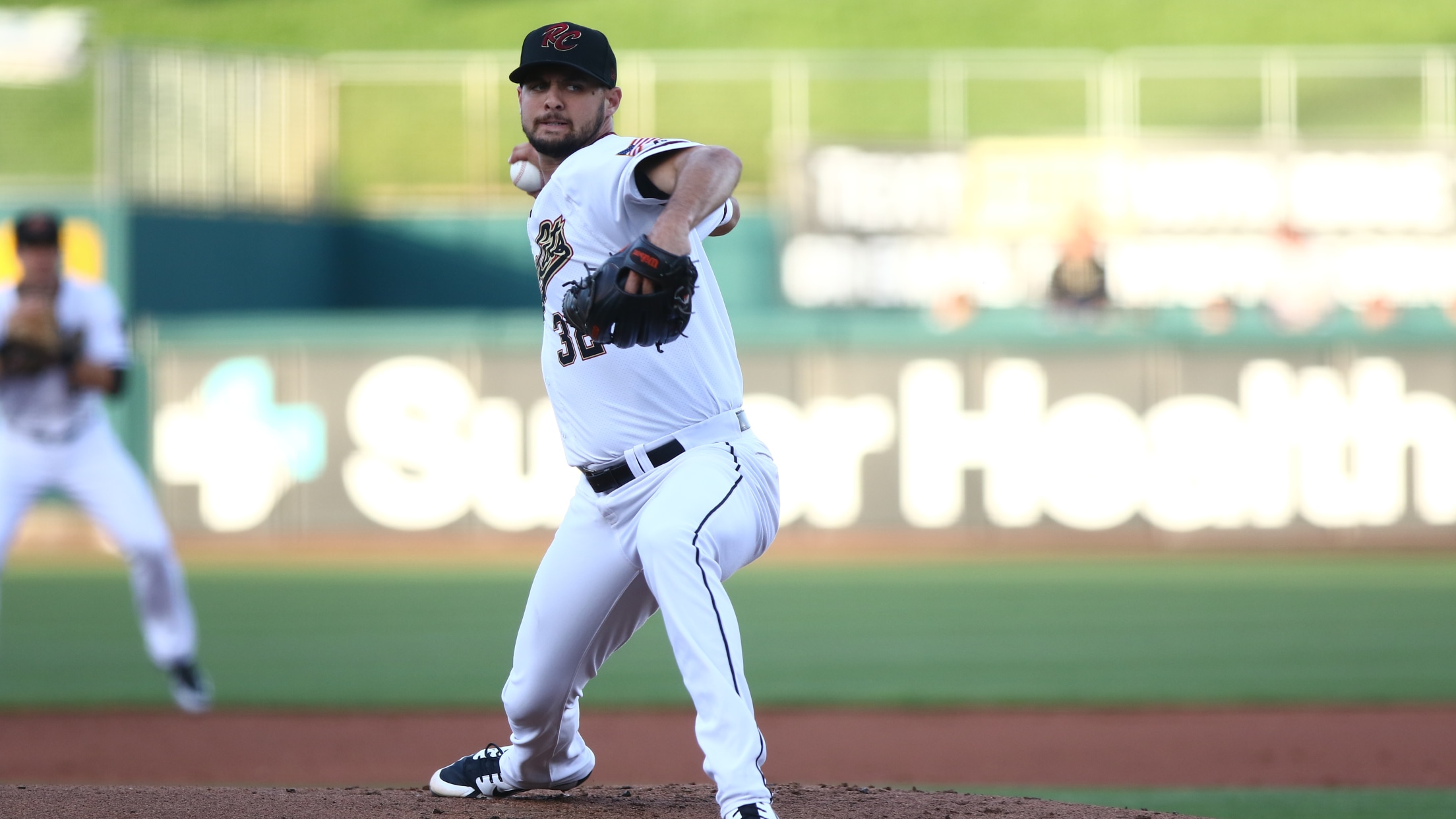 The Sacramento River Cats (20-20) fell to the Tacoma Rainiers (20-20) in the series finale 8-5 to fall back to .500 and are now tied for second place with Tacoma in the Pacific Northern division.
Bees halt River Cats' win streak at five
Slater extends hit streak to 10 games in defeat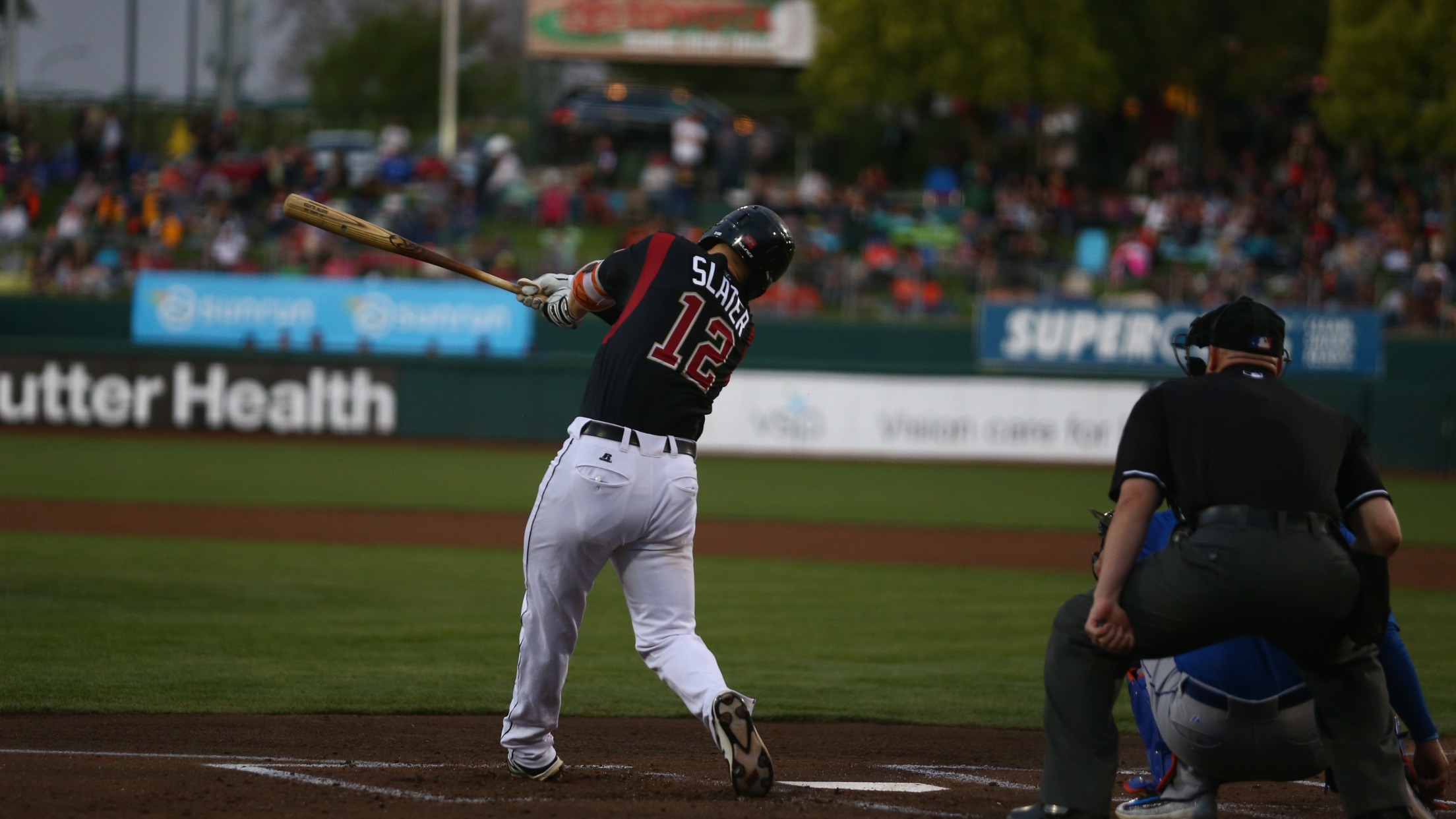 WEST SACRAMENTO, CA -- The Sacramento River Cats (18-16) were shut down in a 7-2 loss to the Salt Lake Bees (21-14) on Thursday night, ending their winning streak at five games.Bees right-hander Osmer Morales struck out seven River Cats in 5.2 innings allowing just three baserunners while Sacramento's starter
Calixte's late homer pushes River Cats past Grizzlies
Two-out, ninth inning rally leads River Cats to 5-2 victory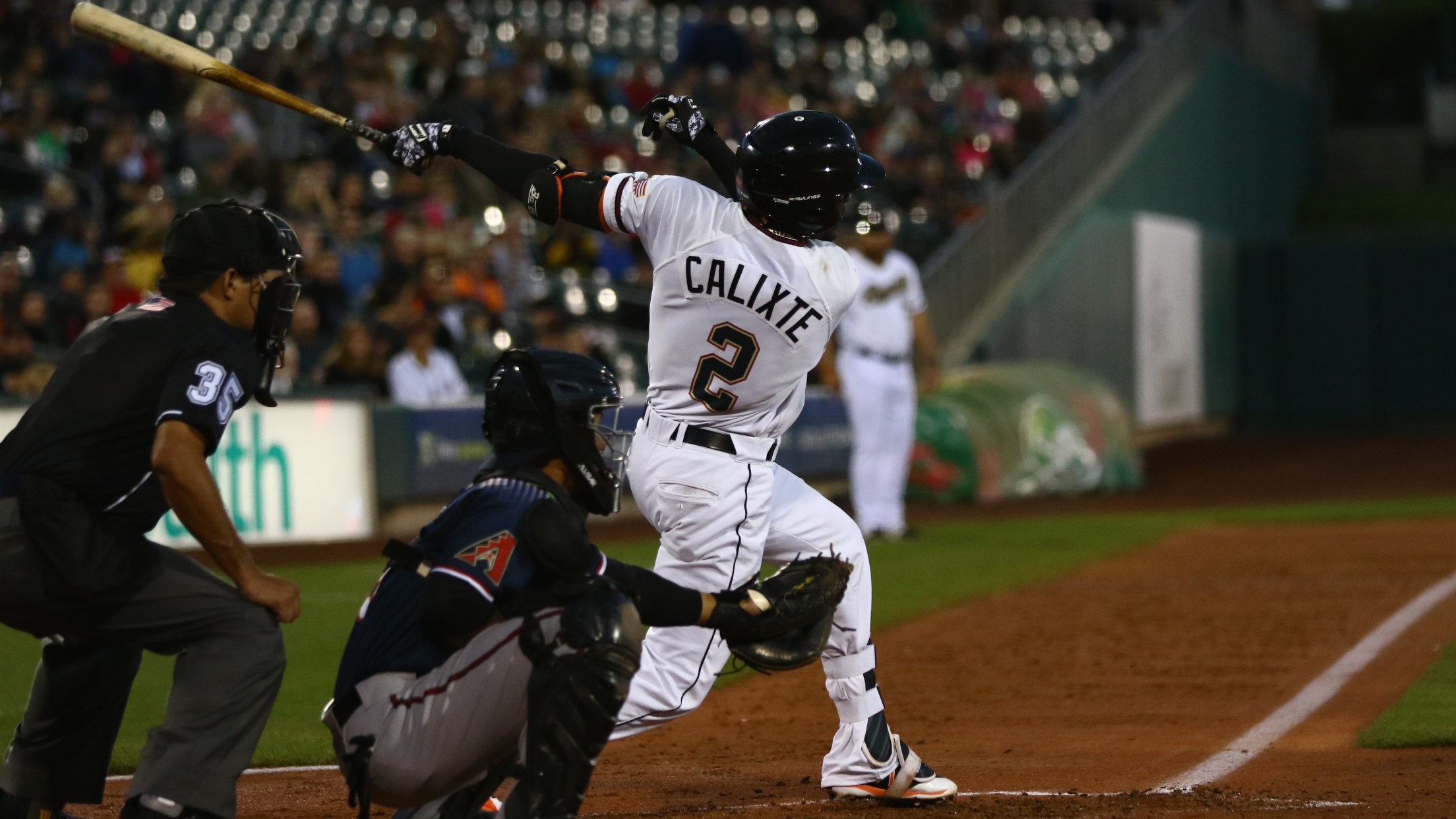 FRESNO, CA - The Sacramento River Cats (14-15) defeated the Fresno Grizzlies (19-11) 5-2 on Saturday night, thanks to a three-run home run from Orlando Calixte with two outs in the top of the ninth inning.