Sounds Walk Off for Eighth Time in 2021 
Derek Fisher Delivers Game Winner in the Bottom of the 11th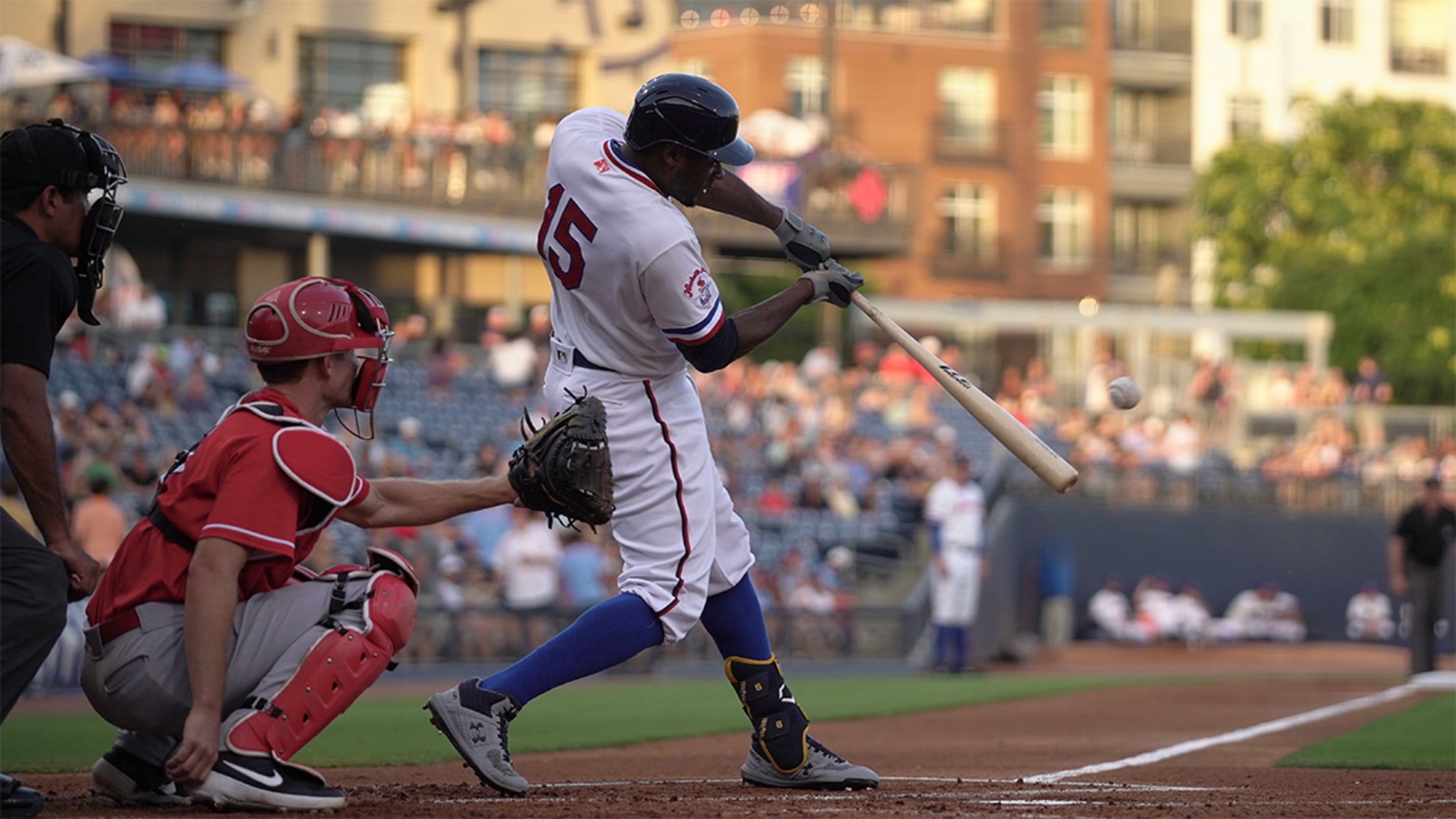 A crazy back-and-forth game finally came to an end when Nashville's Derek Fisher delivered a walk-off single in the bottom of the 11th inning to give the Sounds a 5-4 win over the Louisville Bats in front of 9,743 fans at First Horizon Park.
MiLB's best of the decade: Performances
Fisher grabs top spot with dozen-RBI debut in Cal League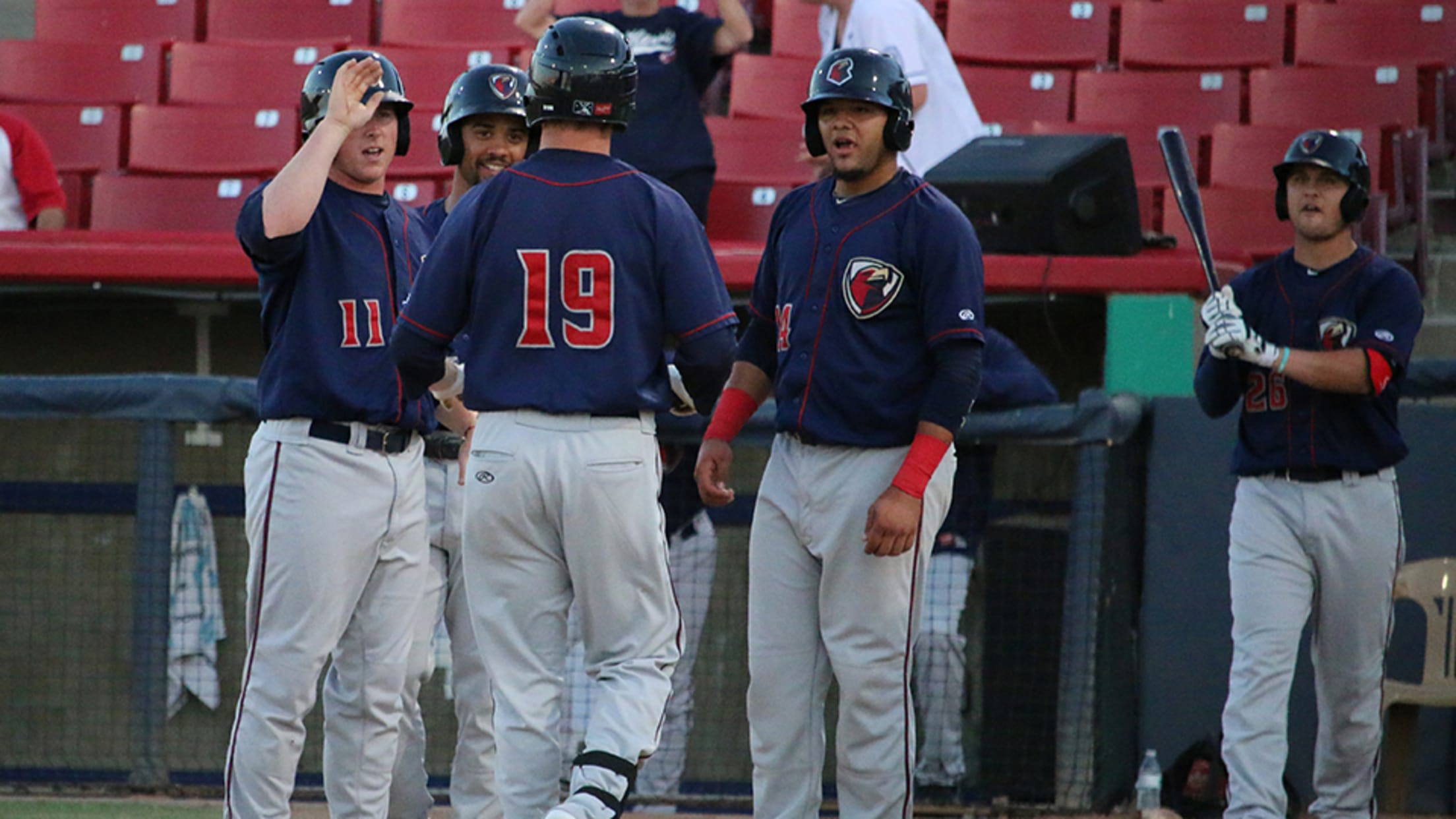 A record-breaking three-homer, 10-RBI night. A couple of no-hitters, one in which the ball did not leave the infield and one in which a very promising prospect set a team record with 14 strikeouts. And a 15-strikeout hitless effort that put a team within one win of a league championship.
Storm Chasers cruise past Grizzlies 15-4 Friday night
Derek Fisher and Jack Mayfield each go deep; Tyler White extends hit streak to 13 games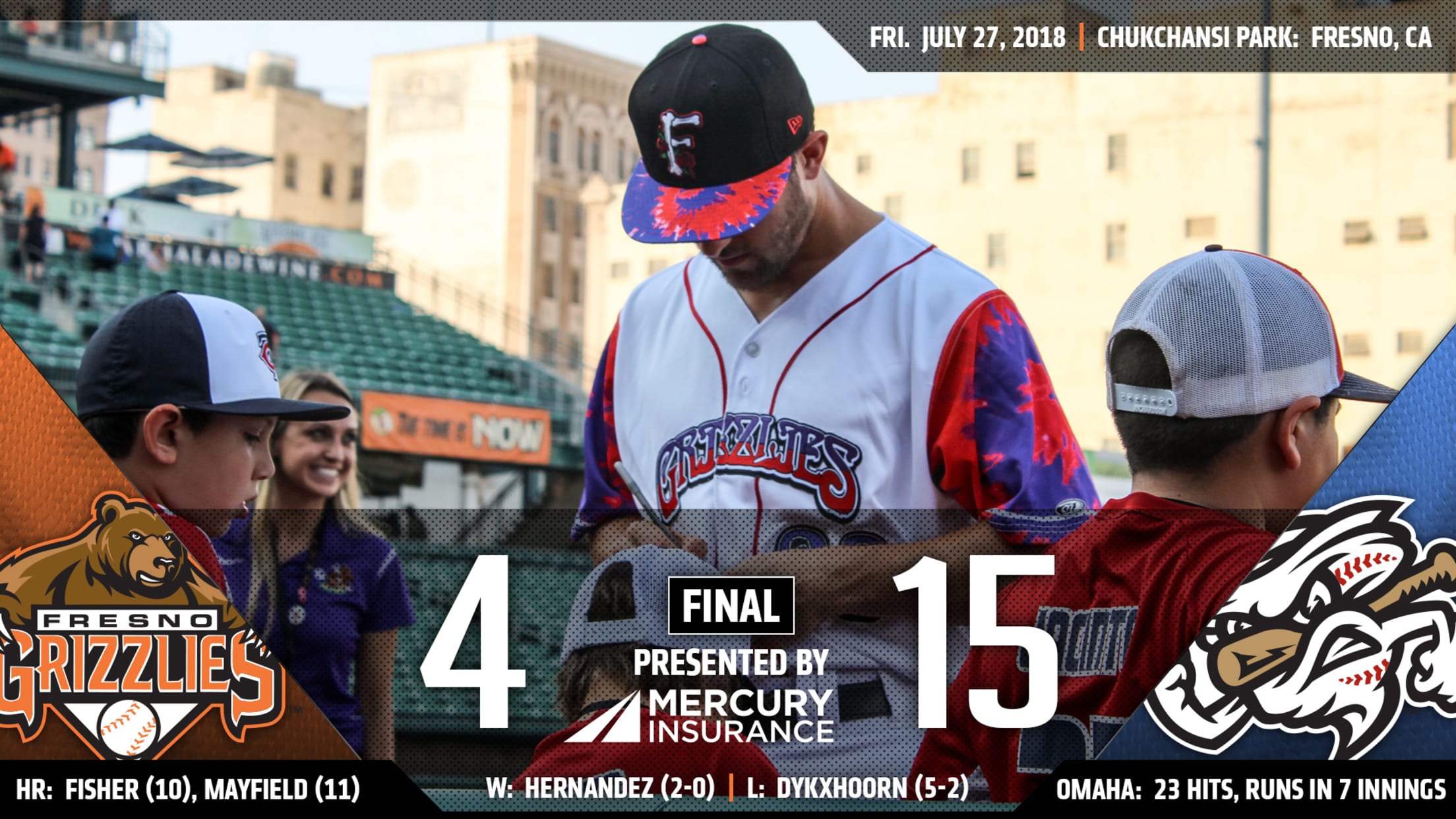 The Omaha Storm Chasers (48-56) bashed the Fresno Grizzlies (61-44) 15-4 Friday night from Chukchansi Park. Behind a 23-hit outburst, the Omaha offense tallied a run in seven of the nine innings. Every batter recorded at least one hit for the Storm Chasers. With the loss, Fresno fell to 19-8
Cy Sneed's strong start backed up by three Grizz homers in 9-1 win over Cubs
Sneed hurls six scoreless innings; Garrett Stubbs (3), Derek Fisher (9) and Jack Mayfield (10) each go deep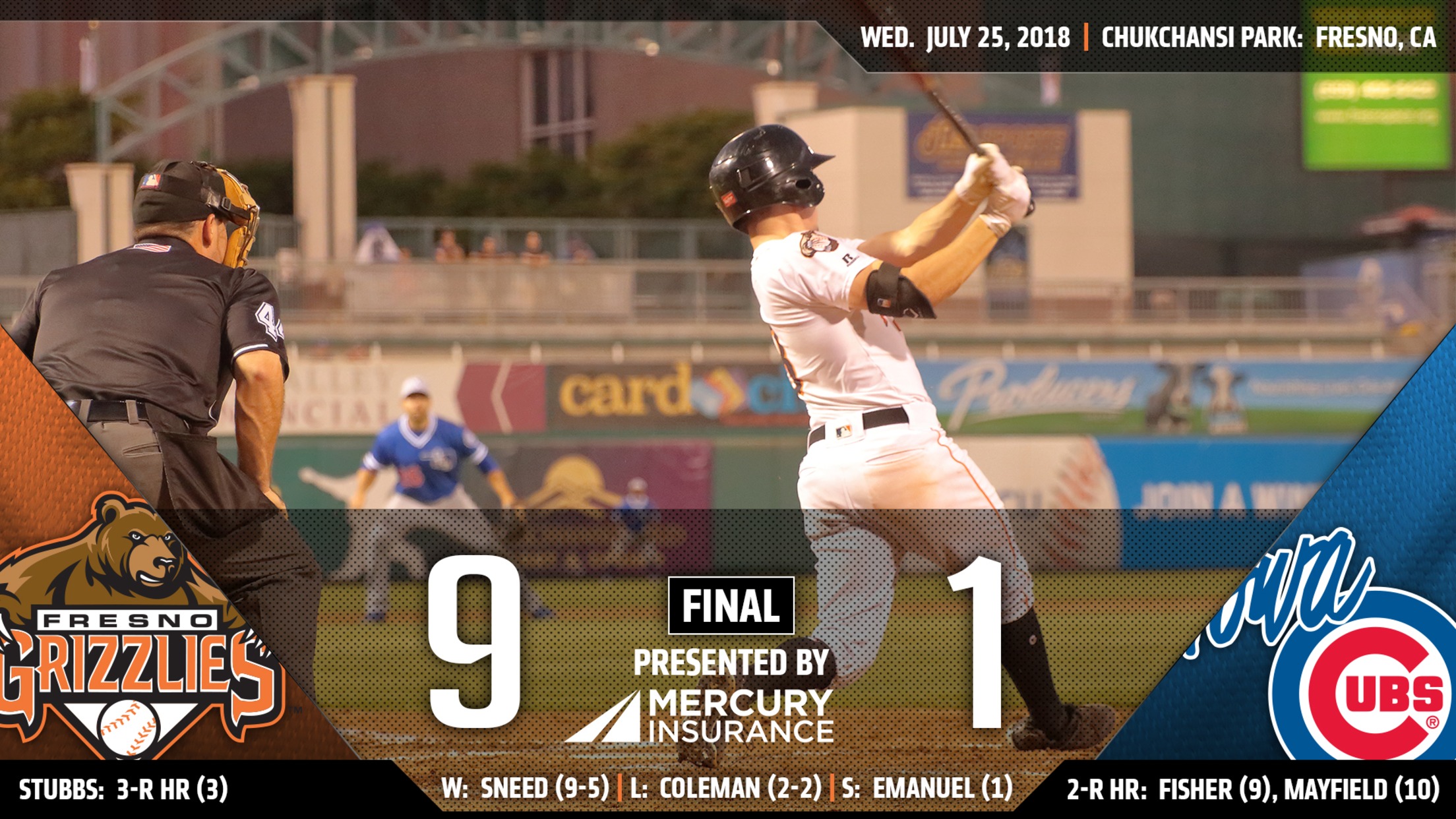 Behind an offensive eruption, the Fresno Grizzlies (60-43) vanquished the Iowa Cubs (37-65) 9-1 Wednesday night from Chukchansi Park. With 12 hits and three longballs, the Grizzlies improved to 12-4 versus the American conference. Starter Cy Sneed (9-5) enjoyed the support en route to the victory. He tossed six scoreless
Nunez and Fisher supply the offense in an 8-7 (10) Tacos walk-off win
Antonio Nunez (HR, 3 RBI) drives in the game-winner; Derek Fisher smashes grand slam in the 8th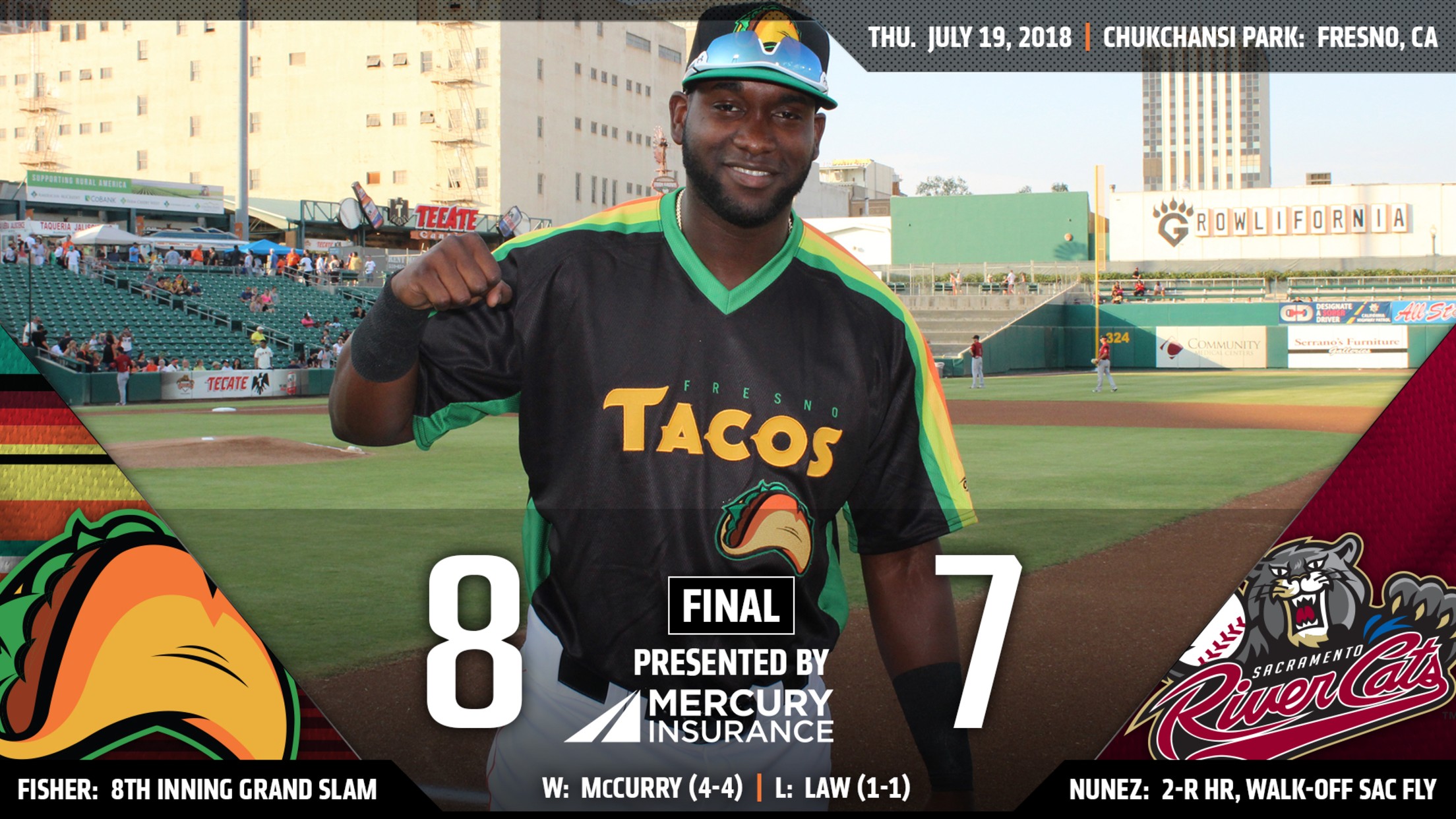 In the eighth installment of Taco Truck Throwdown, a crowd of 9,896 saw the Fresno Tacos (56-41) walk-off on the Sacramento River Cats (42-56) 8-7 in 10 frames Thursday night from Chukchansi Park. With the victory, Fresno split the series with Sacramento. They improved to 12-17 in one-run affairs, 3-4
Grizzlies split series with a 5-3 victory over Rainiers Sunday afternoon
Brady Rodgers strikes out four in first outing with Fresno since 2017; Division lead bumped up to 4.5 games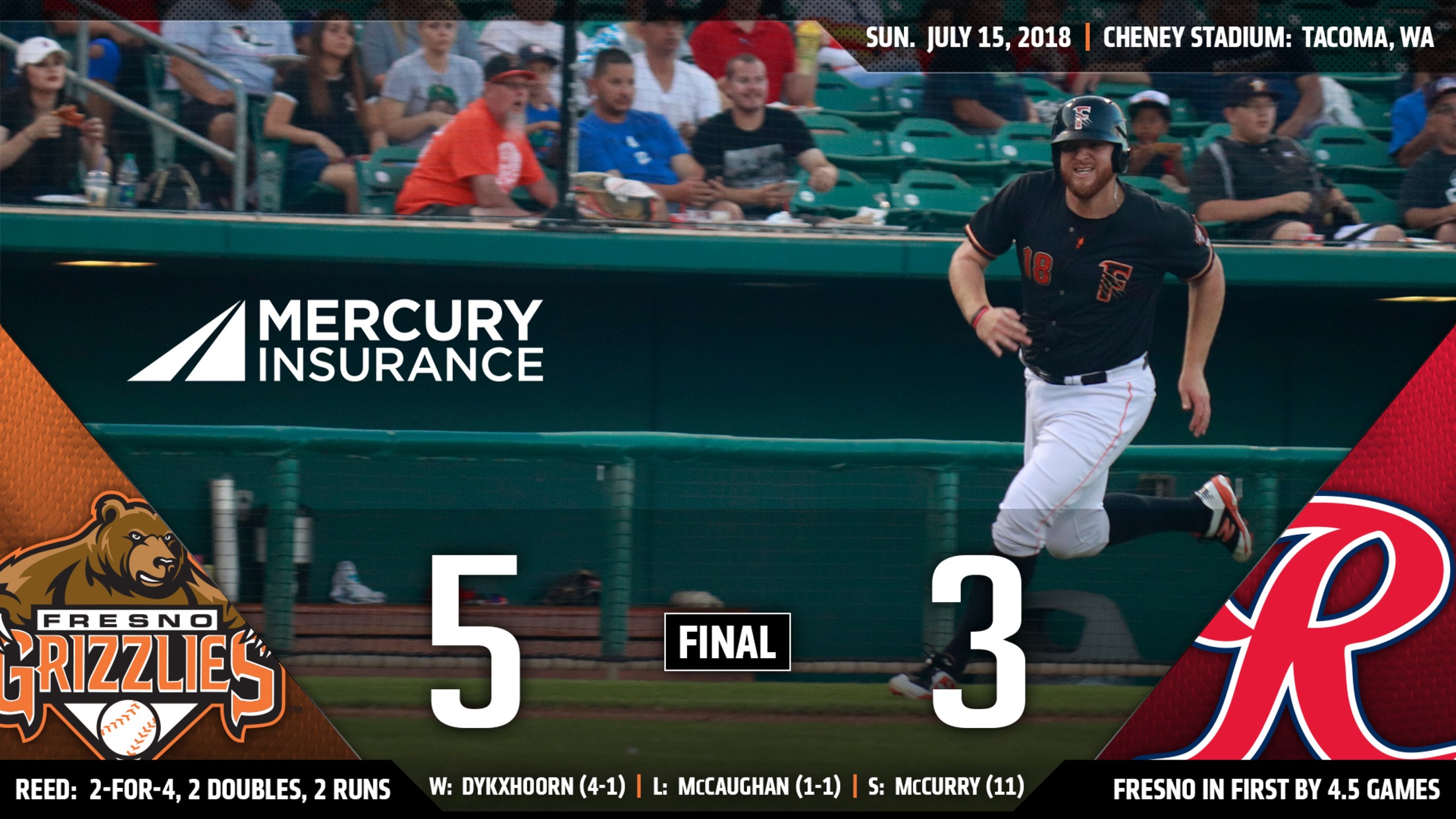 The Fresno Grizzlies (54-39) earned a series split after defeating the Tacoma Rainiers (50-44) 5-3 Sunday afternoon at Cheney Stadium. With the win, Fresno bumped their division lead over Tacoma to 4.5 games. They improved to 28-20 on the road, 14-10 in day games and 7-8 in two-run affairs.Grizzlies starter
Grizzlies rally twice, but ultimately fall 8-7 to Rainiers Friday night
Derek Fisher blasts sixth homer of the season; Fresno's division lead cut to 2.5 games
The Tacoma Rainiers (50-42) outlasted the Fresno Grizzlies (52-39) 8-7 Friday night at Cheney Stadium. For the fourth straight game, the Grizzlies were involved in a one-run affair (1-3). They dropped to 11-16 overall and 2-9 on the road in those games. Rainiers lefty Dario Álvarez (1-0) enjoyed the win
Grizzlies defeat Vegas 8-1 as Rogelio Armenteros improves to 7-0 on the season
Fresno is 22-2 since 2017 in starts made by Armenteros (6 IP, 3 H, 1 ER, 1 BB, 7 K); Derek Fisher homers and drives in four runs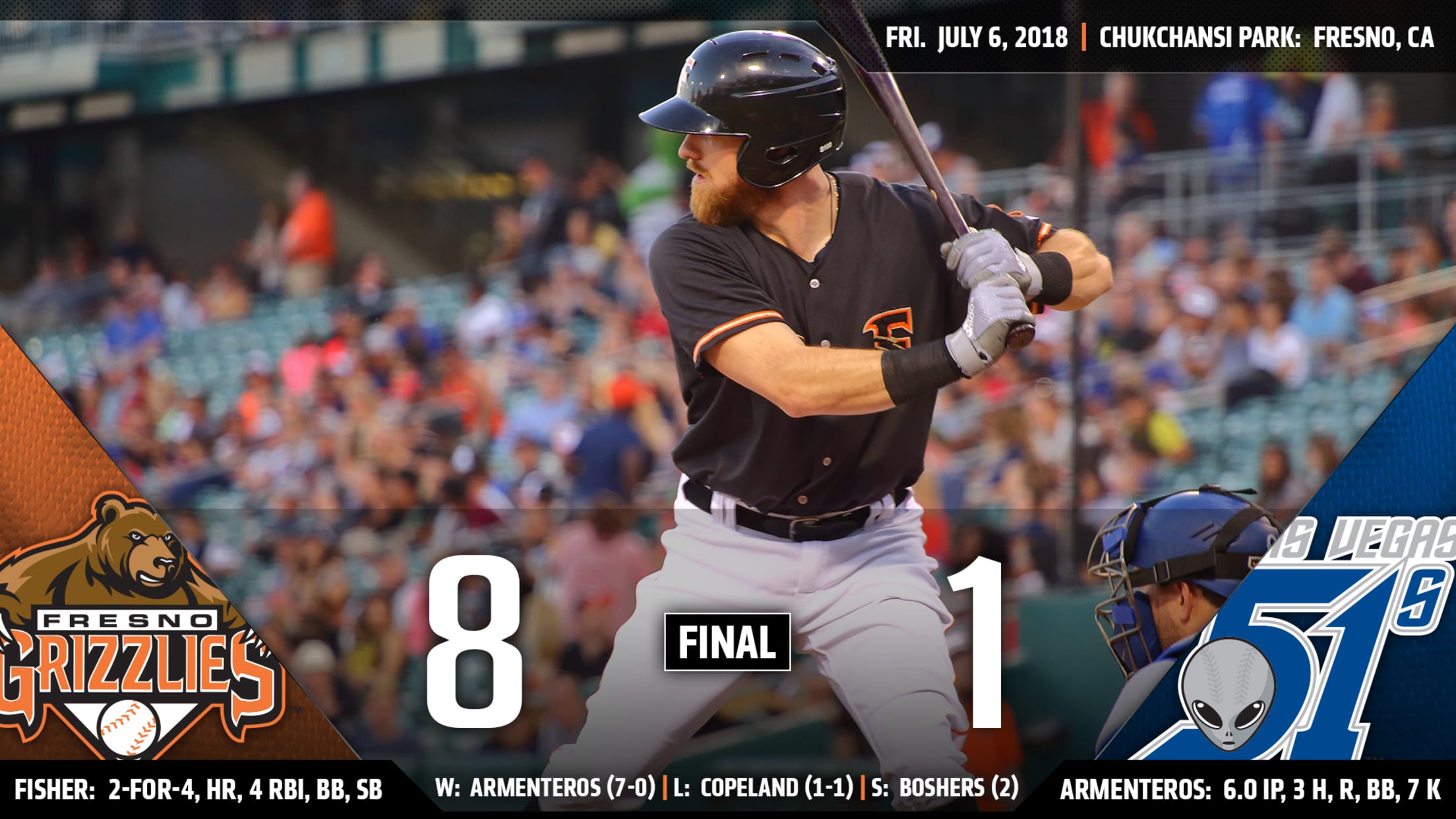 The Fresno Grizzlies (51-36) conquered the Las Vegas 51s (41-47) 8-1 Friday night from Chukchansi Park. Grizzlies starter Rogelio Armenteros (7-0) enjoyed the support en route to the victory. He hurled six innings, giving up three hits, one run (earned), walking one and punching out seven. On the year, Armenteros
Grizzlies crush four bombs, avoid the brooms in El Paso
Kyle Tucker (13), Taylor Jones (1), Derek Fisher (4) and Jon Kemmer (11) go deep in a 12-4 victory; Mike Hauschild is tied for third in franchise wins (28)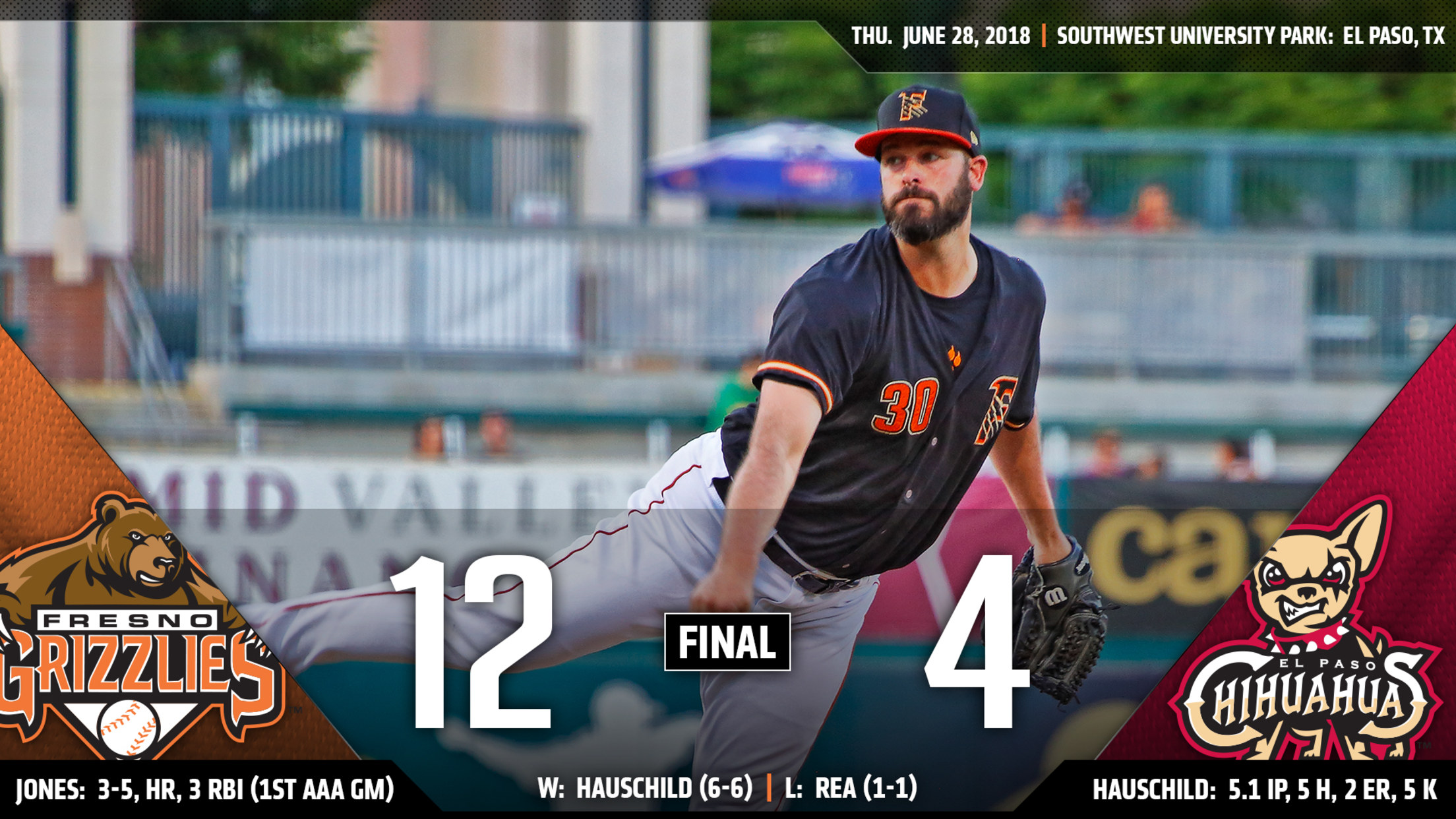 The Fresno Grizzlies (47-32) ended the El Paso Chihuahuas (42-38) eight-game winning streak with a convincing 12-4 victory Thursday night from Southwest University Park. Fresno avoided being swept for the first time this season (20 series). The last time the Grizzlies saw the brooms were at El Paso last year
Grizzlies blast five home runs, beat OKC Dodgers 12-8 on Sunday
Fresno hits three consecutive homers for first time since 2009 (Reed, Davis & Fisher), A.J. Reed homers twice (6 RBI) as Grizz improve to 18-2 all-time when Rogelio Armenteros starts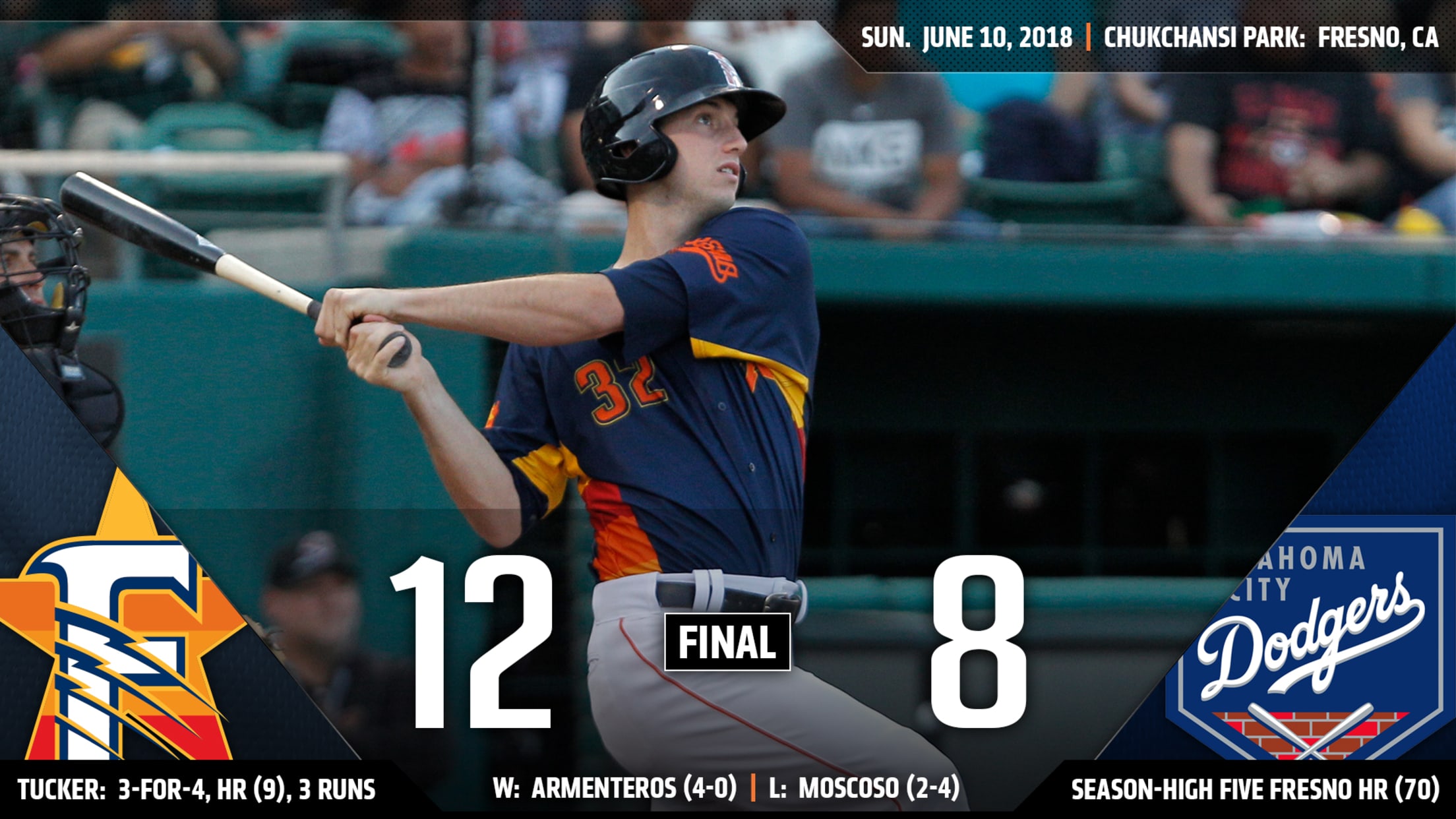 The Fresno Grizzlies (38-25) and the Oklahoma City Dodgers (36-23) continued a wildly entertaining series between first place clubs in front of partisan crowds on Sunday evening at Chukchansi Park, as Fresno pounded out 17 hits and homered five times in a 12-8 victory. It was the 16th time this
Five-run 1st propels Grizzlies to 8-5 win over the Dodgers
A.J. Reed (3-run HR) and Derek Fisher (2-run HR) supply the offense early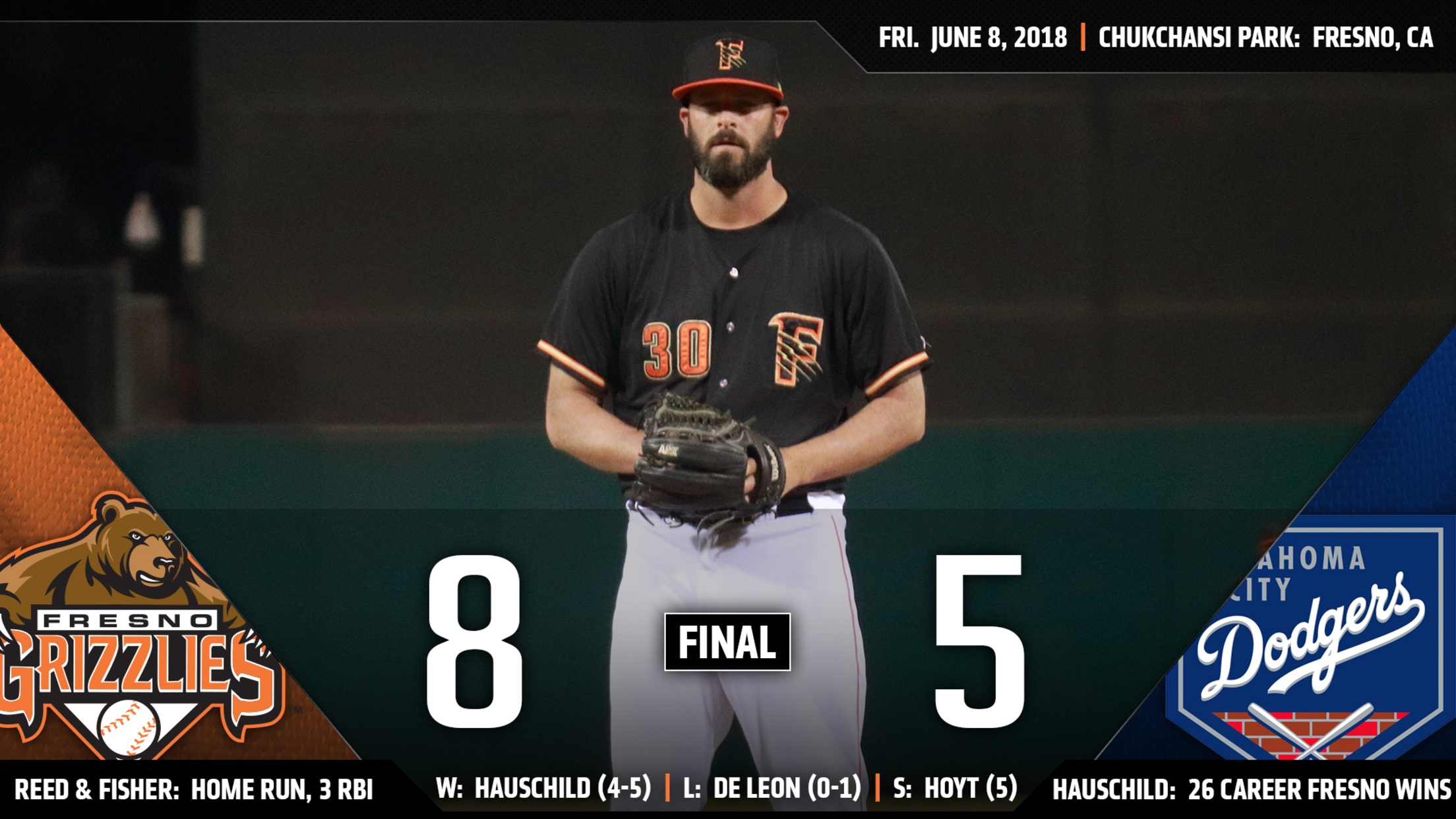 In front of a crowd of 10,831, the Fresno Grizzlies (37-24) were triumphant over the Oklahoma City Dodgers (35-22) 8-5 Friday night at Chukchansi Park. Fresno starter Mike Hauschild (4-5) earned the win after hurling five and two-thirds frames. He scattered seven hits, three runs (earned), walking a pair and
Fisher gives Grizzlies second '18 cycle
Rehabbing Astros outfielder sets career high with five hits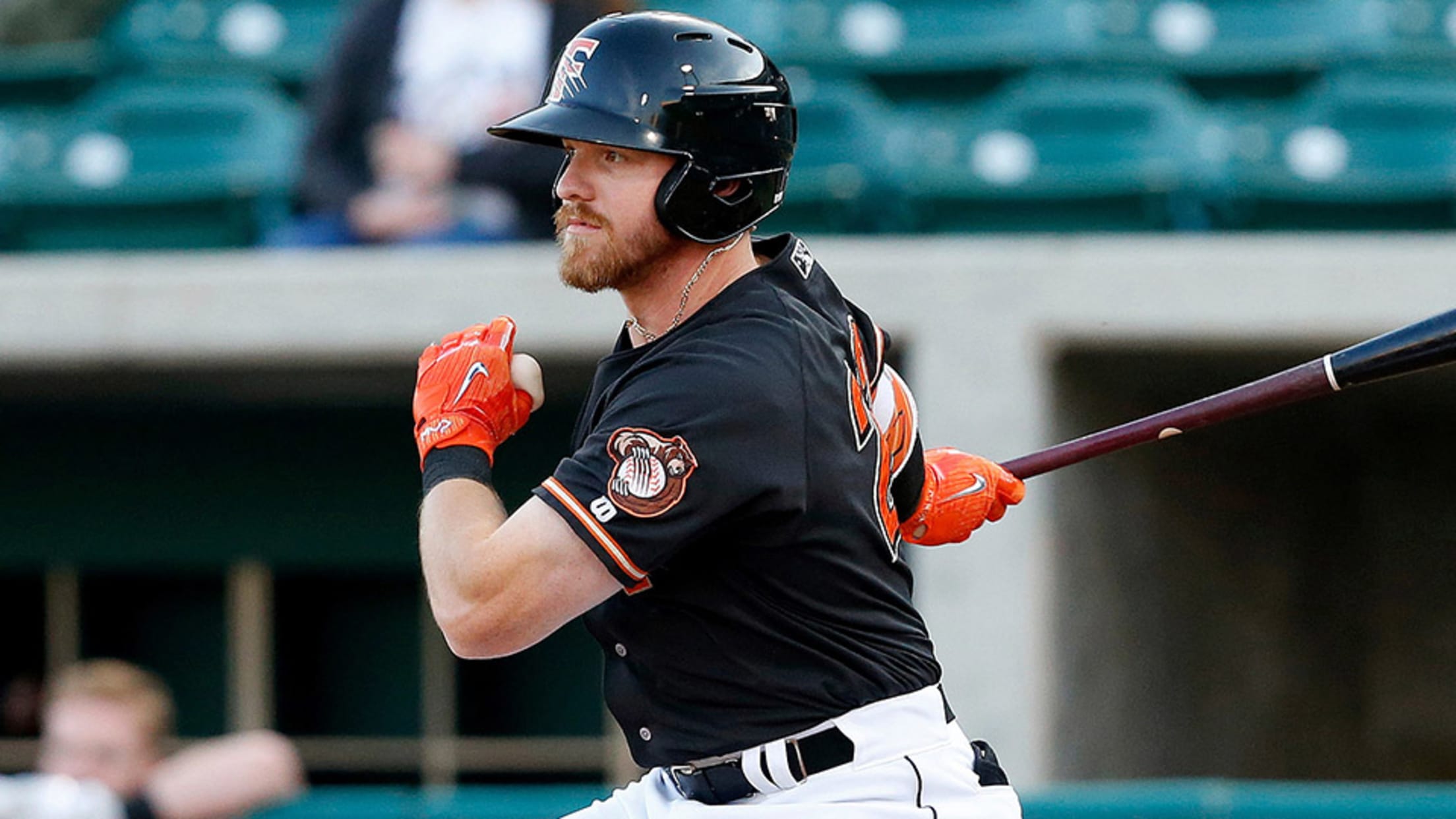 Before May 17, Triple-A Fresno had only two cycles in the 20-year history of the team. Now the Grizzlies have had two in the past two weeks.Rehabbing Astros outfielder Derek Fisher accomplished the feat Friday, setting a career high with five hits and driving in four runs as Fresno cruised
Woo Hoo! Derek Fisher hits for the cycle as Grizzlies down Isotopes 10-3
Fisher 5-for-5 (4 RBI, 3 R) becomes second Grizzlies' player to hit for the cycle in 2018 (J.D. Davis) and fourth all-time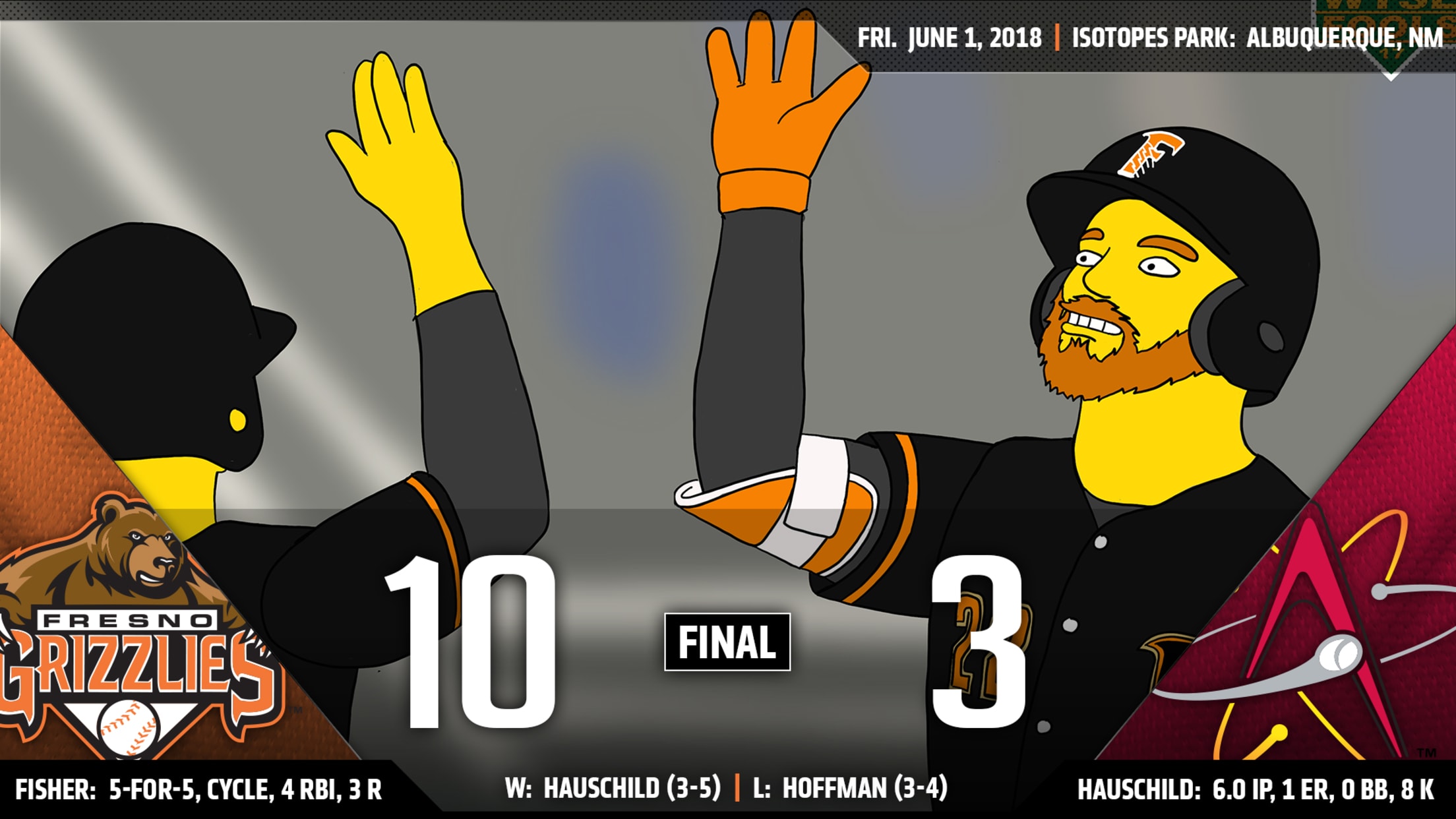 The Fresno Grizzlies (33-23) beat the Albuquerque Isotopes (29-27) 10-3 Friday night from Isotopes Park. Coming into the game, the Grizzlies had three players hit for the cycle in its franchise history, with one already in 2018 (J.D. Davis, May 17th at El Paso). Derek Fisher (5-for-5) etched his name
System still loaded for champion Astros
Organization All-Stars show team stays well positioned for future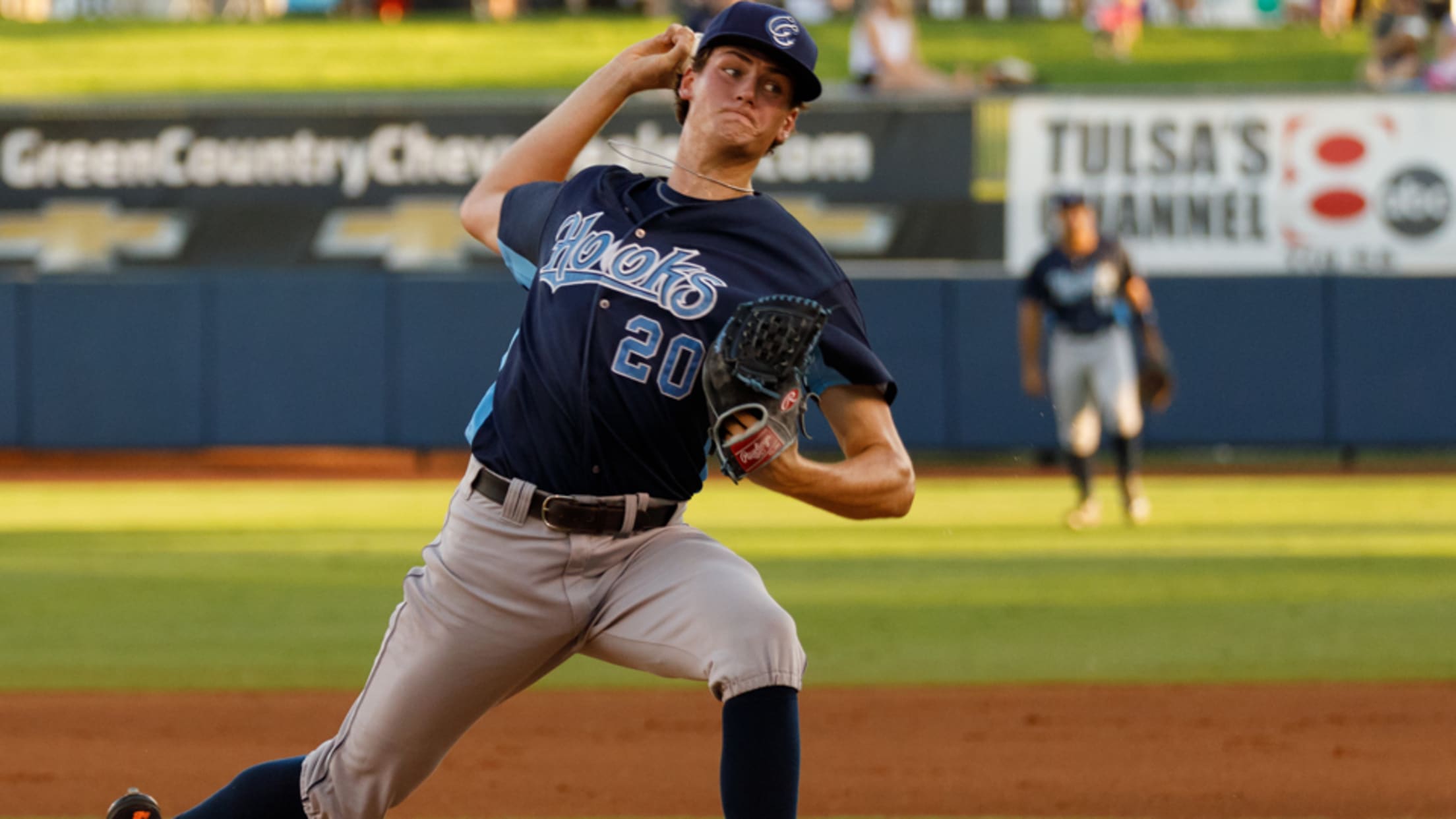 This offseason, MiLB.com is taking a look at the most outstanding campaigns by players in each system across Minor League Baseball and honoring the players -- regardless of age or prospect status -- who had the best seasons in their organization.For years, Houston fans heard they needed to trust the
Reed homers in 4th consecutive game, White and Fisher go 3-for-5 in 8-7 win over Round Rock
Grizzlies have won 11 of 12 to remain tied for 1st in the PAC North Division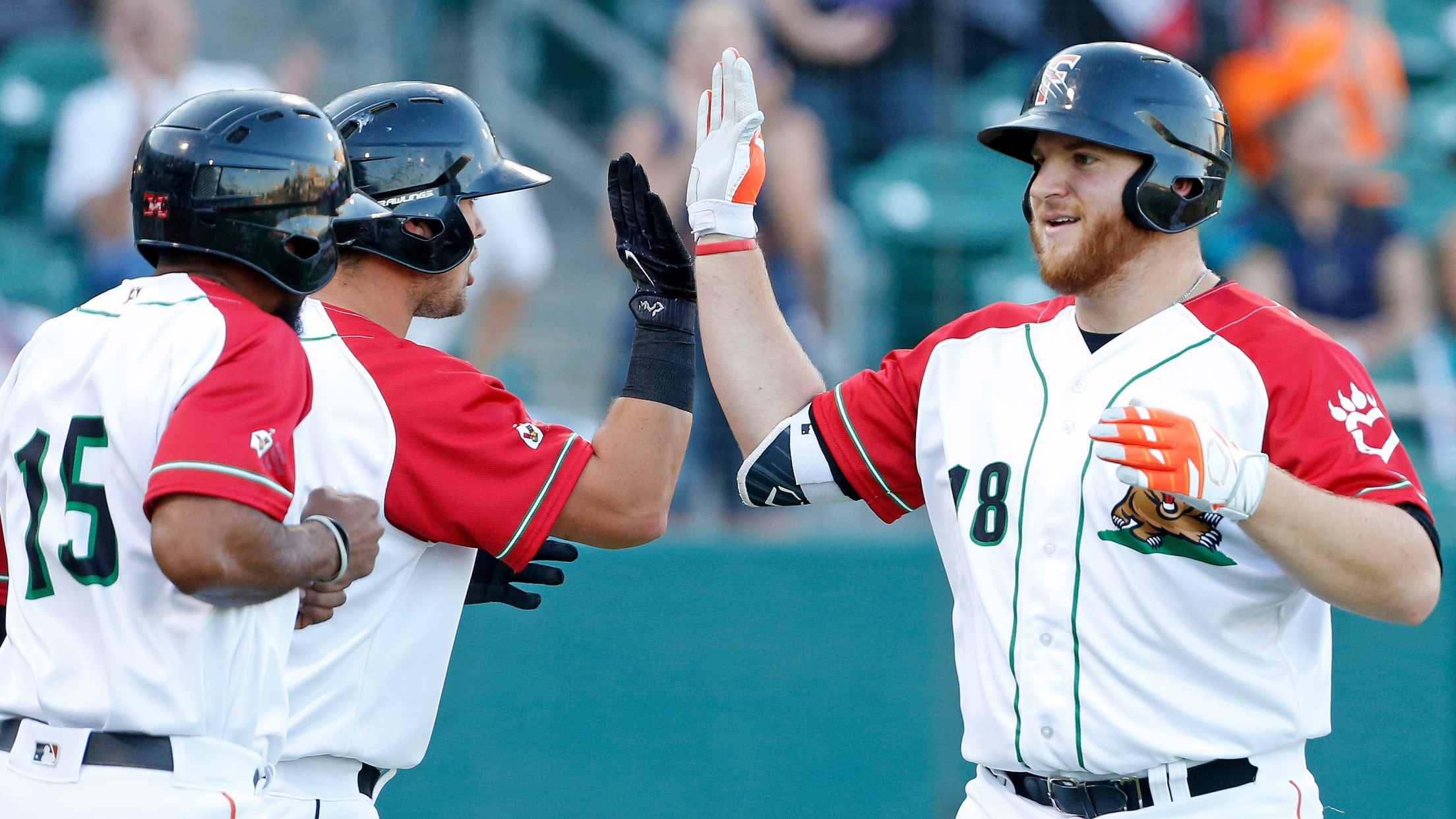 The Fresno Grizzlies (58-42) came away with an 8-7 victory over the Round Rock Express (45-55) on Saturday night at Chukchansi Park. Fresno is now 15-7 in one-run games overall and 9-2 at home. Winners of their last 11 of 12, the Grizzlies remain tied for first in the Pacific
Grizzlies act offensive again in Las Vegas finale, win 18-5
Reed (2 HR, 5 RBI), Tucker (HR, 5 RBI) & Kemmer (2 HR) finish barrage of 19 Fresno homers and 61 runs in four-game series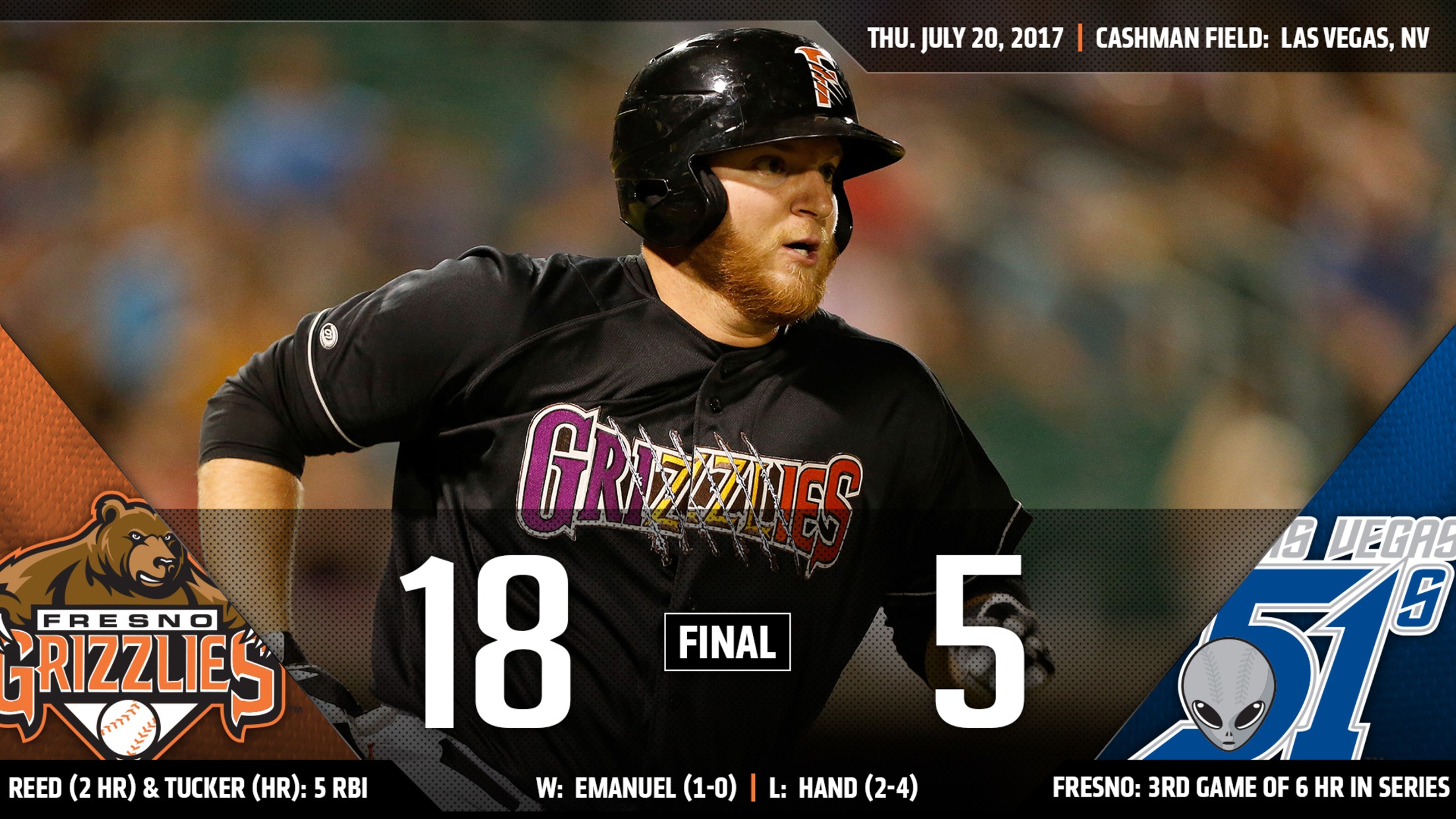 In taking three of four games from the Las Vegas 51s (37-61), the Fresno Grizzlies (56-42), scored a combined 61 runs on 66 hits, with 19 home runs in the series. With an 18-5 win at Cashman Field on Thursday night, the Grizzlies kept pace with the Reno Aces (beat
Fisher leads charge in Grizzlies' latest rout
Astros No. 4 prospect posts his first four-hit game of season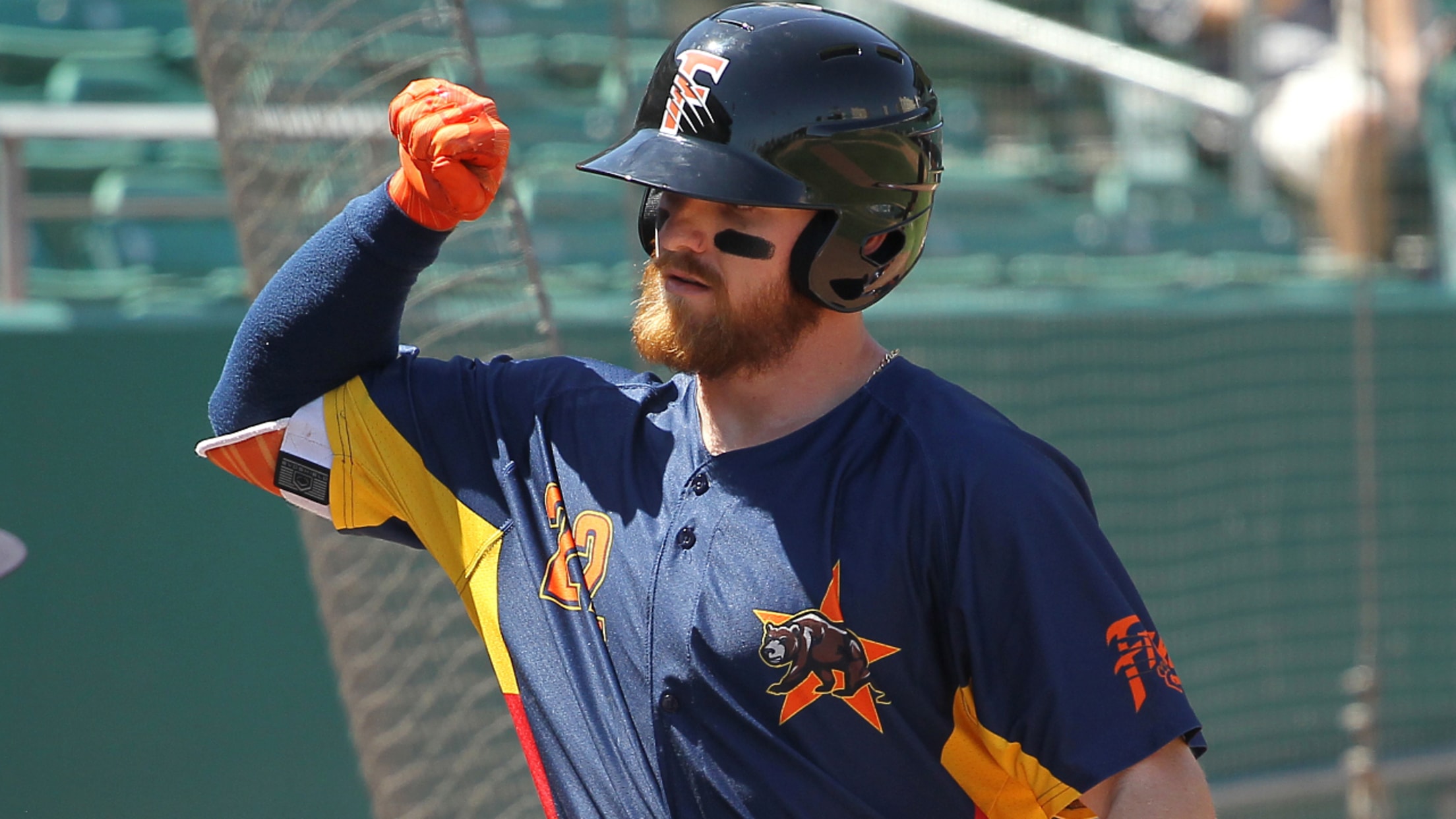 One night after combining for 30 runs, Triple-A Fresno and Las Vegas did one better, but the final result was the same.Houston's No. 4 prospectDerek Fisher homered and added two doubles on a 4-for-6 night as Triple-A Fresno routed Las Vegas, 19-12, on Tuesday at Cashman Field. It marked his
Grizzlies are victorious in Las Vegas slugfest, clubs combine for 10 homers
Kemp's hit streak extends to 23 as Fresno soars to 8th straight victory (11 straight road) in 19-12 win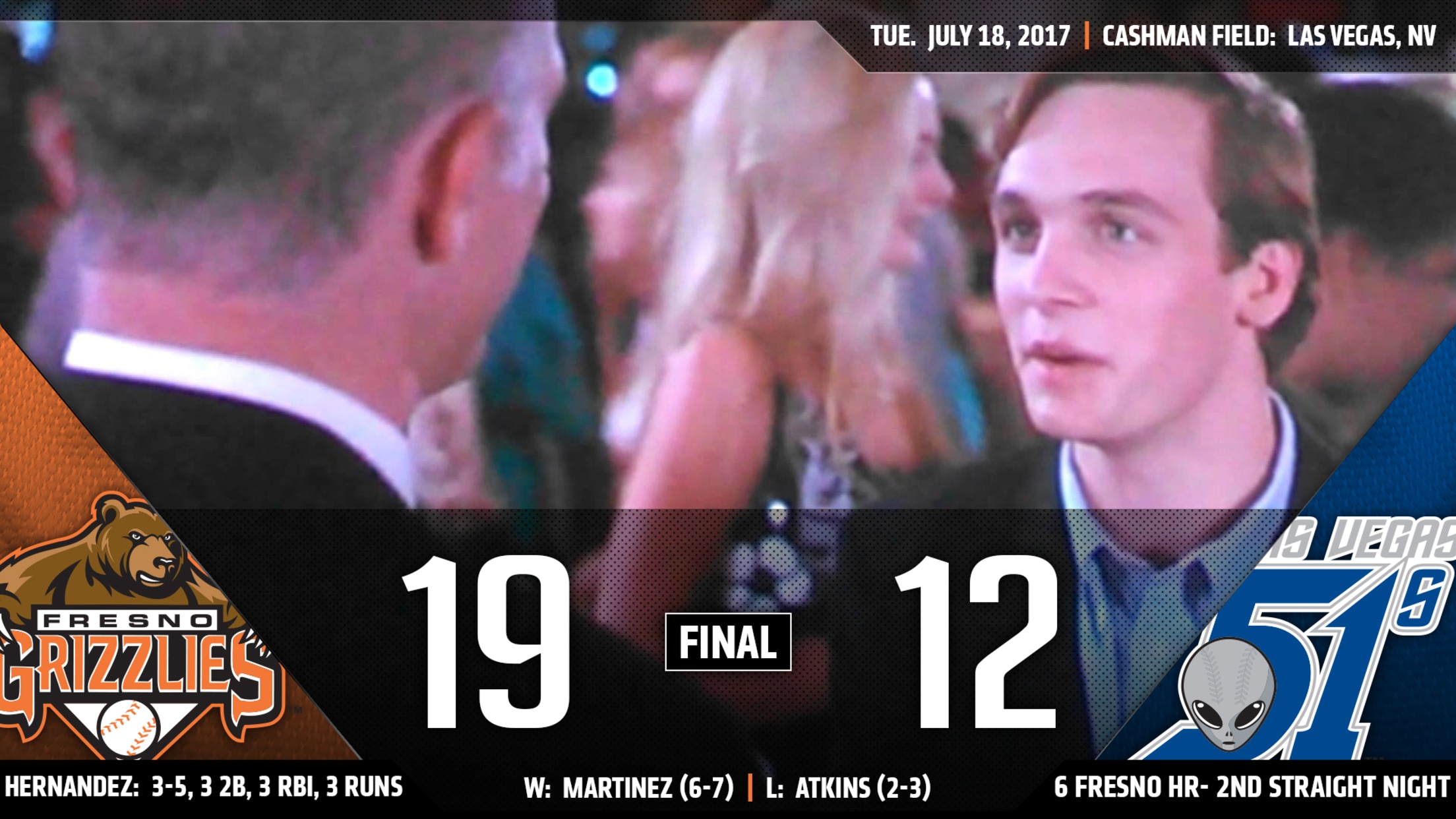 Winners of eight straight games and their last 11 on the road, the Fresno Grizzlies (55-41) defeated the Las Vegas 51s (36-60) by a 19-12 final on Tuesday night. The clubs surpassed the combined run total that was set in the series opener at Cashman Field on Monday night and
Several franchise and season-highs fall in 22-8 Grizz romp at Las Vegas
Eight Grizzlies rack-up multiple hits and score multiple runs, six have multiple RBI (Jon Kemmer grand slam, 6 RBI) in most lopsided win of 2017 and ever vs. Vegas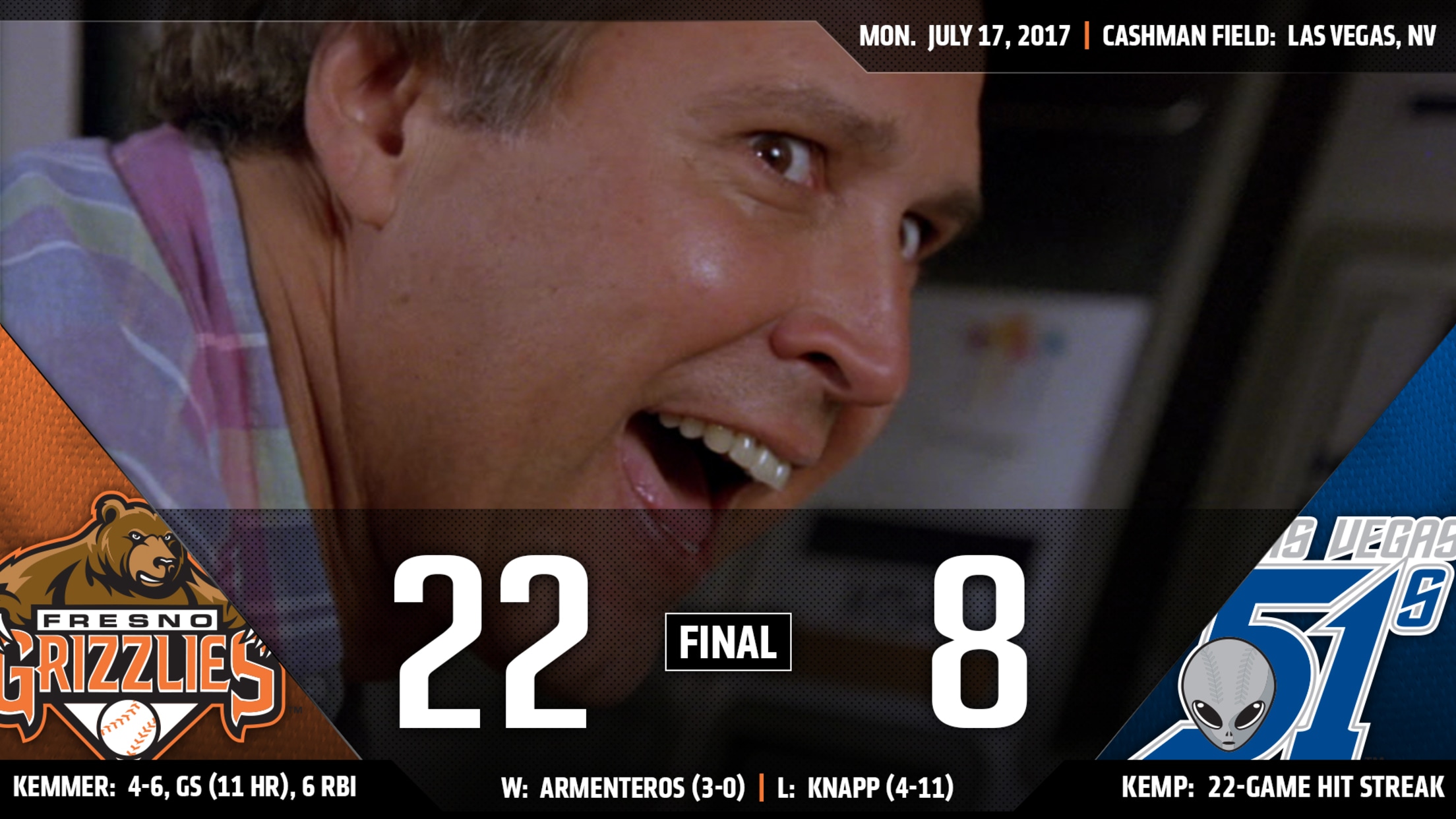 All 10 visiting batsmen recorded at least one hit Monday night in Las Vegas (nine scored at least one run and nine collected at least one RBI), as the Fresno Grizzlies (54-41) cruised to their seventh consecutive victory, and their 10th straight win on the road. With a 22-8 decision
Honeywell, U.S. bats take Futures Game
Rays prospect named MVP after fanning four in two innings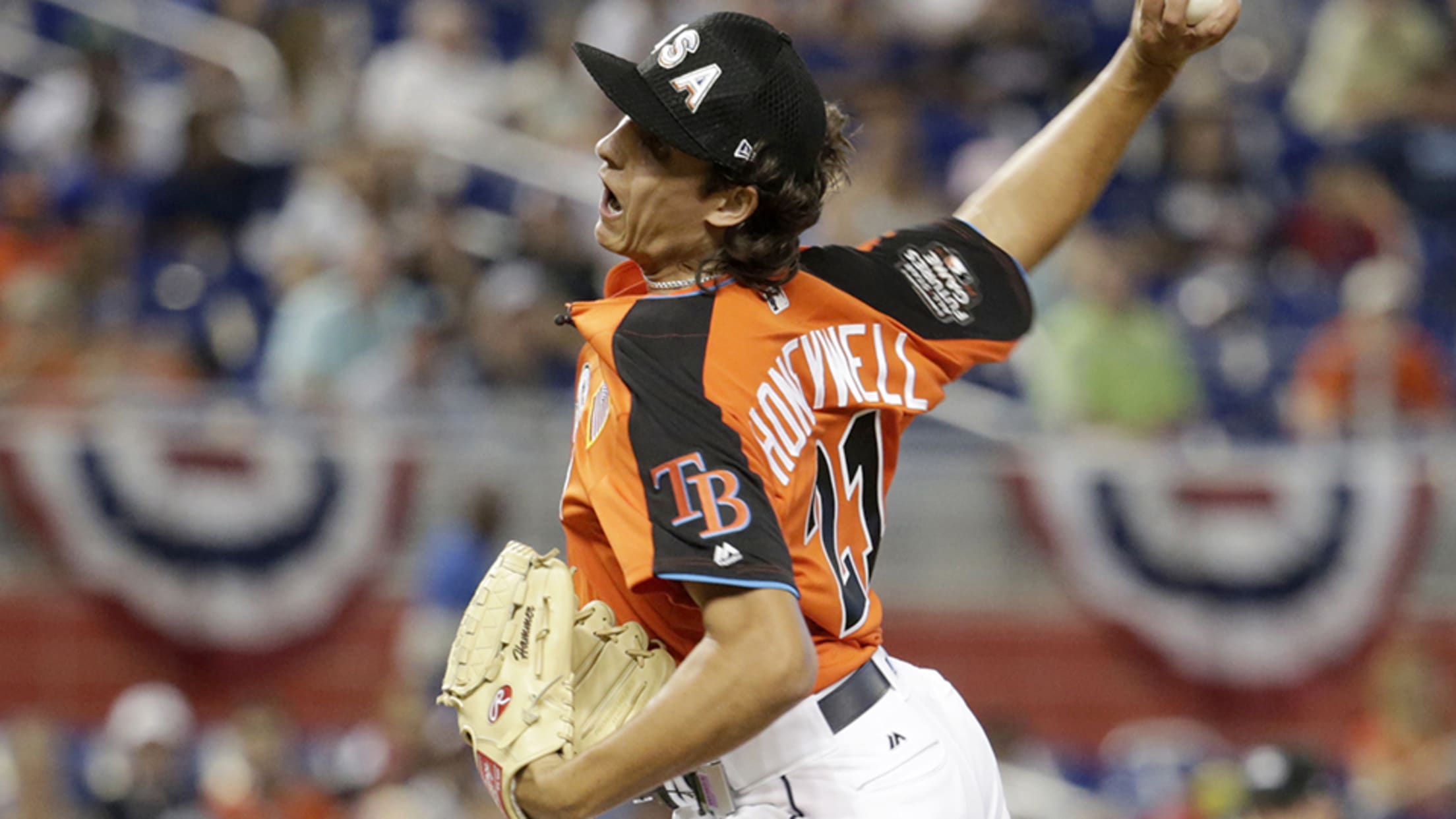 MIAMI -- A pitcher had never been named MVP in the 18-year history of the All-Star Futures Game. One dominant arm and a deep lineup made it possible on Sunday at Marlins Park.Rays No. 2 prospectBrent Honeywell Jr. struck out four over two scoreless innings, and all nine U.S. starters
Grizzlies drop series finale to Bees 10-5
Kemp extends hit streak to 14, Fisher knocks team-leading 19th HR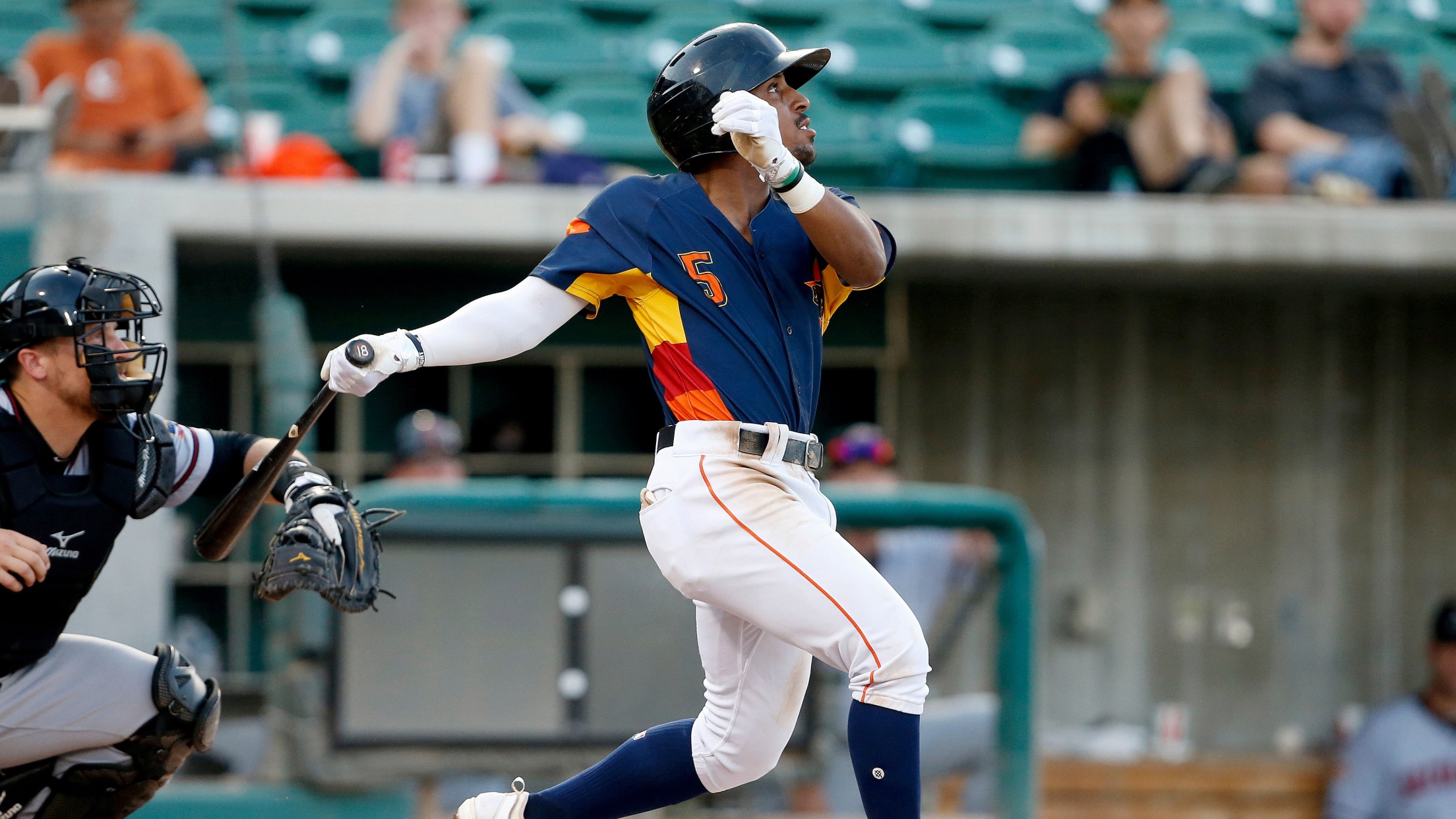 The Fresno Grizzlies (47-40) fell 10-5 in the series finale with the Salt Lake Bees (49-38) to win just one of the three-game set. It's Fresno's second straight loss after going 12 consecutive games with a win for a new franchise record.The Grizzlies were the first to score when Tony
OF Derek Fisher and INF Colin Moran to represent Fresno at Triple-A All-Star Game on July 12 at Tacoma
Duo are among Pacific Coast League leaders in several offensive categories; both are Houston Astros Top 30 prospects according to 'Baseball America' and MLB.com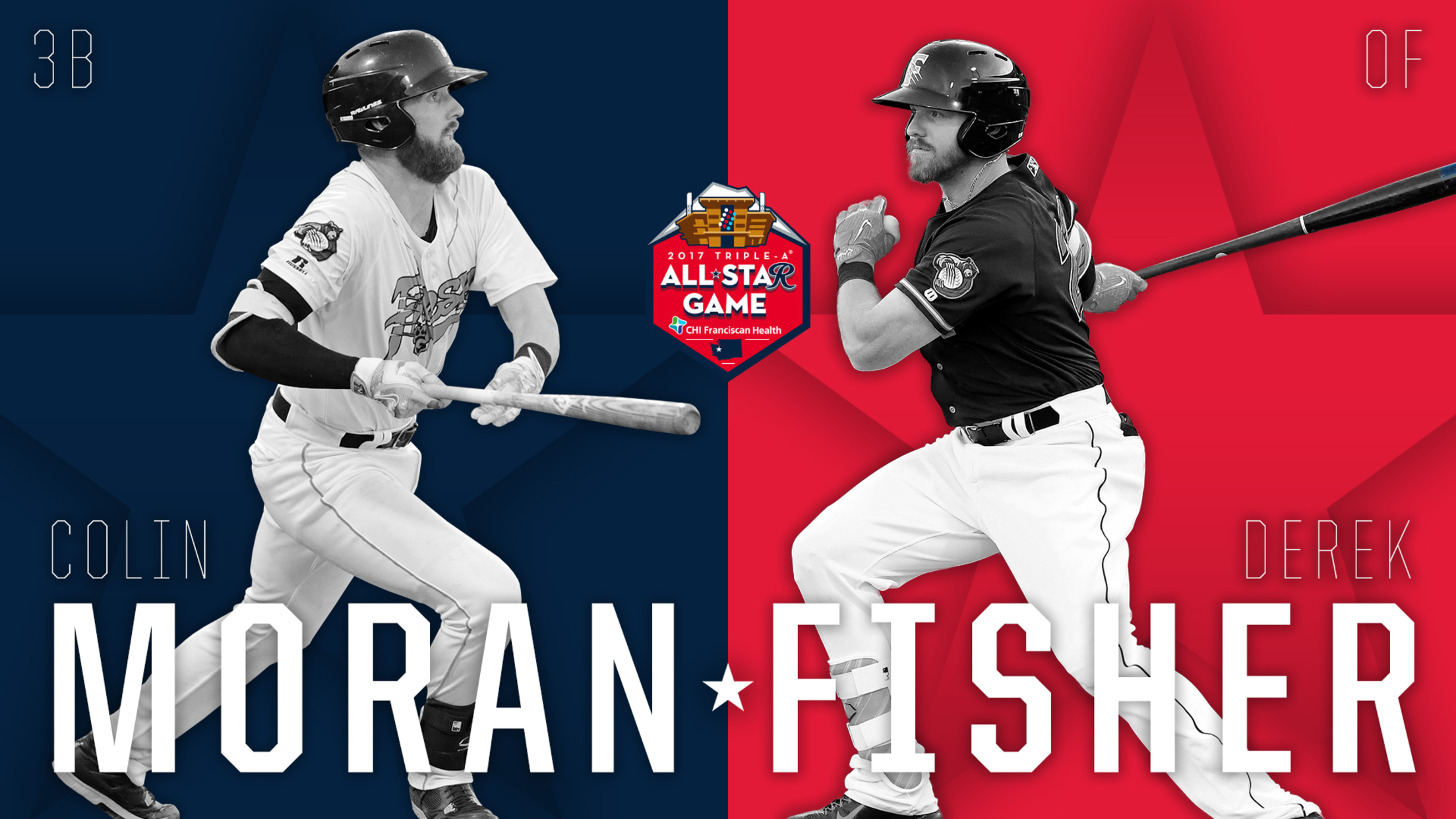 FRESNO, Calif. - The Pacific Coast League released Wednesday its 30-man roster for the 30th annual Triple-A All-Star Game, which will be played at the Tacoma Rainiers' Cheney Stadium on Wednesday, July 12. The contest will be broadcast live on MLB Network beginning at 6:00 p.m. PDT. The PCL's winningest
Musgrove tosses 7 scoreless innings as Fresno blanks Albuquerque 8-0 for series sweep
Fisher knocks team-leading 18th HR, Kemp goes 3-for-5 as Grizz extend win streak to season-long 7 games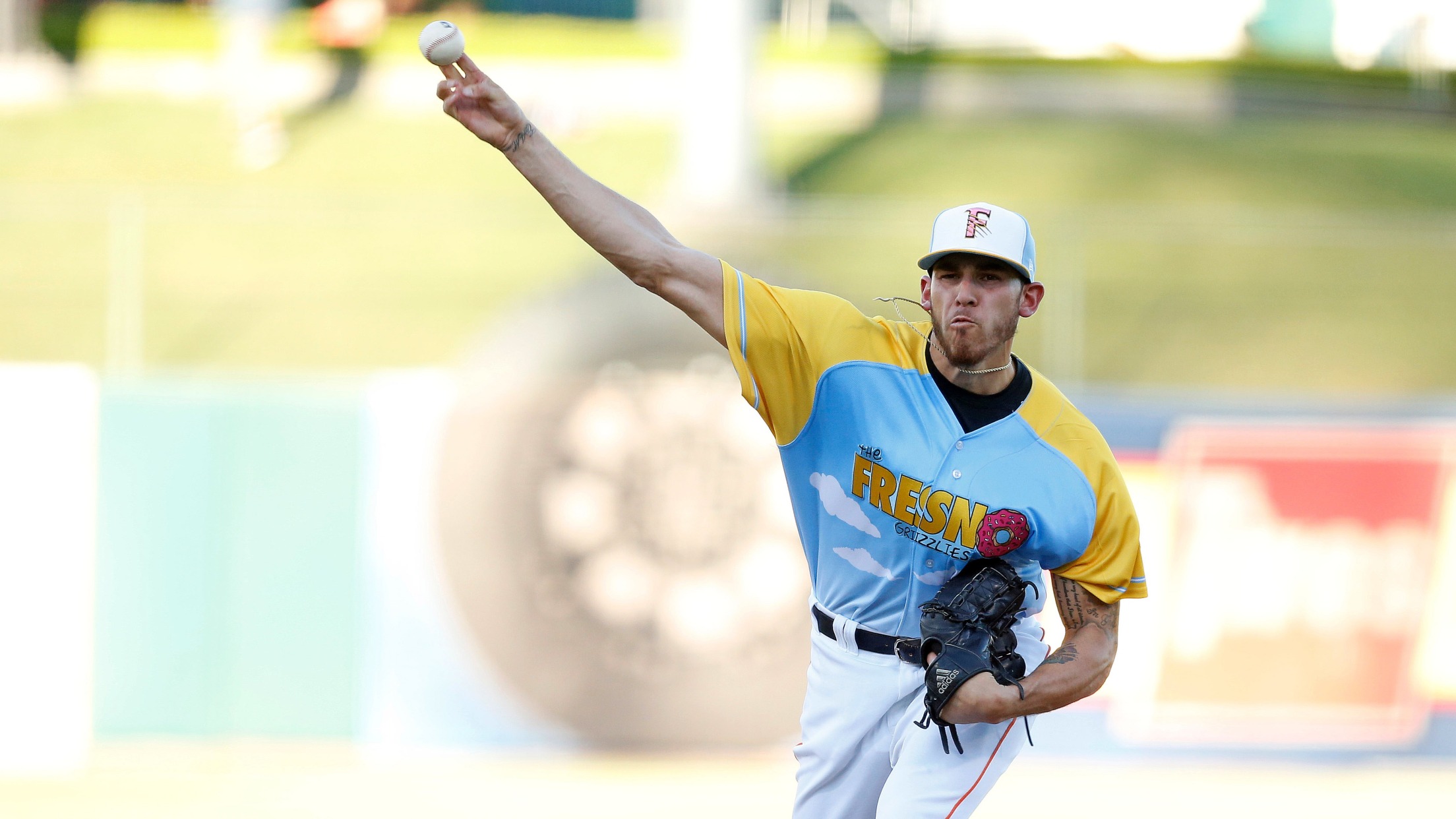 The Fresno Grizzlies (42-38) blanked Albuquerque 8-0 in the series finale on Tribute To Springfield Night at Chukchansi Park to complete a four-game sweep of the Isotopes (38-41). It's Fresno's first series sweep of the season, and the third time they have shut out an opponent. The Grizzlies have now
Rosario, Weaver, Fisher named PCL All-Stars
Kelly, Vogelbach, Mondesi also among those ticketed for Tacoma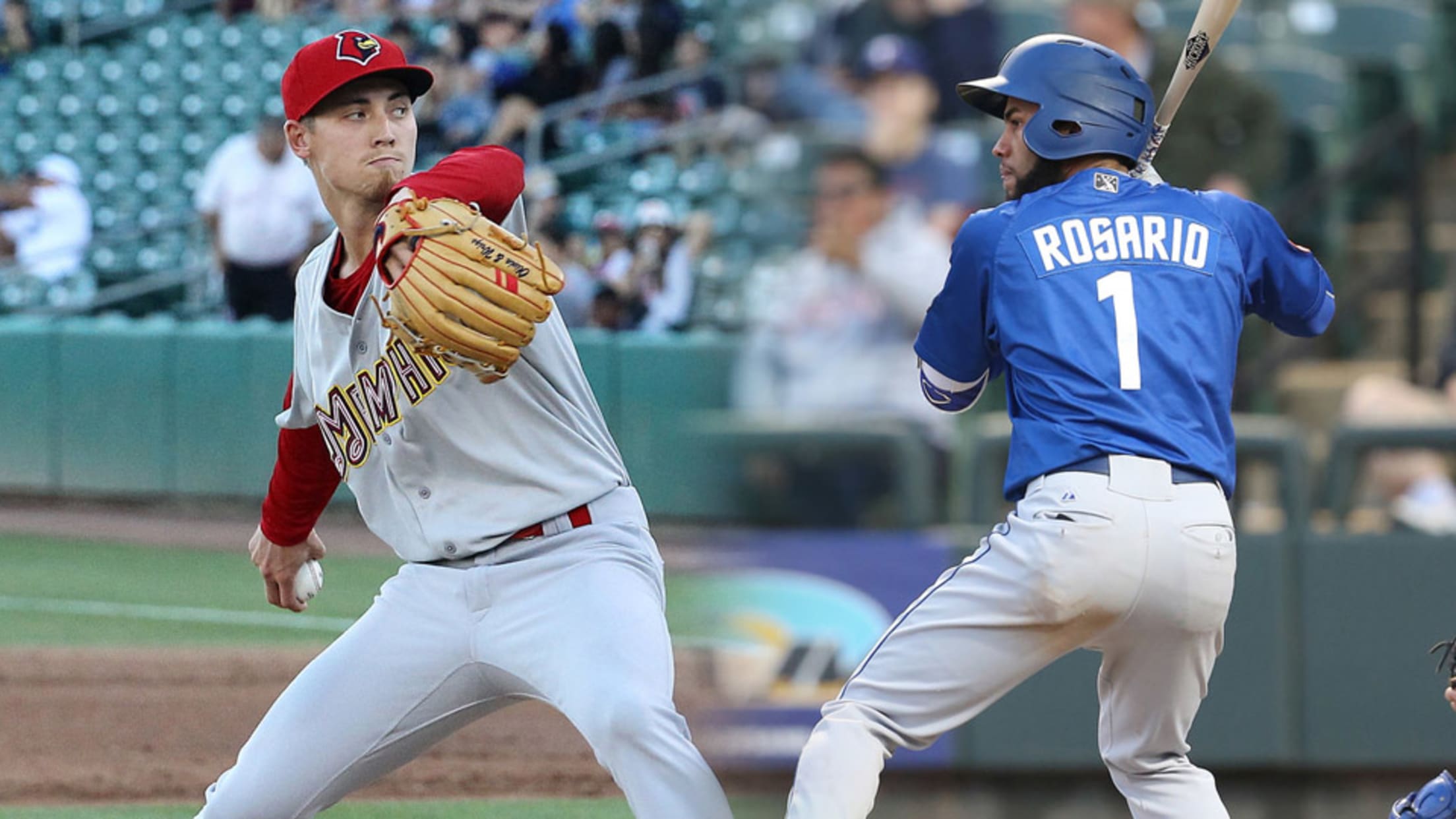 Amed Rosario, Luke Weaver, Derek Fisher and Wilmer Font are among the biggest names headed to Tacoma next month after the Pacific Coast League revealed its roster for the Triple-A All-Star Game.The league announced its 30-man roster that will face the best of the International League on July 12. The
PCL reveals roster for 2017 Triple-A All-Star Game
Reno, Oklahoma City represented with league-best four players each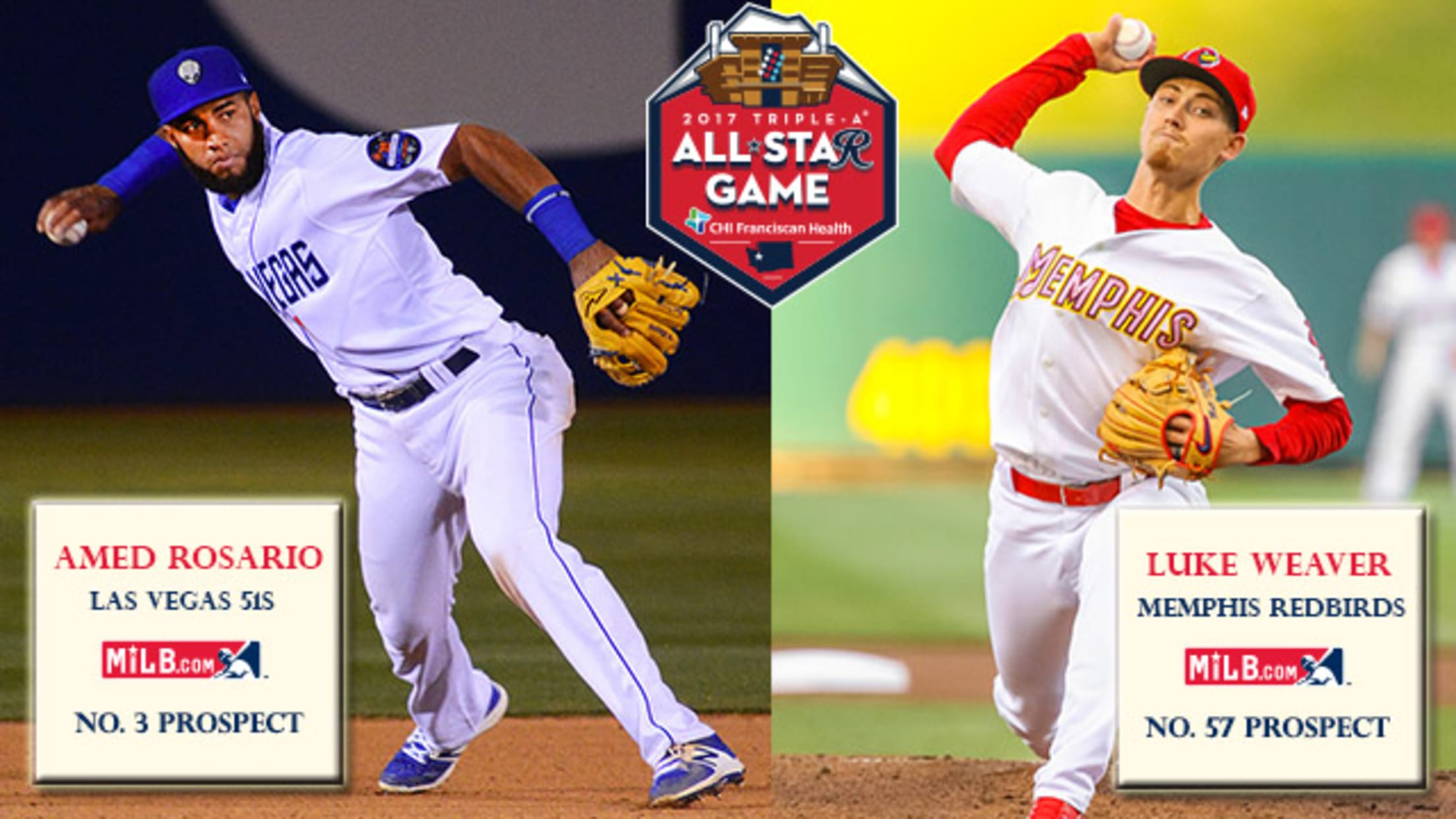 ROUND ROCK, Texas - The Pacific Coast League released Wednesday its 30-man roster for the 30th annual Triple-A All-Star Game, which will be played at the Tacoma Rainiers' Cheney Stadium on Wednesday, July 12. The contest will be broadcast live on MLB Network beginning at 6:00 p.m. PDT. The PCL's