Grizzlies advance to the PCL Championship Series with a 10-1 victory over the Chihuahuas
Garrett Stubbs (2-for-4) and A.J. Reed (1-for-4) go deep in the win; Second time in franchise history (2015) that Fresno will head to the PCL Finals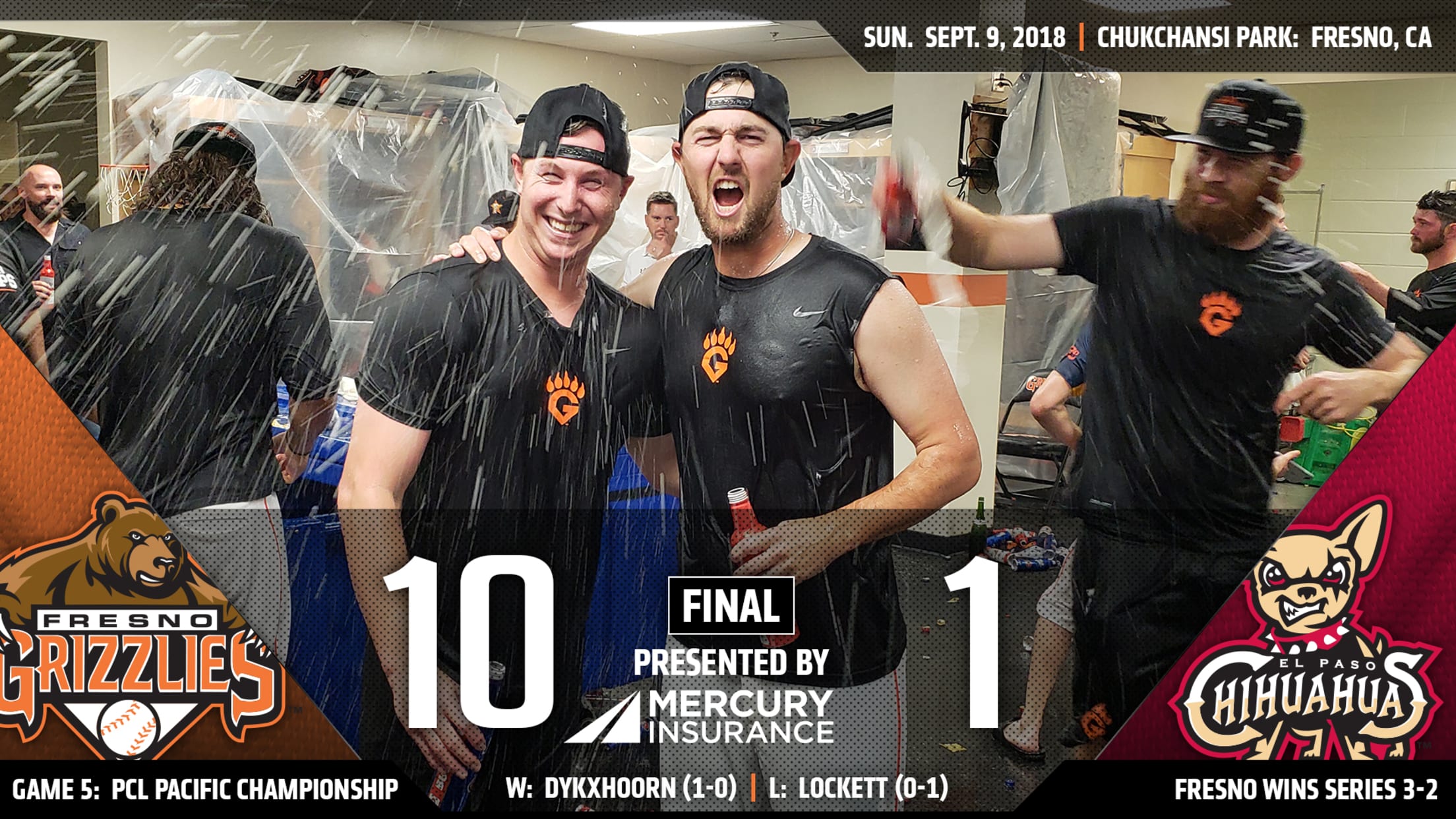 In front of a crowd of 7,588, the Fresno Grizzlies (3-2) hammered the El Paso Chihuahuas (2-3) 10-1 in game five of the PCL Pacific Championship Sunday evening from Chukchansi Park. With the victory, the Grizzlies advance to the PCL Championship Series versus the Memphis Redbirds. Fresno reaches the second
Dykxhoorn and Bostick combine to strike out 19 as Grizz beat Bees 7-6 (10) in regular season finale
Brock Dykxhoorn fans 11 over five relief innings; Akeem Bostick punches out eight in Triple-A debut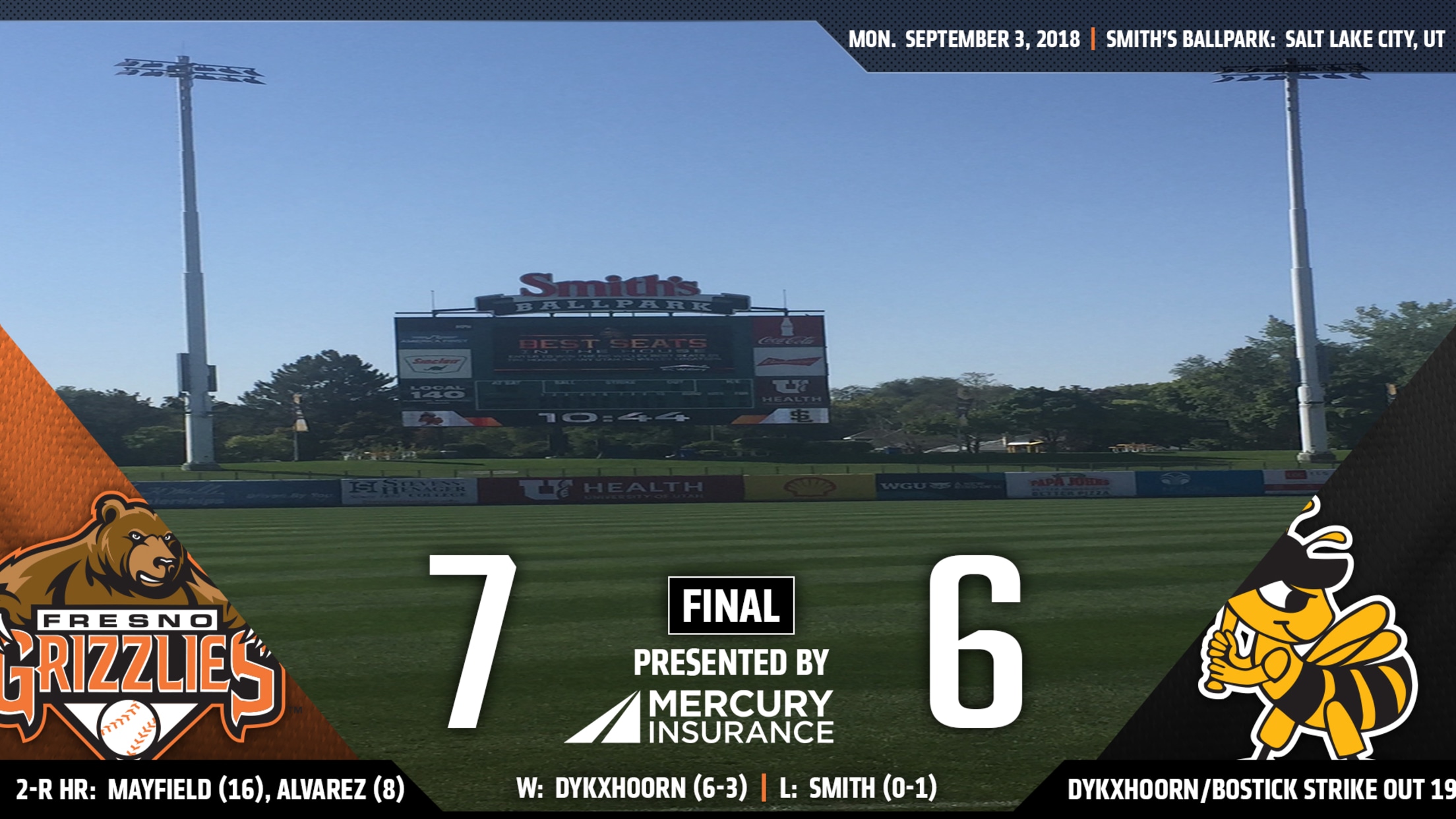 In the last game of the regular season, the Fresno Grizzlies (82-57) clawed past the Salt Lake Bees (71-68) 7-6 in 10 innings Monday afternoon from Smith's Ballpark. Two Grizzly pitchers combined to strike out 19, a season-high. Overall, the staff finished with 1,330 punchouts on the year, a PCL
Hooks Walk-Off with Win No. 70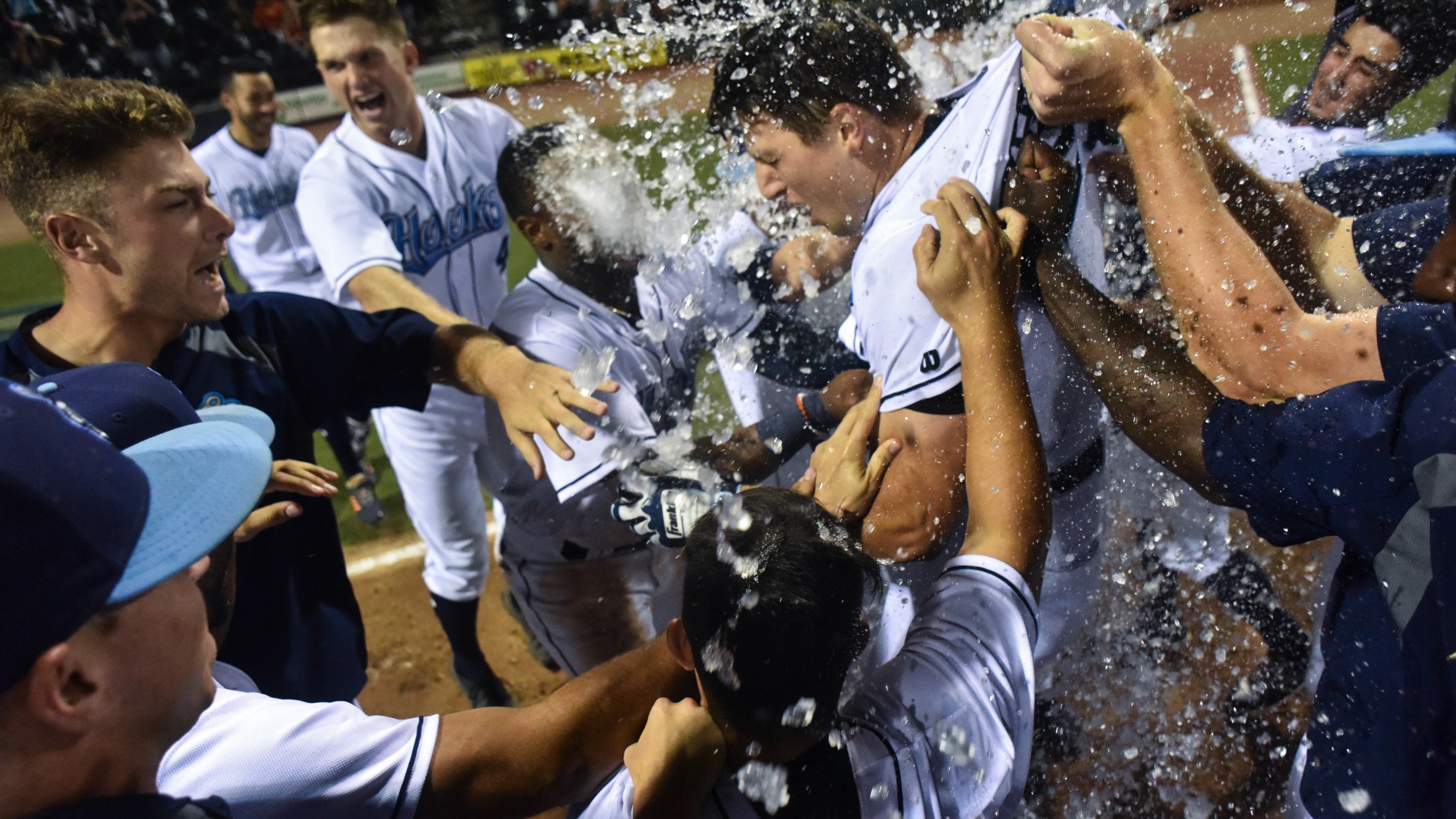 A lead-off home run by Carmen Benedetti in the ninth inning Wednesday night vaulted the Hooks to a 3-2 walk-off win over Tulsa in front of 4,359 fans at Whataburger Field.Corpus Christi's seventh last-at bat victory of the year secured the series win.The Hooks (27-19, 70-45) were held to three
Reed and Marisnick propel Grizzlies past Isotopes 8-5 Friday night
A.J. Reed homers (21) and drives in five runs (80); Jake Marisnick (4-for-4) reaches base five times and scores four runs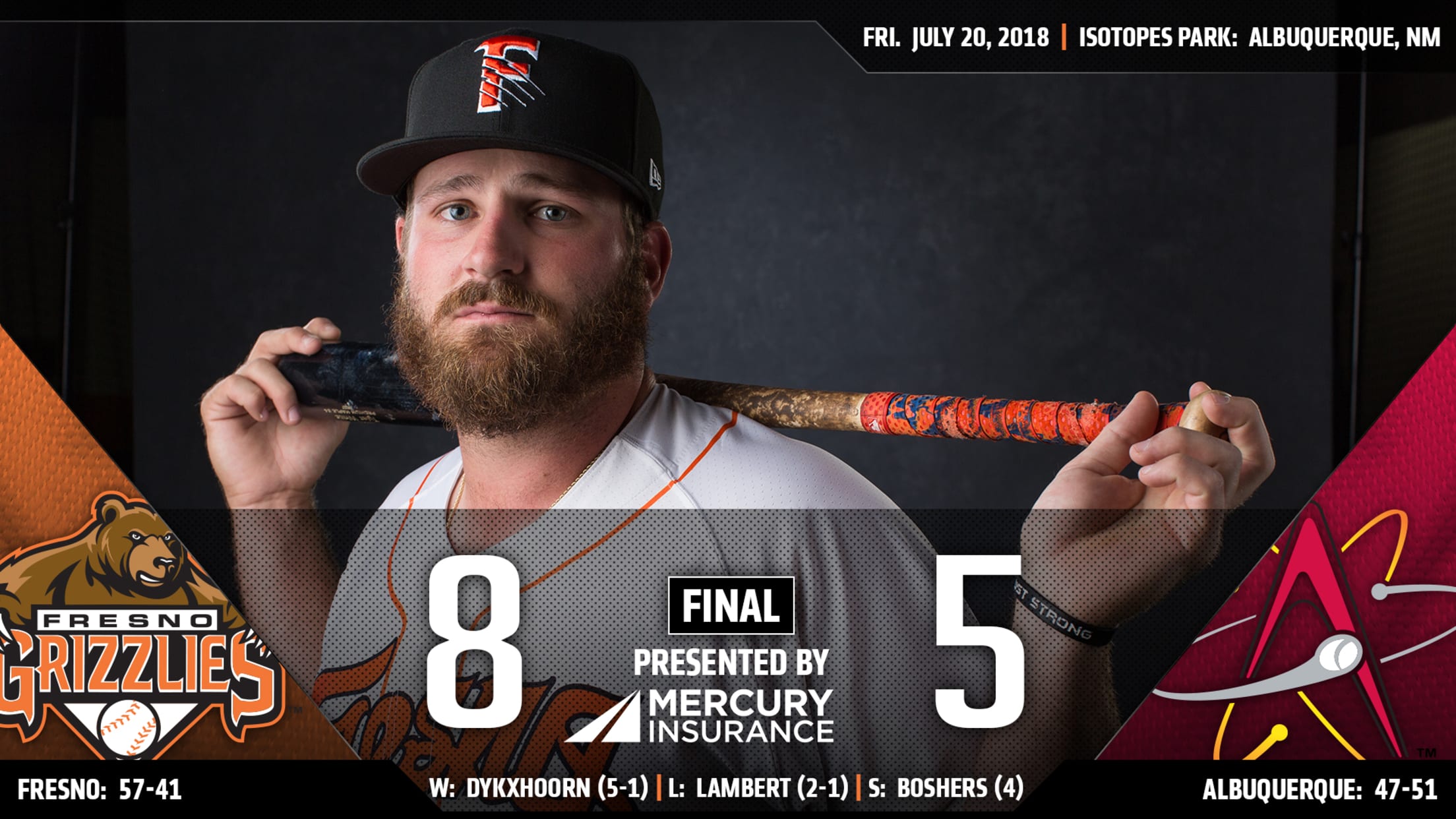 The Fresno Grizzlies (57-41) powered their way past the Albuquerque Isotopes (47-51) 8-5 Friday night from Isotopes Park. AJ Reed (2-for-4) was the headline after launching his 21st homer of the season and his 70th career in a Grizzly uniform. It would tie him with Brett Pill for third all-time
Dodgers' Kremer debuts with weekly award
Right-hander continues to rise with shutout for Double-A Tulsa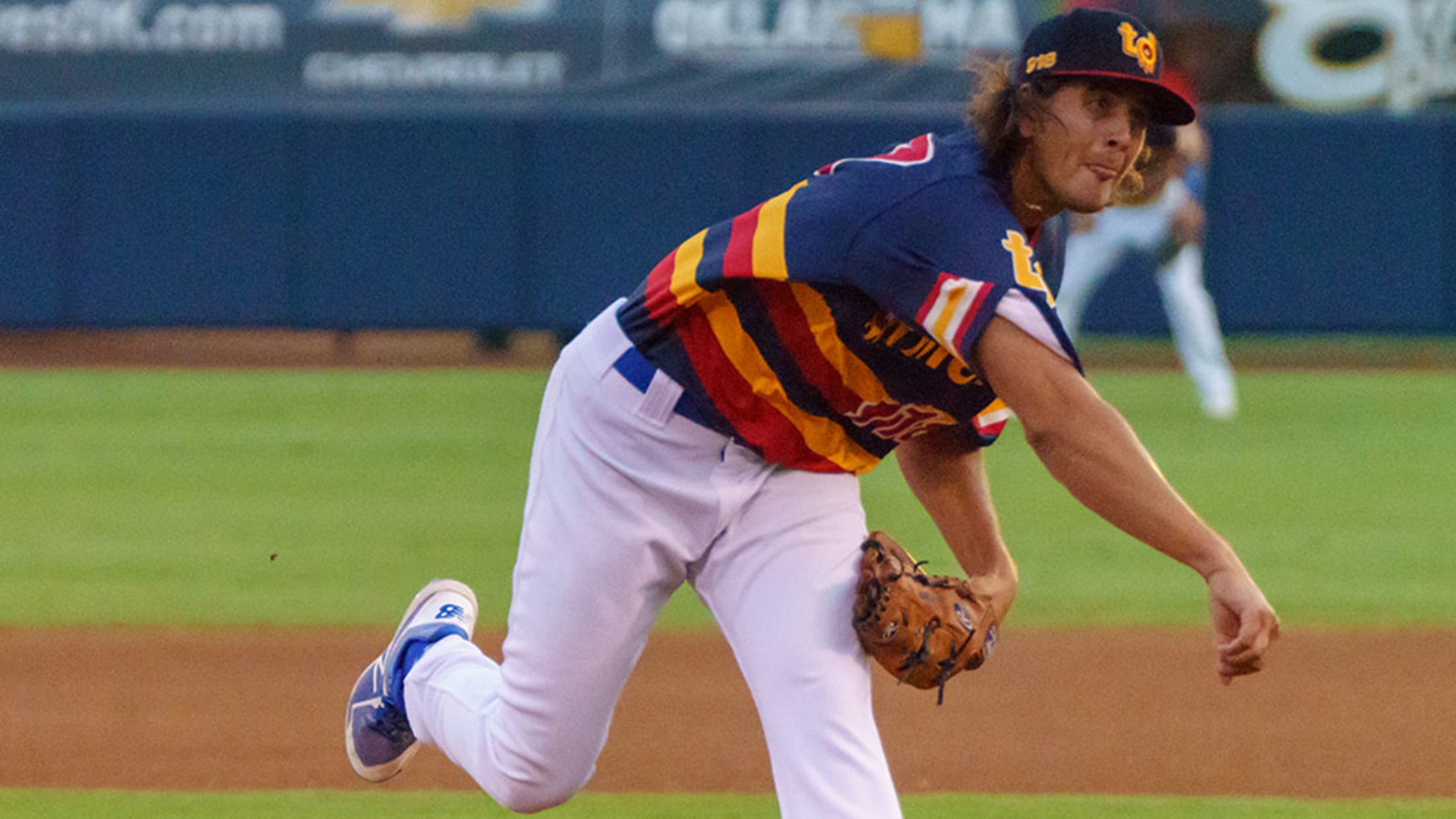 Dean Kremer was quite efficient on the mound last week. As a result, he's proven quite efficient at winning awards as well. The Dodgers' No. 29 prospect has been named Texas League Pitcher of the Week for July 2-8 after making his Double-A Tulsa debut last Thursday. Kremer tossed a
Allday, Dykxhoorn end first half with weekly awards
El Paso OF records 18 hits in 7 games; Fresno RHP allows only 2 runs in 12.2 innings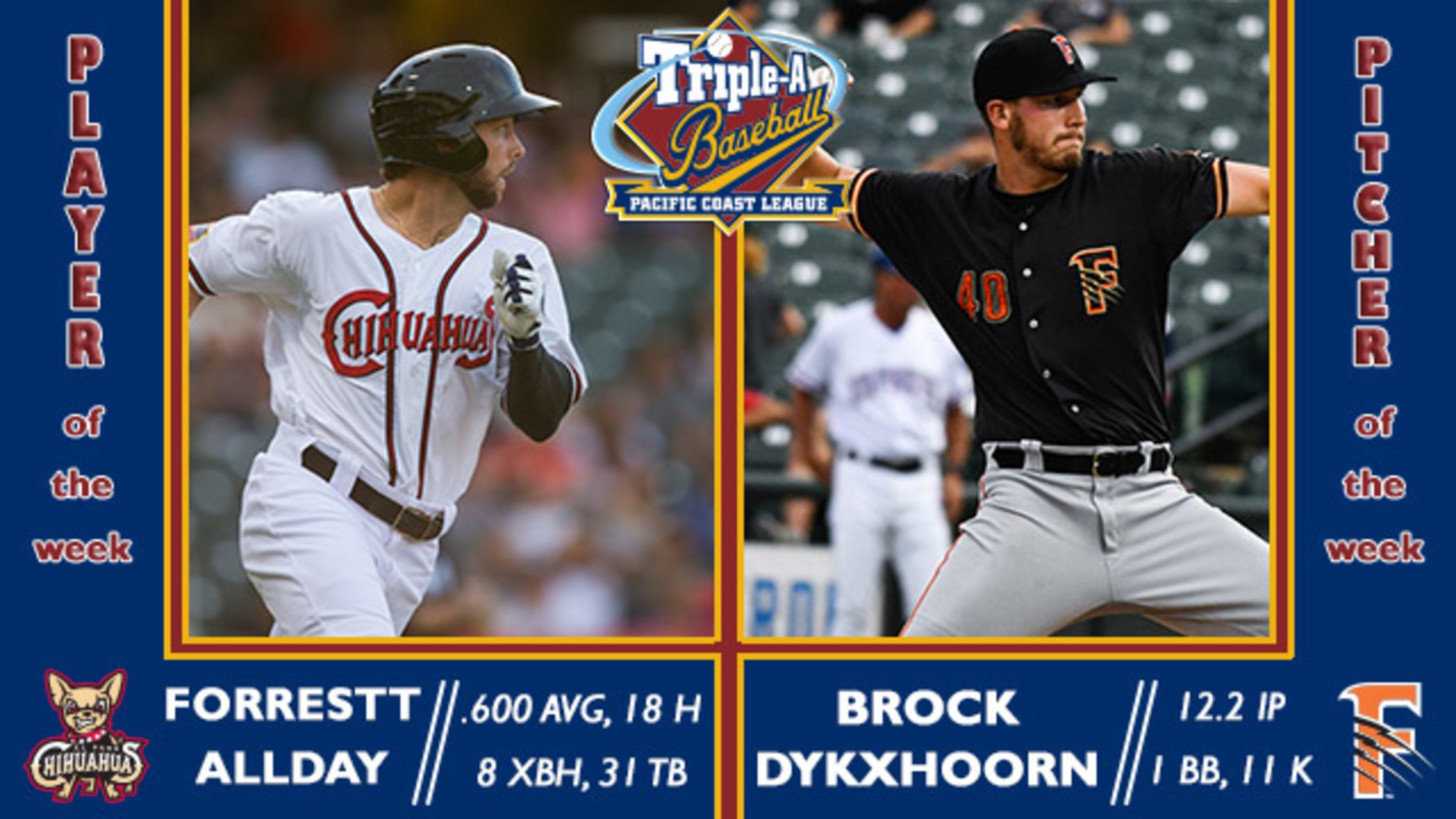 ROUND ROCK, Texas - El Paso Chihuahuas outfielder Forrestt Allday and Fresno Grizzlies right-hander Brock Dykxhoorn have been selected as the Pacific Coast League's Player and Pitcher of the Week for the period of July 2-8, 2018, the League office announced Monday.
Grizzlies win series and split DH with a 2-1 win over Las Vegas
Brock Dykxhoorn strikes out seven in five-plus frames; A.J. Reed's two-run single is the difference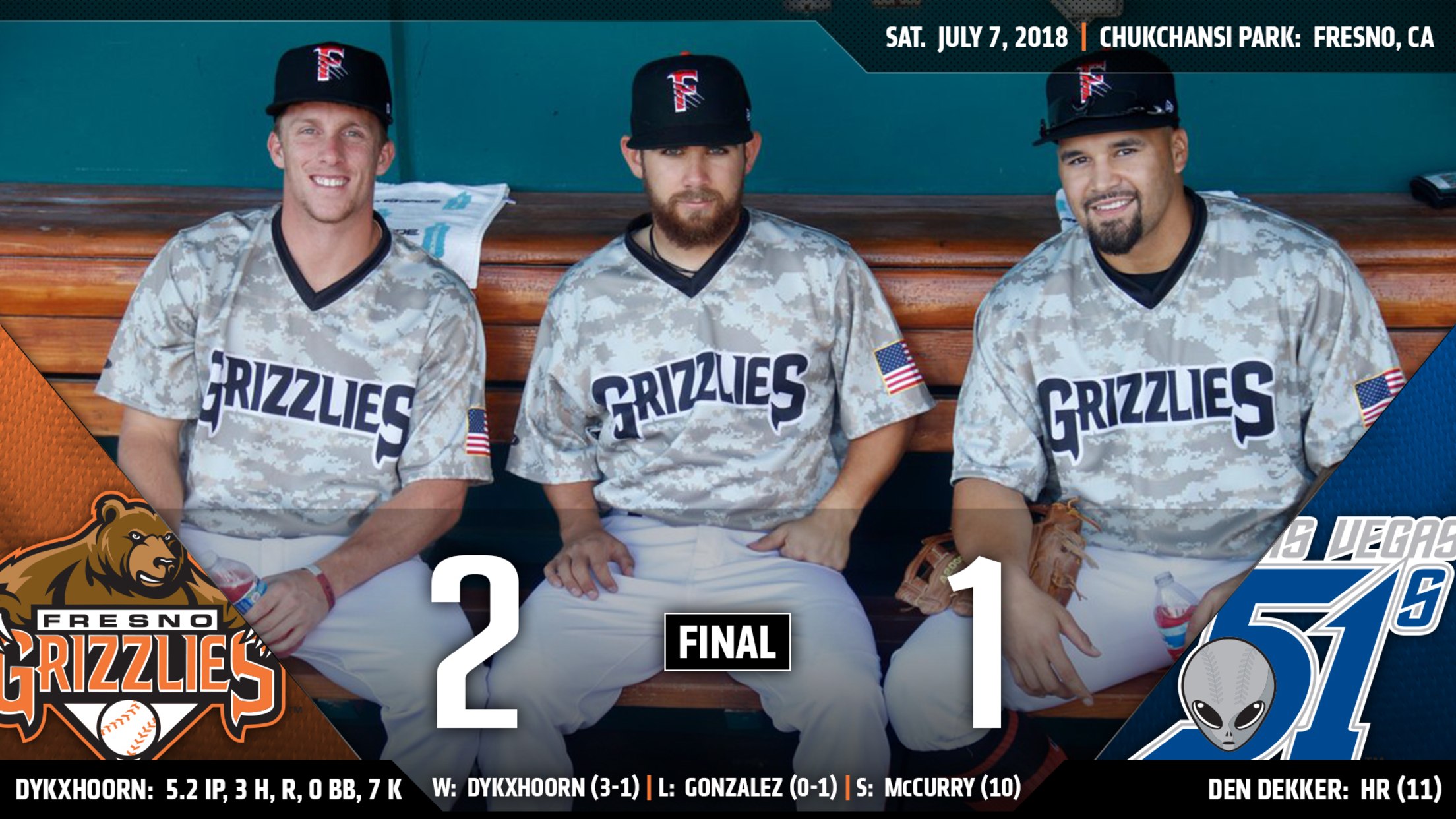 In Game 2 of Saturday's doubleheader, the Fresno Grizzlies (52-37) beat the Las Vegas 51s (42-48) 2-1 at Chukchansi Park. Fresno starter Brock Dykxhoorn (3-1) earned the win. He provided five and two-thirds innings, giving up three hits, one run (earned) while punching out seven. In 45 and two-thirds Triple-A
SAC stuns Grizz with 10th inning walk-off homer
Fresno drops series to rival, finale on Tuesday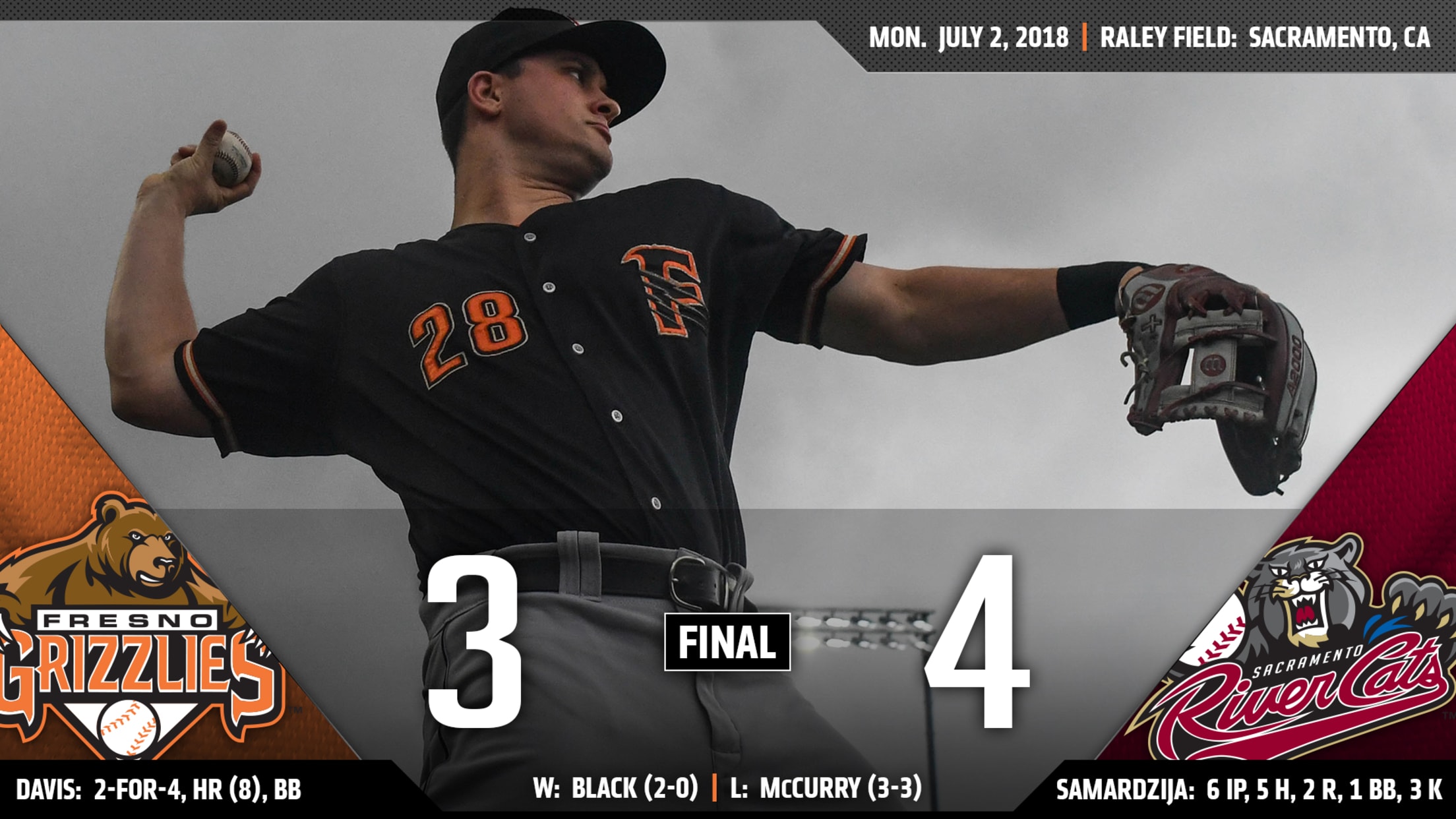 The Fresno Grizzlies (48-35) continued a challenging road trip on Monday night in Northern California, suffering a 4-3 loss in 10 innings on a walk-off homer to the homestanding Sacramento River Cats (38-46). The setback dropped Fresno to 2-6 this season against Sacramento, and 2-6 on this road trip, with
Dykxhoorn dazzles as Grizzlies complete four-game sweep in Round Rock, win fifth straight
Fresno allows just 15 runs over entire road trip (6-1); 44-27 record is best in Triple-A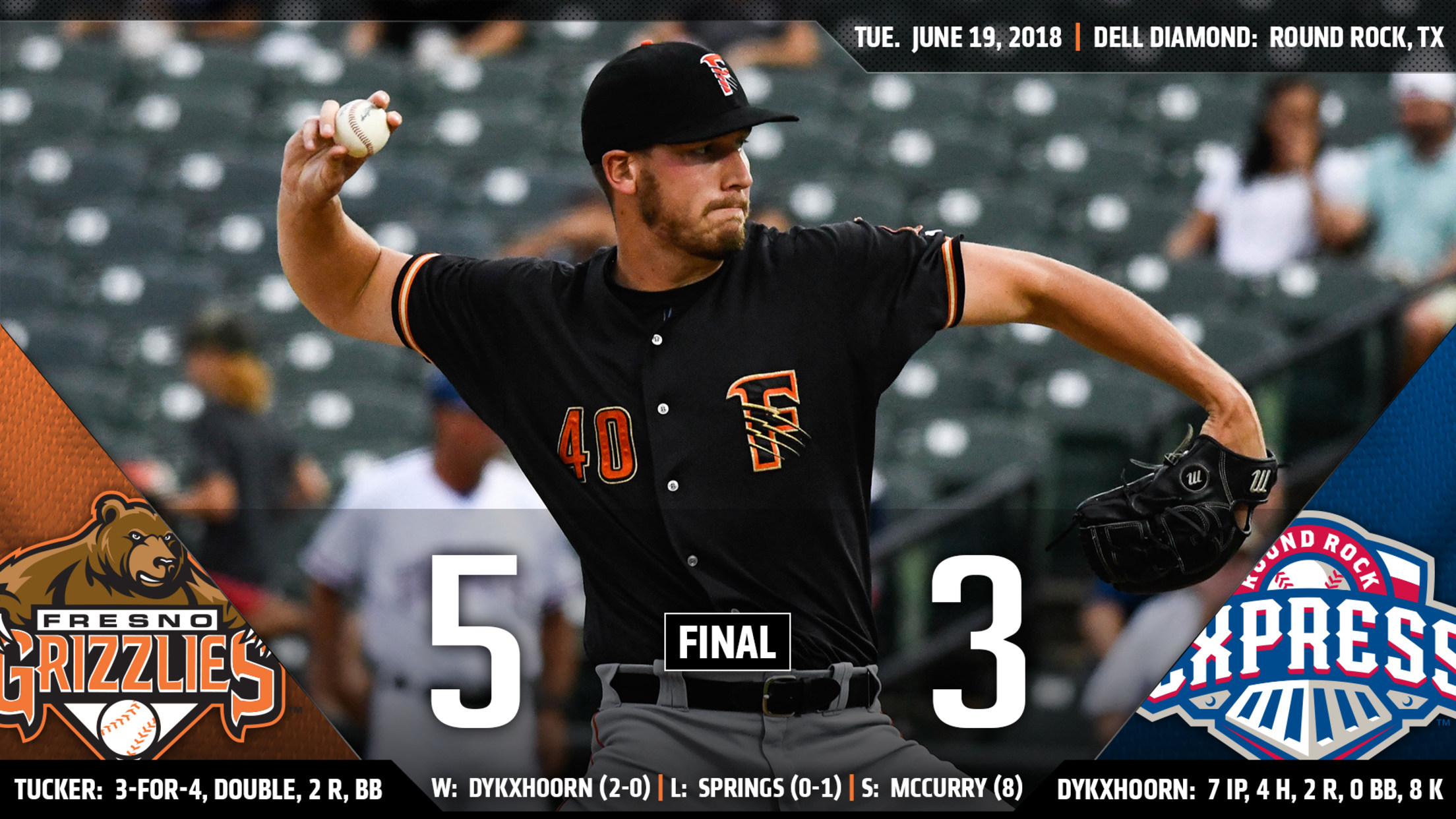 The Fresno Grizzlies (44-27) have the best record in Triple-A Baseball after sweeping the Round Rock Express (30-41) in four games, the punctuation mark coming in a 5-3 win at Dell Diamond on Tuesday night. The victory capped a 6-1 road trip where the Grizzlies allowed three or fewer runs
Grizzlies have no problem in NOLA opener, defeat Baby Cakes 9-2
Brock Dykxhoorn earns first Triple-A win; Tyler White (13) and A.J. Reed (16) each clobber three-run bombs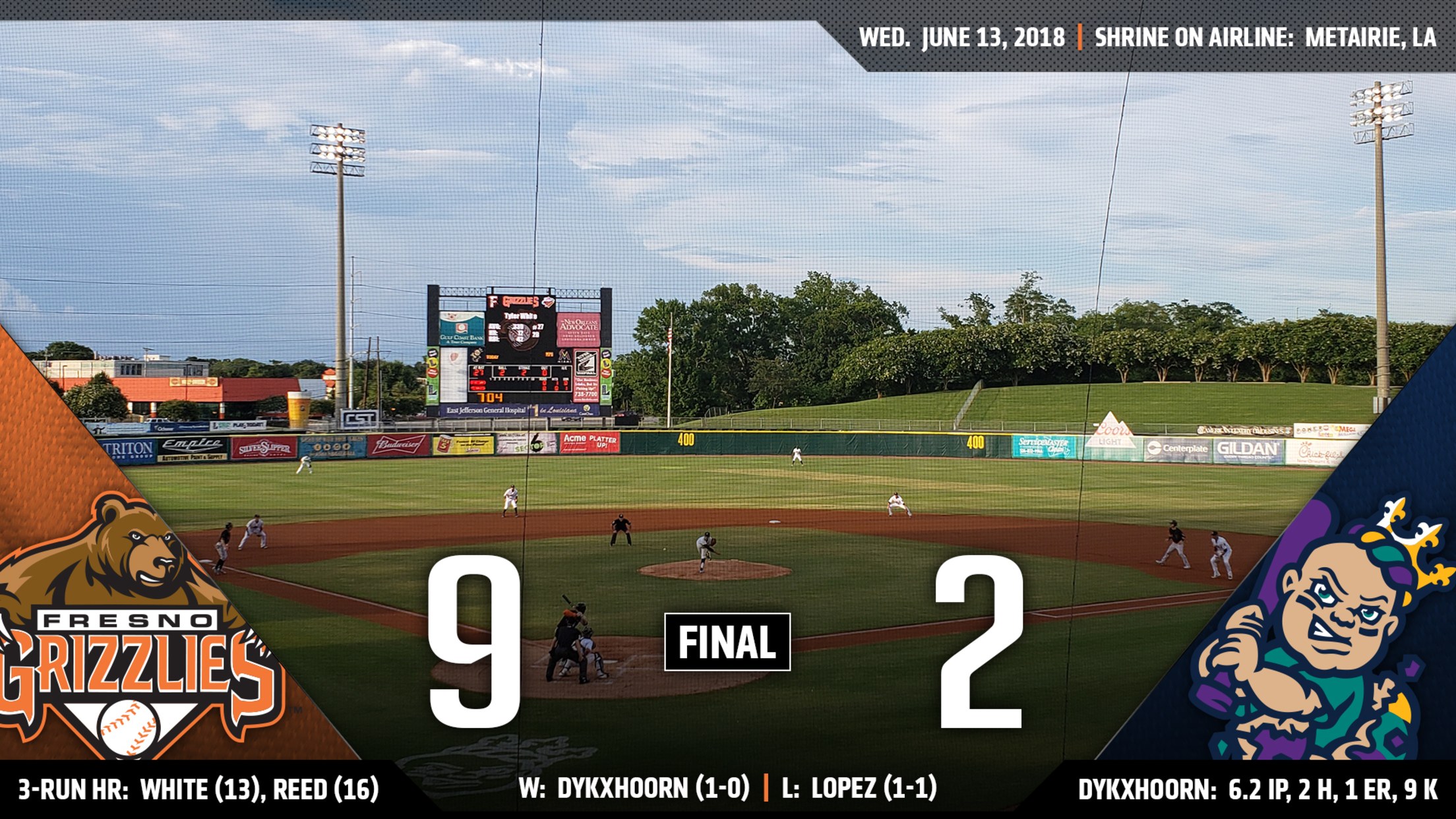 Behind a six-run sixth, the Fresno Grizzlies (39-26) overwhelmed the New Orleans Baby Cakes (30-35) 9-2 Wednesday night from Shrine on Airline. Fresno starter Brock Dykxhoorn (1-0) enjoyed the run support, picking up his first Triple-A win (four starts). He hurled six and two-thirds frames, allowing two hits, one run
Dykxhoorn dominates before Grizz lose 6-1
Brock Dykxhoorn strikes out six in seven innings; A.J. Reed homers in loss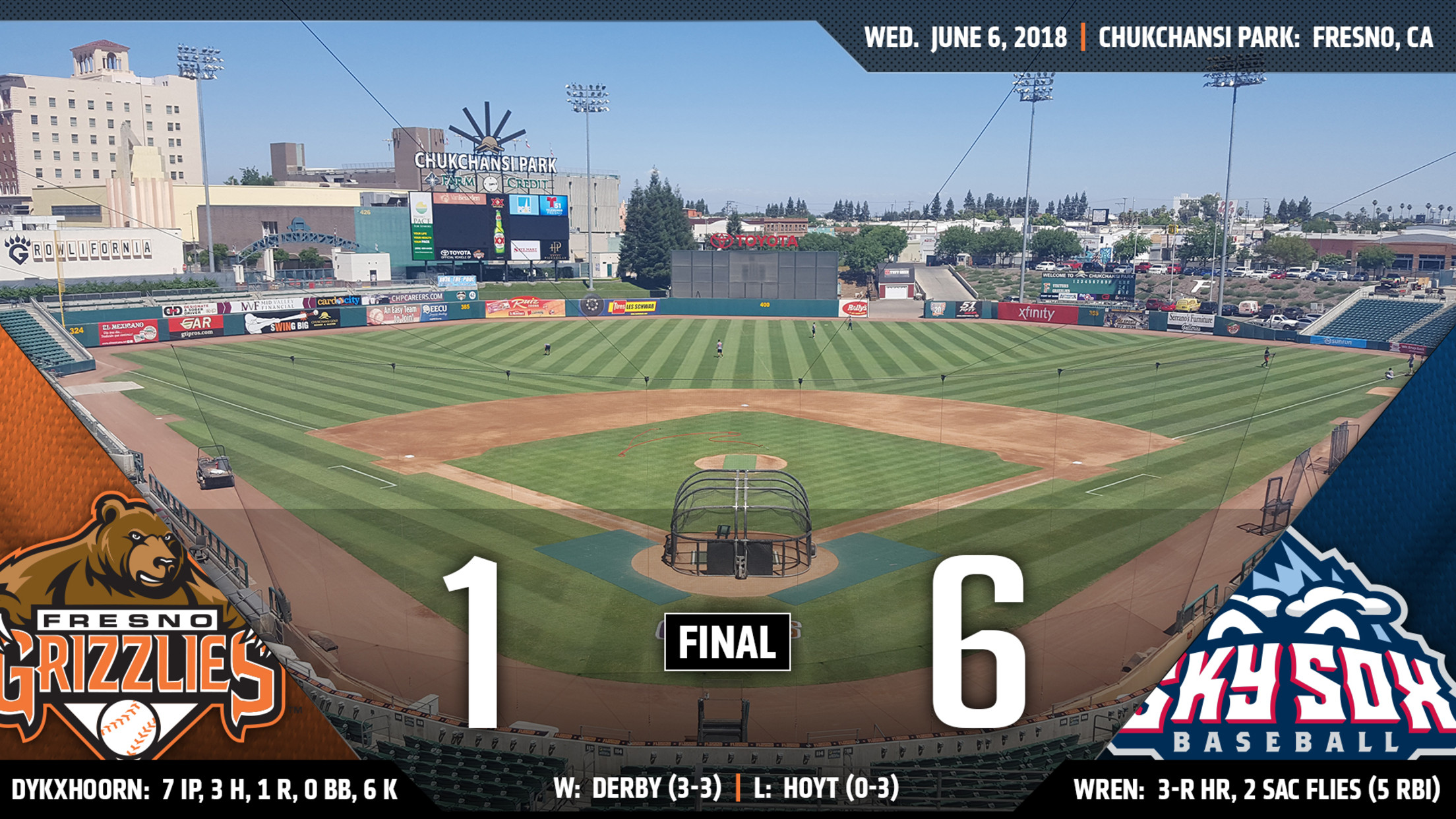 The Colorado Springs Sky Sox (31-26) defeated the Fresno Grizzlies (35-24) 6-1 Wednesday night from Chukchansi Park. For the second straight game, the Grizzlies received an outstanding performance from their starter. Brock Dykxhoorn hurled a season-high seven innings en route to a no-decision. He allowed one run (earned), on three
Fresno falls 4-3 in 10, finish 9-7 vs. Reno in 2018
Tyler White extends on-base streak to 56 consecutive Triple-A games dating back to 2017 (45 in 2018); Brock Dykxhoorn (Triple-A debut) goes six innings, strikes out five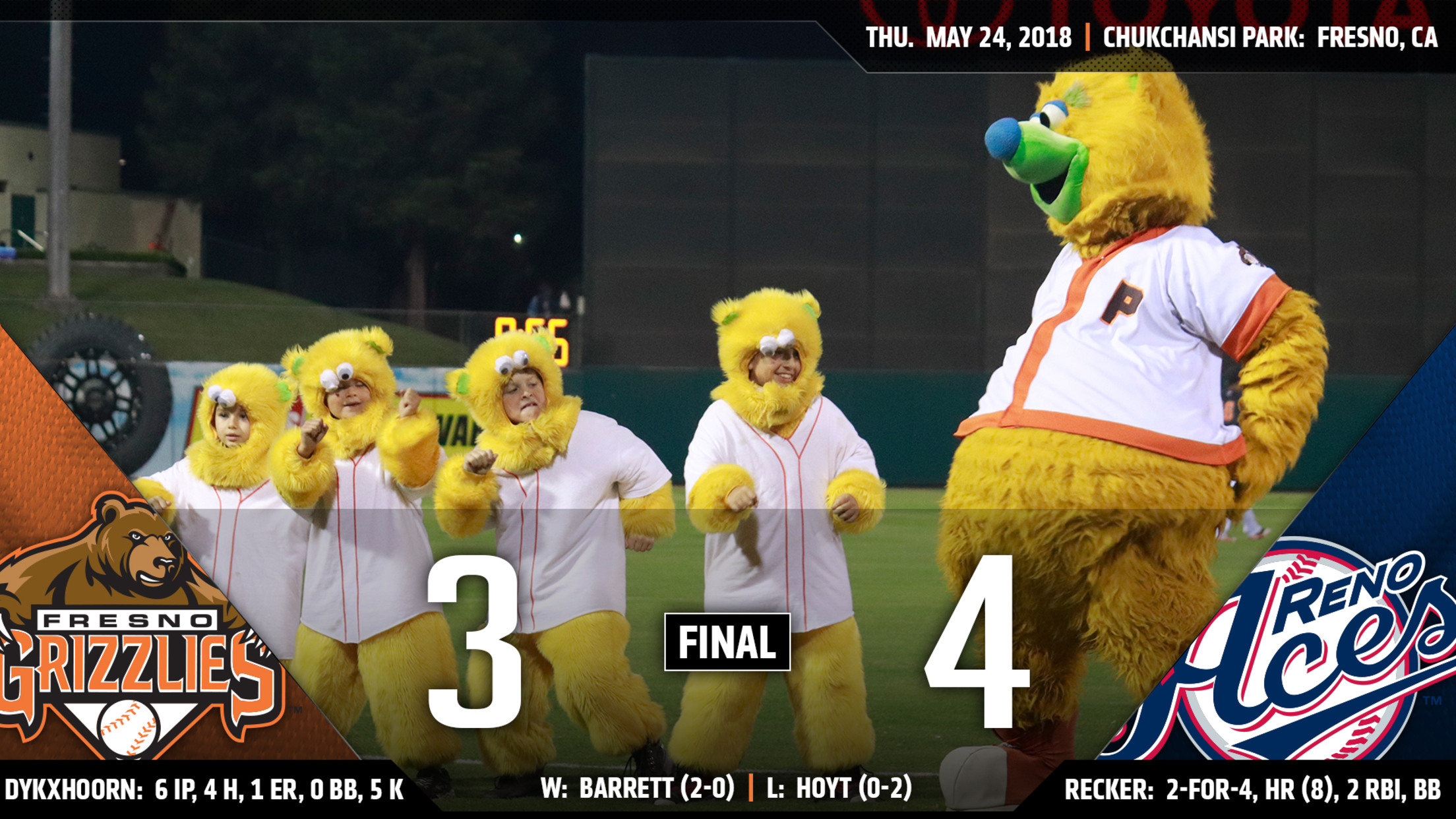 In the 16th and final meeting of the season, the Reno Aces (21-27) topped the Fresno Grizzlies (28-20) 4-3 in 10 innings Thursday night from Chukchansi Park. With the defeat, Fresno lost their third series in 11 matchups and finished 9-7 versus Reno in 2018. The loss also dropped the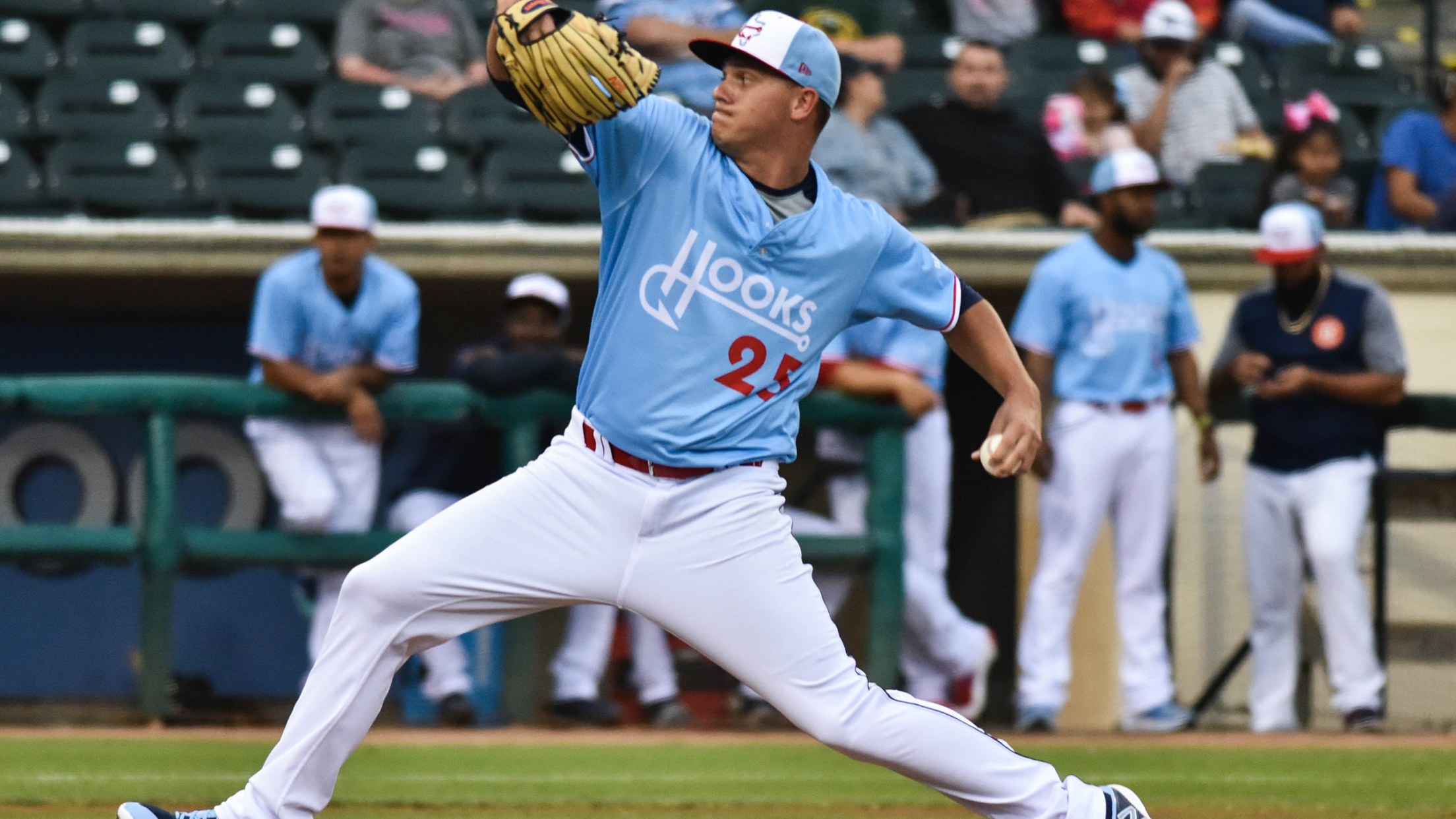 CORPUS CHRISTI - Carmen Benedetti went 2-for-3 with two doubles and three RBIs while Ryan Hartman blanked Midland over the final four frames Saturday night, as the Hooks rolled to a 9-3 triumph at Whataburger Field.The Hooks (19-16) did most of their damage in the first inning, sending 11 men
Hounds Steal Series Opener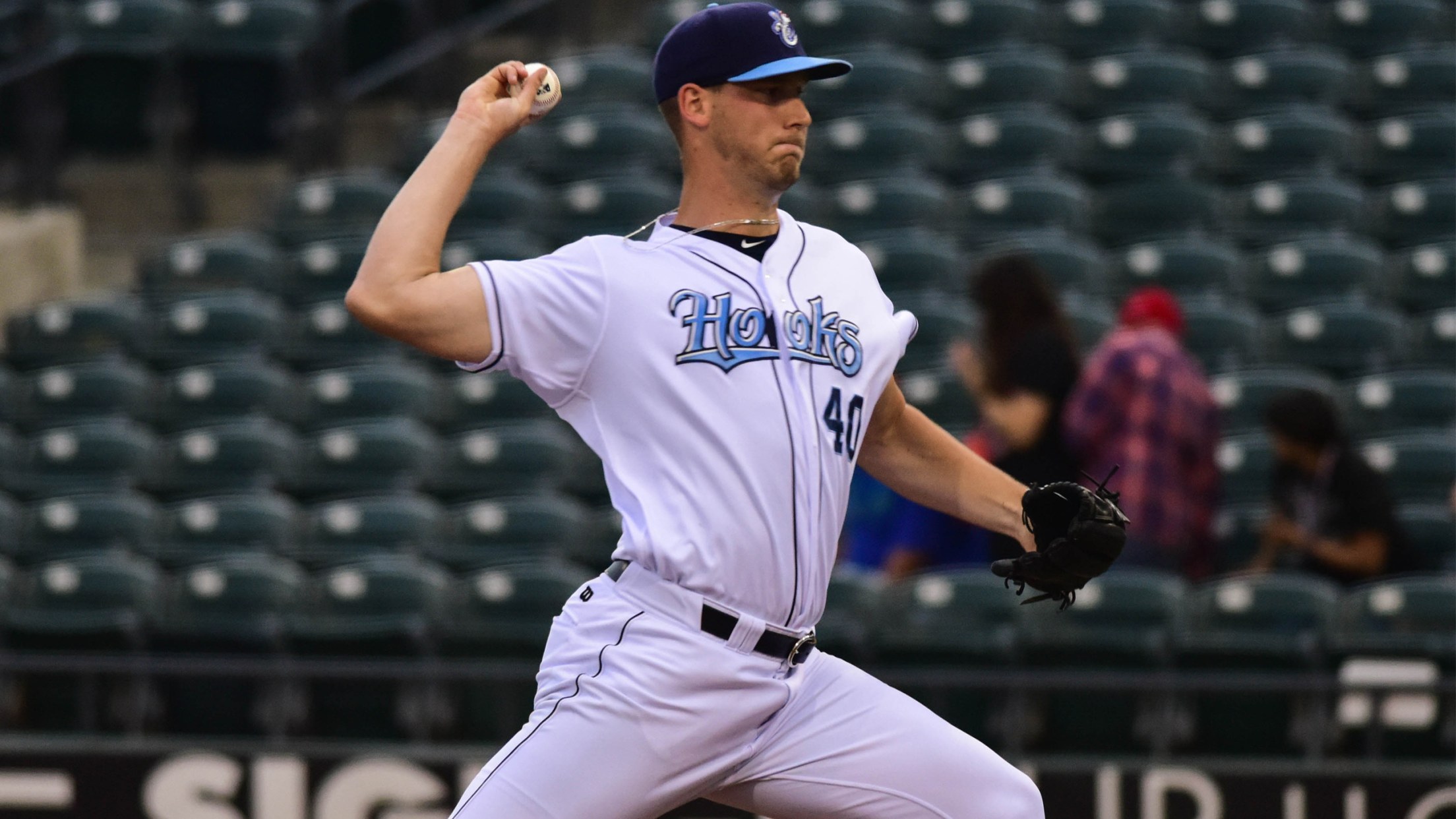 CORPUS CHRISTI - Midland mustered three unearned runs in the eighth inning Tuesday night, clipping Corpus Christi, 3-2, in the opener of a four-game series at Security Bank Ballpark.The Hooks have lost back-to-back games for the first time since being swept in North Little Rock April 8-10.Brock Dykxhoorn and Ben
Dykxhoorn Deals as Hooks Hang On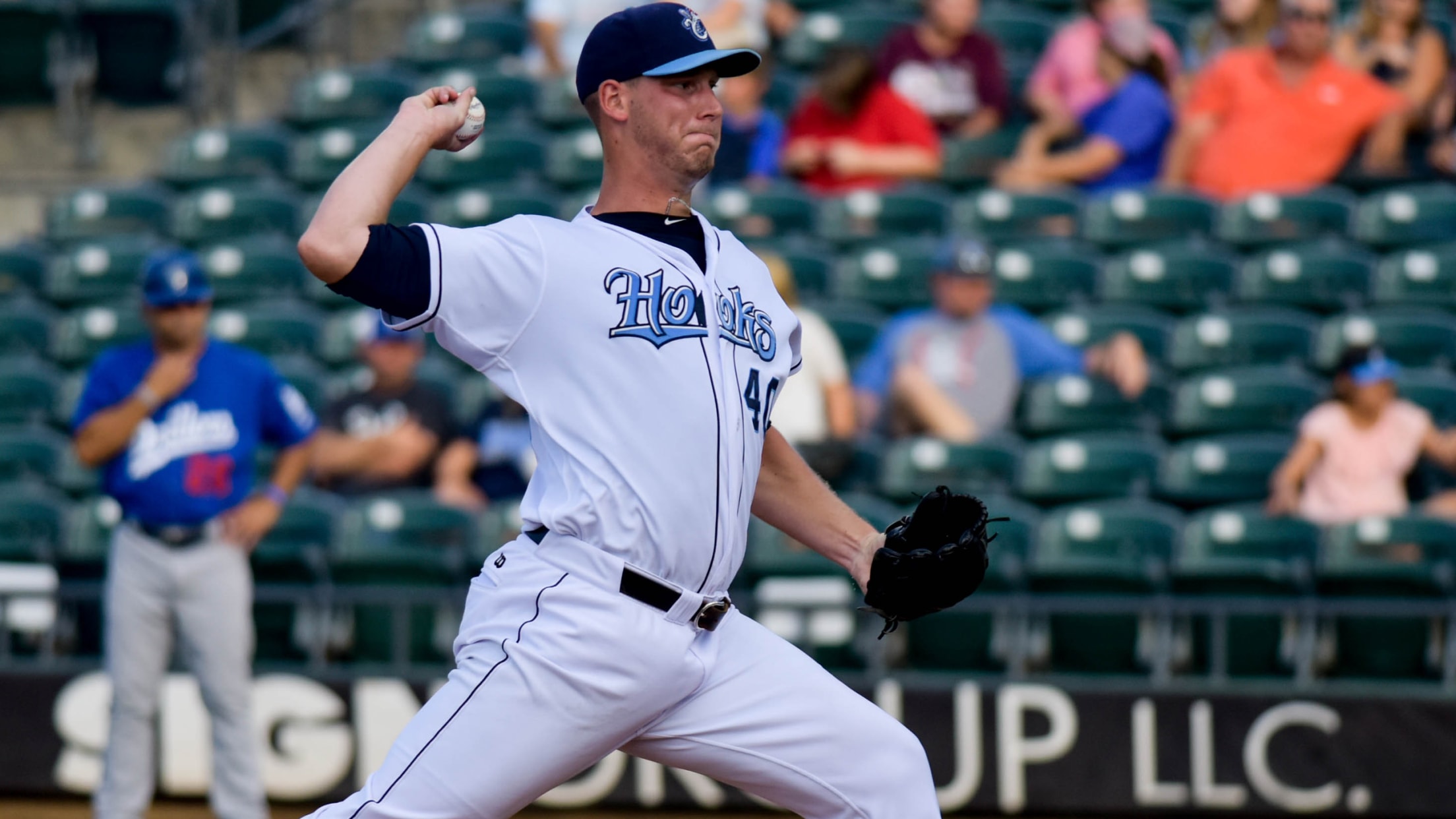 CORPUS CHRISTI - Right-hander Brock Dykxhoorn fired five one-hit frames Wednesday night, and the Hooks weathered a two-hour rain delay and a ninth-inning RockHounds rally, knocking off Midland 4-3 at Whataburger Field.Corpus Christi was on 10 of its last 13 games.
Clutch Hitting Carries Hooks
CC has won 5 of last 7 games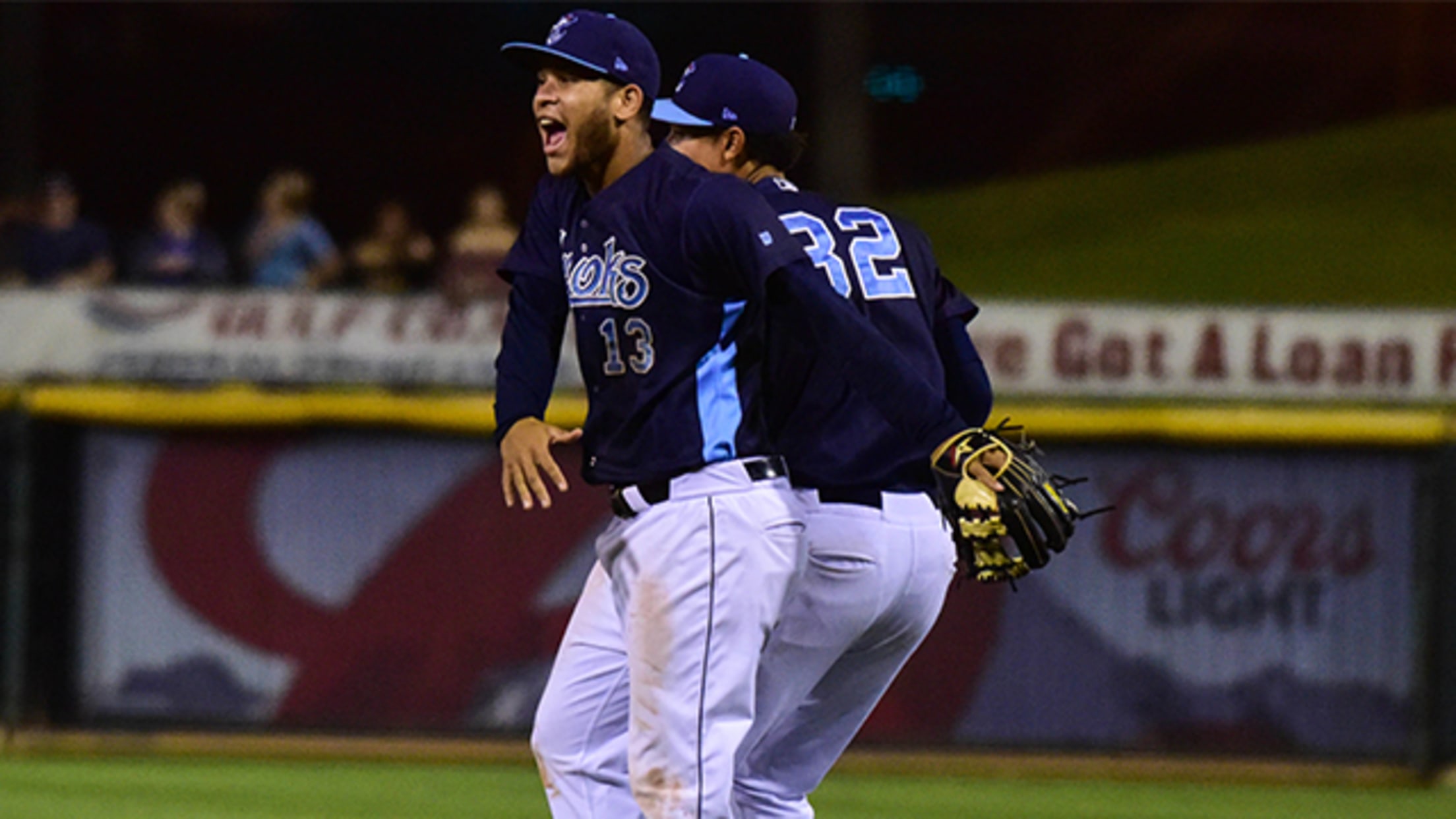 FRISCO - Corpus Christi notched four two-out RBIs in a 5-3 triumph over Frisco Thursday night at Dr Pepper Ballpark.Myles Straw was hit by a Collin Wiles pitch to begin the ballgame. Straw later scored on Carmen Benedetti's single into center field.The Hooks (7-6) doubled their edge in the fourth.
Quintana Goes Deep Twice to Power Hooks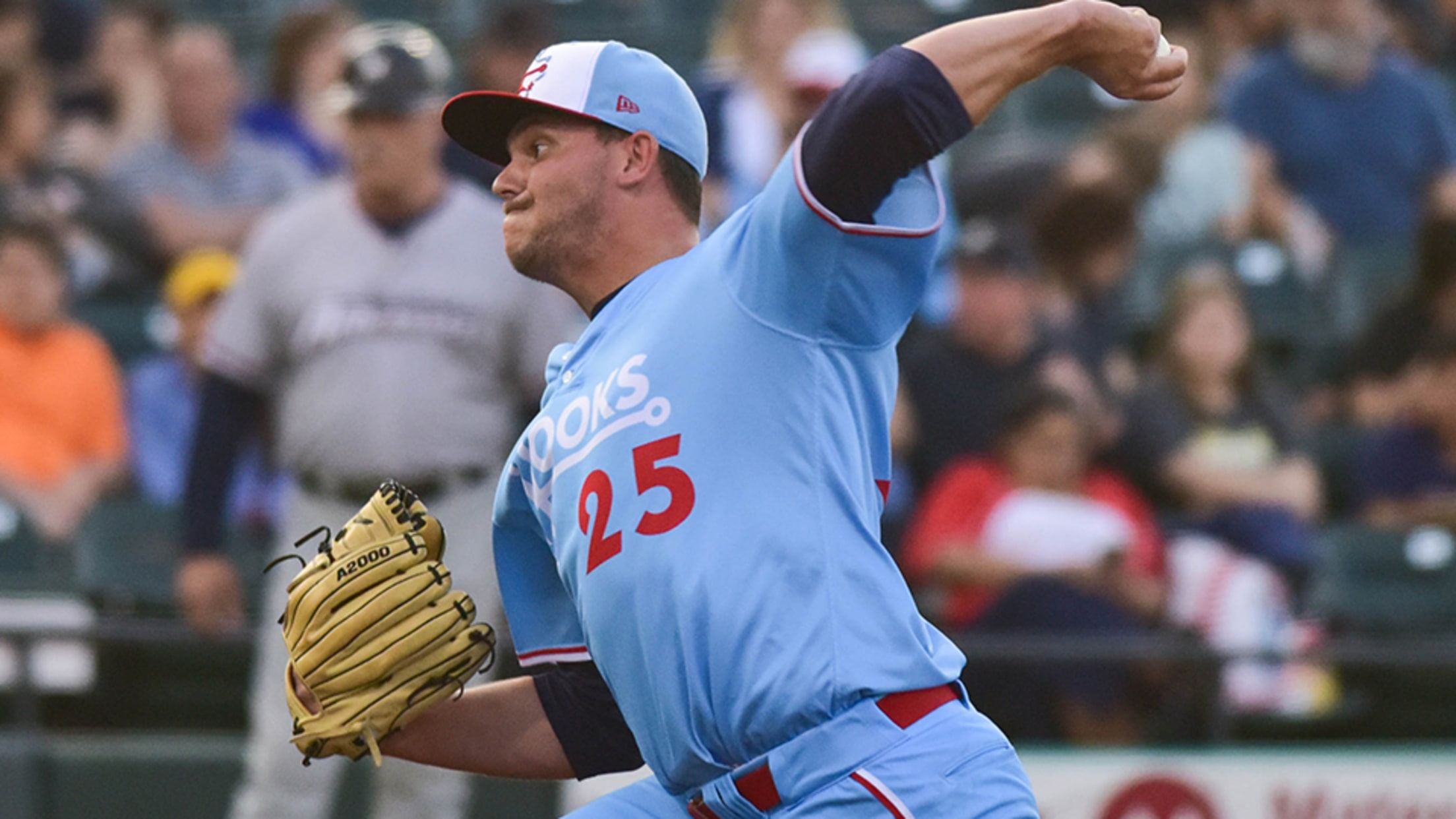 CORPUS CHRISTI - Lorenzo Quintana hit two home runs and plated five in his final two at-bats Friday night as the Hooks engineered an 8-1 triumph over Northwest Arkansas to secure a series victory at Whataburger Field.With the game level at 1 in the seventh, Quintana crushed a 3-2 pitch
Dykxhoorn Drops Naturals
Hooks, Travs in 1st of 3 Saturday at 7:05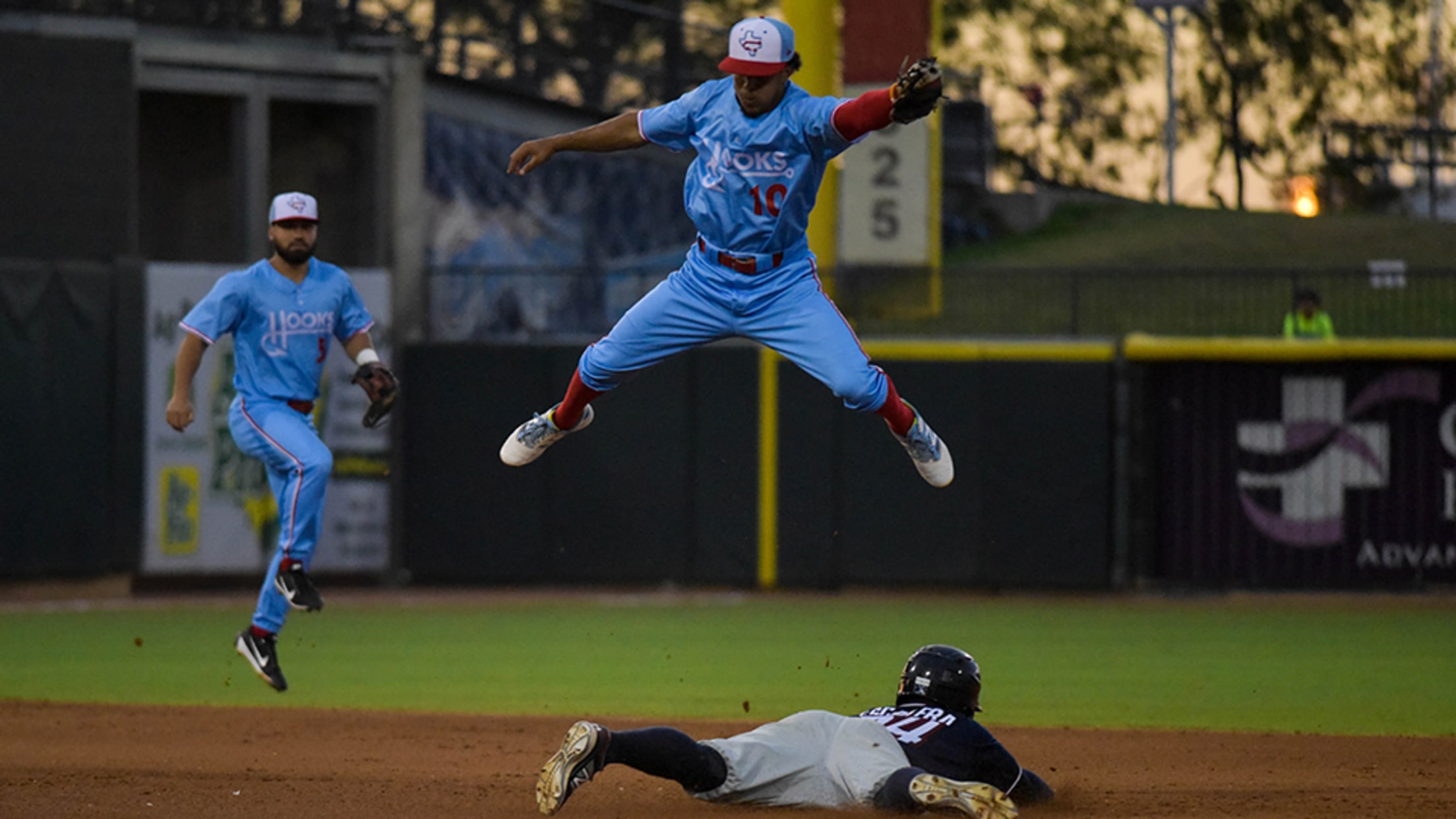 CORPUS CHRISTI - Brock Dykxhoorn pitched seven innings of two-hit ball in his longest outing of the year as Corpus Christi downed Northwest Arkansas 5-2 Friday night at Whataburger Field before 5,234.
Hooks Power Past RoughRiders
Corpus Christi hits four homers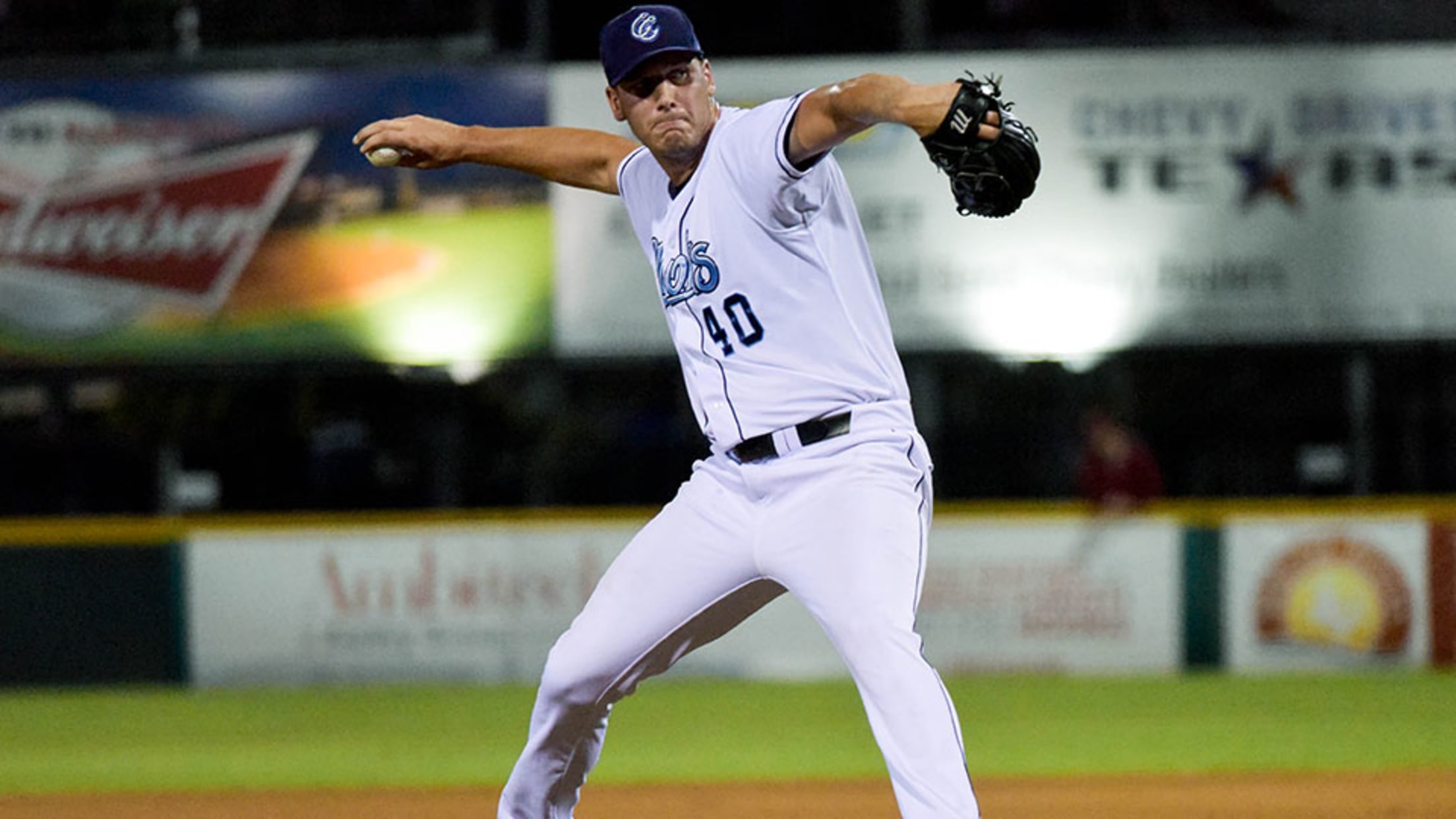 CORPUS CHRISTI - The Corpus Christi Hooks drilled four homers in a 11-4 win against the Frisco RoughRiders in front of 5,361 at Whataburger Field on Saturday night.
Davis Powers Hooks in Slugfest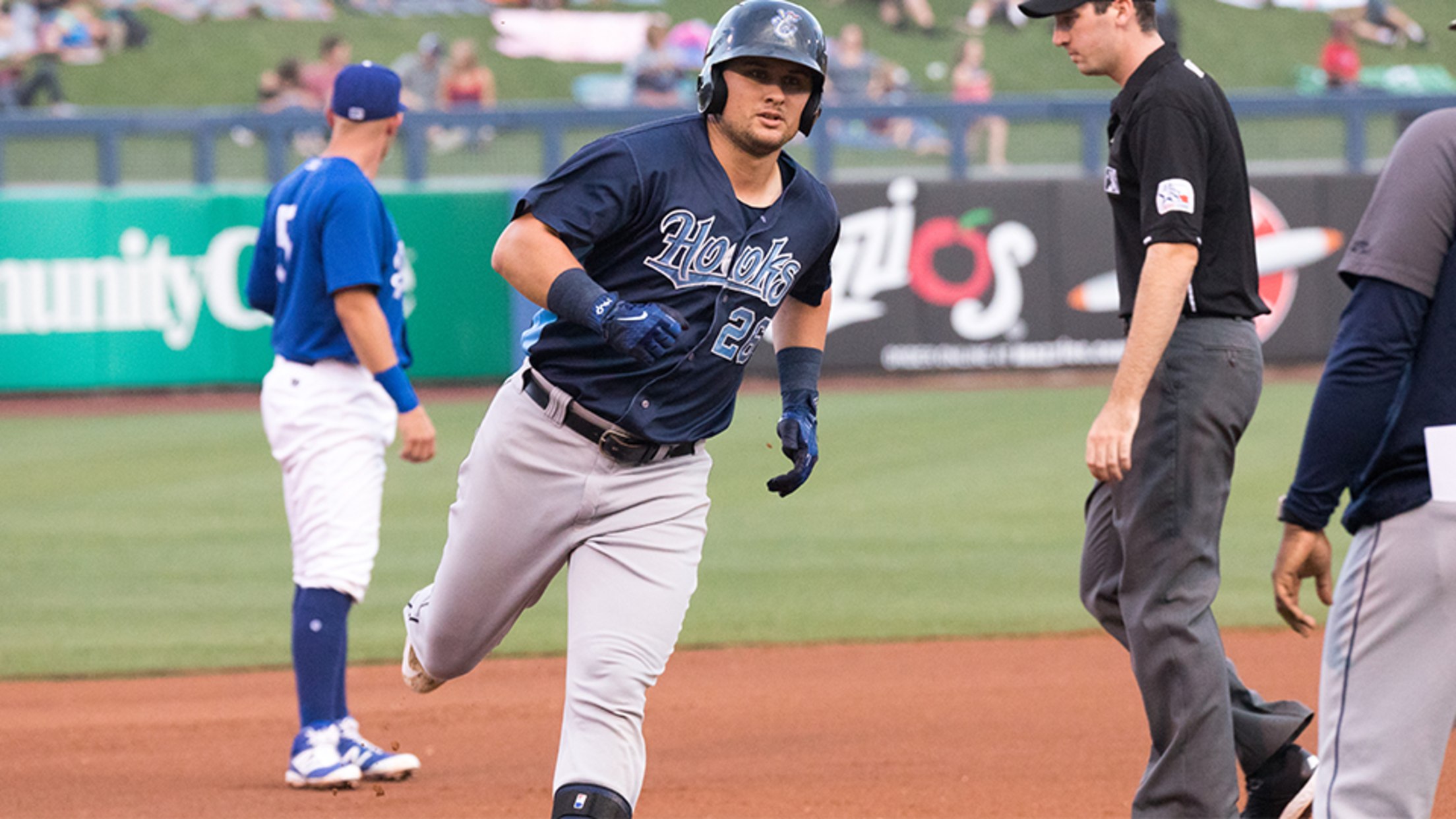 CORPUS CHRISTI - J.D. Davis belted two home runs, including a grand slam, Thursday night as Corpus Christi knocked off Frisco, 11-6, before 4,331 fans at Whataburger Field.The Hooks (30-29), who established a new season-high for runs scored, have won two of the first three games in this series. 
Hooks Edge Nats for Series W