Rays' Honeywell undergoes arm procedure
No. 91 prospect expected to pick up training next week in Florida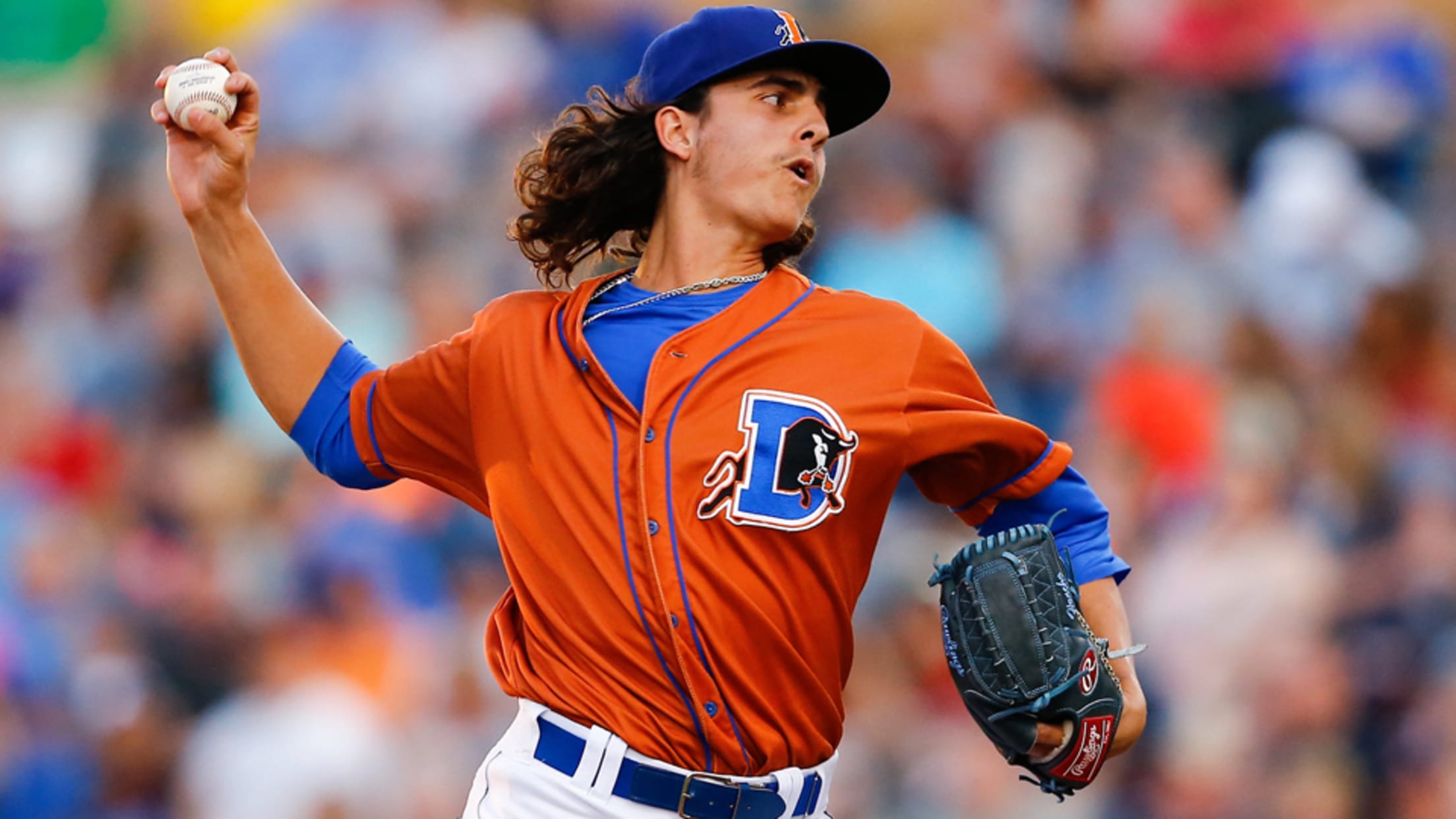 The status of Brent Honeywell Jr.'s arm has been on the minds of many Rays fans over the last two-plus years. The Tampa Bay organization provided an update on that front Thursday. MLB.com's No. 91 overall prospect underwent a decompression procedure on his right ulnar nerve Wednesday, the Rays announced.
Is that an alligator in the dugout?
Animals on the field just part of Minor League landscape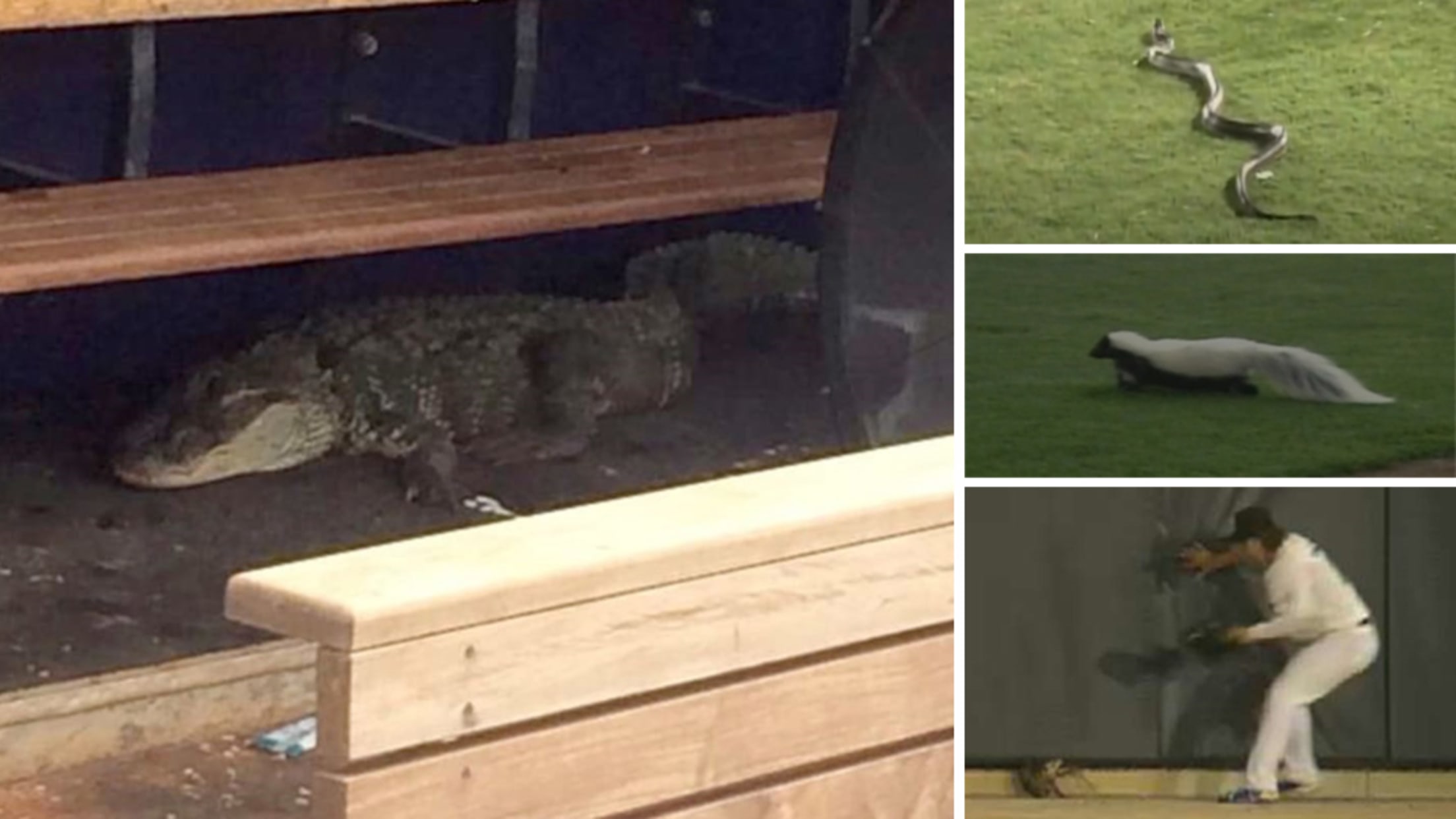 With four teams -- Double-A Tennessee and Class A Bowling Green, Burlington and Columbia -- set to introduce bat dogs to an already impressive roster when the 2020 season begins, it's not unusual to encounter a good boy or girl when you visit a Minor League ballpark.Other species are a different
Rays Send Seven Players to Minor Leagues
Five players optioned,two re-assigned to minor league camp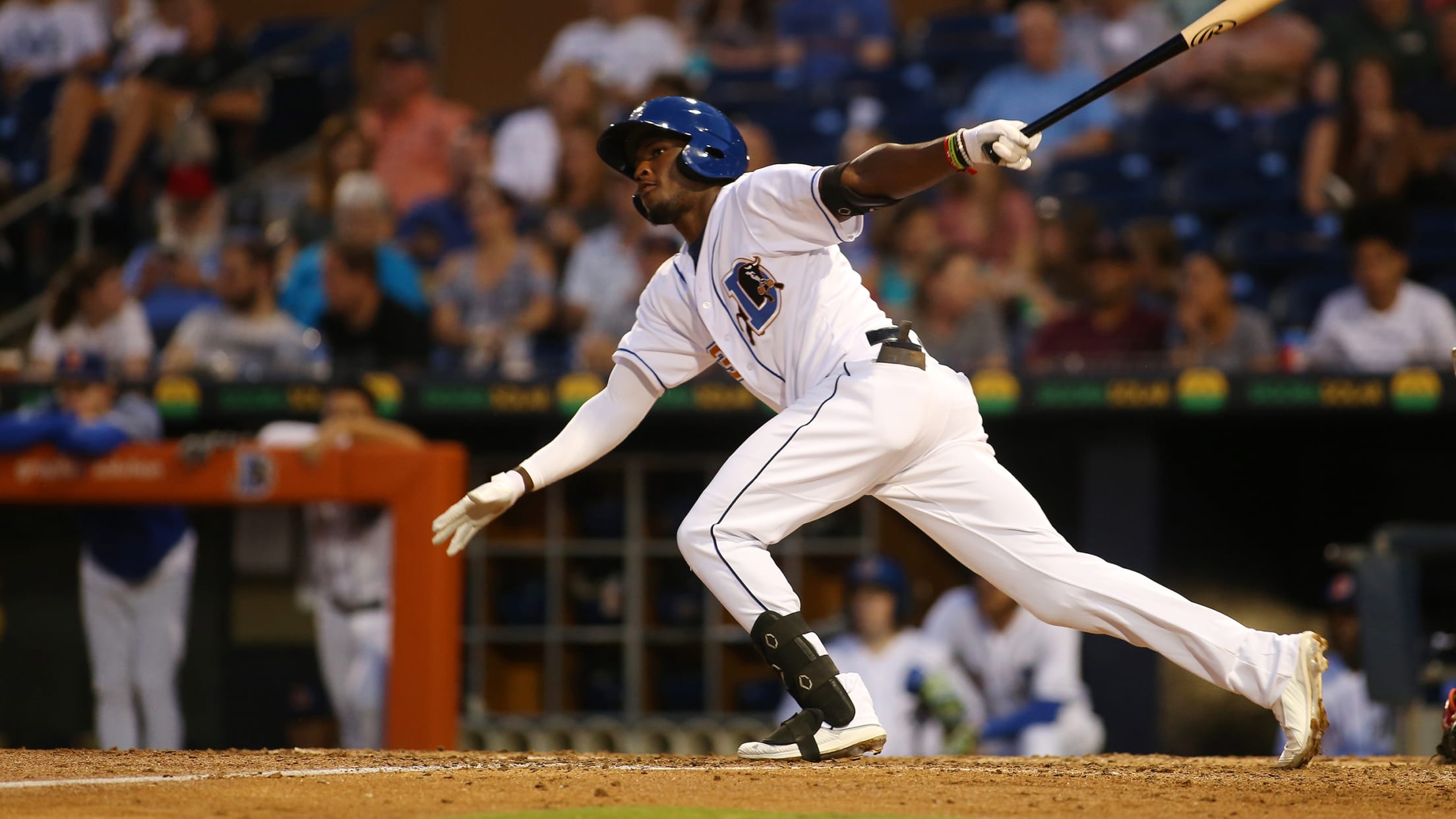 The Rays announced Sunday that five players were optioned to the minor leagues, while two more were re-assigned to minor league camp. Tampa Bay's roster now sits at 60, which will be reduced to 26 by the season opener on March 26.
Brujan, Honeywell among Rays' first camp shuffle
Top 100 prospects sent to Minor League camp, optioned to Triple-A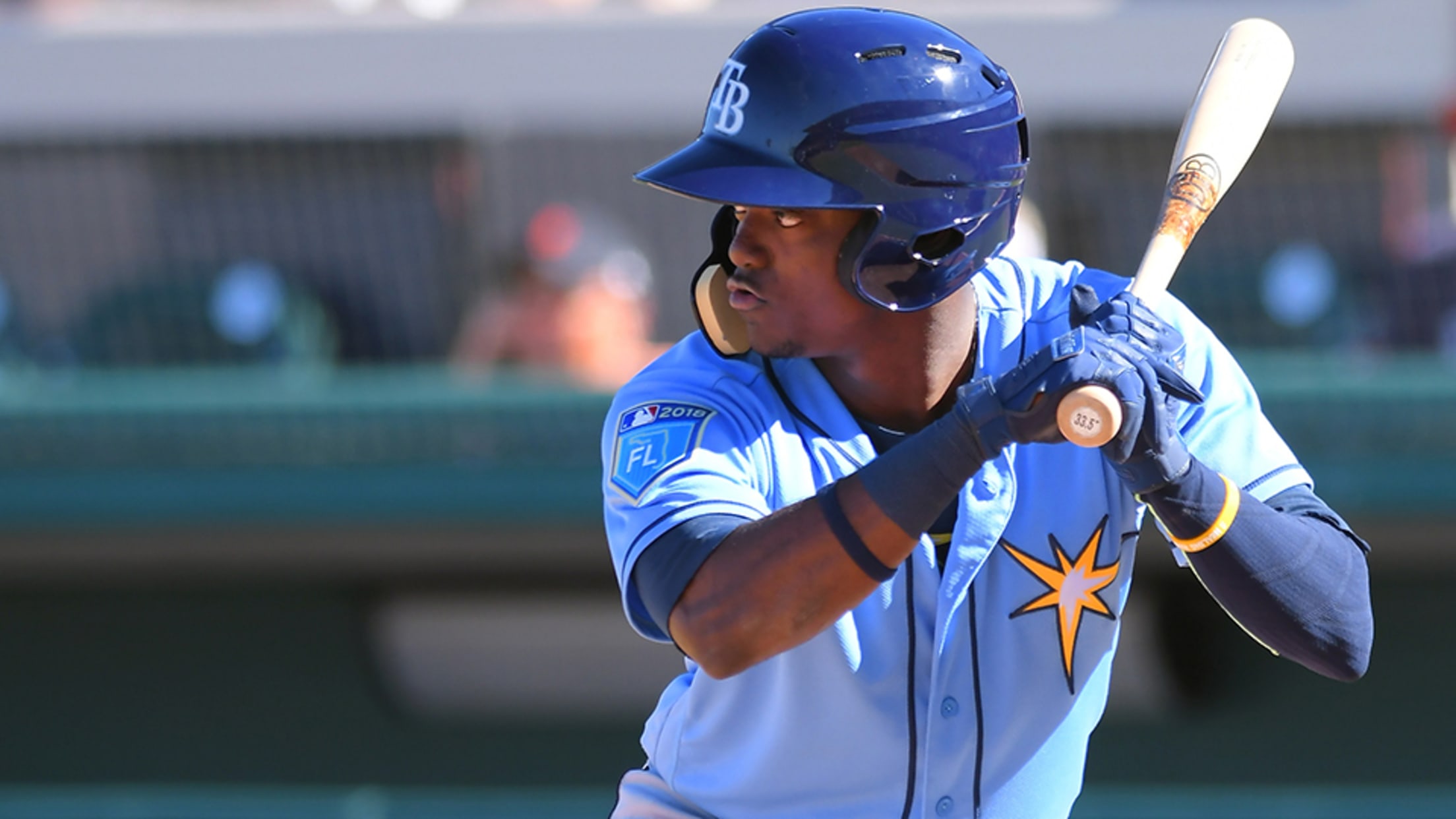 The spring preview of baseball's best farm system has entered its next phase.The Rays made their first wave of Spring Training cuts Sunday, headlined by Top 100 prospects Vidal Brujan (No. 45) and Brent Honeywell Jr. (No. 91) being optioned to Triple-A Durham. Eleventh-ranked Ronaldo Hernandez, No. 16 Kevin Padlo and
Rays take charge of 2020 prospect rankings
Franco stays No. 1 overall; Tampa Bay holds six Top 100 slots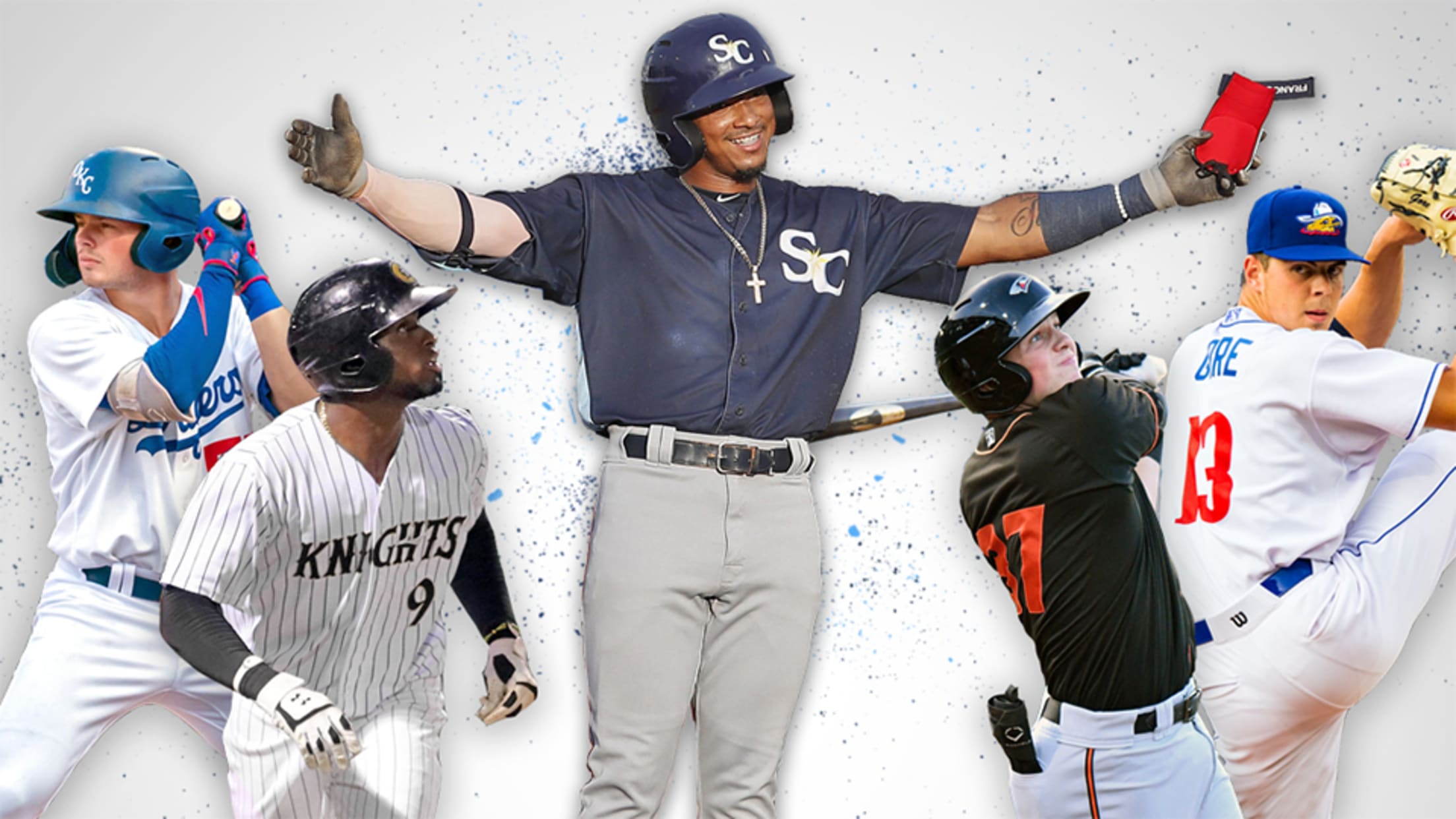 In terms of both quantity and quality, no team has prospects like Tampa Bay. The Rays boast six players among MLB.com's Top 100 Prospects, revealed Saturday. That's more than any organization, with shortstop Wander Franco remaining in the No. 1 overall spot. The top prospect reached Class A Advanced Charlotte
Rays' Honeywell to miss rest of season
No. 2 prospect fractures elbow, will undergo surgery Monday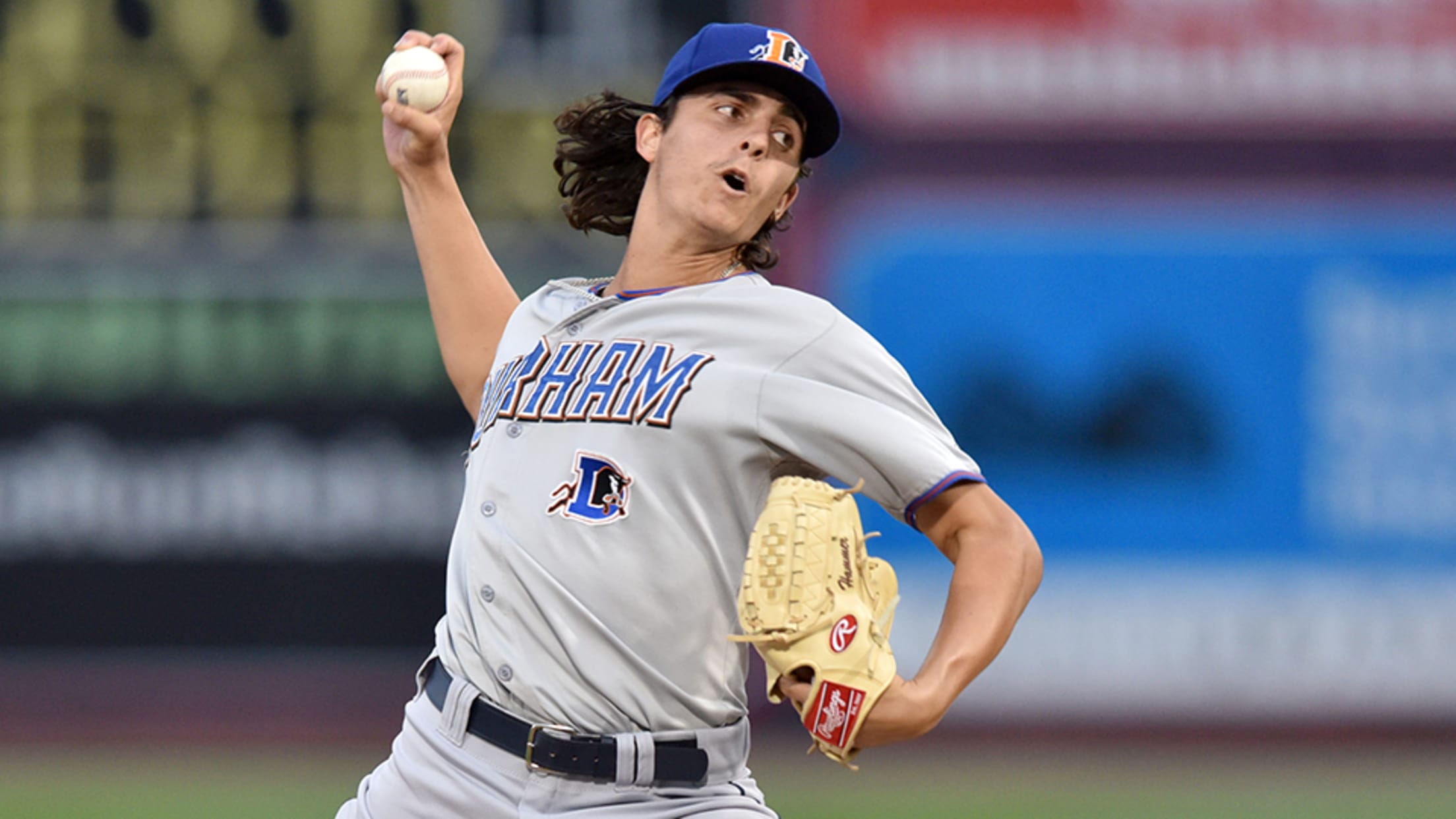 If everything went according to plan, Brent Honeywell would complete his recovery from Tommy John surgery and return to an accelerated path to the big leagues. Instead, he will miss a second straight season.The Rays announced Saturday that their second-ranked prospect fractured a bone in his right elbow while throwing a
Toolshed: 2019 Spring Training preview
Top-100 prospects head to Arizona, Florida with plenty to prove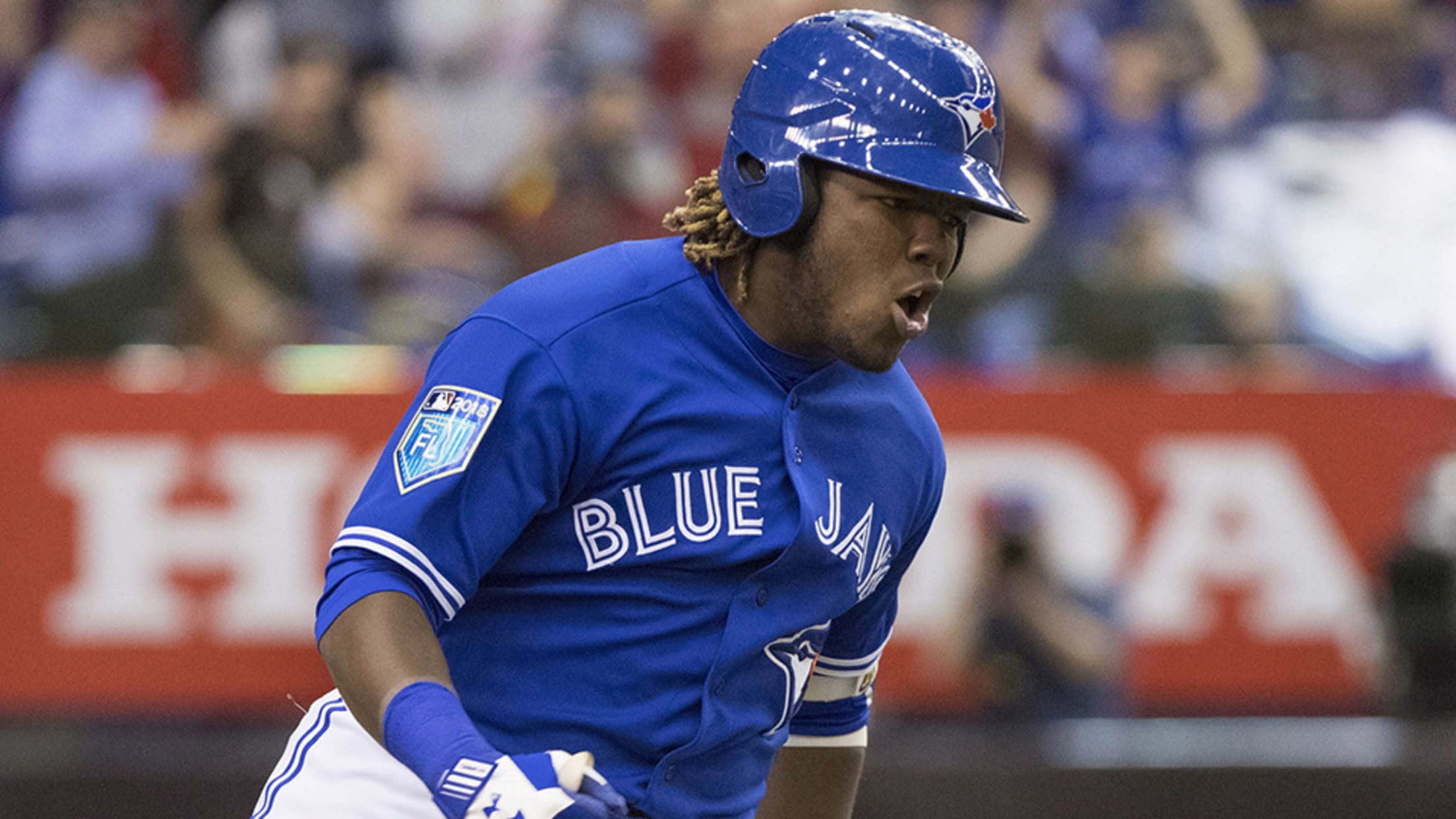 Pitchers and catchers are coming, pitchers and catchers are coming.One of the most optimistic times of the year arrived Sunday when pitchers and catchers reported to Oakland Athletics camp in Mesa, Arizona, officially beginning Spring Training in 2019. Most other tandems will report Tuesday and Wednesday with position players coming
Rays' Honeywell out for season with UCL tear
No. 12 overall prospect expected to undergo Tommy John surgery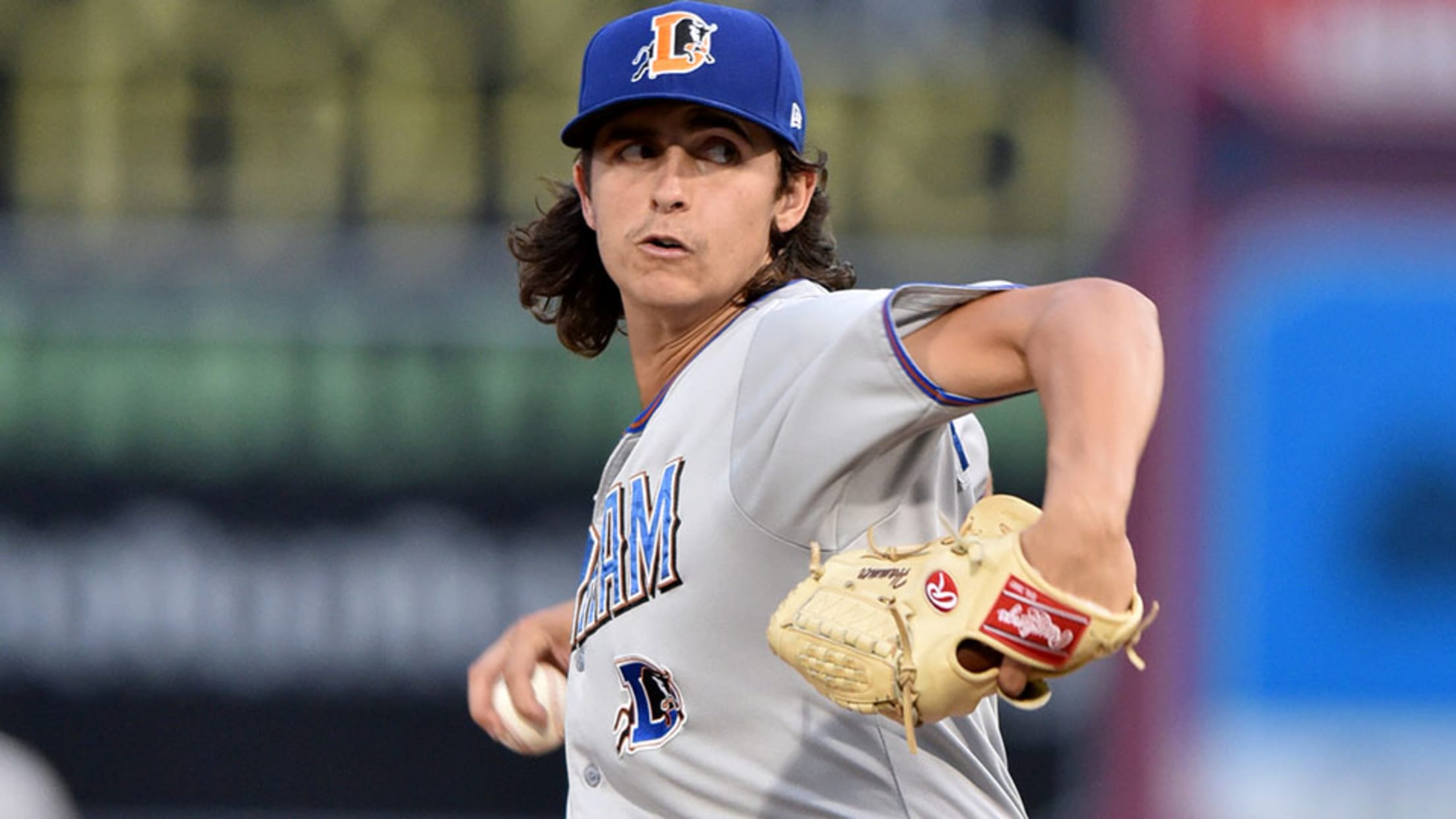 Top Rays prospectBrent Honeywell Jr. has been diagnosed with a tear in the ulnar collateral ligament in his right elbow that likely will require season-ending Tommy John surgery."It's a disappointment," Honeywell told reporters Friday. "I knew what I had to do to make the club. Some unfortunate things happen. I'll
Honeywell, Adames worthy anchors for Rays
Top two prospects helped Durham win Triple-A championship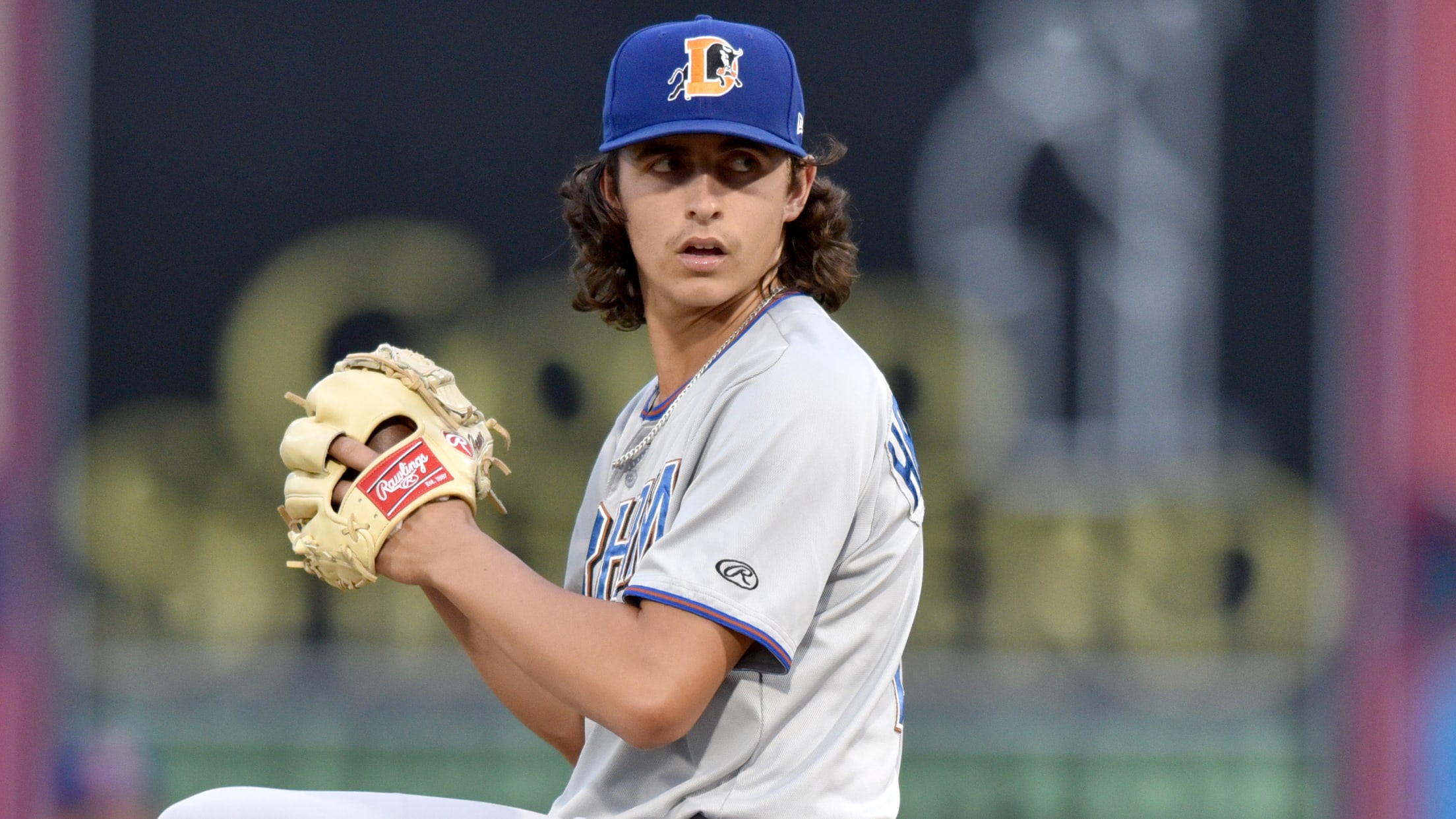 This offseason, MiLB.com is taking a look at the most outstanding campaigns by players in each system across Minor League Baseball and honoring the players -- regardless of age or prospect status -- who had the best seasons in their organization.Life as a small-market club isn't easy. While teams with
Toolshed: Bulls' title a season-long process
Rays' patience with prospects results in Triple-A ring for Durham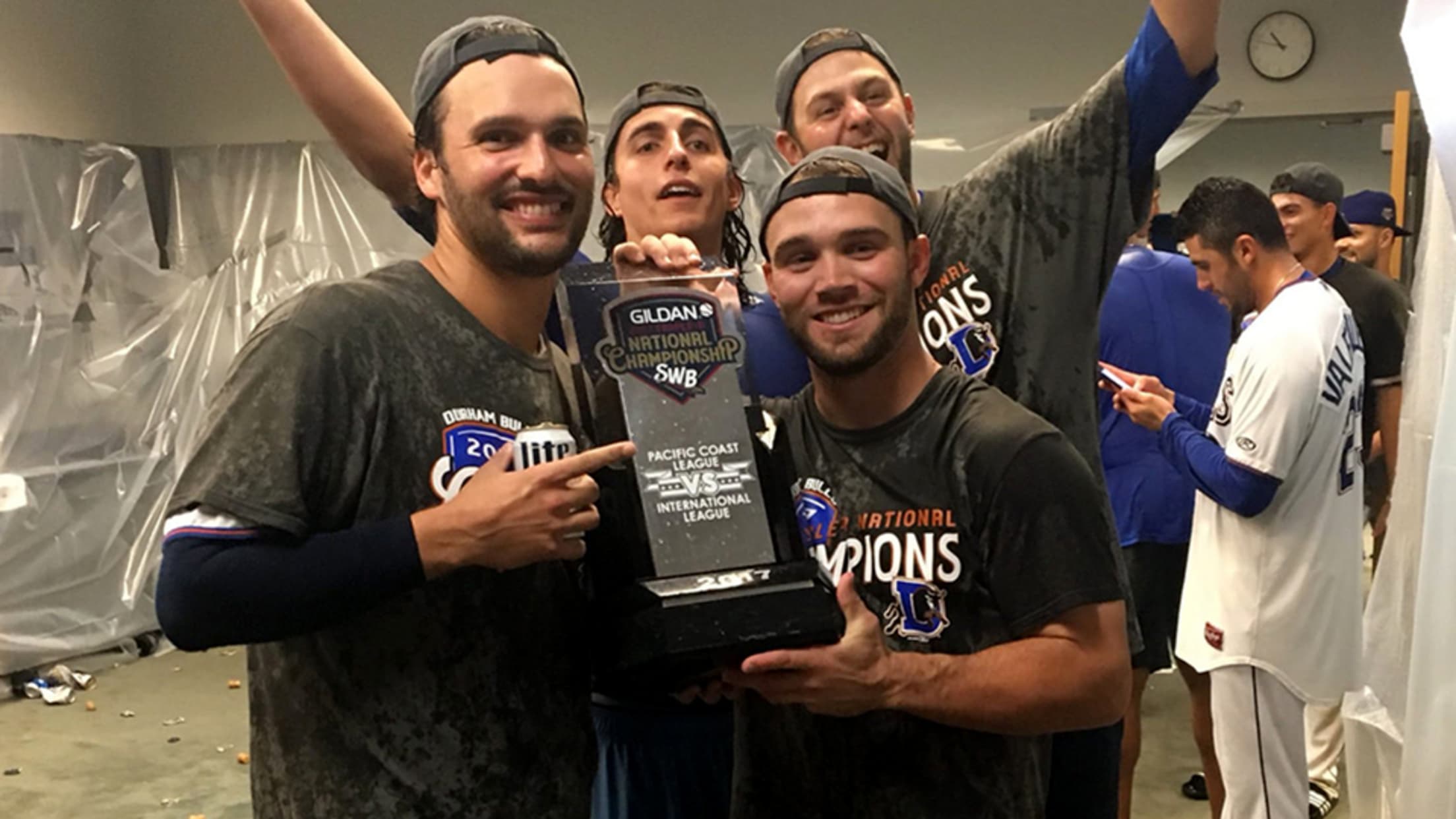 MOOSIC, Pa. -- Tuesday's Triple-A National Championship was a tale of two roster constructions.Memphis, a club that survived a bevy of Major League promotions and big trades by the Cardinals to win a level-best 91 games and a Pacific Coast League title, started three players last night who were with
Honeywell dominates to give Bulls edge in series
Rays top prospect fans 10, posts six zeros for first win of playoffs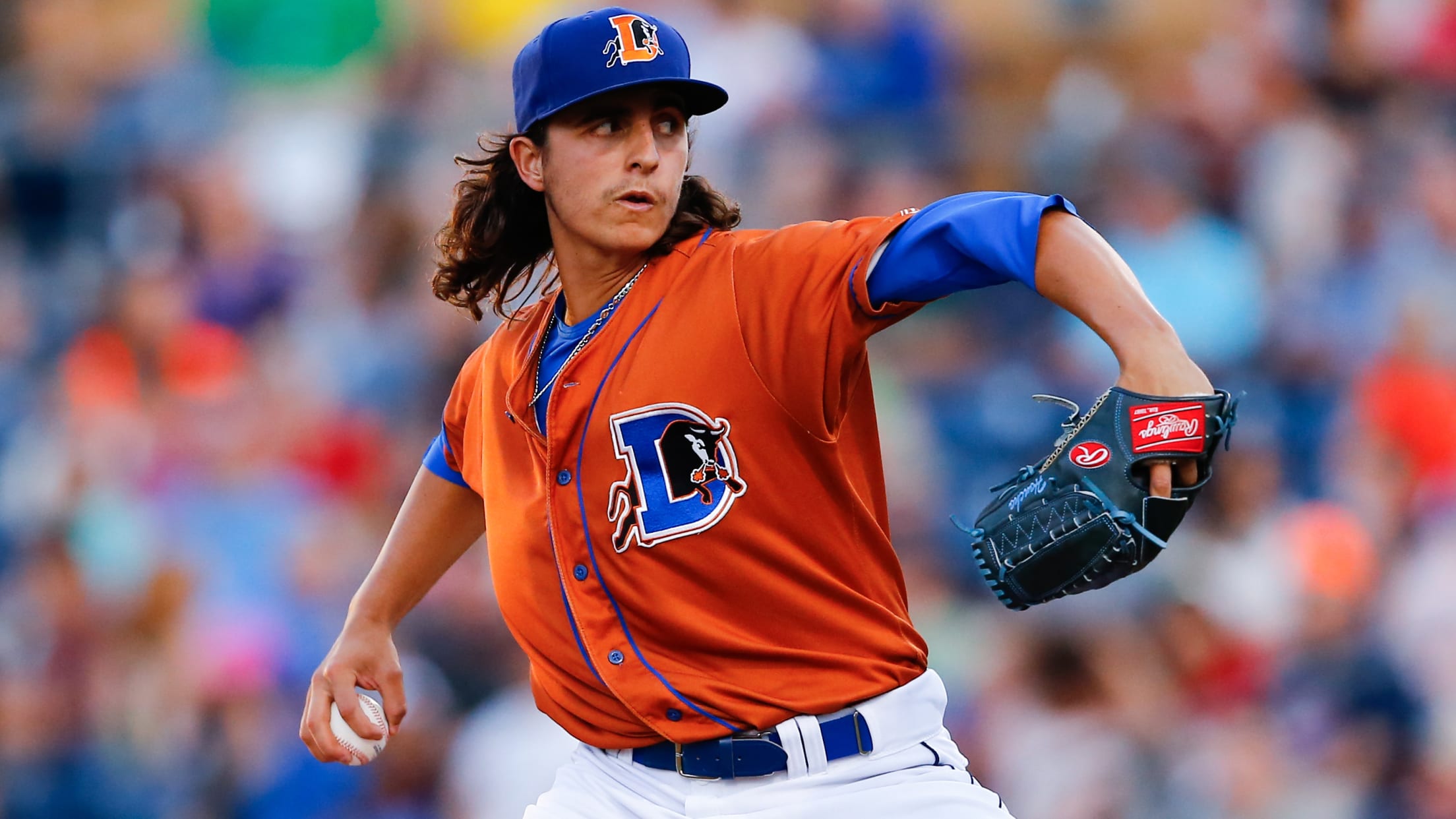 MOOSIC, Pennsylvania -- What many would consider a great start, Brent Honeywell Jr. saw as just doing his job.Tampa Bay's top prospect allowed five hits and one walk while striking out 10 over six scoreless innings as Triple-A Durham defeated Scranton/Wilkes-Barre, 6-2, on Thursday night at PNC Field to take
International League Finals preview
RailRiders back to defend Governors' Cup against Bulls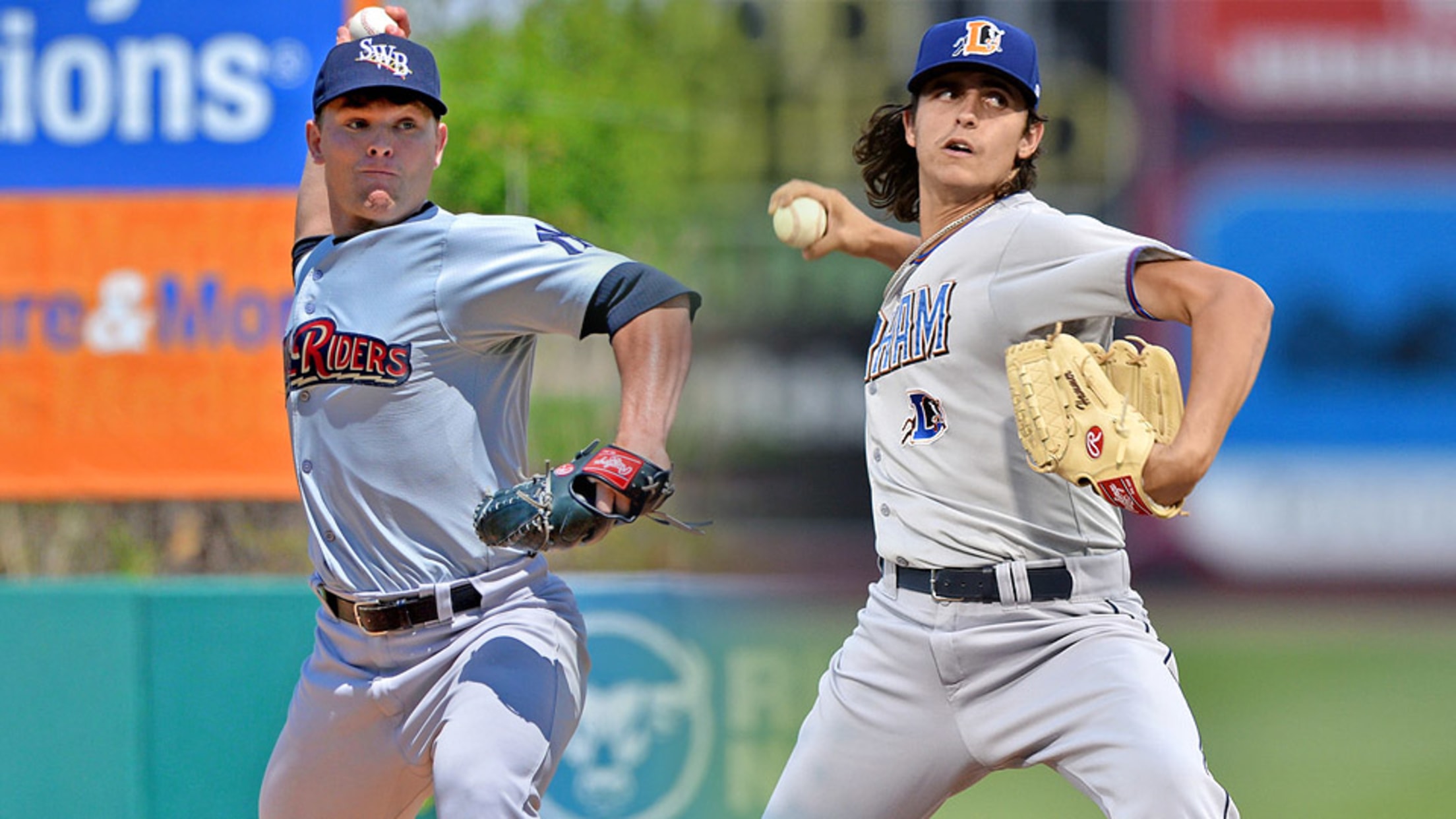 A year later, the RailRiders are back in a familiar position.The Yankees' top affiliate claimed the International League's North Division again this summer before advancing Sunday to the Governors' Cup Finals, where they'll meet the Durham Bulls. Scranton/Wilkes-Barre is not only the defending IL champs -- it's also the reigning
O'Conner sends Bulls to Governors' Cup Finals
Rays prospect, Indianapolis native delivers two-run single in eighth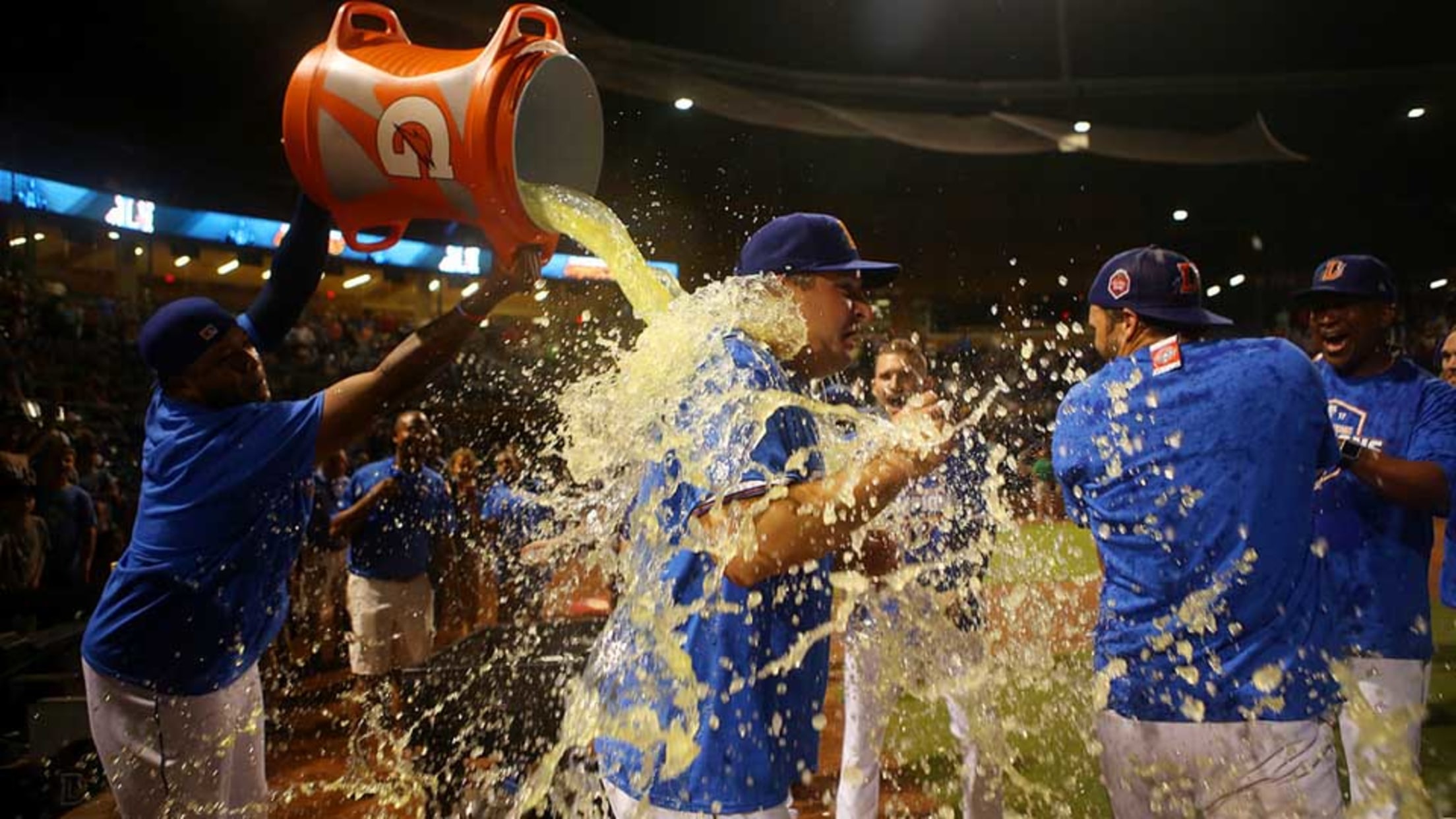 Indianapolis was done in by one of its own on Saturday night. Indianapolis native Justin O'Conner delivered a two-out, two-run single in the eighth inning to push Durham into the Governors' Cup Finals with a 4-3 victory over the Indians at Victory Field. The Bulls won the best-of-5 series, 3-1.
Prospect Roundup: Games of Sept. 3
Potts continues second-half power; Honeywell shines in return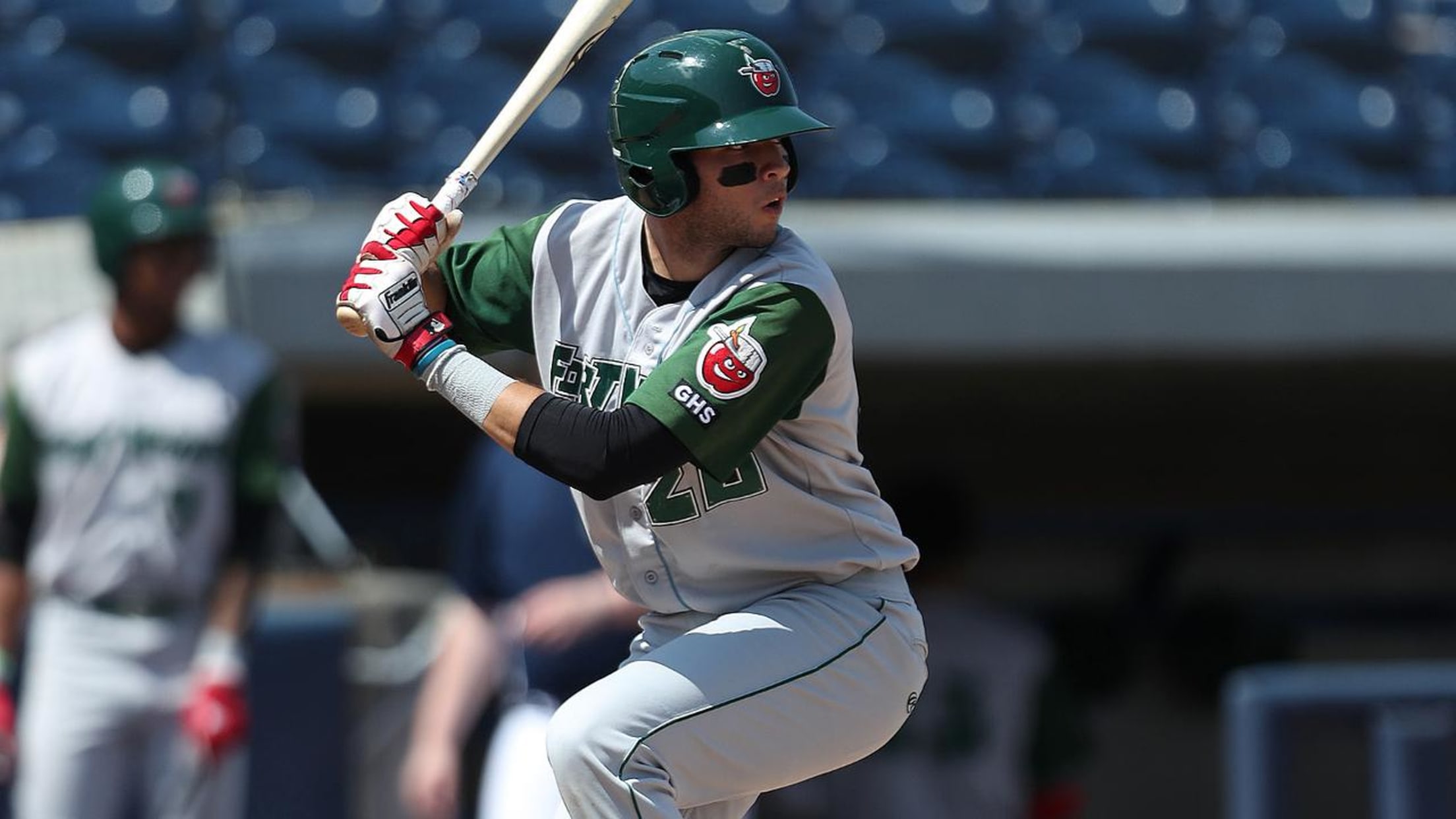 Rays RHP Brent Honeywell Jr., Triple-A Durham: 5 1/3 IP, 4 H, 0 R, 0 BB, 5 K, 74 pitches, 51 strikes -- The Rays' top prospect enjoyed a scoreless outing at an opportune time. The 22-year-old right-hander was coming off a four-game suspension that, according to Marc Topkin of
Strikeout-happy Bulls clinch IL South Division
Rays affiliate sets Minor League single-season punchout record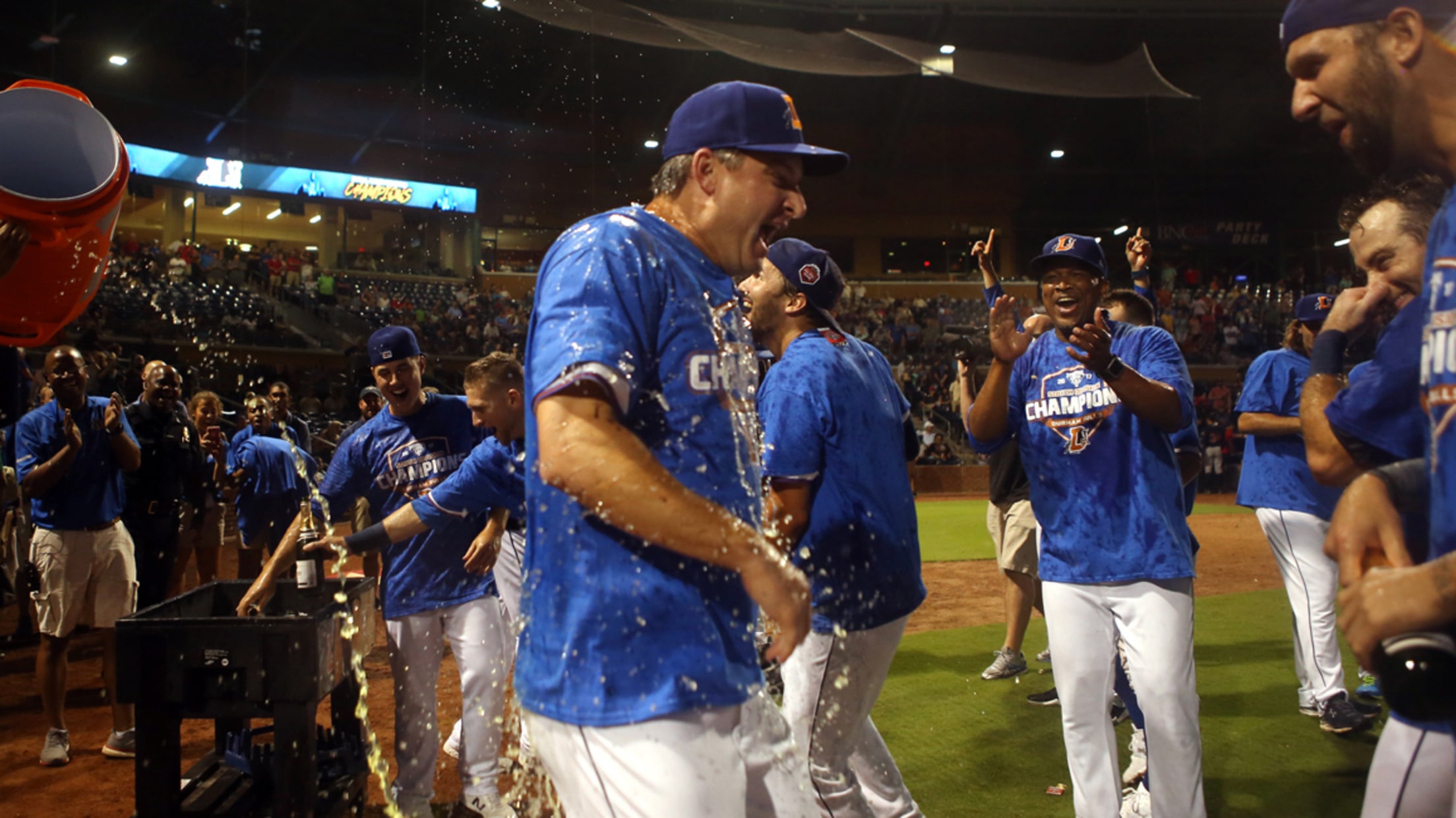 Triple-A Durham clinched its division, perhaps appropriately, with a strikeout.The top Rays affiliate wrapped up the International League South Division with a 3-2 comeback victory over Gwinnett on Thursday at Durham Bulls Athletic Park. The title was the Bulls' first since 2014 and 13th in 20 seasons as a Triple-A
Bauers comes up big in Bulls clincher
Rays No. 5 prospect homers and doubles
Rays No. 2 prospect Willy Adames handed the Bulls an early 1-0 lead with an RBI single in the first. Patrick Leonard padded the early lead with a two-run jack two batters later. It was the 11th longball of the season for the 24-year-old third baseman.Adames has made 118 appearances
Honeywell puts six more zeros on board
Top Rays prospect extends scoreless streak to 15 2/3 innings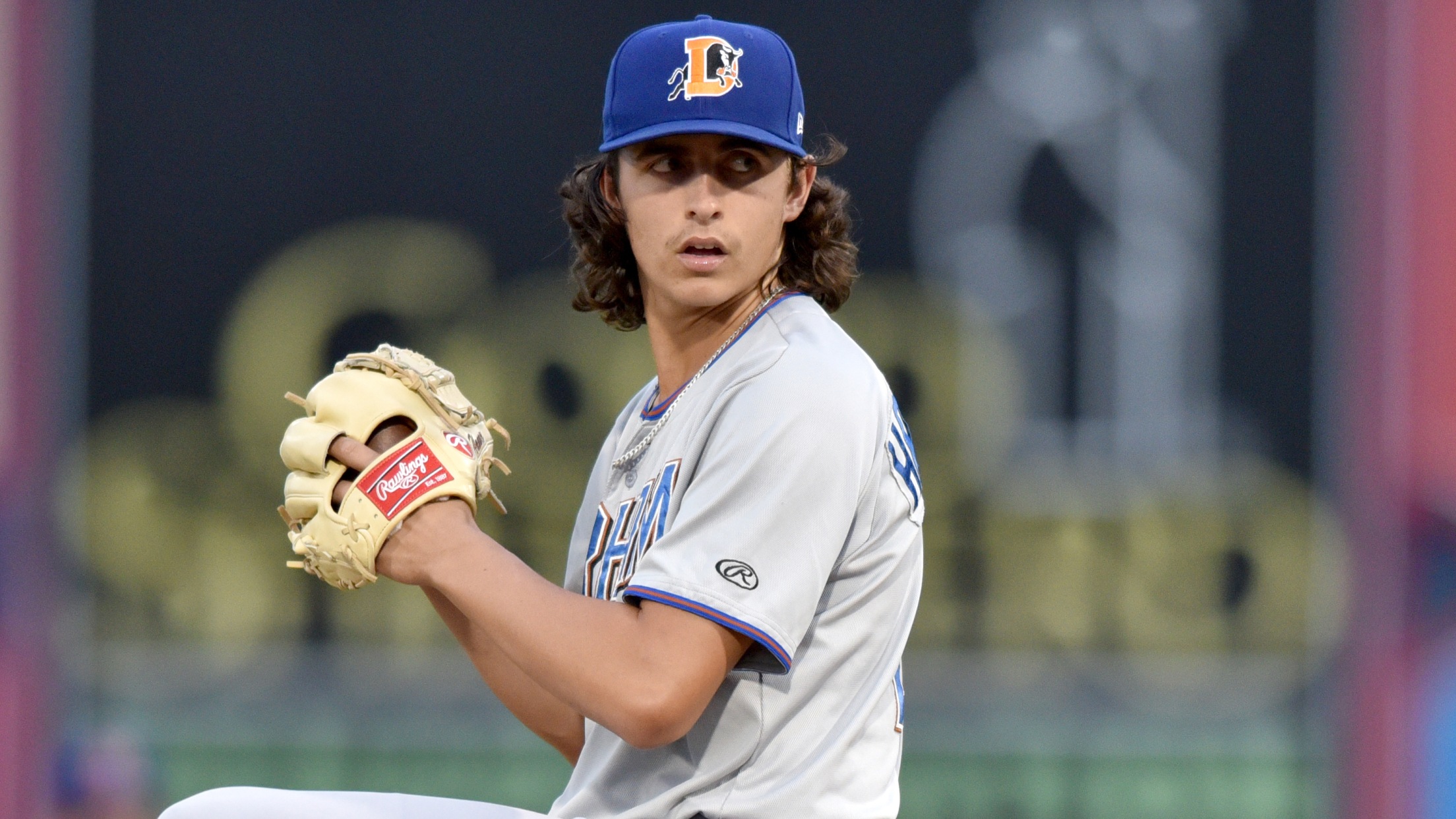 After his start against Indianapolis on June 29, Brent Honeywell Jr. sported a 4.91 ERA and a 1.50 WHIP. In his seven starts since then, both of those numbers have dwindled substantially.Tampa Bay's top prospect allowed a pair of hits and struck out six in six scoreless innings en route
Prospect Roundup: Games of Aug. 3
Honeywell turns in strong start; Calhoun tees off with new club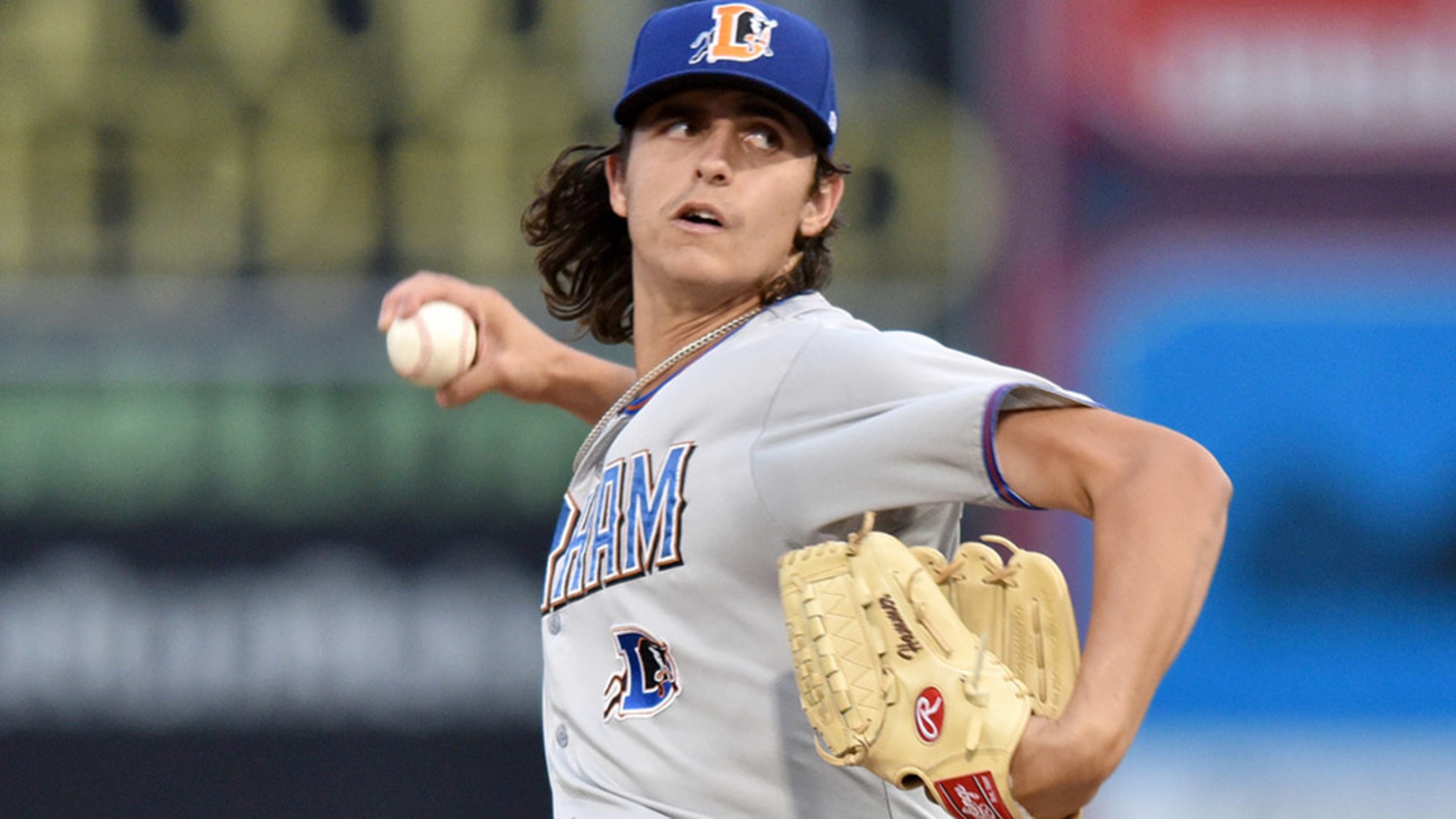 Rays RHP Brent Honeywell Jr., Triple-A Durham: 5 IP, 6 H, 1 R, 1 ER, 0 BB, 8 K, 76 pitches, 57 strikes -- The Rays' top prospect continues to improve at Triple-A, looking more and more ready for a Major League debut with each passing start. Honeywell owns a
Prospect Roundup: Games of July 18
Yanks' Andujar provides heroics; Rays' Honeywell returns strong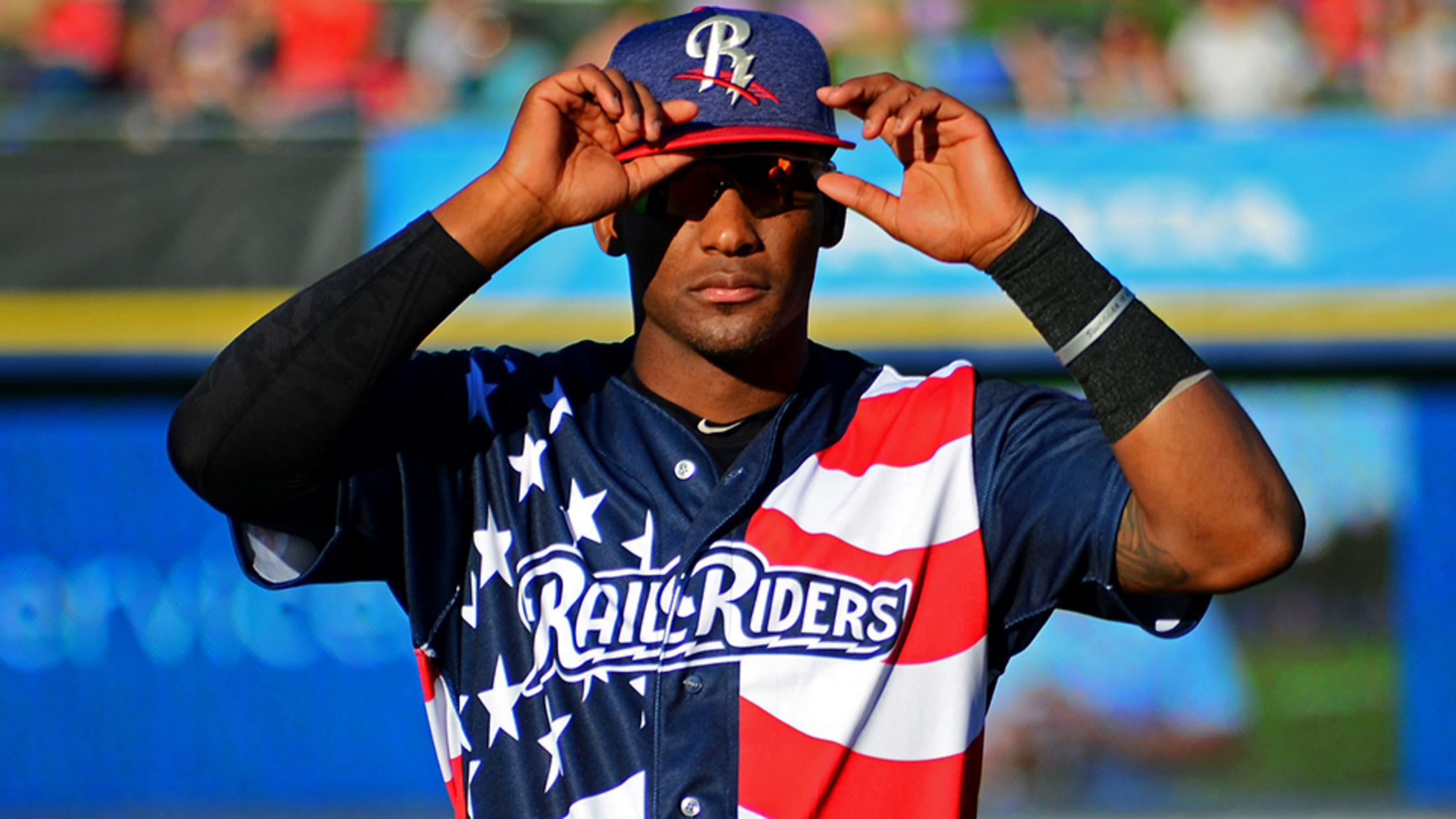 Rays RHP Brent Honeywell Jr., Triple-A Durham: 5 IP, 3 H, 0 R, 2 BB, 5 K, 88 pitches, 54 strikes -- The Rays' No. 2 prospect returned from his MVP performance at the All-Star Futures Game with five scoreless innings in Durham's 5-1 win over Indianapolis. He hasn't allowed a run
Honeywell, U.S. bats take Futures Game
Rays prospect named MVP after fanning four in two innings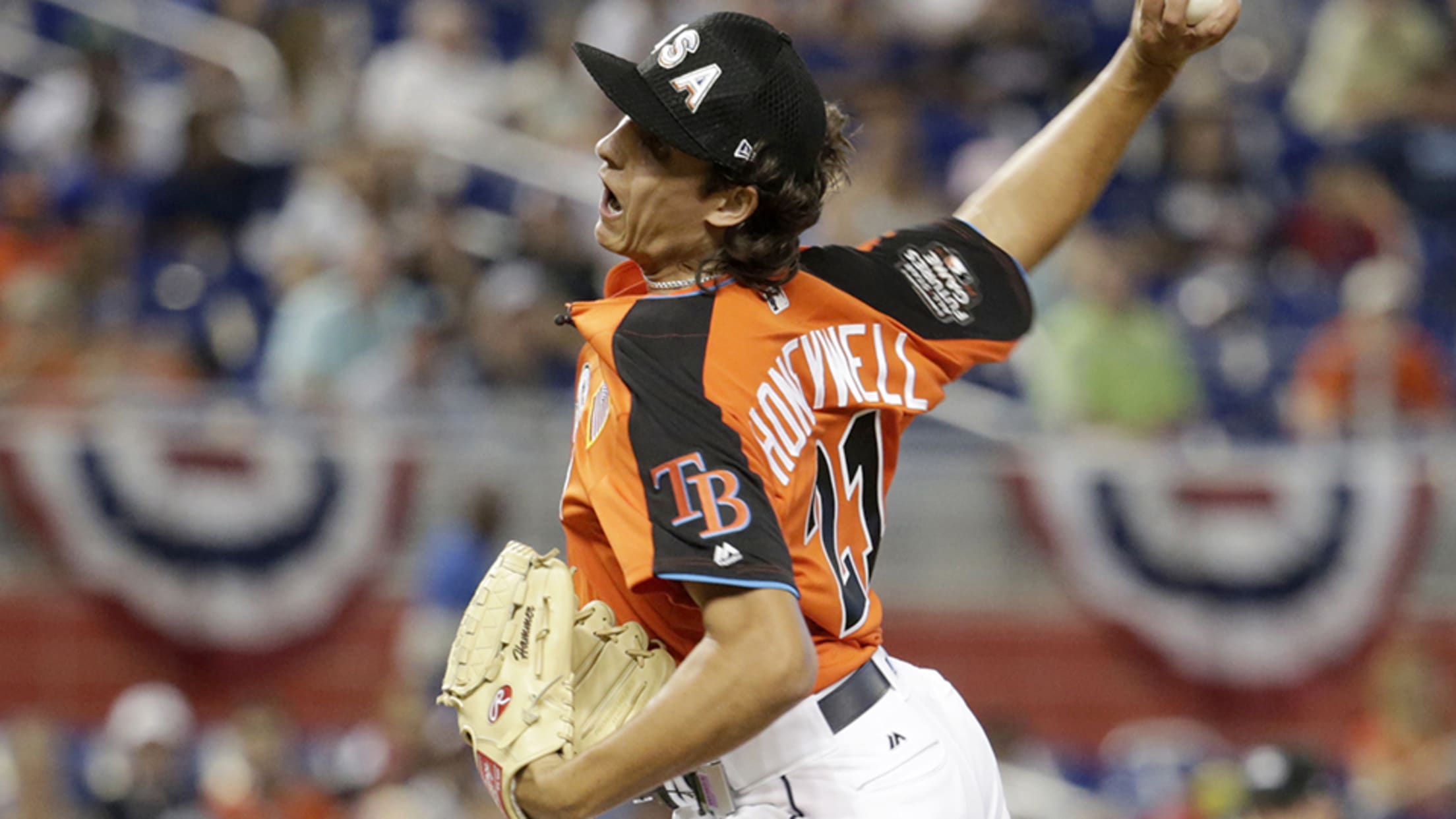 MIAMI -- A pitcher had never been named MVP in the 18-year history of the All-Star Futures Game. One dominant arm and a deep lineup made it possible on Sunday at Marlins Park.Rays No. 2 prospectBrent Honeywell Jr. struck out four over two scoreless innings, and all nine U.S. starters
Honeywell gets back on track for Bulls
Rays No. 2 prospect takes IL strikeout lead in shutout start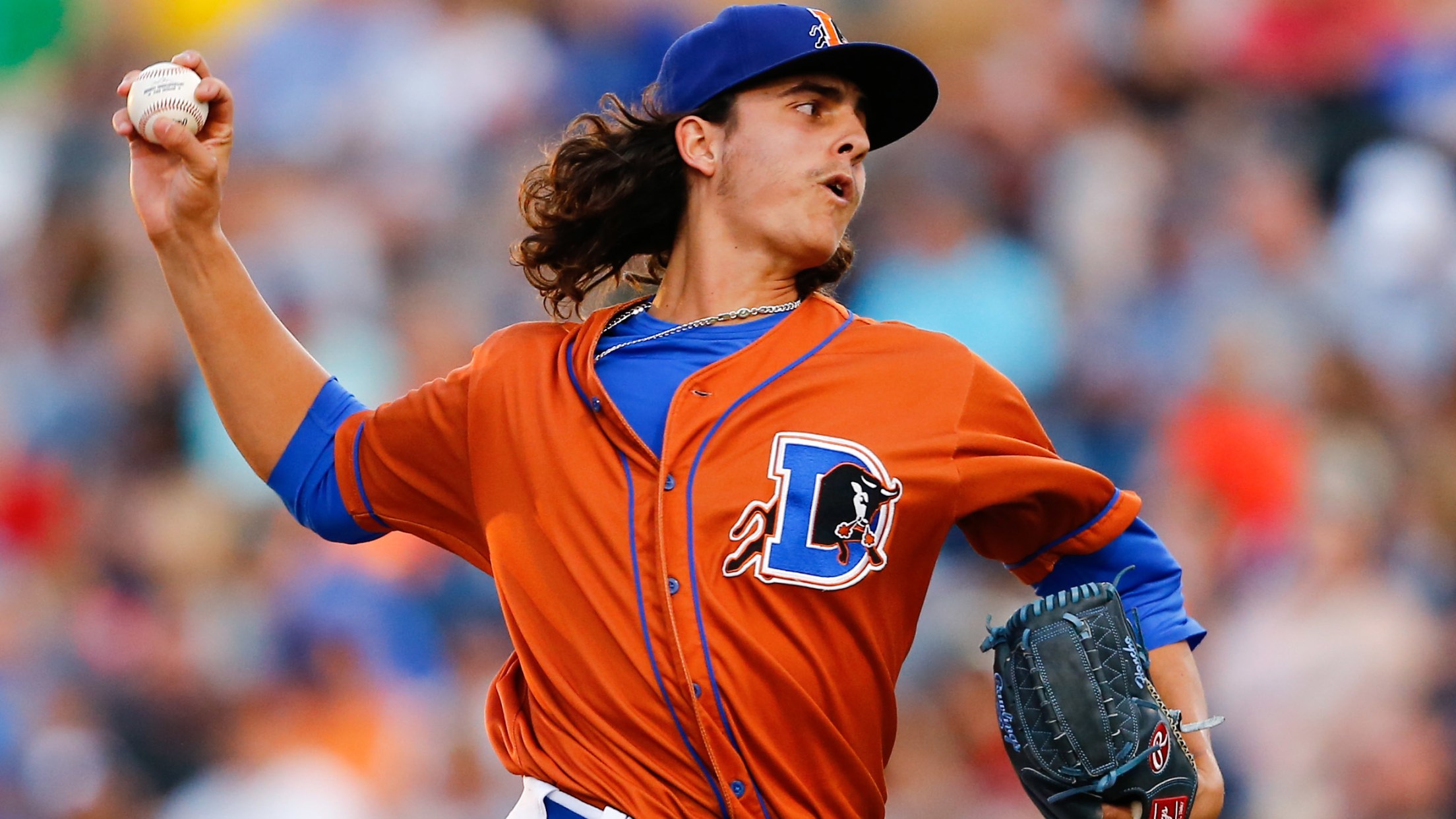 Brent Honeywell Jr. wants to be a Major League pitcher this season. And Tuesday's bounceback outing represented an important step.Tampa Bay's No. 2 prospect gave up three hits and one walk while striking out nine over six innings Tuesday as Triple-A Durham blanked Charlotte, 1-0, before a club-record 11,897 fans
Honeywell posts six scoreless frames for Bulls
Rays No. 2 prospect ranks third in International League with 71 Ks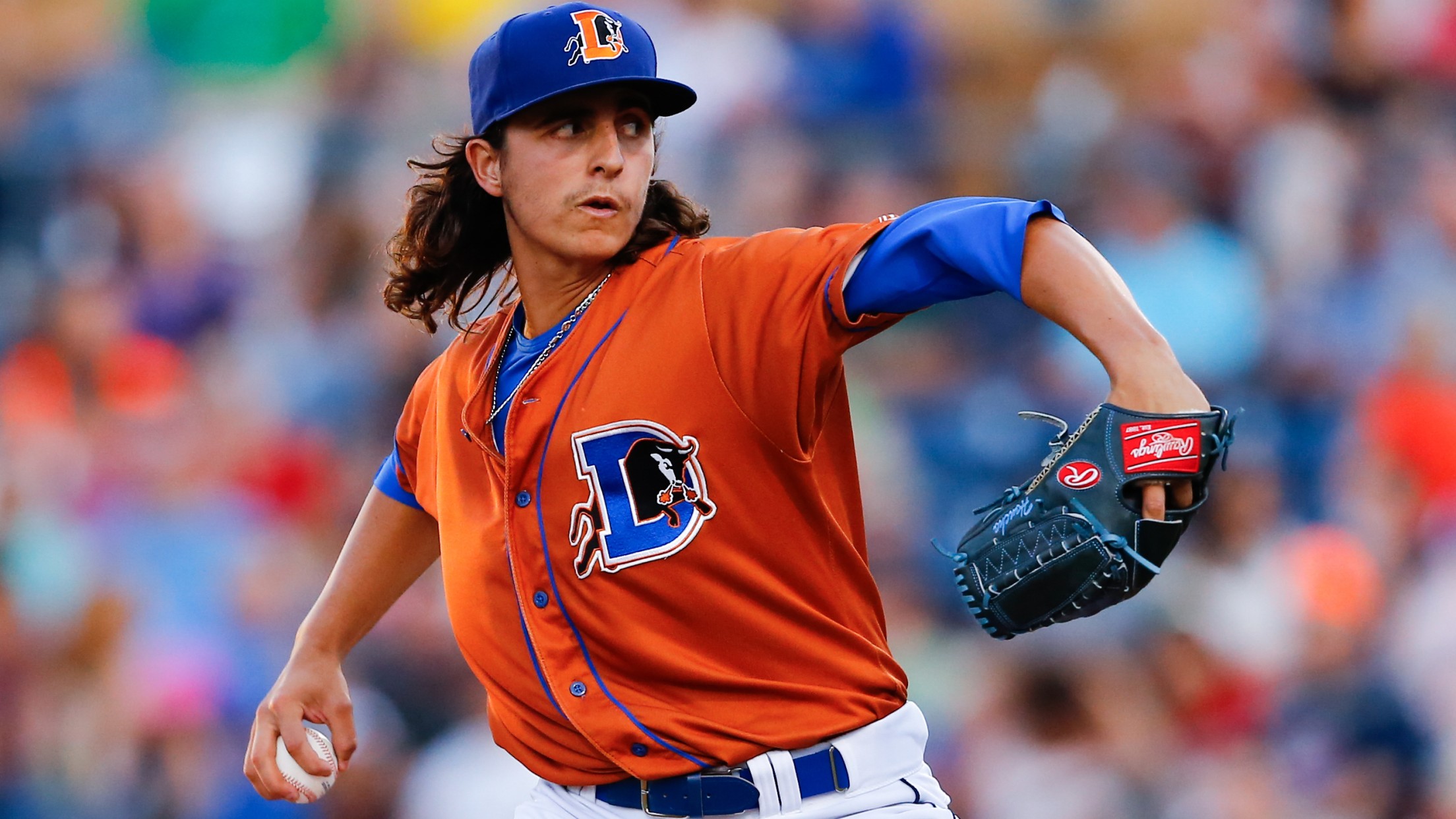 According to Triple-A Bulls pitching coach, Kyle Snyder, it is easy to tell when Brent Honeywell Jr. is on top of his game. And Wednesday, the Rays' No. 2 prospect showed his best stuff.Honeywell allowed four hits and struck out seven without a walk over six innings to lead Triple-A
Prospect Roundup: Games of June 7
Honeywell fans nine to get back on track; Arroyo collects three hits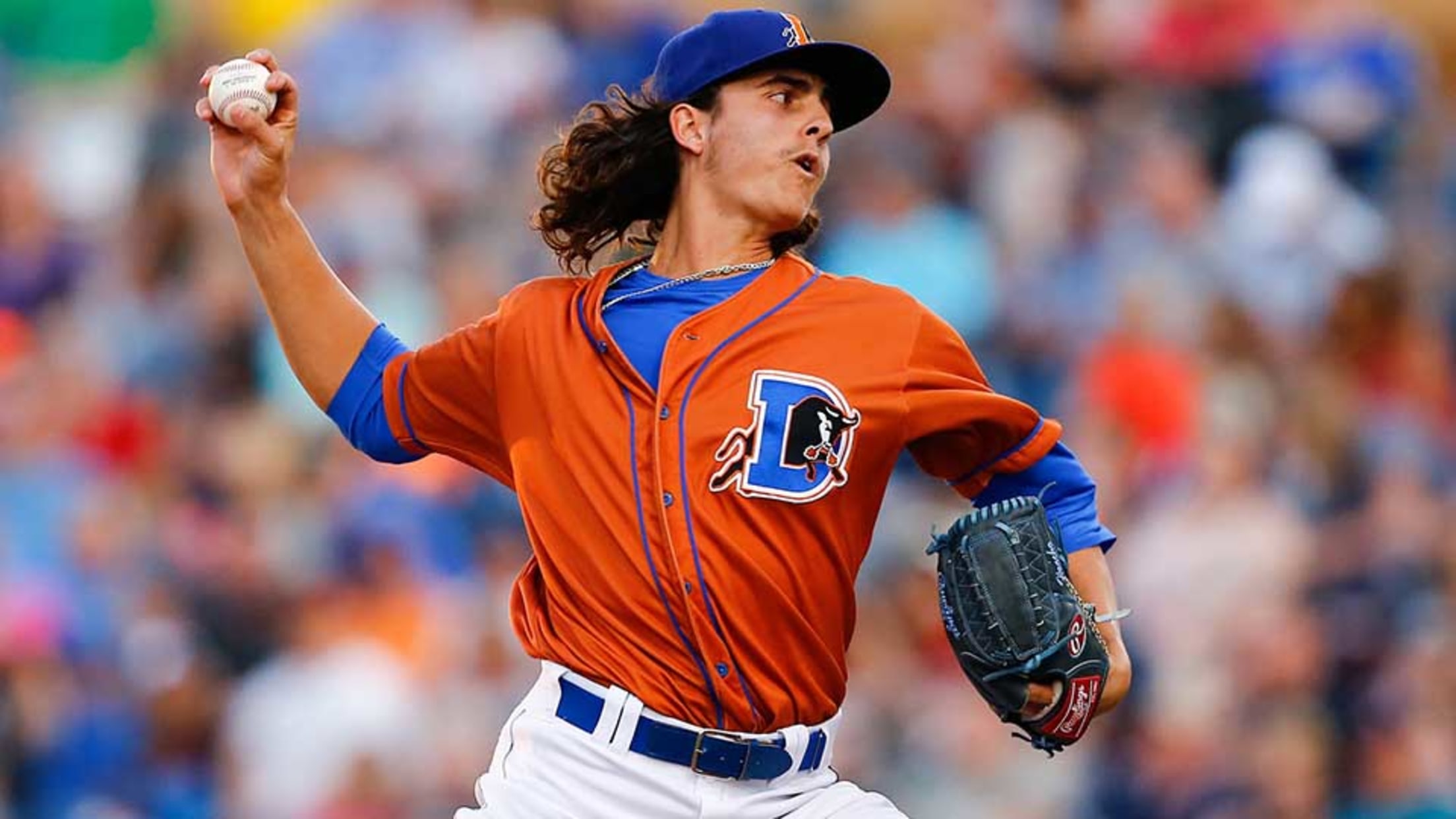 Giants INF Christian Arroyo, Triple-A Sacramento: 3-for-5, RBI, R -- The Giants rewarded a hot Arroyo with a Major League promotion in April, only to see their No. 2 prospect struggle with a .192 average and .548 OPS over 34 games for the big club. They optioned him to the PCL
Prospect Roundup: Games of May 11
Rays' Honeywell, Royals' Staumont climb strikeout leaderboard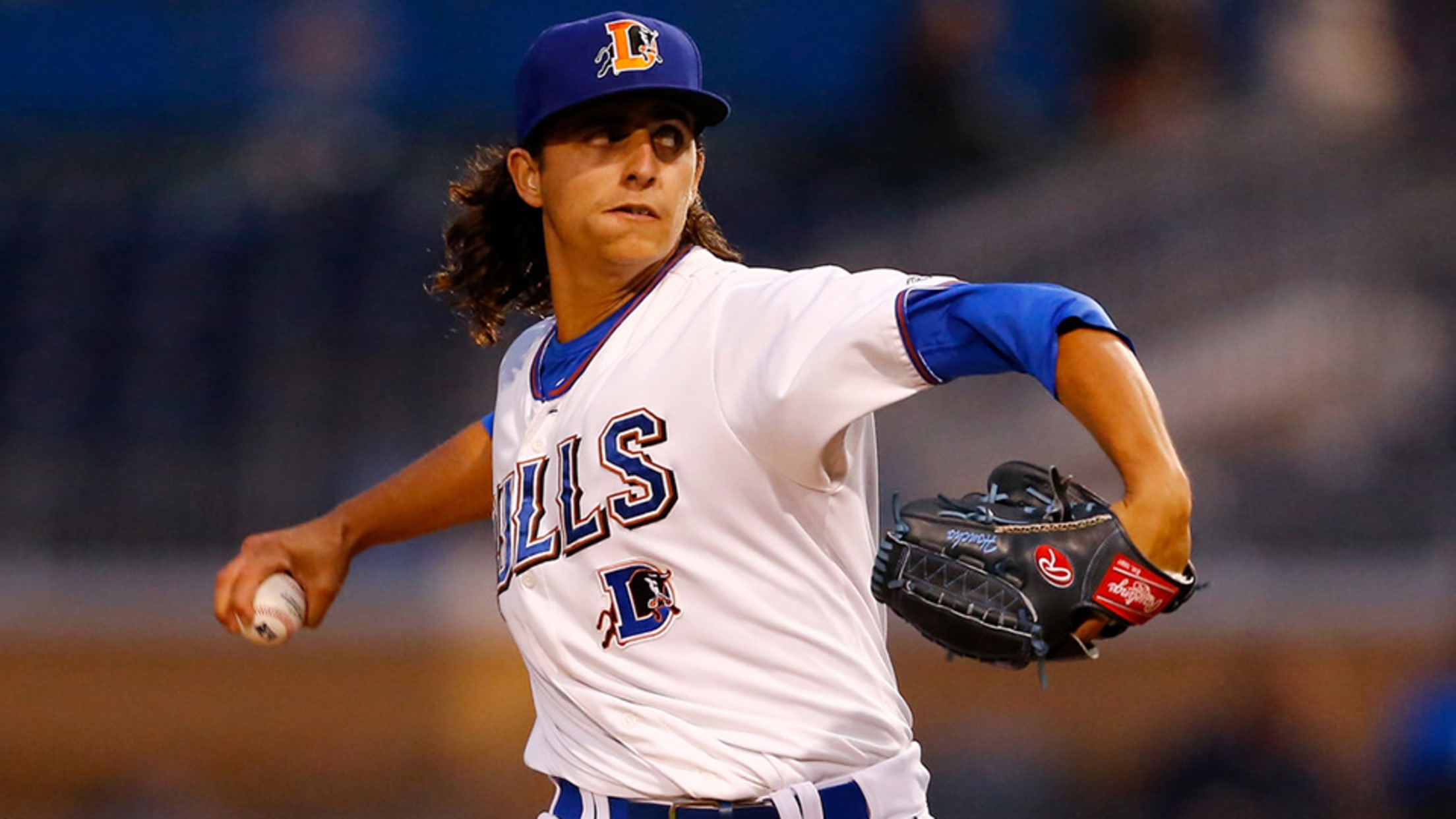 Rays RHP Brent Honeywell Jr., Triple-A Durham: 6 IP, 8 H, 3 R, 2 ER, 0 BB, 10 K, 98 pitches, 70 strikes -- Tampa Bay's No. 2 prospect reached double digits in strikeouts for the first time at Triple-A and matched his longest outing since joining Durham on April 19.
Rays promote Honeywell to Triple-A
Club's top pitching prospect fanned 20 in two starts for Biscuits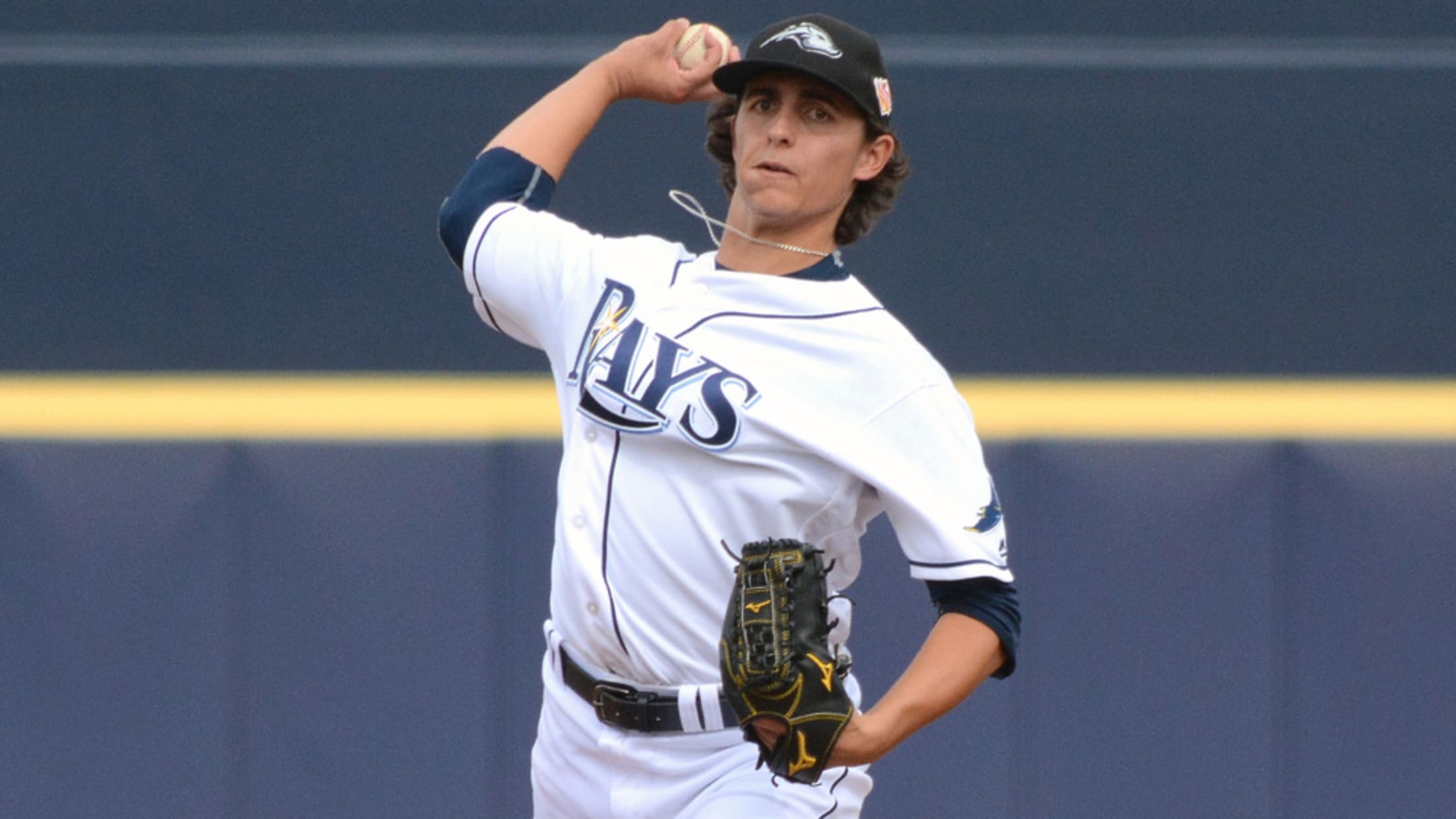 The Durham Bulls already had a stacked roster, but it's about to get even sweeter.The Rays promoted Brent Honeywell Jr., their top pitching prospect, to Triple-A Durham on Sunday after two starts for Double-A Montgomery to begin the season.