Mendoza crafting another career with nifty NFTs
Cardinals prospect's Diamond Dawgs have paid quick dividends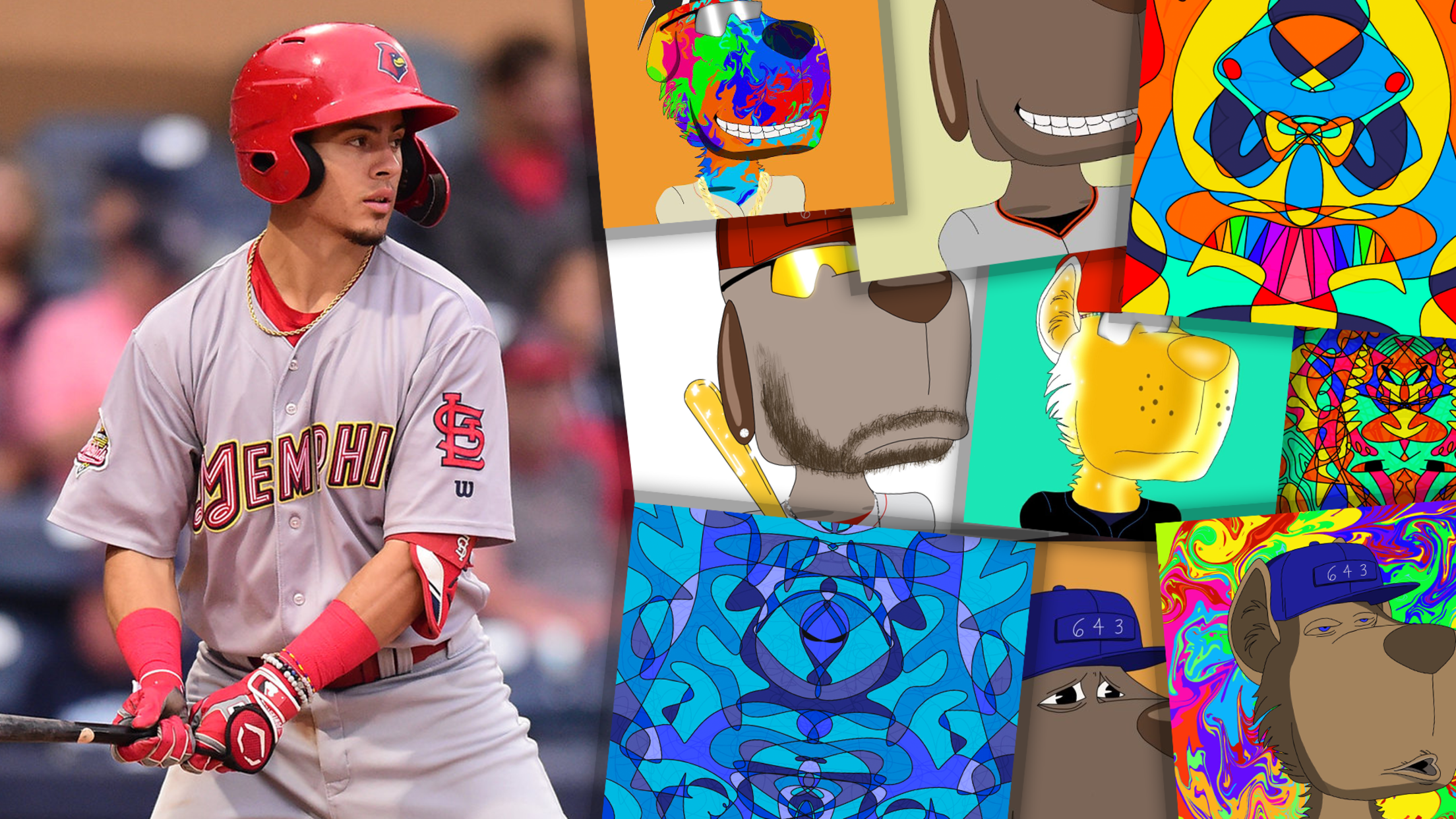 For most 25-year-olds, having the chance to fulfill your childhood dream would provide more than enough satisfaction. But Evan Mendoza has never been someone who focuses on just one thing. Selected by the Cardinals in the 11th round of the 2017 Draft, the North Carolina State product has turned another
Springfield turns second triple play of '18
Cards' Double-A affiliate goes around the horn vs. RockHounds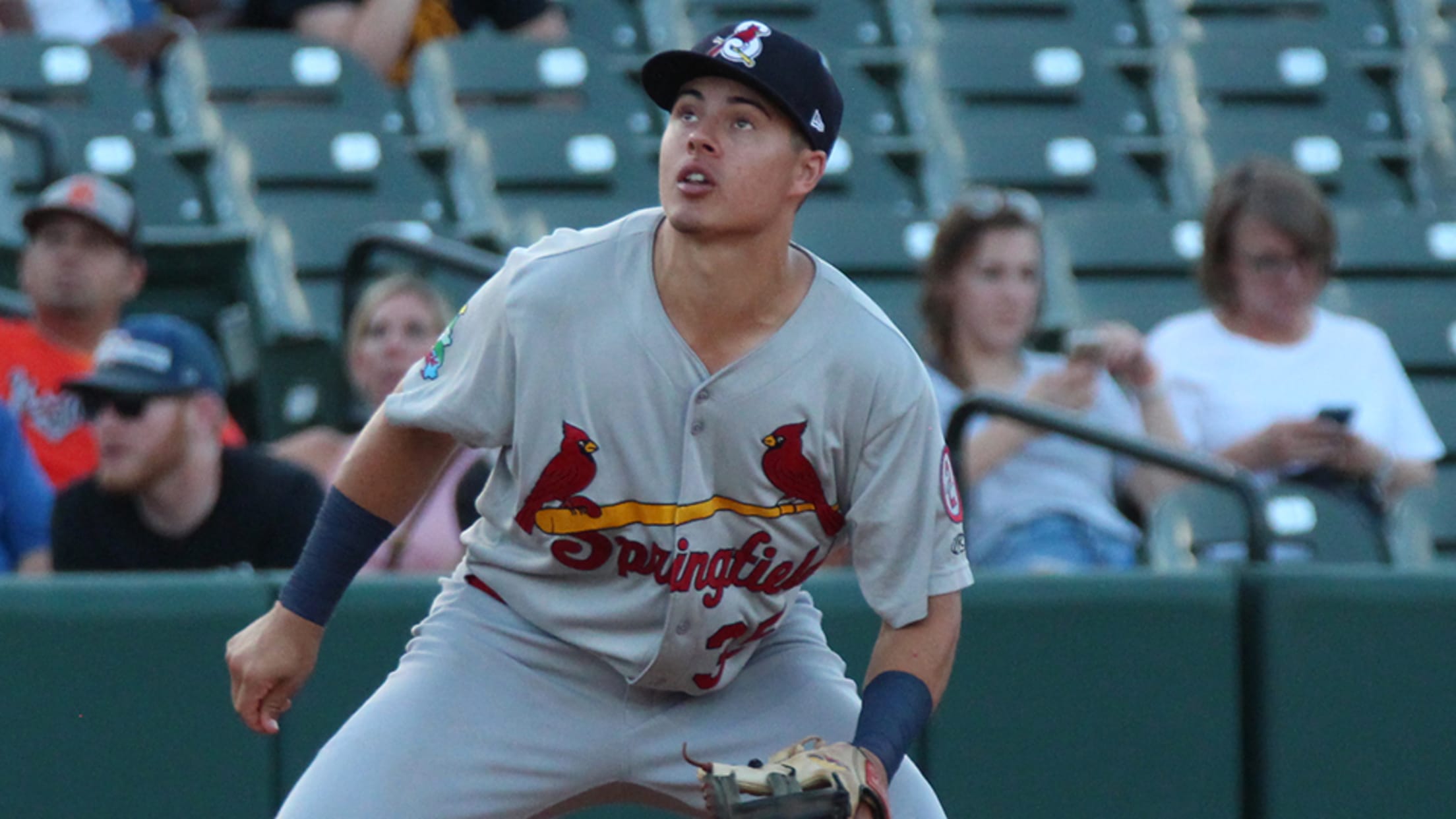 Only seven teams in the Minor Leagues have managed to turn a triple play in 2018. Double-A Springfield became the first to do it twice.The Cardinals cleaned up the bottom of the sixth inning with an around-the-horn triple play before falling to Midland, 4-1, on Sunday at Security Bank Ballpark.
Chiefs Walk Off Bandits In Game One
Mendoza singles Chiefs to 4-3 Win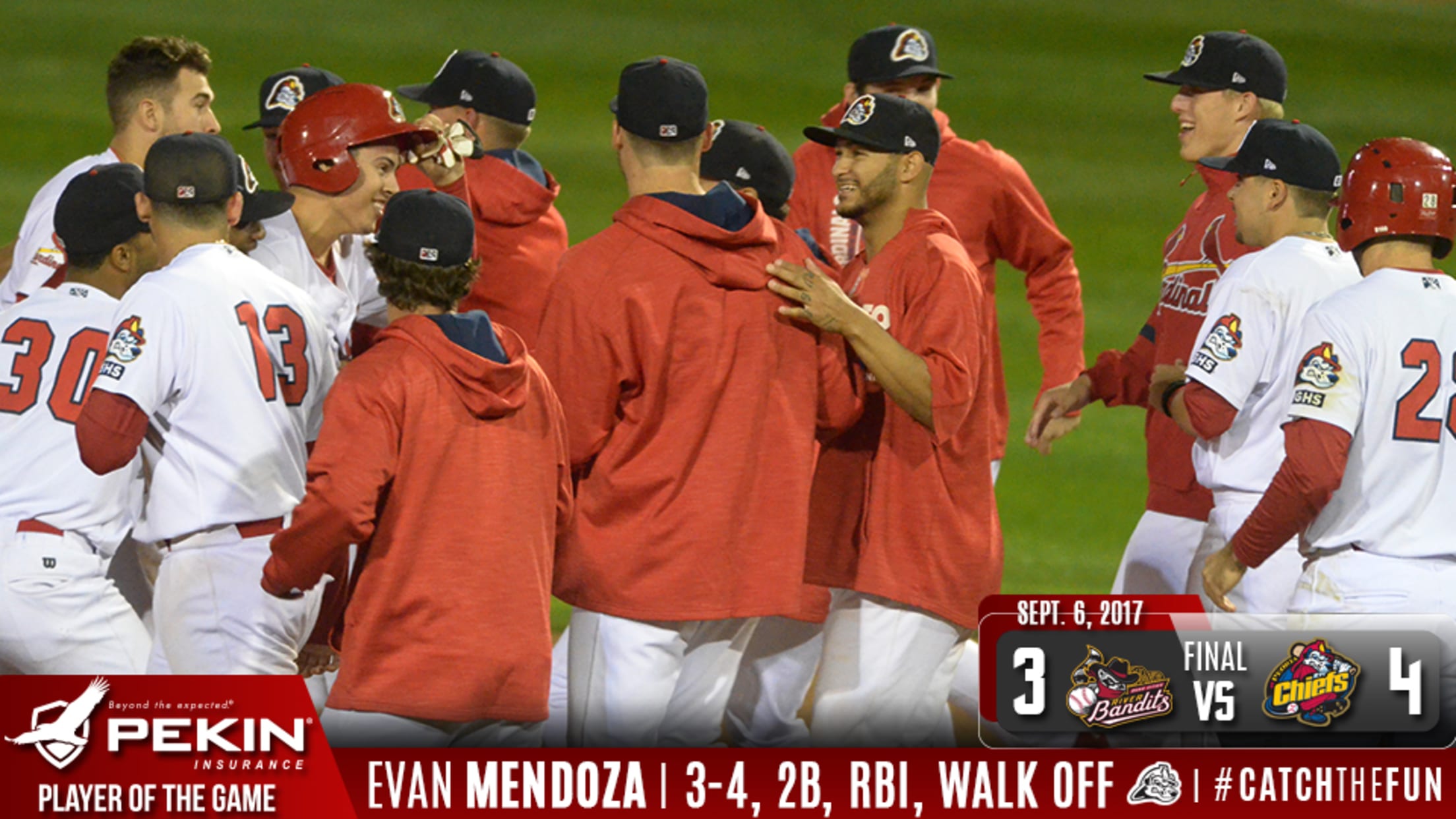 Peoria, IL - Evan Mendoza singled the Peoria Chiefs to a 4-3 walk-off win against the Quad Cities River Bandits on Wednesday in game one of the first round of the Midwest League Playoffs. The Chiefs lead the series 1-0 and will play game two against the River Bandits in
Chiefs Win Regular Season Finale 11-9
Chiefs have won 8 of 9 heading into playoffs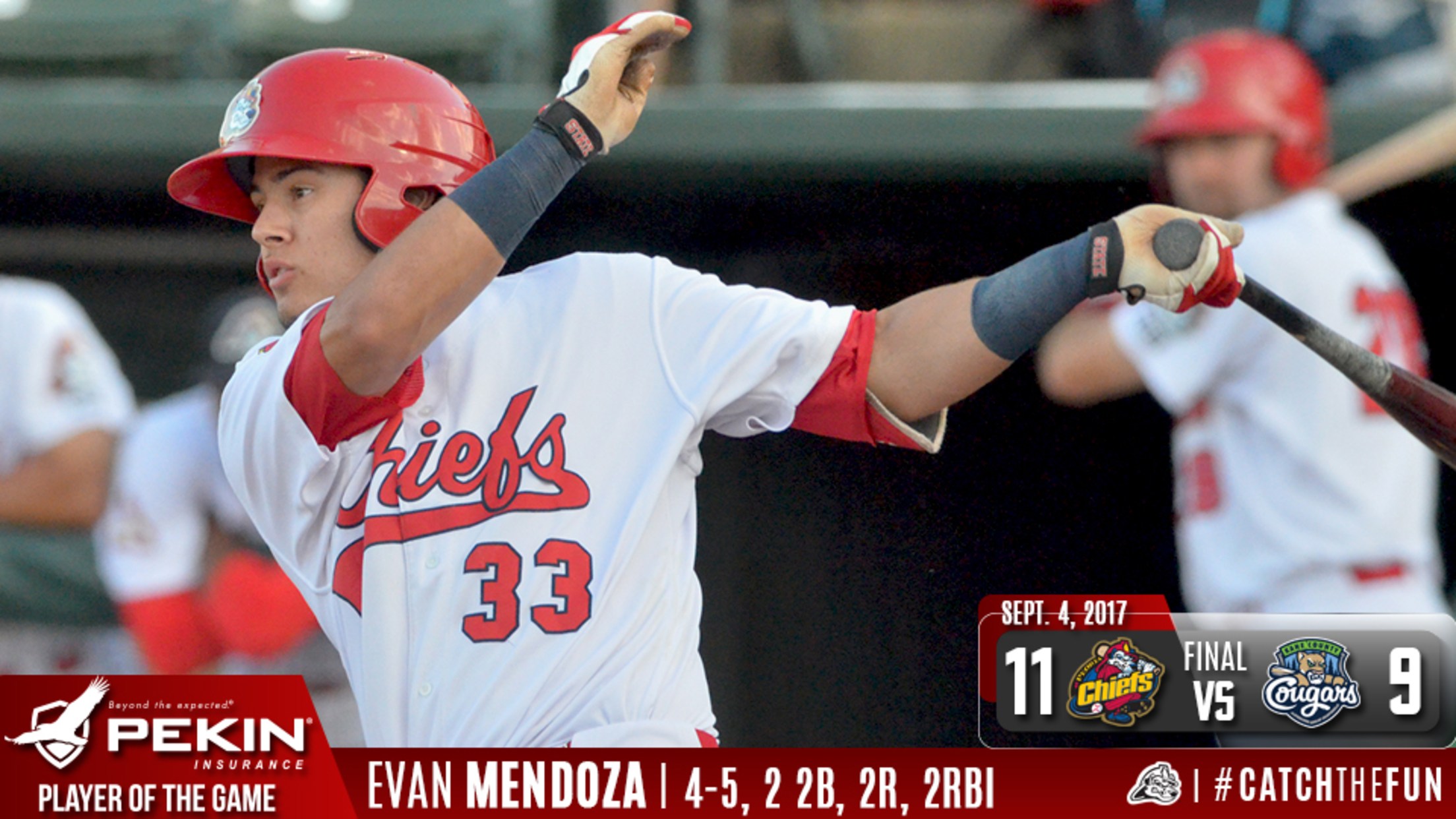 Geneva, IL - The Peoria Chiefs erased a three-run deficit then blew a four-run lead but scored two in the 11th to beat the Kane County Cougars 11-9 Monday afternoon in the regular season finale. The win moves the Chiefs to 39-31 in the second half and 69-70 overall with
Chiefs Outlast Cougars Sunday
Peoria evens series with 8-6 win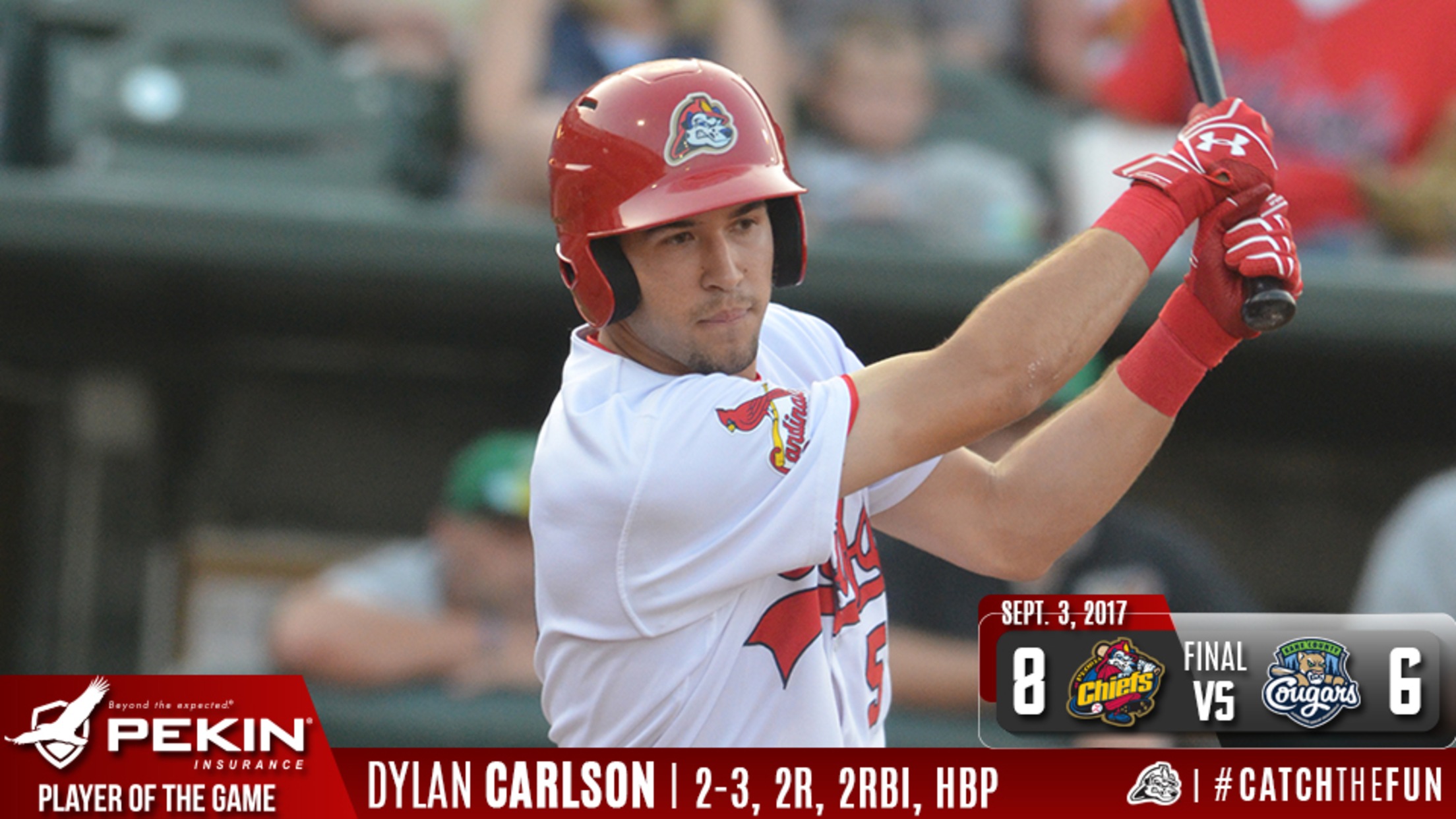 Geneva, IL - The Peoria Chiefs scored four runs in the second and never gave up the lead in an 8-6 win over the Kane County Cougars Sunday night. The win moves the Chiefs to 38-31 in the second half with one game left.
Chiefs Sweep Bandits with 7-4 Win
Mendoza Homers as Davis doubles twice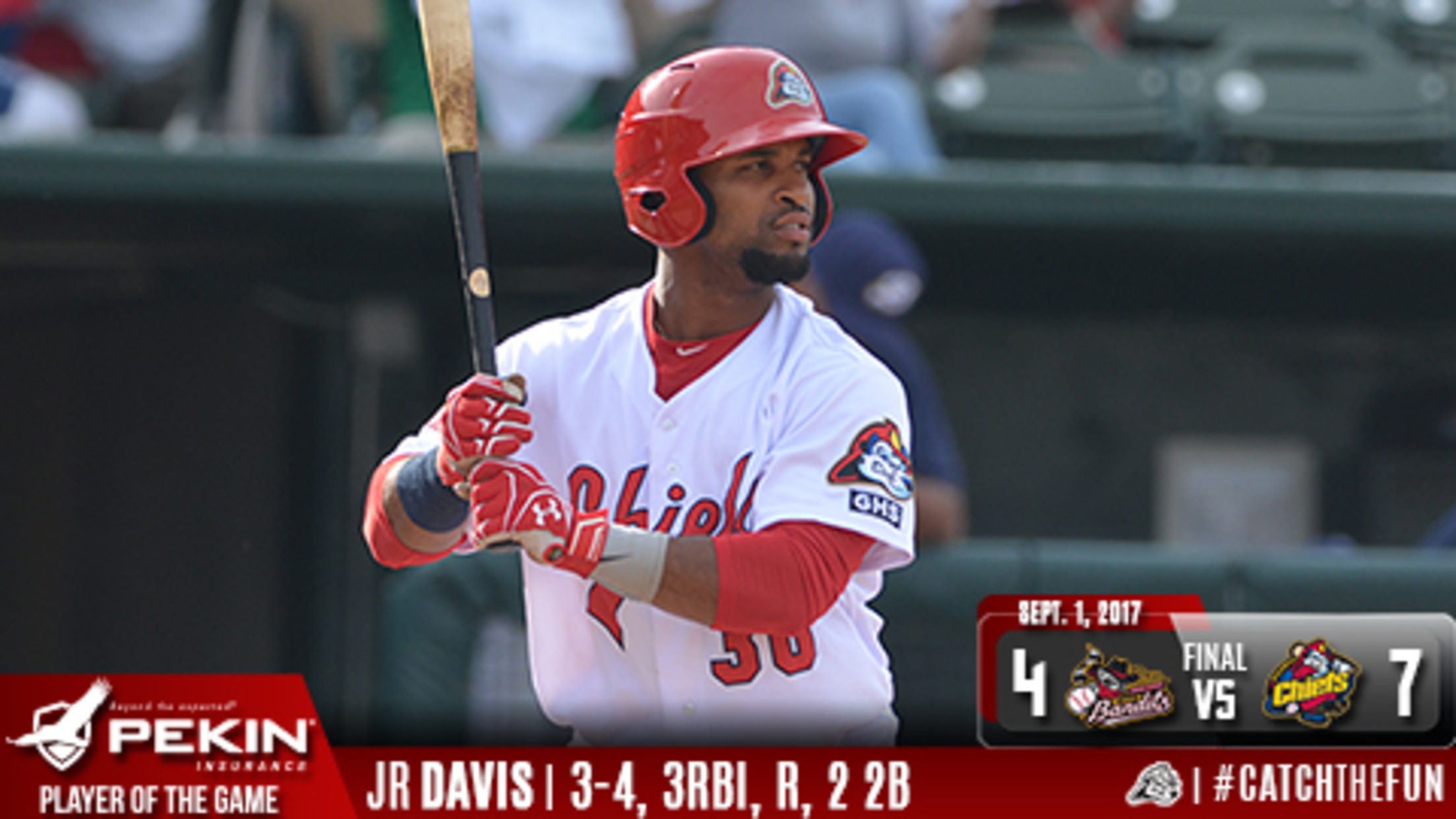 Peoria, IL - J.R. Davis drove in three runs with three hits as the Peoria Chiefs completed a three-game sweep of the Quad Cities River Bandits 7-4 on Friday night in their final home game of the regular season. The Chiefs are 37-30 in the second half and head to
Mendoza, Chiefs Swat Bees in 11th
Peoria snaps three-game losing streak in season series finale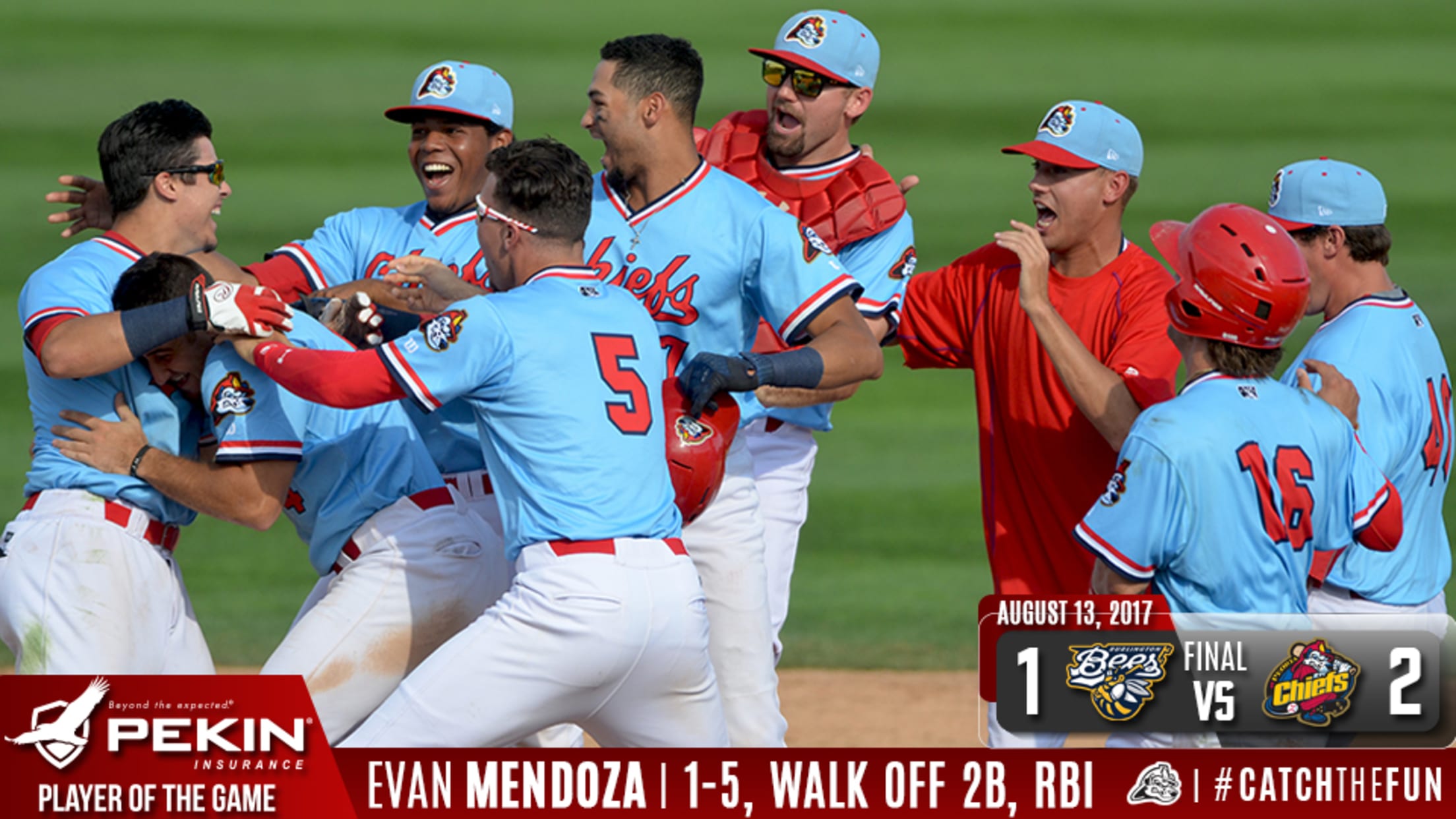 Peoria, IL - Evan Mendoza drove in the game winning run in the 11th inning for the Peoria Chiefs as they beat the Burlington Bees 2-1 on Sunday to move back into the wild card lead in the Western Division. The Chiefs improve to 27-22 in the second half and
Breazeale, Mendoza among NYPL All-Stars
Ortiz, York headed to Tri-City for Aug. 15 showdown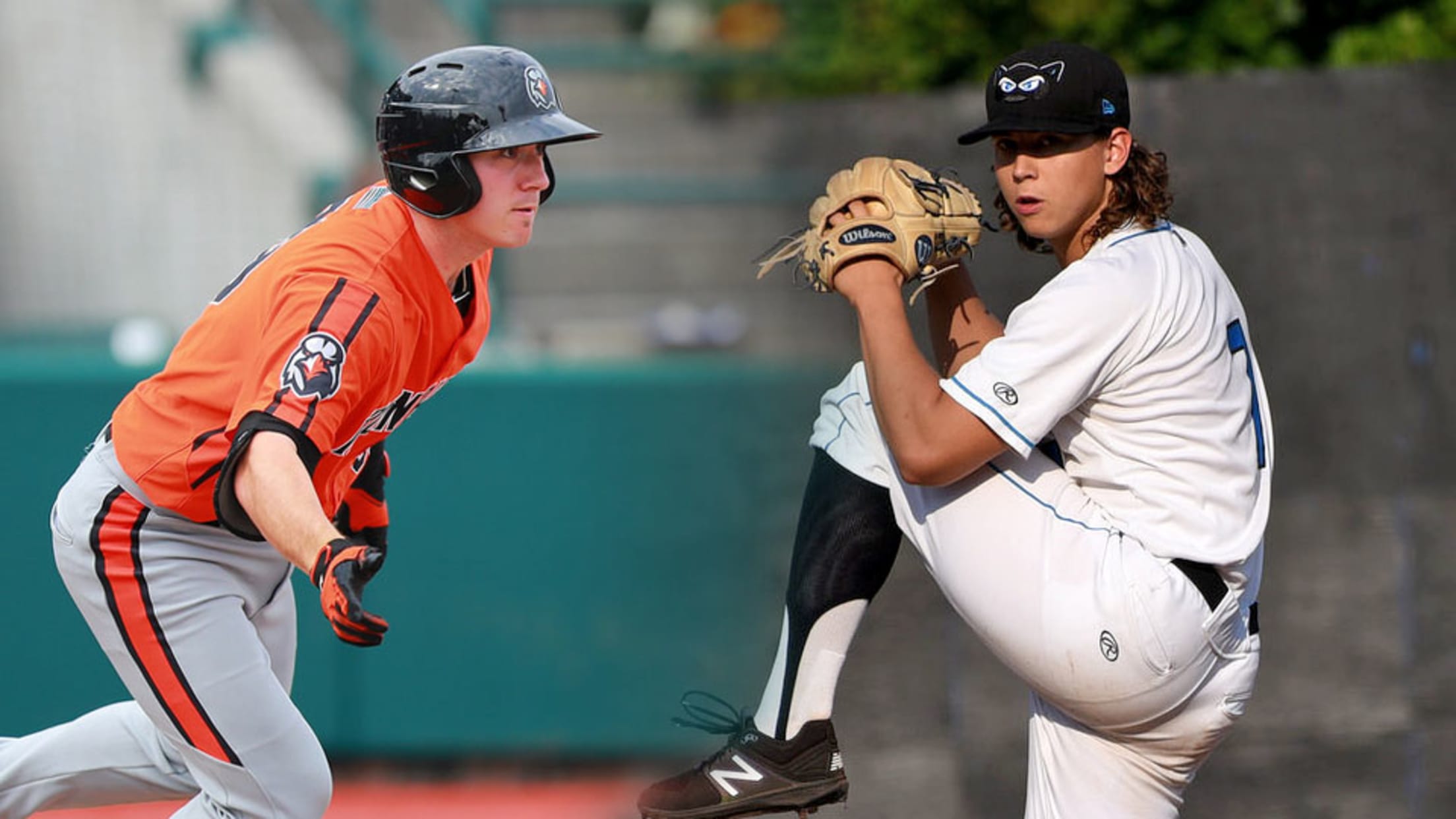 Orioles prospect Ben Breazeale, Phillies outfielder Jhailyn Ortiz and Cardinals third baseman Evan Mendoza were among those selected Tuesday for the New York-Penn League All-Star Game.The trio of prospects will headline the South All-Star squad when it takes on the North on Aug. 15 at Tri-City's Joseph L. Bruno Stadium.
Mudcats' Harrison headlines week's top hitters
Brewers No. 14 prospect builds on breakout campaign in Carolina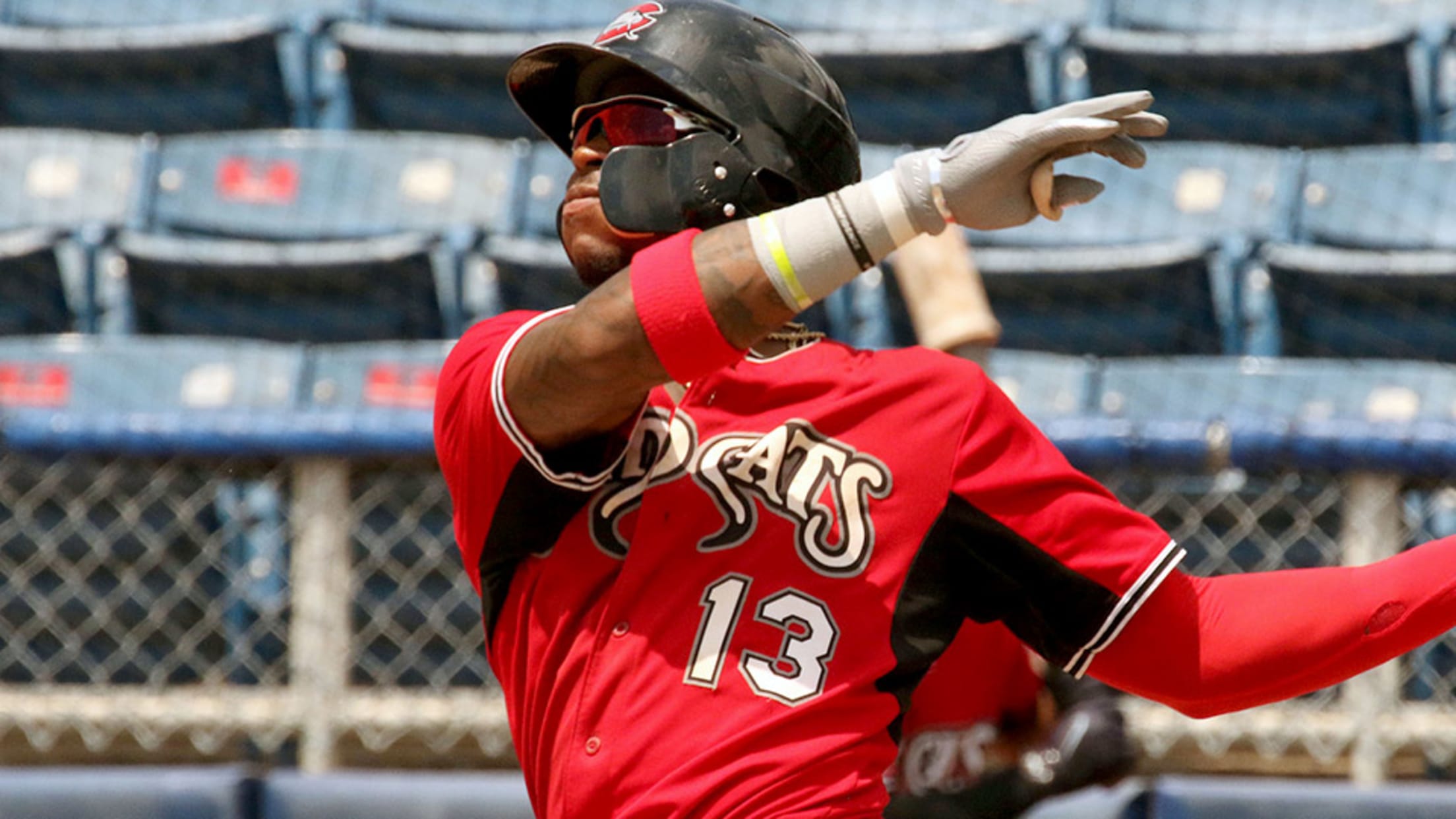 This time last year, Monte Harrison was getting ready to return from a stint on the Class A Wisconsin disabled list, the result of a broken hamate bone in his left hand. Two years ago, he had just been placed on the Timber Rattlers' DL with a broken ankle. In
Barfield powers way to Player of the Week
Veteran outfielder continued Double-A tear with six-homer stretch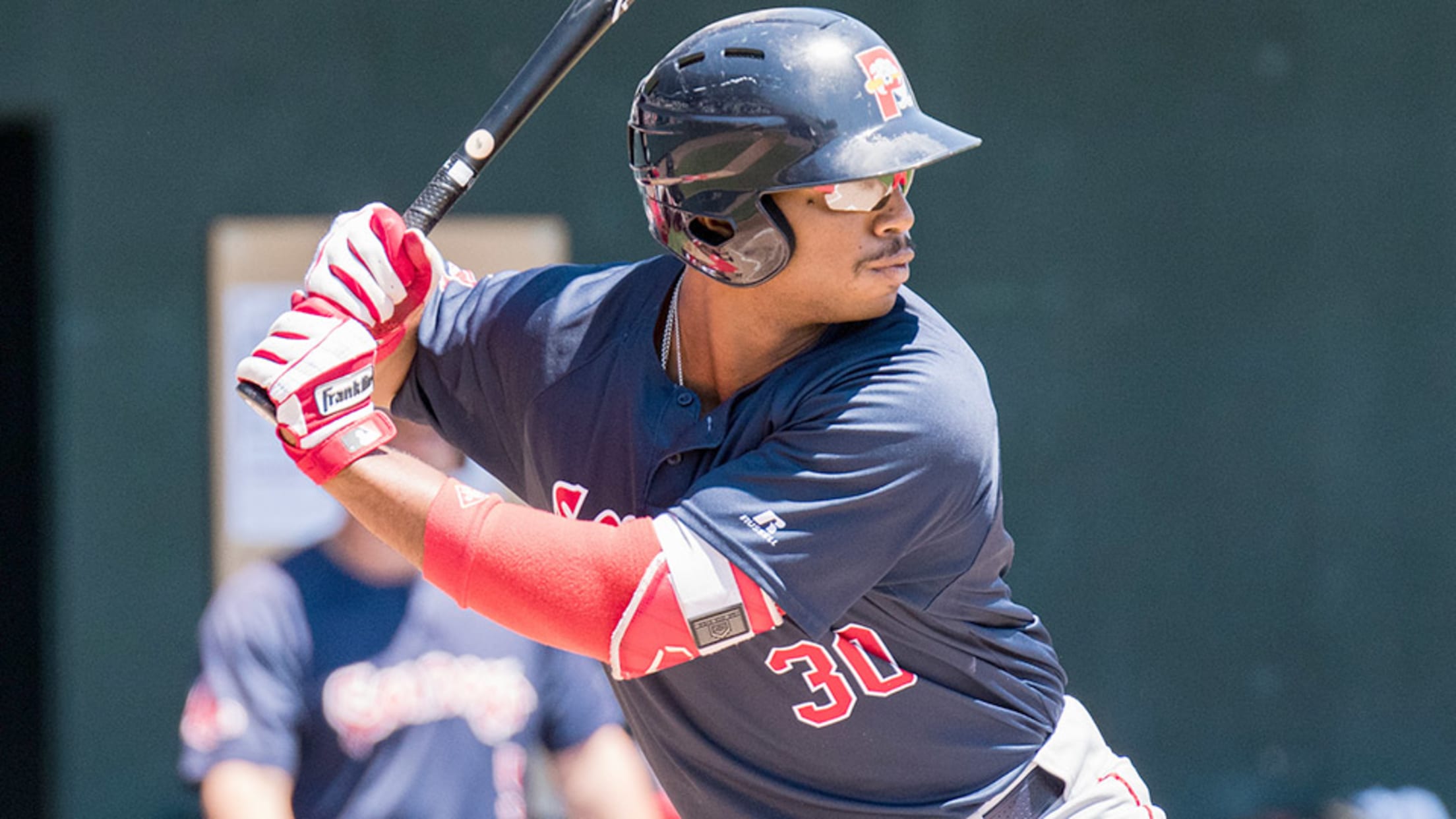 Jeremy Barfield has done a lot in Minor League Baseball. He's been part of the A's, Rockies and Red Sox organizations. He's played in the Northwest, Midwest, California, Texas, Eastern and Pacific Coast Leagues. He's had 2,971 at-bats as a hitter and even thrown 41 2/3 innings. Yet Monday brought a