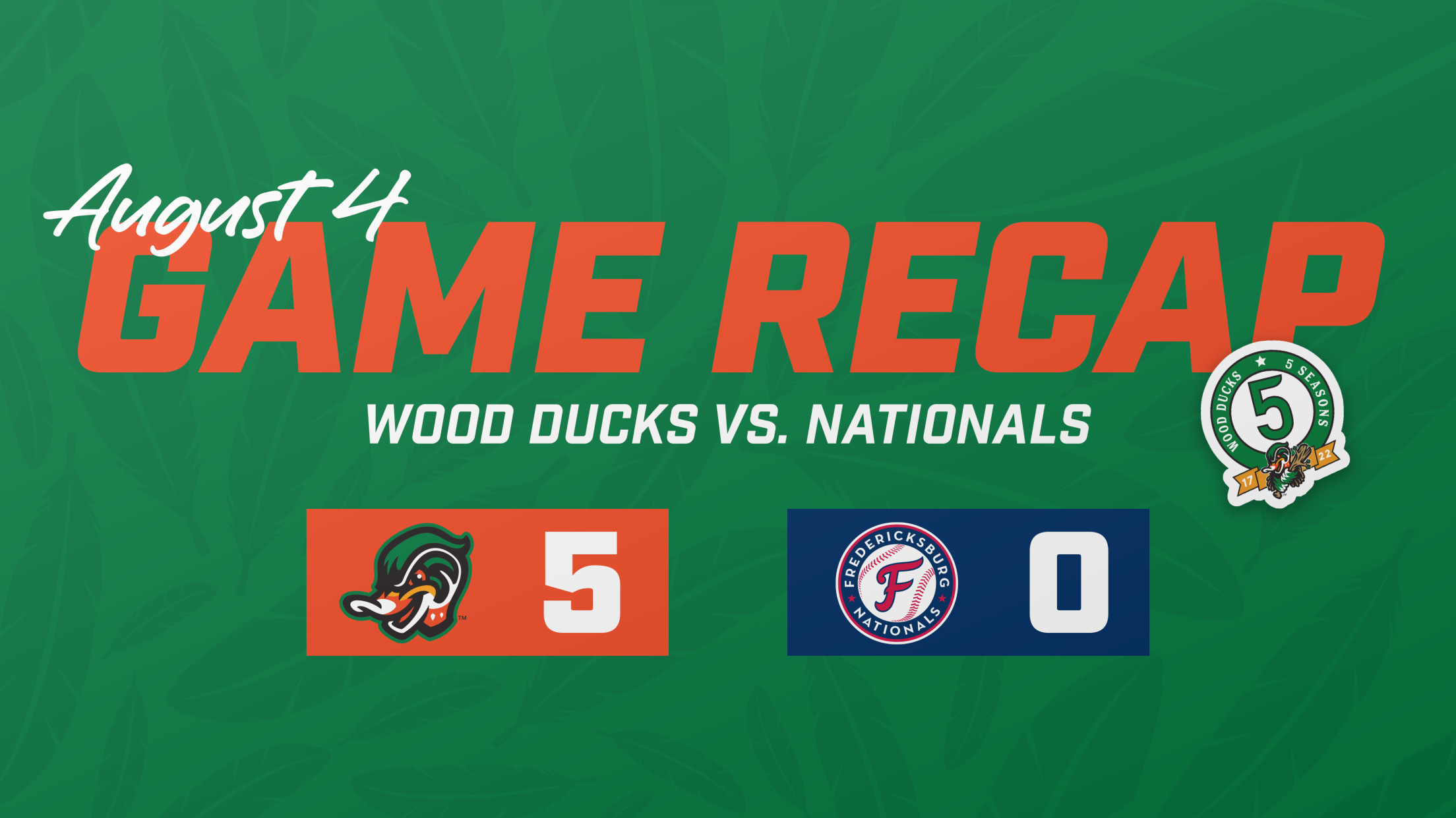 8/4/22 Game Recap by Jackson Pass In game three of the Fredericksburg Nationals versus the Down East Wood Ducks, Emiliano Teodo started the game on the bump for the Wood Ducks with a 3.39 ERA entering the night. He started the night off with a vengeance, retiring the first twelve
8/4/22 Game Recap
by Jackson Pass
In game three of the Fredericksburg Nationals versus the Down East Wood Ducks, Emiliano Teodo started the game on the bump for the Wood Ducks with a 3.39 ERA entering the night. He started the night off with a vengeance, retiring the first twelve batters he faced, racking up three strikeouts in the third, two in the third, and two in the fourth before letting one on for the Nationals via a walk to lead off the fifth. Teodo didn't allow the runner to advance any further on the basepaths by striking out the side on the next three batters, ending his night with 74 pitches in five innings of work along with ten strikeouts and one walk, improving his ERA to 3.13.
The Woodies also had a good night on the offensive side of the ball with seven hits, putting up five runs, four of which were in three consecutive innings . In the second, Yosy Galan was hit by a pitch, sacrifice over to second by Marcus Smith, Ian Moller smacked a single past the third baseman, Witt, and with Abi Ortiz up at the plate, Galan scored on an RBI groundout to third. The Woodies added two more in the third, as Zion Bannister reached on a fielding error and Maximo Acosta made the defense pay by sending a ball over the left field wall for a two run home run, putting the Woodies up 3-0. The Woodies added one more in the fourth and another later in the seventh, with Moller scoring on a sac fly by Bannister and Maximo Acosta driving in another run as Bannister came around to score. Acosta, Moller, and Pena all had multi-hit games with two each on three at bats.
Jose Corniell, who took over out of the pen for Teodo in the sixth, impressed by throwing 4.0 innings, only giving up 3 hits, 2 walks and tallied 3 strikeouts completing the shutout for the Woodies pitching staff in a 5-0 win and Corniell earned his third save of the season.
The Wood Ducks (48-50) and Fredericksburg Nationals (56-42) continue their series tomorrow, on Thursday, August 4th, with the Nationals leading the series 2-1, as the first pitch is set for 7:00 p.m. in Kinston, NC at Grainger Stadium. Remember fans there will be giveaways this weekend with a 5th season commemorative cap presented by Stallings Plumbing & AC, along with fireworks on Friday, August 5th and a Collard Greens apron presented Carolina Farm Credit on Saturday, August 6th, so come out and join us at the ballpark.
Fans can purchase tickets on woodducksbaseball.com, by calling the Wood Ducks Team Offices at (252) 686-5164 or in the Wood Ducks Team Offices located at Grainger Stadium (Mon-Fri – 9am - 4pm). Make sure to follow your Down East Wood Ducks on Instagram, Twitter, TikTok and Facebook so you don't miss anything!