Threshers Announce 2022 Game Schedule 
Threshers to host 66 home games in 2022, BayCare Ballpark Opener set for April 8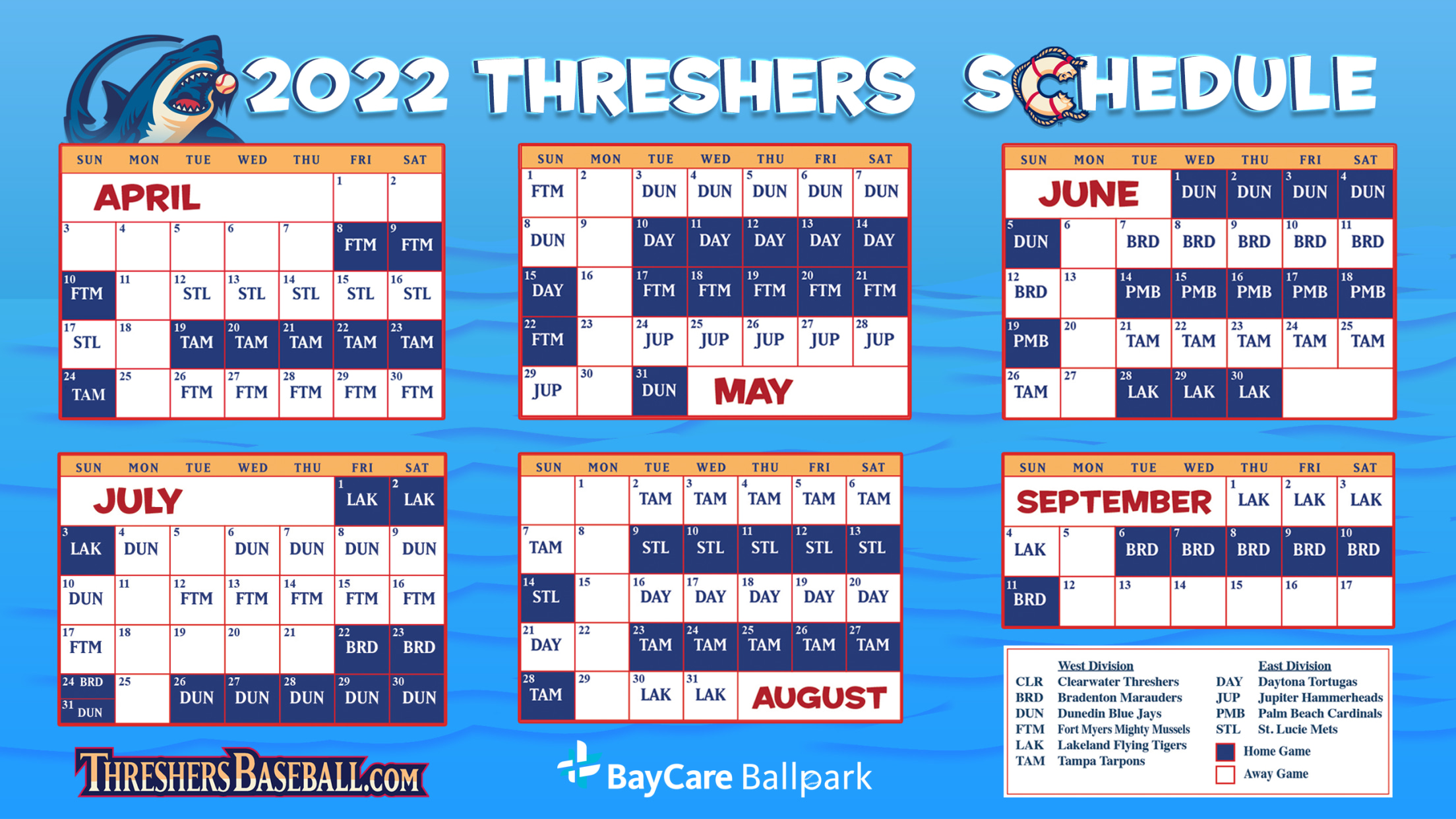 CLEARWATER, Fla. – The 2022 Clearwater Threshers game schedule has been released by Major League Baseball. The 132-game summer slate begins with a divisional matchup on April 8 against The Fort Myers Mighty Mussels. The schedule is comprised of 66 home games at BayCare Ballpark and 66 on the road
CLEARWATER, Fla. – The 2022 Clearwater Threshers game schedule has been released by Major League Baseball. The 132-game summer slate begins with a divisional matchup on April 8 against The Fort Myers Mighty Mussels.
The schedule is comprised of 66 home games at BayCare Ballpark and 66 on the road against Low-A Southeast League opponents. The Threshers occupy the West Division along with Dunedin, Bradenton, Tampa, Lakeland and Fort Myers. Daytona, Palm Beach, Jupiter and St. Lucie make up the East Division.
The same Tuesday – Sunday, six-game series layout that was first introduced in 2021 remains intact for the 2022 season, with Monday as the universal off day for Minor League Baseball. Exceptions this season are: an opening home series consisting of three games for each team, a three-game series following a four-day break in July, and games scheduled for Independence Day on Monday, July 4.
Clearwater concludes its summer schedule with a home series against the Bradenton Marauders September 6-11.
The Threshers will release at a later date the full promotional calendar including game times, plus information about individual and season tickets.
Subscribe to our newsletter to receive the most current Threshers' news.
Check out the online schedule at ThreshersBaseball.com.
Click to download the 2022 Schedule PDF.