Threshers Announce 2023 Promotions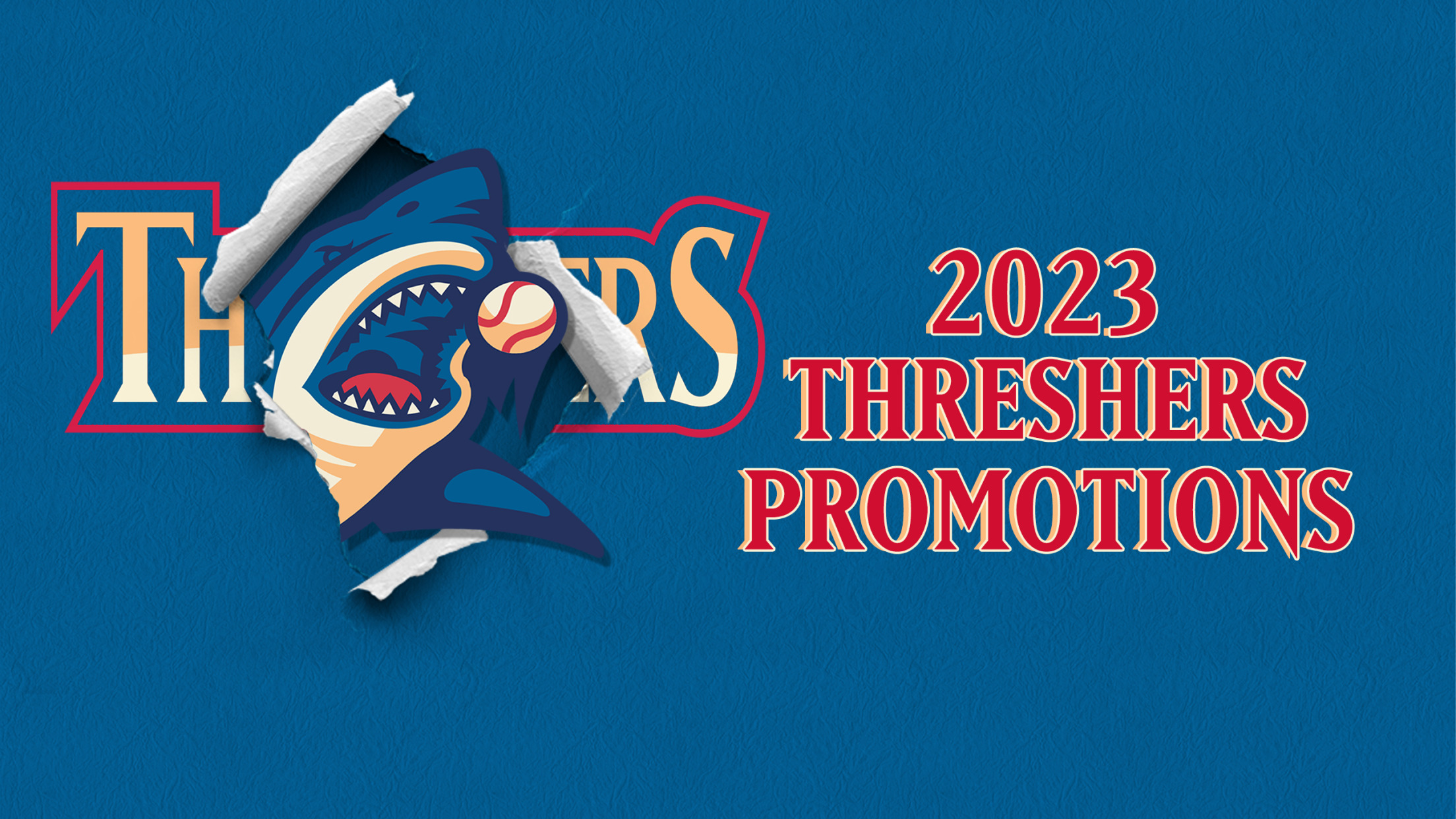 CLEARWATER, Fla. – The Clearwater Threshers have announced the full promotional schedule for the 2023 Florida State League season. The summer at BayCare Ballpark is full of fireworks, giveaways, concerts, and theme nights. Fans can look forward to familiar weekly promotions like Dollar Tuesday, and Saturday Night Fireworks, plus the
CLEARWATER, Fla. – The Clearwater Threshers have announced the full promotional schedule for the 2023 Florida State League season. The summer at BayCare Ballpark is full of fireworks, giveaways, concerts, and theme nights.
Fans can look forward to familiar weekly promotions like Dollar Tuesday, and Saturday Night Fireworks, plus the return of our Silver Sharks seniors club by BayCare on Wednesdays and our Lil' Anglers kids club by BayCare Kids on Thursdays. Returning to the ballpark this summer is Taps & Tacos Thursday, presented by Tijuana Flats. On Thursdays, enjoy half-price drinks, special pours of local craft drafts, and Tijuana Flats tacos.
April
The Threshers open our home summer schedule on Tuesday, April 11, in a matchup against the Fort Myers Mighty Mussels at 6:30 p.m. with gates opening at 5:30 p.m.
Saturday Night Fireworks will light up the sky all season. The celebration of the beginning of Threshers season at BayCare Ballpark continues with a firework display on Saturday, April 15, presented by Kelli's Catering & Events. Fireworks will also be on display following the game on Saturday, April 29, presented by Sysco.
The Clearwater Beach Dogs take the field on Friday, April 28. The Beach Dogs will make an appearance for the last Friday home game of the month. Plus, all canine companions are welcome to attend Beach Dogs Nights at BayCare Ballpark this summer for a howling good time, a $7 dog ticket benefits a local pet charity.
May
Wednesday, May 3, is BayCare Plus Night, members will receive a special ticket offer.
Friday, May 5, stay after the game for a Concert presented by Truly Hard Seltzer featuring The Black Honkeys Band and Fireworks presented by Banquet Masters.
May the Force be with you on Saturday, May 6, during Star Wars Night. Storm Troopers and Jedi alike are invited to attend the galactic celebration complete with Fireworks presented by City Wide Facility Solutions.
Friday, May 19, is loaded with fun! Bring your canine friend and enjoy Beach Dogs Night and a Coors Light Cooler giveaway for fans over 21. The night concludes with a concert by the southeast's premier Grateful Dead experience, Uncle John's Band, presented by Truly Hard Seltzer.
Fireworks return on Saturday, May 20, presented by Sysco.
BayCare Ballpark again plays host to the American Athletic Conference baseball championship May 23-28.
June
Pitch for Pink, our annual breast cancer awareness night is Friday, June 2, and will feature a pink Fanny Pack giveaway by Banquet Masters. Players will suit up in pink uniforms that will be put up for auction to raise funds for the Morton Plant Mease Healthcare Foundation.
The Threshers honor all first responders on Saturday, June 3, during First Responders Night presented by Beachside Hospitality Group. Fireworks will light up the sky following the 6:30 p.m. game.
Phinley the Clearwater Threshers mascot invites you to attend his birthday party on Thursday, June 15.
June 16 is an action-packed Friday night. Gates open with a Shoe Slides giveaway brought to you by Gulfview Plumbing on this Beach Dogs Friday. The Phillie Phanatic will also be in attendance during this Threshers game!
The fourth annual Strike Out Cancer Night is Saturday, June 17. Join us for this charitable night to raise money for cancer research. Players will wear specialty lavender jerseys that will be put up for auction. The night concludes with Fireworks.
July
Join the Threshers in celebrating Independence Day on Tuesday, July 4, with our annual Fireworks Celebration.
The annual Independence Day Fireworks Celebration will take place again on Saturday, July 8, with the same spectacular firework display.
On Friday, July 7, the Threshers will assemble for Marvel's Defenders of the Diamond Night. Marvel animators have reimagined our logo and the Threshers will display it while defending our diamond! Dress as your favorite Marvel Super Hero™ for epic photo ops all around the concourse.
Bells will be ringing on July 21 during the Christmas in July promotion complete with an Ornament giveaway presented by Todd's A/C & Refrigeration. Don't forget to bring your furry friend to the Beach Dogs game to support a local pet charity.
July closes out with Fireworks presented by Wawa on Saturday, July 22.
August
Friday, August 4, is Veterans & Military Appreciation Night presented by Kelli's Catering & Events which features a Threshers Camo Cap giveaway.
Fireworks are back on Saturday, August 5, presented by Coppertail Brewing Co.
August 18 marks the last Beach Dogs Night of the summer and starts with an Alec Bohm Bobblehead giveaway brought to you by Coppertail Brewing Co.
The Scout Spectacular is scheduled for Saturday, August 19, with postgame Fireworks presented by Wawa.
September
Our last Fireworks of the summer are scheduled for Saturday, September 2.
Tickets for all games and a full promotional schedule are available at ThreshersBaseball.com.