Tides Home Runs Not Enough as Bulls Complete Sweep
Norfolk Has Lost Five Of Its Last Six Games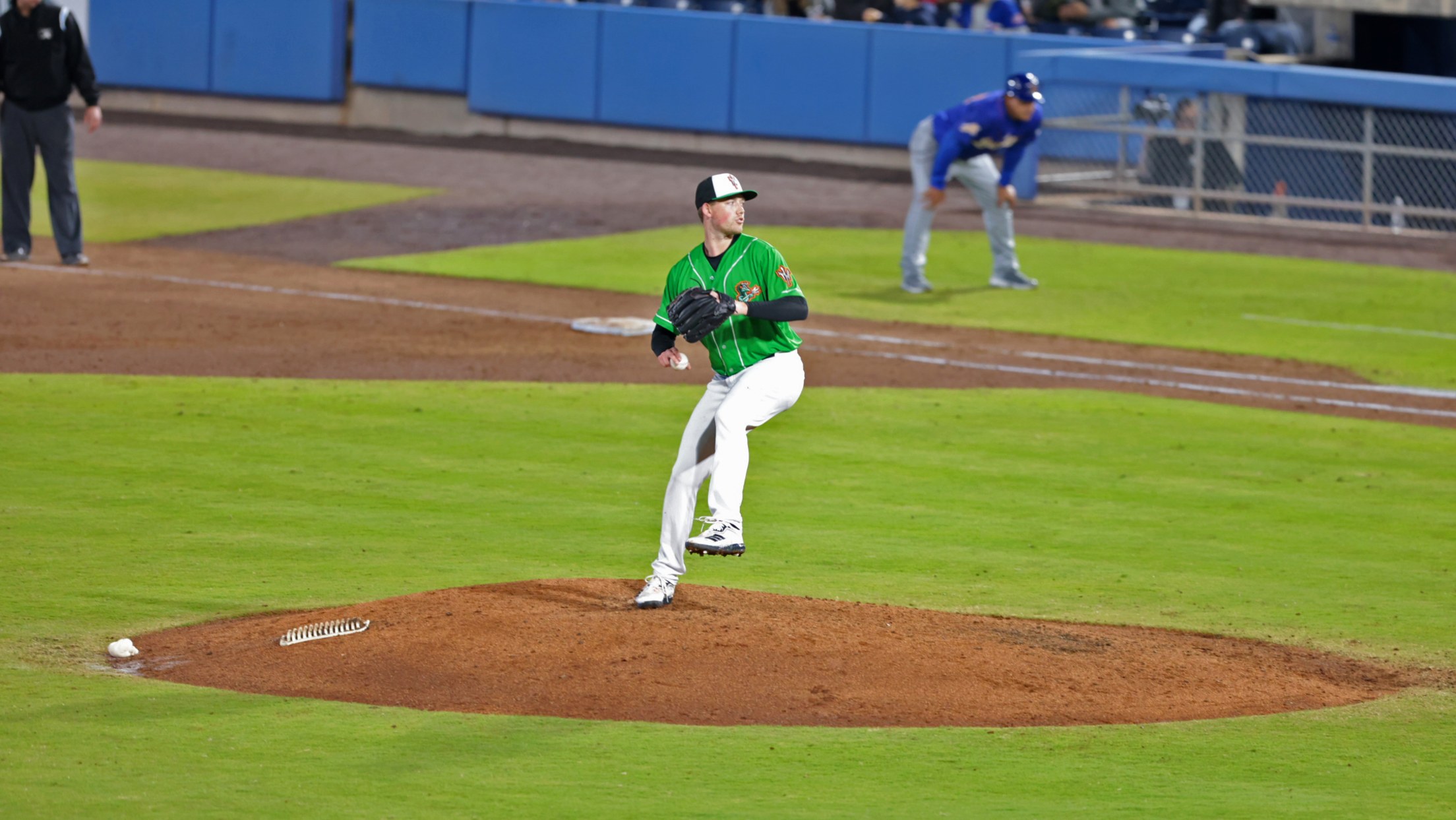 Kyle Bradish completes Norfolk's first quality start of the season in tonight's win. (Peter Squicciarini)
DURHAM, N.C. --- The Norfolk Tides (44-49) lost their third-straight game to the Durham Bulls (51-42), 5-3, on Sunday night at Durham Bulls Athletic Park. The Tides have now lost five of their last six games after pulling within one game of a .500 record on July 14. Jonathan Aranda
DURHAM, N.C. --- The Norfolk Tides (44-49) lost their third-straight game to the Durham Bulls (51-42), 5-3, on Sunday night at Durham Bulls Athletic Park. The Tides have now lost five of their last six games after pulling within one game of a .500 record on July 14.
Jonathan Aranda hit a two-run shot, but the Tides got back into the game in the sixth when Kyle Stowers homered for the second-straight game, a solo shot to left center, to cut the lead to one. Durham, however, responded with three runs in the bottom half of the sixth, hitting three doubles in the frame.
Norfolk would chip away with solo shots from Robert Neustrom and Gunnar Henderson in the seventh and eighth innings respectively, but were unable to push any more runs across in the ballgame as Durham completed the three-game sweep.
Kyle Bradish got the start for the Tides, as he continues his Major League rehab assignment, and turned in a solid outing in his return to the Triple-A level. He worked 4.2 innings and allowed two runs on four hits, which included one home run. He fanned six batters and issued one walk. It was his first start for the Tides since April 22 vs. Durham at Harbor Park.
*The Tides enjoy an off day tomorrow before they head to the Bluff City to take on the Memphis Redbirds in a six-game set, with the series opener on Tuesday. Both teams have yet to announce their starter. First pitch is scheduled for 8:05 p.m. *
POSTGAME NOTES
BRADISH IS BACK: Kyle Bradish made his first appearance with Norfolk during his current Major League rehab assignment as he recovers from right shoulder inflammation...it was his first start with the Tides since April 22 at Harbor Park, also against Durham...he worked 4.2 innings and allowed two runs on four hits, which included one home run...he fanned six batters and walked just one.
STOWERS POWERS: Kyle Stowers went 2-for-4 with a run scored, a home run and one RBI in tonight's game...Stowers has now homered in consecutive games for the third time this season...he has now collected 42 extra-base hits this season, which is the most in the International League...he is the only batter in the league to record more than 40 extra-base knocks.
TERRIN UP THE BASEPATHS: Terrin Vavra led off the game by being hit by a pitch and extended his on-base streak to 23 games...it extends his team-high streak and he also extends the second-longest active streak in the International League...it is the longest streak by a Tides player since Tyler Nevin reached safely in 25 games in 2021...since this on-base streak began on June 19, Vavra is batting .317 (26-for-82) with eight doubles, two home runs and 13 RBI.