Toolshed: Recent noteworthy Carolina seasons
Gallo's power, Hosmer's bat, McKenzie's K's stood out in 2010s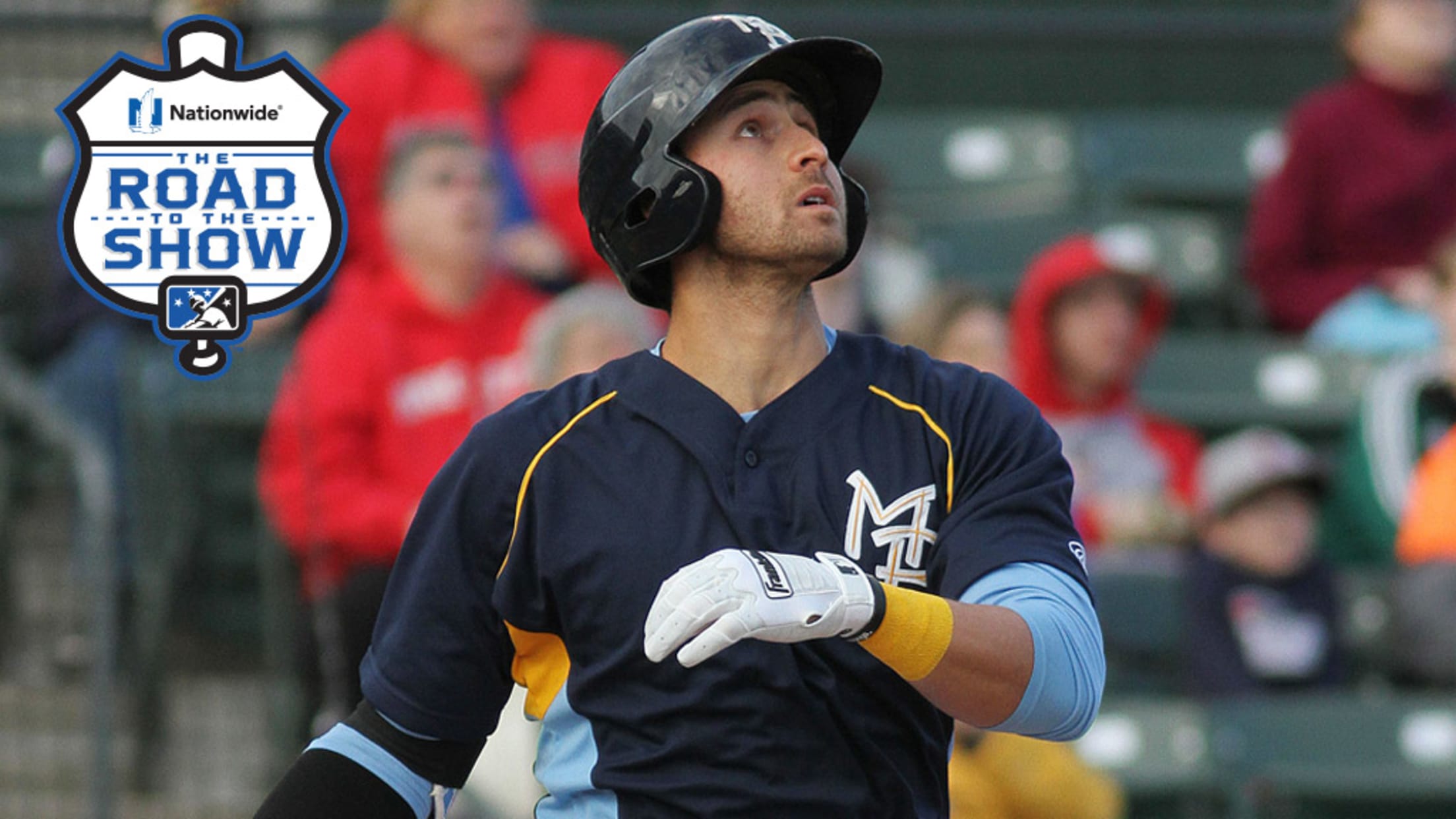 Joey Gallo hit 21 home runs in only 58 games with Class A Advanced Myrtle Beach in 2014. (Robert Gurganus/Myrtle Beach Pelicans)
This space started honoring the short-season leagues after their respective campaigns were delayed in June. Now following the cancellation of all Minor League Baseball in 2020, we're turning it into an appreciation of the full-season circuits as well. So Toolshed is revisiting the 10 most notable individual seasons put together
This space started honoring the short-season leagues after their respective campaigns were delayed in June. Now following the cancellation of all Minor League Baseball in 2020, we're turning it into an appreciation of the full-season circuits as well.
So Toolshed is revisiting the 10 most notable individual seasons put together across the 10 Triple-A, Double-A, Class A Advanced and Class A leagues from the last decade (2010-19). Previous editions covered the New York-Penn League, Northwest League, Appalachian League, Pioneer League, International League, Pacific Coast League, Eastern League, Southern League, Texas League and California League. This column focuses on the Class A Advanced Carolina League.
10. Juan Soto, Potomac, 2018: If you remember Soto's time in the Minors, you might be yelling that he played only 15 games in the Carolina League. Fair enough. But you remember those 15 games because they may have been the most productive stint anyone had on this particular circuit over the past decade. Seriously. The then-19-year-old entered the season as a promising hitter who had been limited by ankle and hamate injuries in 2017. The Nationals started him slow with a return to Class A Hagerstown and allowed him to get settled back in with 16 games for the Suns (during which he had 13 extra-base hits and a 1.300 OPS). He moved to Potomac on April 23, and that's when his decimation of Carolina League pitching began. The left-handed slugger belted seven homers in 15 games. He had more walks (11) than strikeouts (eight). He had as many extra-base hits as walks. He went 23-for-62 (.371), posted an OBP of .466 and slugged .790. He had hits in 13 of 15 games and is technically still on a nine-game hitting streak in the Carolina League. On May 10, the Nats had seen enough and pushed the youngster to Double-A Harrisburg. On May 20, he was in the Major Leagues. Nothing about the performance or the route to The Show was typical for the average Carolina Leaguer, but then again, what has been typical about the start to the 2019 World Series champ's career? (Note: we also considered Luis Robert's 2019 run with Winston-Salem -- during which he batted .453/.512/.920 over 19 games -- for this spot, but Soto's run from Carolina League debut to the Majors in less than a month was too eye-popping to keep off this list.)
9. Shane Bieber, Lynchburg, 2017: It's incredible to think about how different baseball's best pitcher was only three years ago. In 2017, the 2016 fourth-rounder out of UC Santa Barbara was known pure and simple as a control freak, and he backed that up during his time with Lynchburg. Bieber walked only four batters over 90 innings with the Hillcats. That worked out to a 1.1 percent walk rate that topped Carolina League pitchers with at least 70 frames in the 2010s. Mix in that he fanned 82 batters in those 90 innings, and he also ranked second in the league during the decade with a 20.5 K/BB ratio. Bieber's other numbers (3.10 ERA, 1.10 WHIP, .275 average-against) don't quite pop in the same way, but that's because his stuff hadn't yet popped either. The right-hander typically threw in the low-90s then and had what scouts believed were an average slider and changeup. He now averages 94 mph with his heater and has integrated an impressive curveball into the repertoire. He sports a 1.20 ERA with 84 strikeouts and 13 walks in 52 2/3 innings so far this season for Cleveland. The whole package is elite, not just the control. But it's good to start with one elite tool as Bieber did with his strike-throwing ability in the Carolina League.
8. Jackie Bradley Jr., Salem, 2012: Glove, glove, glove. Those are the first, second and third things that come to mind with the Red Sox center fielder. OK, throw arm in there too. Maybe replace the second glove. Anyway, the point is Bradley has become primarily known for his defensive prowess in the Majors. But the 2011 40th overall pick opened his career as an offensive force in his first full season, specifically when it came to getting on base. Bradley's .480 OBP was the highest by a Carolina Leaguer with at least 200 plate appearances in the 2010s. If that wasn't enough, his .359 average ranked third among the same group of 1,000, and his 1.006 OPS sixth. The left-handed hitter very much lived in the gaps at the time as he hit only three homers in 67 games for Salem, but his overall approach worked nicely with 52 walks and 40 strikeouts. Bradley carried the strong bat to Double-A Portland and showed enough offensively to convince the Red Sox to start him in the Majors coming out of Spring Training in 2013. It took two more years for him to show value offensively at the top level, but getting off such a hot start in Salem accelerated his timeline.
7. Drew Pomeranz, Kinston, 2011: A lot is expected of college first-round picks who begin their first full seasons at Class A Advanced, and that was the case for Pomeranz, the 2010 fifth overall pick by Cleveland out of Ole Miss. The left-hander exceeded those expectations by posting a 1.87 ERA and a 1.14 WHIP over 15 starts for Kinston. He fanned 95 batters over 77 innings at the level, making him the only Carolina League pitcher in the 2010s to clear 70 frames, a sub-2.00 ERA and a K/9 over 11.0. That's even more impressive, considering this was his first Minor League team after Cleveland kept him off the field in his Draft year. Pomeranz made three starts for Double-A Akron in July before getting traded to the Rockies as the main prospect piece in a deadline deal that sent Ubaldo Jiménez the other way. Colorado thought highly enough of its new southpaw to let him debut in September, five short months after he took his first pro mound in Kinston against Winston-Salem. Pomeranz, who now works as a San Diego reliever, entered the 2013 season as MLB.com's No. 25 overall prospect and has played for six Major League clubs over 10 seasons.
6. Jarren Duran, Salem, 2019: As a seventh-rounder out Long Beach State in 2018, Duran was known as an incredibly fast second baseman. In his first full season starting at Salem, the Red Sox prospect moved to the outfield and proved he could do a lot more offensively than fly around the basepaths. Duran batted .387 over 50 games in the Carolina League, a number that moved into the top spot for single-season averages among hitters with at least 200 plate appearances in the loop. With only 20 of his 77 hits going for extra bases, a lot of those knocks were singles, but he did his best to extend the damage by swiping 18 bags in 23 attempts. Besides, Duran's .456 OBP and 1.006 OPS ranked among the top seven in their respective categories over the 2010s, showing that certain slap-happy approaches can have their effects in the lower levels. Duran was hitting above .400 as late as May 30 before a minor three-game slump dropped the average just before he shipped up to Double-A Portland in early June. Now ranked as Boston's No. 8 prospect, the former Dirtbag has been working on developing some power at the alternate site in Pawtucket and could be an option for the big club next year, especially if Jackie Bradley Jr. departs in free agency.
5. Cody Buckel, Myrtle Beach, 2012: The 6-foot-1 right-hander headed to Myrtle Beach for his second full season at a time when clubs were hoping to find the next Tim Lincecum, aka small pitchers with dominant stuff. At least with the Pelicans, Buckel put up Freak-like numbers: namely a 1.31 ERA that led all Carolina League pitchers (with a minimum of 70 innings) for the rest of the decade. He struck out 91 batters over 75 2/3 innings and walked only 25. Buckel didn't allow more than three earned runs in any of his 13 Myrtle Beach starts and posted zeros in six of them. After a good showing at Double-A Frisco to end 2012, the California native entered the following season as the No. 87 overall prospect, the only time he was a Top-100 prospect. Unfortunately, he encountered the yips shortly after -- walking 28 batters in 9 1/3 innings at Double-A in 2013 -- and never regained his status before leaving the game in 2017. Consider this a chance to remember the good times.
4. John Lamb, Wilmington, 2010: The Royals started the decade with a number of well-known prospects. Lamb -- a 2008 fifth-rounder who had 14 Rookie-level starts under his belt going into 2010 -- wasn't one of them yet. At least not yet on a national level. That changed with the way he shoved for Wilmington. At age 19, the 6-foot-4 left-hander joined the Blue Rocks roster in late May following a dominant turn at Class A Burlington and performed like a seasoned pro. Lamb posted a 1.45 ERA and a 0.99 WHIP with 90 strikeouts and only 15 walks in 74 2/3 innings. He made 13 starts for Wilmington and didn't allow more than one earned run in 11 of them. His 1.45 ERA and 1.90 FIP were second-best among the 494 pitchers to toss at least 70 frames in a single Carolina League season last decade. His 2.56 xFIP was fourth among the same group. If there's such a thing as a Class A Advanced ace, Lamb fit the bill in 2010. The southpaw got roughed up some following an aggressive assignment to Double-A Northwest Arkansas, but he had more than enough rocket fuel in his prospect stock. Lamb entered the 2011 season as Baseball America's No. 18 overall prospect, one spot ahead of fellow Royals left-hander Mike Montgomery and two spots ahead of then-White Sox hurler Chris Sale. That was as high as the industry got on Lamb. He posted a 6.25 ERA over three seasons in the Majors with the Reds and Angels and hasn't been with an affiliated club since November 2018.
3. Triston McKenzie, Lynchburg, 2017: McKenzie's impressive start to his Major League career has been exciting for multiple reasons, but mostly because the 6-foot-5 right-hander missed all of 2019 with an upper-back injury. That, along with forearm issues in 2018, caused his stock to drop from a consensus top-50 overall prospect to outside the Top 100 completely. Despite the roller-coaster nature of his prospect stock, it's worth remembering just how dominant the Indians hurler was at his peak, and he was never better in the Minors than while with Lynchburg three years ago. McKenzie spent the full season with the Hillcats and amassed 186 strikeouts in 143 innings. That K total was second-best in the Minors in 2017 (only five behind Alec Hansen and ahead of bigger names A.J. Puk and Michael Kopech in the top five) and the best among Carolina League pitchers in the 2010s by a comfortable margin of 26. His 32.8 percent K rate also topped the circuit's leaderboard in the decade. McKenzie fanned double-digit batters in six of his 25 starts with Lynhcburg, highlighted by a 14-K effort over six one-hit innings on May 9, 2017. His 3.46 ERA and 1.05 WHIP were a little more pedestrian by Carolina League standards in the 2010s, but a 2.67 xFIP that ranked second among qualifiers told another story of the Cleveland prospect's dominance, thanks to his fastball-curve combo. Fans in northeast Ohio and opponents in the Central divisions are getting a taste of that dominance now.
2. Eric Hosmer, Wilmington, 2010: Taken with the third overall pick in the 2008 Draft, Hosmer entered the Royals system with a lot of hype, only to hit .241 with a .695 OPS between Class A and Class A Advanced in his first full season a year later. The issue was blamed partly on poor eyesight, and after LASIK surgery, Hosmer had hopes of getting back on track back in Wilmington during the first year of the decade. Soon after, everyone else saw what the first baseman was capable of at the dish. Hosmer put up a .354/.429/.545 slash line over 87 games with the Blue Rocks in 2010, numbers that held up as the best batting average, OBP, OPS (.974) and wRC+ (167) among Carolina League qualifiers over the rest of the decade. His slugging percentage ranked fourth among the 434 qualifiers as well. With his improved eyesight, the left-handed slugger walked more times (44) than he struck out (39) as well. After dropping out of the Top-100 completely, Hosmer jumped back into Baseball America's rankings at No. 8 heading into the 2011 season, the one in which he jumped to the Majors for the first time. The four-time Gold Glover became a key part of the homegrown Royals club that went to two World Series in the 2010s and won the title in 2015.
1. Joey Gallo, Myrtle Beach, 2014: It is by definition difficult to find 80-grade power. However, it's not difficult to identify. What Gallo showed in the Carolina League was 80-grade power, pure and simple. The left-handed slugger went deep 21 times in only 58 games. That led the circuit by two, despite the fact he moved up to Double-A Frisco on June 8. Courtney Hawkins finished second with 19, and he smacked that many in 64 more games than Gallo played in that summer in the Carolina League. No one else in the league hit more than 16 in 2014. Gallo was the only Carolina Leaguer to eclipse the 20-homer single-season mark in 60 or fewer games, and it should come as no surprise that his .735 slugging percentage and 1.199 OPS nearly lapped the competition among players with at least 200 plate appearances in a season. (Chavis' .649 and 1.029 were second in those respective categories.) Gallo had not just one but two three-homer games in his short stay with the Pelicans as well, including an April 23 performance at Frederick in which he also walked three times. In that sense, it's also notable that Gallo was a true three-outcome king by walking in 20.7 percent of his plate appearances (the second-highest walk rate for the decade) and finishing with a .463 OBP (fourth-best). The Las Vegas native bashed 21 more homers in the Texas League, giving him 42 on the season for his second straight 40-homer season -- a feat he's amassed twice in the Majors. He hasn't slugged above .700 again, though, making this campaign stand out even more in what's been nothing short of a powerful career.
Sam Dykstra is a reporter for MiLB.com. Follow and interact with him on Twitter, @SamDykstraMiLB.