Toolshed: Recent noteworthy Texas League seasons
From Tatis to Trout, Lone Star State didn't lack for talent in 2010s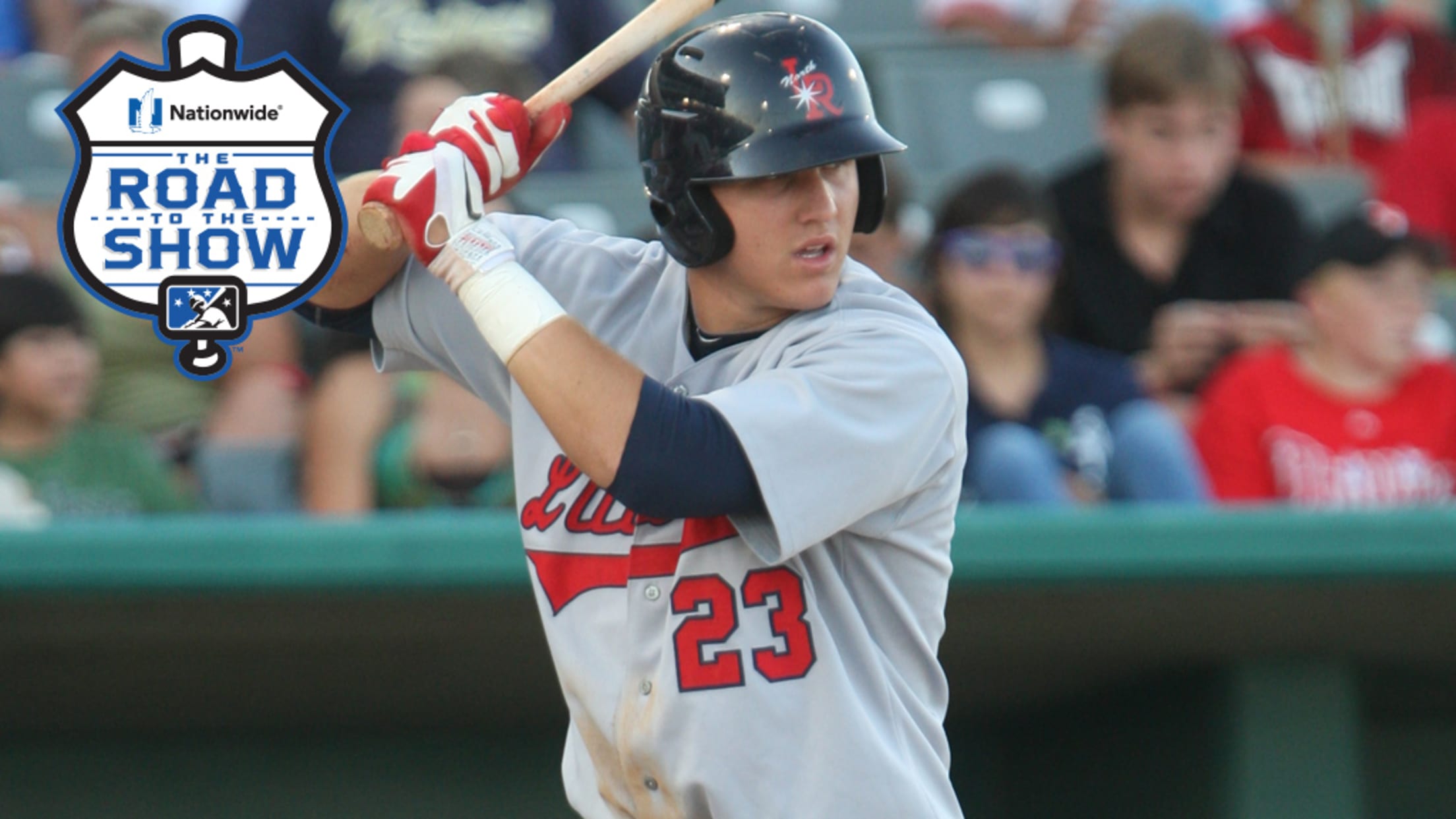 Mike Trout's .958 OPS for Double-A Arkansas in 2011 was the highest qualified mark he put up in the Minors. (Shawn E. Davis/MiLB.com)
This space started honoring the short-season leagues after their respective campaigns were delayed in June. Now following the cancellation of all Minor League Baseball in 2020, we're turning it into an appreciation of the full-season circuits as well. So Toolshed is revisiting the 10 most notable individual seasons put together
This space started honoring the short-season leagues after their respective campaigns were delayed in June. Now following the cancellation of all Minor League Baseball in 2020, we're turning it into an appreciation of the full-season circuits as well.
So Toolshed is revisiting the 10 most notable individual seasons put together across the 10 Triple-A, Double-A, Class A Advanced and Class A leagues from the last decade (2010-19). Previous editions covered the New York-Penn League, Northwest League, Appalachian League, Pioneer League, International League, Pacific Coast League, Eastern League and Southern League. This column focuses on the Double-A Texas League.
10. Fernando Tatis Jr., San Antonio: 2018: Before he became perhaps the game's most exciting talent, Tatis was just a man on the Missions. A young man, at that. Only five teenagers received at least 300 plate appearances over a single season in the Texas League in the 2010s. Only one of those five -- Mike Trout -- had a higher wRC+ than Tatis' 133. It's funny to think about now, but Tatis floundered a bit when he got the call to San Antonio at age 18 in 2017, batting .255 with two extra-base hits and 17 strikeouts in 14 games. He proved that was just getting overmatched at a young age in a small sample with his return the following spring. Tatis hit .286/.355/.507 with 16 homers and 16 stolen bases in 88 games with the Missions in 2018 and could have gone on to produce bigger numbers if not for a broken left thumb in July. The San Antonio performance took on added meaning because it not only made him MLB.com's No. 2 overall prospect headed into 2019, but it also convinced the Padres that he could open that season right in the Majors. Still only 21, the shortstop leads the Majors with 11 home runs through Monday's play.
9. Luke Weaver, Springfield, 2016: Weaver has developed into a mid-rotation starter in the Majors, but he was a dominant force in the Minors. His Minor League ERA still stands at 2.03 while his WHIP is a meager 1.07. Not too shabby for the 2014 first-rounder out of Florida State. His most dominant trip with a single club, however, might have come with Springfield four years ago. The 6-foot-2 right-hander finished with a 1.40 ERA, an 0.95 WHIP, 88 strikeouts and only 10 walks over 77 innings with the Cardinals that summer. His 2.04 FIP was the best in the decade for Texas Leaguers with at least 70 frames in a season, while his ERA and 8.8 K/BB ratio respectively placed second and fourth among the same group of 449 hurlers. Put another way, Weaver allowed more than two earned runs only once in his 12 Springfield starts, and five of those dozen outings featured no free passes by him. Weaver debuted in the Majors that August and entered the following season as the No. 68 overall prospect. He was later traded to Arizona as part of the deal that sent Paul Goldschmidt to St. Louis in December 2018.
8. Matt Chapman, Midland, 2016: The A's Double-A affiliate won four consecutive Texas League titles from 2014 to 2017, so (with apologies to Northwest Arkansas), it's only natural that one of the club's biggest names finds a spot on this list somewhere. The names don't get much bigger than Chapman, who has developed into one of the game's great third basemen. Chapman was the 2016 Texas League Player of the Year after leading the circuit with 29 home runs, a .521 slugging percentage and an .856 OPS. Much like today, he possessed a power over hit tool with just a .244 average and .335 OBP, but the pop was more than enough to bring value. And of course, there was the defense as well with his plus-plus arm standing out to scouts even then, two years before he won his first of two AL Gold and Platinum Gloves. Chapman ranks sixth among position players in WAR since 2018 at 13.6, behind only Mike Trout, Mookie Betts, Alex Bregman, Christian Yelich and Anthony Rendon.
7 . Clint Robinson, Northwest Arkansas, 2010: One point of these lists is to remember what some of the game's brightest stars were like as dominant Minor Leaguers. Another is to give some forgotten names all due credit. There's a big case to be made that Robinson was the most successful single-season hitter of the Texas League in the 2010s. His .625 slugging percentage and 181 wRC+ were tops among TL qualifiers in the decade. He was the only player to produce an OPS in the quadruple digits at 1.035. He finished second in average at .335, a number that won the league batting title during his time with the Naturals in 2010, and his 29 homers not only led the Texas League in his season, but finished tied for fourth by the end of the decade. What's more, the then-25-year-old did all of this while striking out in only 15.7 percent of his plate appearances, making him only one of only three players to slug at least .500 and post a K rate lower than 16 percent. The 2007 25th-rounder saw time in the Majors with the Royals, Dodgers and Nationals, but has been out of affiliated ball since 2017.
6. Oscar Taveras, Springfield, 2012: This is where the rankings take a sad turn. First, the positives. Taveras headed to the Texas League in 2012 as a 20-year-old who was a Top-100 prospect for the first time after hitting .386 with a 1.028 OPS in 78 games at Class A Quad Cities the season before. The Cardinals decided to skip the outfielder right over the pitcher-friendly Florida State League, hoping to challenge him at Double-A. Instead, it was the Texas League pitchers who found the assignment challenging. Taveras won the TL batting title that season with a .321 average over 124 games and came close to claiming the Triple Crown by finishing tied for fourth in homers (23) and second outright in RBIs (94). His .953 OPS ranks sixth-best among qualifiers across the entire decade as does his 159 wRC+. Taveras entered the following season as the No. 3 overall prospect and debuted in May 2014. Now comes the tragic part. Taveras died in October 2014 from injuries suffered when his car veered off the road in his native Dominican Republic. He was only 22.
5. Alex Bregman, Corpus Christi, 2016: Bregman played only 146 games in the Minor Leagues, and 62 of those came at Double-A four years ago. The Astros got aggressive with the 2015 second overall pick by sending him straight to Corpus Christi, and the former LSU standout rewarded that confidence with the performance of an established Minor League vet. Bregman belted 14 homers and collected 32 total extra-base hits during his brief run in Texas League. In fact, he had more extra-base hits than he did strikeouts (26) over 285 plate appearances. Along with 42 walks, Bregman finished with a 1.6 BB/K ratio, fifth-best among 915 Texas Leaguers with at least 200 plate appearances during a single season in the 2010s. He was one of only three of those 915 to post a BB/K ratio above 1 and slug higher than .500. Bregman finished with a .297/.415/.559 line and 179 wRC+ during his short stay in the Lone Star State. He was promoted to Triple-A Fresno on June 30, debuted with the Astros a month later and hasn't been back in the Minors (even to rehab) since 2016.
4. Tyler Anderson, Tulsa, 2014: There was only one qualified Texas League pitcher with an ERA below 2.00 in the last decade. That was, as you can guess, Anderson at 1.98 over 118 1/3 innings for the Drillers. But the then-Rockies prospect wasn't just dominant with traditional numbers. His 2.77 FIP was also third-lowest among the 180 hurlers with enough innings to qualify in the 2010s. Anderson thrived at keeping the ball in the yard, giving up only four long balls total in his 23 starts for Tulsa -- which helped both his ERA and FIP. This ended up being a bright spot of the 2011 first-rounder's Minor League career after shoulder, elbow and hernia injuries limited him in his early years. He played for the Rockies for four Major League seasons before signing with the Giants this past offseason.
3. Colin Rea, San Antonio, 2015: Rea is far from the biggest name on this list, but his pitching stats might be the most eye-popping. The 6-foot-5 right-hander posted just a 1.08 ERA over 75 innings during his first trip to the Texas League five years ago. It's no surprise that such a minuscule number was tops among the circuit's pitchers with at least 70 frames, but it's more impressive that it wasn't even close. (Weaver was second at 1.40.) In fact, only MacKenzie Gore's 1.02 ERA last season for Class A Advanced Lake Elsinore was lower for any Minor League pitcher with at least 70 innings for a single team in the 2010s. As to be expected with something like this, there was some other funkiness to the numbers. Rea's BABIP for the season was .233, and his 2.35 FIP spoke more to his actual performance level than an ERA flirting with 1.00. But even that FIP was third-best for the decade because Rea did a great job of limiting hard contact. The 2011 12th-rounder gave up only one home run in his 75 frames, and his 1.5 percent homer-to-flyball rate was the lowest in the decade for a Texas Leaguer. He has appeared in 29 Major League games for the Padres, Marlins and Cubs, including three this season for Chicago.
2. Mike Moustakas, Northwest Arkansas, 2010: The glory of being a No. 2 overall pick -- as Moustakas was in 2007 -- is that you have a little bit of prospect rope. Moustakas' status certainly took a hit after the 2009 season, when he posted just a .297 OBP and a .718 OPS at Class A Advanced Wilmington, but even after that, he still found spots on the back half of Top-100 lists. He added some major jet fuel back to his ranking with his sojourn to the Texas League at the start of the decade. The powerful third baseman hit .347/.413/.687 over 66 games with the Naturals prior to a mid-July promotion to Triple-A Omaha. His 1.100 OPS and 191 wRC+ ended up being the highest marks of the decade among Texas Leaguers with at least 200 plate appearances. He showed off his trademark pop with 21 taters in that half a season, and his 36 for the year won him the Joe Bauman Home Run Award. (He technically tied with Mark Trumbo for the Minor League lead, but won the Bauman tiebreaker with 124 RBIs, two more than Trumbo's 122.) Moustakas entered 2011 as a top-10 prospect once again and debuted that year, becoming a staple of the successful Royals clubs in the middle of the decade.
1. Mike Trout, Arkansas, 2011: Trout was already a well-known prospect going into the 2011 season. For starters, he was a first-round pick in 2009 coming out of Millville, New Jersey, and he had jumped up to consensus top-five overall prospect status after a promising first full season at Class A Cedar Rapids and Class A Advanced Rancho Cucamonga. But what was a big name for prospect lovers became a big name for everyone when Trout traveled to Arkansas. The right-handed slugger ranked among the top 10 Texas Leaguers for the decade in all three slash-line categories (.326/.414/.544) and seventh with a 156 wRC+. He mashed 11 homers and stole 33 bases, making him one of 11 Texas Leaguers to finish a 10-30 season in the 2010s. Oh, he recorded all those numbers at age 19. His .958 OPS, which ranked fifth-best among decade qualifiers, was almost 100 points higher than the one posted by the next closest teenagers in Fernando Tatis Jr. (.862). The Angels saw enough of the prodigy to bring him up to the Majors in July, and while he yo-yoed between Double-A and The Show with middling results at the latter, the foundation was certainly laid for becoming the greatest player of his generation.
Sam Dykstra is a reporter for MiLB.com. Follow and interact with him on Twitter, @SamDykstraMiLB.