Toolshed: Rookie facts for each playoff club
From Arozarena to Williams, here are nuggets for all 16 teams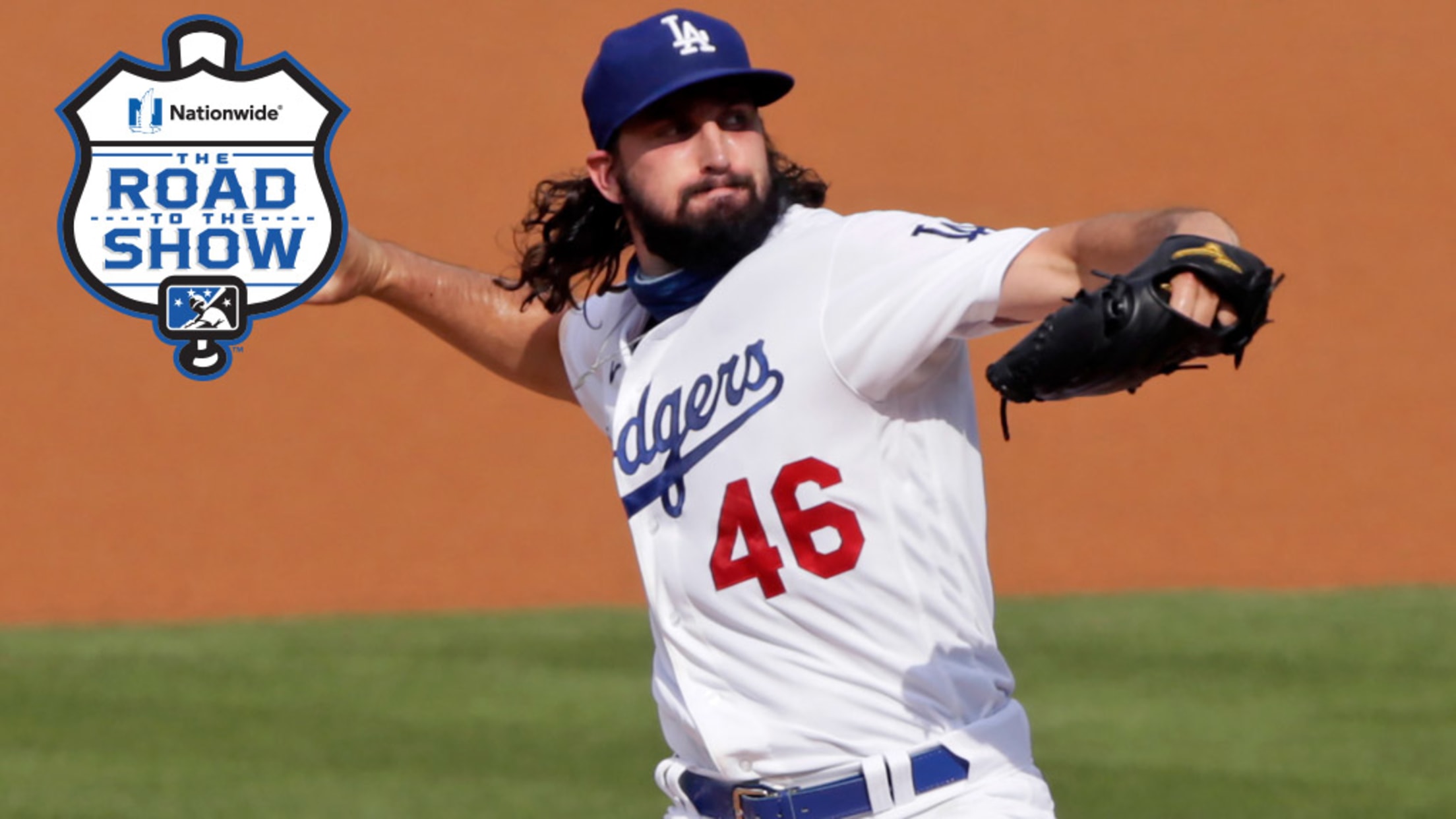 Dodgers right-hander Tony Gonsolin could start Game 3 of the Wild Card Series, if necessary. (Alex Gallardo/AP)
More playoff teams, more opportunities for rookies to perform on the game's biggest stage. The 2020 Major League postseason has expanded to include 16 teams. Those include eight from each of the American and National Leagues -- three division winners, three division runners-up and two Wild Card teams. That makes
More playoff teams, more opportunities for rookies to perform on the game's biggest stage.
The 2020 Major League postseason has expanded to include 16 teams. Those include eight from each of the American and National Leagues -- three division winners, three division runners-up and two Wild Card teams. That makes for the largest playoff field in Major League history, and that size -- along with the variance that comes with best-of-3 Wild Card Series -- could lead to some crazy outcomes in what has already been a crazy year.
Part of the wackiness of 2020, of course, was the lack of a Minor League season, forcing some clubs to rely on their top prospects in the Majors a little ahead of schedule. Now that some of those prospects have become regulars, expect to see them perform in their biggest roles over the next few weeks. In anticipation of prospect star turns this postseason, Toolshed presents rookie-related fun facts for each of the 16 playoff teams.
American League
1. Tampa Bay Rays: Randy Arozarena joined the Rays on Aug. 30 -- the same day the club cleared a right-handed-hitting outfield spot on its bench by dealing José Martínez to the Cubs -- and didn't look back in his opportunity with the big club. The 25-year-old belted seven homers over 23 games, tied for seventh-most among rookies this season. That said, he was the only Major League batter, regardless of rookie status, to hit seven or more while receiving fewer than 80 plate appearances. The former Cardinals prospect used to be more of a ground-ball hitter and was more well known for his speed than his pop, but some elevation -- noted by an average 9.2 degree launch angle, up from 5.6 in the Majors last season -- has done enough to add power to his profile. With Austin Meadows still out, expect Arozarena to continue to get consistent time in left field for the Rays in the playoffs.
2. Oakland Athletics: The biggest question for Sean Murphy in recent years has been about his health. Murphy, who underwent knee surgery in October, never hit the injured list in 2020 and the A's reaped the rewards of having one of the best young catchers in the game. Already known as a strong defender, the 2016 third-rounder took the next step with his offense. Murphy's 92.2-mph average exit velocity was second-highest among qualified catchers, while his 49.4 percent hard-hit rate (balls hit at 95-plus mph) ranked third at the position. His 464-foot home run on Sept. 11 off Rangers right-hander Jordan Lyles was the longest hit by any A's slugger or any Major League catcher this season. Murphy finished with a .233/.364/.457 line with seven long balls in 43 games.
3. Minnesota Twins: As MiLB.com wrote in April, the 2020 season looked like one in which Ryan Jeffers could have broken out at the upper levels of the Twins' Minor League system. He ended up doing that in the Majors instead. The 2018 second-rounder debuted on Aug. 20 when Mitch Garver was injured and performed well enough to make himself part of the backstop rotation for the AL Central champs. One big reason: his defense. Per Statcast, Jeffers ranked in the 77th percentile for pitch framing among Major League catchers. He was especially good at stealing strikes outside of the left side of the plate (i.e., inside against right-handed hitters), where he got strikes on 74.4 percent of pitches in that zone compared to the Major League average of 65.4. Jeffers was on Minnesota's initial 28-man postseason roster and will compete with Garver and Alex Avila for playing time behind the plate.
4. Cleveland Indians: There are two-pitch pitchers, and then there is James Karinchak. The Cleveland right-hander threw 468 pitches out of the bullpen this season. Of those 468, 235 were four-seam fastballs and 233 were curveballs. One pitch away from an even 50-50 split. Both offerings were impressive, but the curveball was the more dominant. Opposing batters whiffed on 56.3 percent of the curveballs they swung at, compared to a whiff rate of 39 percent on the heater. Batters also went only 7-for-50 (.140) with no extra-base hits against the breaking balls. Of course, the 12-6 curveball is so effective because of the way it plays off the fastball, and both pitches helped Karinchak strike out 48.6 percent of the batters he faced -- the second-highest K rate among Major League pitchers with at least 25 innings.
5. New York Yankees: The Yankees only had one position player debut during the 2020 season. It was Estevan Florial, who was recalled on Aug. 28 as the 29th man in a doubleheader and went 1-for-3 with two strikeouts before being sent down the next day. He was brought up again on Sept. 6 and returned to the alternate site three days later without playing. Those three plate appearances were, as one could expect, the fewest by a club's rookie position players in baseball. Braves rookies ranked 29th with 21. New York relied more heavily on rookie pitchers in 2020, giving Deivi Garcia, Clarke Schmidt and Nick Nelson, among others their first tastes of the Majors.
6. Houston Astros: At a time when the Astros lost Justin Verlander for the season with elbow problems, the club got a boost from rookie right-hander Cristian Javier, who made only two Triple-A starts before this season. The 6-foot-1 right-hander generated a lot of publicity for his "invisiball" fastball in the Minors, but it was his slider that arguably was the more effective outing at the top level because of Javier's ability to generate a lot of weak contact with it. Among pitchers who threw at least 200 sliders in 2020, Javier had the lowest hard-hit rate at 6.1 percent while ranking third with a .085 BA and first with a .095 xBA. On average, hitters were generating a 76.9-mph exit velocity off that slider. Javier, who is expected to move to a relief role in the playoffs, threw the slider way more than any other off-speed pitch -- its 26.7 percent usage rate topping 7.2 percent for the changeup and 3.1 for the curve -- and if this effectiveness holds, he might want to consider having it bite into his fastball usage as well.
7. Chicago White Sox: Luis Robert entered the season as the AL Rookie of the Year favorite, and while he's unlikely to lose that award race to Mariners outfielder Kyle Lewis, the former top-three prospect has spent much of the 2020 campaign showing why he was so highly hyped in the first place. Robert tied with Lewis for the rookie home run lead with 11 and also led the same group with nine steals, showing off the plus power and plus speed he displayed in the Chicago Minor League ranks. Additionally, his 5 Outs Above Average, per Statcast, tied for second among Major League center fielders, and his 8 Defensive Runs Saved also placed second, ranking behind Jackie Bradley Jr. and Kevin Kiermaier in those respective categories. A 32.2-percent strikeout rate limited Robert's offensive impact, but his power, speed and defensive ability made him a big part of the resurgence on the South Side.
8. Toronto Blue Jays: Alejandro Kirk became a Twitter favorite for his highlights as a stout catcher checking in at 5-foot-8, 265 pounds, but Statcast might love the No. 6 Toronto prospect just as much. Kirk, who hadn't played above Class A Advanced prior to 2020, batted 20 balls into play following his Sept. 11 promotion to the Majors. Ten of those 20 featured exit velocities of 95 mph or higher, making them "hard-hit" per Statcast's definition. It gets better. Nine of those 10 were at 103.7 mph and up, meaning Kirk absolutely smoked the ball 45 percent of the time he put it in play. That doesn't even count his homer, which posted a 94.9-mph exit velo off Yankees reliever Chad Green on Sept. 21. Kirk's penchant for loud contact earned him a spot on Toronto's postseason roster despite his limited regular-season time, and he should expect to see time at the plate in the series with the Rays, especially against left-handed pitching.
National League
1. Los Angeles Dodgers: Gavin Lux and Dustin May got their fair share of headlines as Los Angeles' impact rookies coming into the season, yet it was Tony Gonsolin who emerged as the club's best young player. Gonsolin's 1.8 fWAR was highest among all rookie pitchers while his 1.3 bWAR placed third. The 26-year-old right-hander, who features an average 95-mph heater to go with a slider, change and curve, thrived because of his ability to limit free passes. Gonsolin placed eighth among the 111 Major League pitchers who completed at least 40 innings with a 4.0 percent walk rate, just behind Clayton Kershaw in seventh at 3.6. The low walk total led to a lower FIP (2.29) that led to a higher fWAR, which is derived in part by the FIP metric. Gonsolin's consistency is expected to give him the start in Game 3 start should the Dodgers' Wild Card series against the Brewers go that long.
2. Atlanta Braves: By late August, Atlanta needed a stabilizing force in its rotation, and it certainly found one in No. 34 overall prospect Ian Anderson. The 22-year-old right-hander posted a 1.95 ERA and a 1.08 WHIP over six starts for the NL East champs, and while his 42 strikeouts in 32 1/3 innings certainly jump out, the most impressive aspect of his rookie season was an ability to restrict any type of hard contact. Of the 138 batters Anderson faced, 81 put the ball in play. Only one barreled the ball. That 0.7 percent rate of barrels per plate appearances was the lowest among all Major League pitchers with at least 60 batted ball events. His barrels per batted ball event percentage of 1.2 percent placed second among the same group of 174. Put another way, Anderson gave up only five extra-base hits total over 32 1/3 innings. He is likely to start Game 2 against the Reds.
3. Chicago Cubs: Only two Cubs made their Major League debuts in 2020, the lowest of any organization. (Quick shoutout to Jake Mintz and Jordan Shusterman of Cespedes Family BBQ for keeping tabs on MLB debuts all season long.) One of those two came on the last day of the season when No. 63 overall prospect Brailyn Marquez came into pitch Sunday. The results were less than ideal -- five earned runs on two hits and three walks in two-thirds of an inning. But in terms of raw stuff, it was easy to see why the 21-year-old left-hander is so highly thought of in Chicago. Marquez threw two pitches -- a 99.6-mph ball to Edwin Encarnación and a 99.4-mph strikeout offering to Jose Abreu -- that were the hardest-thrown offerings by a Cubs pitcher in 2020, beating out a 99.2-mph heater by Craig Kimbrel that previously held the honor. The control woes that have daunted Marquez's time in the Minors reappeared Sunday, but this level of velocity illustrated why it's tantalizing to think of what kind of left-handed option he could be out of the bullpen in the playoffs.
4. San Diego Padres: Last Friday, Toolshed recapped why Jake Cronenworth headed into the weekend as the favorite to win the NL Rookie of the Year award. Need more reasons? Try these. The Padres' rookie second baseman ranks among at least the 90th percentile in xBA, xSLG, xwOBA, whiff percentage, Sprint Speed and Outs Above Average. What does all that mean? Elite whiff percentage means he makes a lot of contact when he decides to swing. Elite xBA, xSLG and xwOBA mean he makes a lot of quality contact when he does connect. Spring Speed and Outs Above Average mean he brings value to the basepaths and defensive side as well. Cronenworth put together a well-rounded profile that ended with a .285/.354/.477 line and 1.4 fWAR over 54 games for the upstart Padres.
5. St. Louis Cardinals: Top Cards prospect Dylan Carlson was expected to be up for good when he debuted on Aug. 15, but a .162 average and a .458 OPS through 23 games prompted St. Louis to move the switch-hitting outfielder back to the alternate site on Sept. 8. After returning 10 days later, Carlson turned things around to the point at which he became one of the Cardinals' most productive hitters down the stretch. From Sept. 18 onward, the No. 14 overall prospect led St. Louis batters with seven extra-base hits and 11 RBIs while ranking second with 10 total hits over 12 games. He produced a .278/.325/.611 line in that span, pushing his season average and OPS to a better (but still rough) .200 and .616. The Cardinals will need Carlson to keep this form in the shortened series against the Padres, who enter the Wild Card round with the NL's second-best regular-season record.
6. Miami Marlins: It should come as no surprise that there were a lot of Marlins' Major League debuts in 2020. Eighteen in total, the most in the Majors. None should get Fish fans more excited than that of Sixto Sanchez. Much has been made about Sanchez's Pedro Martinez comparison, including by the Hall of Fame pitcher, but let's hone in on one aspect of the 6-foot right-hander's arsenal. Sanchez averaged 98.6 mph on his four-seam fastball. That gave him the third-highest average velo of all 421 qualified Major League pitchers. Funnily enough, the top two velocities also came from rookie pitchers -- Dustin May (99.2) and Brusdar Graterol (98.8). Sanchez's changeup and curveball are also above-average offerings, but if he's already pumping this level of heat as a Major League starter, he should be a problem on the senior circuit for years to come.
7. Cincinnati Reds: Trevor Bauer may be the king of spin during his first year in Cincy, but rookie right-hander Tejay Antone might as well be the prince. Antone's sinker ranked fourth at 2,625 rpm while his curve placed 14th in the Majors at 2,959 rpm. His slider is closer to average in terms of spin, ranking 45th in the bigs, but it might have been his best pitch. The right-hander threw the slider 39.8 percent of the time and still held opposing batters to a .146 average while getting whiffs on 46.7 percent on swings caused by the pitch, by far, the personal best in his arsenal. This type of stuff -- lots of spin for some pitches, other offerings that keep hitters constantly off balance -- represented a breakout of sorts for the Cincinnati hurler and should help him play a significant role in the Reds bullpen in the coming days against the Braves.
8. Milwaukee Brewers: It's a changeup that has taken on a life of its own. Some might call it a screwball. Others nicknamed it the Airbender. At any rate, Brewers rookie reliever Devin Williams developed one of the Majors' most effective weapons in 2020. The 2,852 rpm spin rate on the pitch is the most of any Major League changeup. That caused 25 percent more drop than the average Major League changeup and 35 percent more horizontal break. Statcast estimates Williams' changeup, which he throws 52.7 percent of the time, was worth -13 runs on its own, making it the second-best pitch in the bigs by that measure behind only Dinelson Lamet's slider. Opposing batters only picked up two hits (both singles) off Williams' change in 62 at-bats, resulting in a .032 average-against. Because of the change, Williams led all Major League pitchers (minimum 25 innings) with a 0.33 ERA, 0.86 FIP, 0.63 WHIP and 53 percent K rate. The Brewers should rely on the reigning NL Reliever of the Month early and often if they have any hope of beating the Dodgers in a best-of-3 series.
Sam Dykstra is a reporter for MiLB.com. Follow and interact with him on Twitter, @SamDykstraMiLB.