Twins' Gordon takes his cuts in recording studio
Hip-hop album won't distract No. 4 prospect from big league goal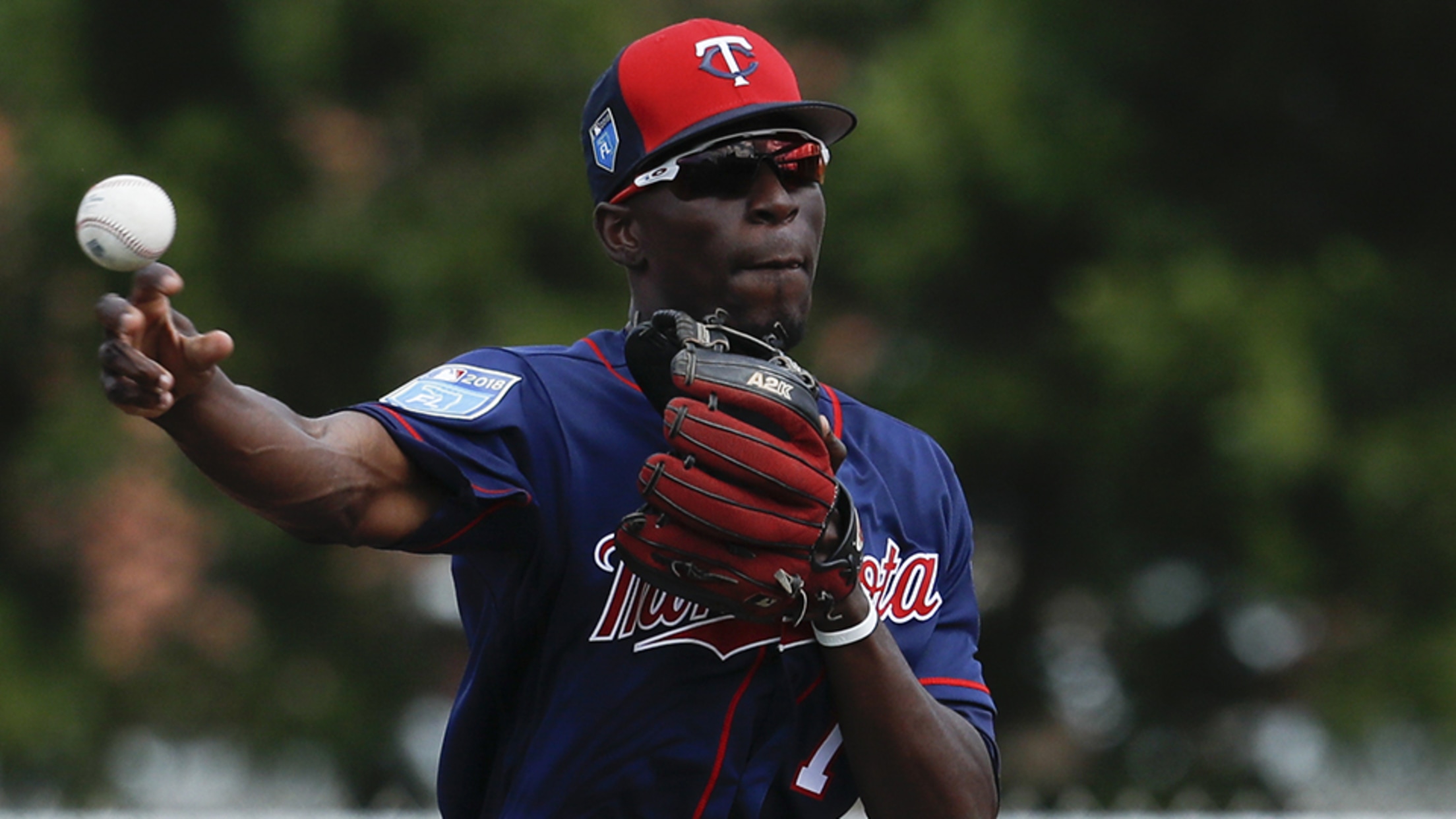 Nick Gordon is participating in Major League Spring Training for the second year in a row. (John Minchillo/AP)
Nick Gordon has one career aspiration. And there's no hesitation when he's asked about it."I'm a baseball player," the 22-year-old said. "First and foremost."Even top prospects have hobbies off the diamond and Gordon is no exception. Unlike many of his peers who hit the links or hop online to play
Nick Gordon has one career aspiration. And there's no hesitation when he's asked about it.
"I'm a baseball player," the 22-year-old said. "First and foremost."
Even top prospects have hobbies off the diamond and Gordon is no exception. Unlike many of his peers who hit the links or hop online to play the newest video game craze, the Twins' fourth-ranked prospect is combining his off-the-field activities with another passion near to his heart: music.
"I've been making music for a while now," he said. "I mostly kept it to myself or my close friends early on. I'd let them listen in to see how they felt about it. But I've always had a passion for music, even as a little kid. It was something I did in my spare time and that continues today. I just love music."
Gordon certainly isn't the first athlete to venture into the world of hip-hop. NBA stars Shaquille O'Neal, Allen Iverson and LeBron James have done their best to earn a Grammy nomination. So have boxers Floyd Mayweather Jr. and Roy Jones Jr. But baseball players have largely steered clear of the recording studio.
Gordon said he toyed with the idea of releasing his music publicly, but his entrance into the hip-hop world was not entirely of his own doing. He formed a group in high school with friends Julio Fernandez, a hip-hop producer now known as July, and Giovanni Adams, a rapper who goes by the name Gio Storm. They called themselves the D-Squad and performed at local shows during their freshman and sophomore years of high school.
Fast-forward to last December when someone -- Gordon doesn't know who -- posted a video that he and his friends produced recently for one of his songs. With the video garnering clicks on the internet, Gordon figured he might as well go with a wider release. The result was a nine-song EP titled "I Do It All" that was promoted under Gordon's stage name, G Cinco. The EP can be streamed on Spotify and SoundCloud and is available for download and purchase on Apple Music.
"I wouldn't say there was one specific reason [for releasing the EP]," Gordon said. "I had a lot of the music already recorded, but someone got their hands on a video I had done and put it online. I didn't even know it was out there until someone retweeted it on to my Twitter timeline. But it was getting good feedback. People were saying I should keep at it when I had the time, so I decided to release the other ones, too."
MLB.com's No. 80 overall prospect understands that some people might think he's trying to further his reputation on the diamond with an alter ego off of it. That would be a mistake. The son of former Major League pitcher Tom Gordon and the younger brother of two-time All-Star Dee Gordon of the Mariners knows what he wants his future to look like and how he wants it to unfold.
And as much as he loves music, he doesn't plan on being defined by time spent in a recording studio.
"I don't have any plans for [music] beyond what I've done so far," Gordon said. "I'll keep making [music] for fun, but when it's time for baseball, it's time for baseball. Period."
That should be music to the ears of the Twins, who made Gordon the fifth overall pick in the 2014 Draft out of Olympia High School in Orlando, Florida. The middle infielder has rewarded Minnesota's faith by hitting .281/.337/.383 across four Minor League seasons. He's been selected to three postseason All-Star squads and earned midseason All-Star selections with Class A Advanced Fort Myers in 2016 and Double-A Chattanooga last season. Gordon also played in last year's All-Star Futures Game in Miami, where he singled and scored a run as Team USA's leadoff hitter. Earlier this month, he was invited to big league Spring Training for the second straight season.
"Wherever they need me, that's where I'll be," said Gordon, who will probably start the season with Triple-A Rochester. "I'm looking forward to having a good spring and I'll definitely be ready for whatever is thrown my way."
Gordon spent all of last season with Chattanooga, where he batted .270/.341/.408 with a career-high 46 extra-base hits, including nine homers. He also recorded career bests with 140 hits, 66 RBIs and 80 runs scored in 122 games. By his own admission, his batting average was lower than he liked, but he also incorporated more power into his game, which was something he hoped to do entering 2017.
"I wanted to drive the ball more," Gordon said. "I wanted to start using my leverage a little better and I was able to do that. It took some work and time for it to feel natural, but I knew that part of my game would come. Now it's just a matter of finding myself and putting that aspect of hitting with my regular game. I need to find that right balance ... knowing when to take the big swing and when to dial it back a bit. Some days you feel it and some days you don't, but you learn something new every day and take it with you moving forward.
"Last year was a combination of a lot of little things. I had some bad games, but there were also quite a few times where I just hit into bad luck. There's such a big difference in this game at the professional level. It's truly a sport that humbles you, and you have to let it humble you before you can really succeed. You're with these players and coaches for months at a time. They become like family and you learn from each other."
Although Gordon is expected to start the season in the Minors, he knows that a big league opportunity is within reach.
"[The Majors] are fresh in all Minor Leaguers' minds," he said. "That's your goal. It's always in sight and it's always there in front of you. I trust in the process I've set out for myself. I'll go out and play every single day, hope to stay healthy and get better along the way. I feel I can do that and ultimately get to the bigs."
One thing Gordon knows he has to work on is consistency. After putting up a .315/.376/.504 slash line in the first half last season, he slumped to .221/.304/.305 after the All-Star break to put a minor dent into an otherwise solid year.
"That consistency is what separates the men from the boys," Gordon said. "Big leaguers do what they do well more often than not. But that's all part of being a Minor Leaguer and developing. Finding that consistency is usually the last and hardest thing to do, but I'm getting there."
The confident 22-year-old has no such worries, but if baseball doesn't work out, he could always morph back in G Cinco, right?
Not so fast.
"Music is great. Music is fun," Gordon said. "But when it's all said and done, I don't expect to have to fall back to a Plan B. And that's what music is.
"I'm all in on Plan A."