Weekly Wrap-Up: Reds Spring Training (3/16)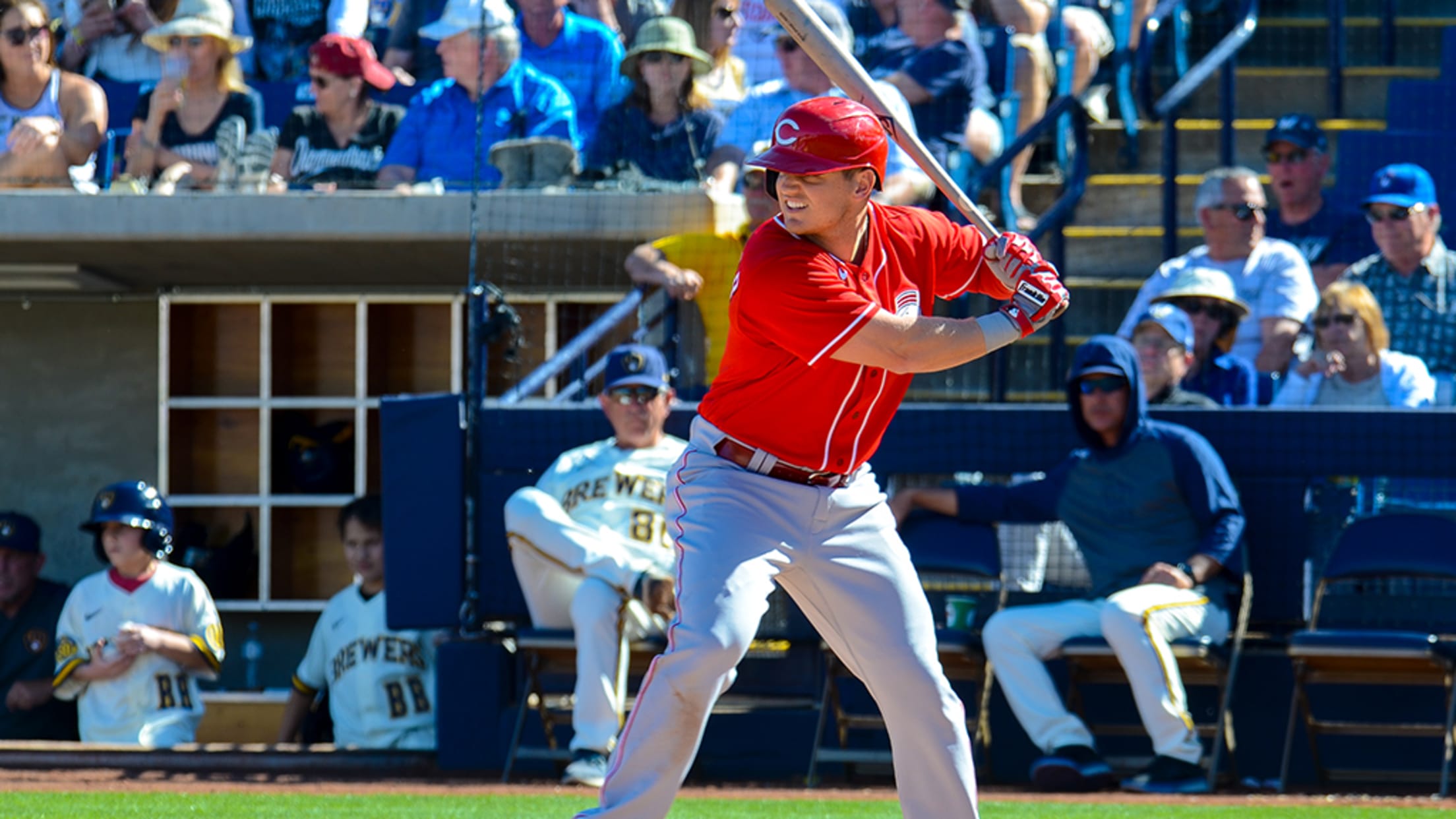 This week for the Spring Training Wrap Up, BatsBaseball.com will highlight three players who stood out at Reds camp and may potentially suit up with the Louisville Bats during the upcoming 2020 season. The players chosen for this week's iteration are outfielder Josh VanMeter, outfielder Phillip Ervin and right-hander Sal
This week for the Spring Training Wrap Up, BatsBaseball.com will highlight three players who stood out at Reds camp and may potentially suit up with the Louisville Bats during the upcoming 2020 season. The players chosen for this week's iteration are outfielder Josh VanMeter, outfielder Phillip Ervin and right-hander Sal Romano who helped the Reds to a 7-8 record this Spring.
Below are capsules for the three breakout players:
OF Josh VanMeter
2020 Spring: 6-for-15, .400 avg, 5 runs, 1 double, 1 home run, 1.193 OPS.
2019 Season: Two Teams | 144 games, .286 avg, 51 XBH, 22 HR, 66 RBI
This Spring: Josh VanMeter has certainly made the most of his plate appearances at camp. He wrapped up this Spring third in the organization in batting average among hitters who have had at least 15 official at-bats. He has also had a nose for reaching base safely, getting on base in over half of his opportunities (.526 OBP). Part of this success has been due to his ability to coax four walks over the course of this Spring, the highest among all Reds players with less than 20 plate appearances.
Capsule: VanMeter has been named an All-Star three times over his professional career, including the California League in 2016, the Southern League in 2017 and the International League in 2019. He was named the organization's and the International League's Player of the Month in April of 2019 where he hit .358, with 16 extra-base hits, 11 home runs and amassed an OBP of 1.204. He was promoted to the Major League roster shortly after where he would go on to make 95 Major League appearances, including 54 starts at five positions and DH (32 gs in LF, 9 gs at 1B, 9 gs at 3B, 1 gs in RF, 1 gs at DH). Among National League rookies, he ranked eighth in walks at tied for ninth in stolen bases.
OF Phillip Ervin
2020 Spring: 9-for-22, .409 avg, 2 2B, 2 HR, 6 RBI, 1.253 OPS
2019 Season: Two Teams | 134 games, .278 avg, 40 XBH, 57 R
This Spring: Phillip Ervin found his groove early at camp, becoming one of only two Reds players who hit over .400 with at least 25 plate appearances this Spring. He also tied for third in the organization in extra-base hits with four. Ervin's ability to get on base paired nicely with his ability to hit for power, which put him second on the team in OPS among players with 10+ plate appearances.
Capsule: Phillip Ervin was selected by the Reds 27th overall in the 2013 first-year player draft, becoming the first baseball player ever drafted out of Samford University. In 2013, he was named the Pioneer League Player of the Week twice (6/14-6/20, 7/17-7/22), and was rated the organization's best hitter for average. He was a Midseason Florida State League All-Star in 2015 and also became both an MiLB.com Organization All-Star and Arizona Fall League Rising Star. In 2016, Ervin earned the Southern League's All-Star Game's Top Star and was named the SL's Batter of the Week for April 25 – May 1. During his four stints with the Reds in 2019, he made 94 appearances and 52 starts (33 gs in LF, 17 gs in CF, 2 gs in RF). He led the team with 7 triples, tied for fourth-most in the National League, while also tripling in three consecutive starts from 7/2-7/14 (7/2 vs. Mil., 7/13 at Col., 7/14 at Col.).
RHP Sal Romano
2020 Spring: 6 games, 6.1 innings pitched, 0 hits, 0.00 ERA, 0.32 WHIP
2019 season: Two Teams | 55 games, 5-8 record, 4.94 ERA (47er/85.2ip), 92 SO, 34 BB
This Spring: To say that Sal Romano was unhittable this Spring is more than just a figure of speech. Over his 6.1 innings of work, he not only gave up zero runs, but did not allow a single hit, which was tops in the organization in both categories among pitchers with at least six innings pitched. Romano also had the lowest WHIP among Reds pitchers with more than one inning of work with his mark of 0.32. He even tied for first on the team in holds this Spring, tallying four.
Capsule: Since his debut, Sal Romano has been a workhorse in the organization, where he led or tied for the league lead in both starts and innings pitched in 2014 and 2016, was named a Misdeason Midwest League All-Star in 2013 and 2014 and also being named Pitcher of the Week twice (7/20-7/26, 2015 and 7/25-7/31, 2016). He spent most of his time in Louisville in 2019, where he tied for third in appearances with 43. He also made 12 appearances during three stints with the Reds in 2019, where he recorded three-inning saves in each of his first two appearances with the team. It was the first time since 1999 that a Reds pitcher recorded more than one save with at least three innings of work.