Woodpeckers Drop Three Leads in Series-Opening Loss to Kannapolis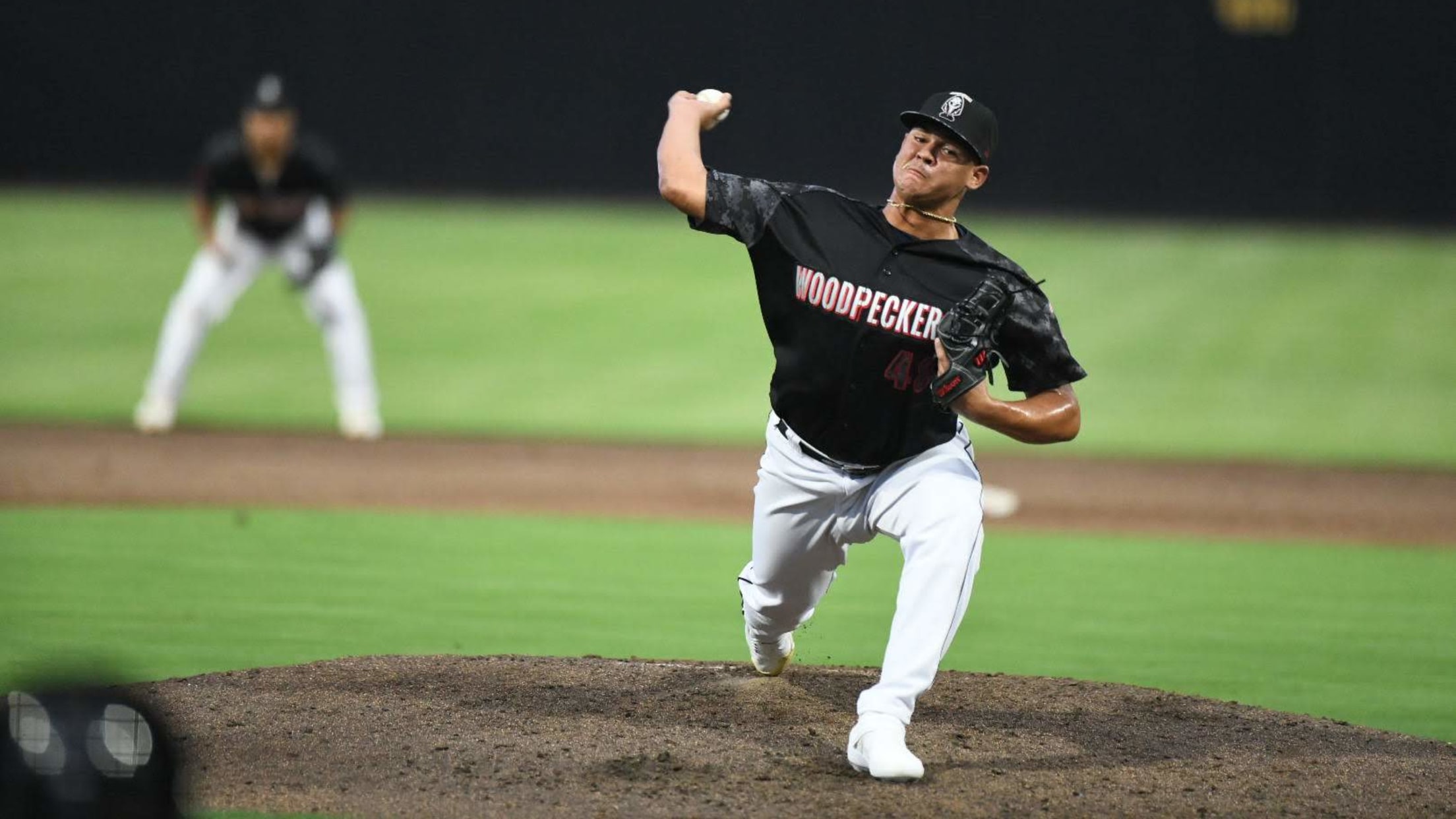 FAYETTEVILLE, NC - The Fayetteville Woodpeckers (29-37) took three separate leads against the Kannapolis Cannon Ballers (20-46), losing all three, as the Cannon Ballers closed it out with five unanswered runs to win 10-8 on Tuesday night at Segra Stadium. The Kannapolis comeback was stoked by a 17-hit effort, the
FAYETTEVILLE, NC - The Fayetteville Woodpeckers (29-37) took three separate leads against the Kannapolis Cannon Ballers (20-46), losing all three, as the Cannon Ballers closed it out with five unanswered runs to win 10-8 on Tuesday night at Segra Stadium. The Kannapolis comeback was stoked by a 17-hit effort, the most hits allowed in a single game by the Woodpeckers pitching staff this season
Fayetteville led by two on the first two batters of the game. Christian Gonzalez singled in his first at-bat as a Woodpecker, and Justin Dirden followed up with a two-run home run to give Fayetteville a 2-0 lead. Kannapolis countered in the second with two runs against starter Alex Santos on an RBI double from Cabrera Weaver and a sac fly from Victor Torres to tie the game.
Tied at 3-3 in the fourth, Ronaldo Urdaneta opened the inning with a single, and a pair of walks loaded up the bases for Gonzalez. Gonzalez continued his solid debut, connecting for his second base hit of the game to bring home two runs and make it a 5-3 game. Kannapolis responded in the fifth with an RBI single by Harvin Mendoza, who then came all the way home on a fielding error by Dirden to knot it all up at 5-5.
With two outs in the bottom fifth, the Woodpeckers rallied for three runs on three consecutive base hits against Yoelvin Silven to grab their biggest lead of the night. Victor Mascai brought in Nerio Rodriguez on an RBI triple to make it 6-5. Kenedy Corona singled to bring Mascai home, and Luis Guerrero doubled in a run to give the Woodpeckers an 8-5 lead.
The Canon Ballers stormed back to tie the game in the seventh against Diosmerky Taveras (L, 1-4), loading up the bases with no outs. Luis Mieses connected with a base hit to make it 8-6, keeping the bases full. Taveras struck out the next two batters he faced, before surrendering two more runs on a Jeremiah Burks broken-bat single to center that tied the game at 8-8.
Kannapolis continued their stretch of five unanswered with two more runs in the eighth. Samil Polanco tallied his fifth hit of the night, an RBI double to jump ahead 9-8, and Miesis followed with an RBI double of his own for the 10-8 advantage. While Kannapolis completed their comeback, Sammy Peralta (W, 1-0) held the Woodpeckers offense silent with three perfect innings of relief, striking out four. McKinley Moore (SV, 6) entered in the ninth, struck out two and retired the side in order to secure the save.
A doubleheader is scheduled for Wednesday with Game 1 starting at 4 p.m. and Game 2 beginning 30 minutes after the conclusion of Game 1. Fayetteville will roll out RHP Shea Barry for Game 1 and RHP Cesar Gomez is scheduled to start Game 2.
FULL BOX SCORE: Cannon Ballers vs. Woodpeckers Box Score | 07/20/21 | MiLB.com