Bote grinds out perfect day at plate
Chicago's No. 14 prospect homers on five-hit afternoon for Iowa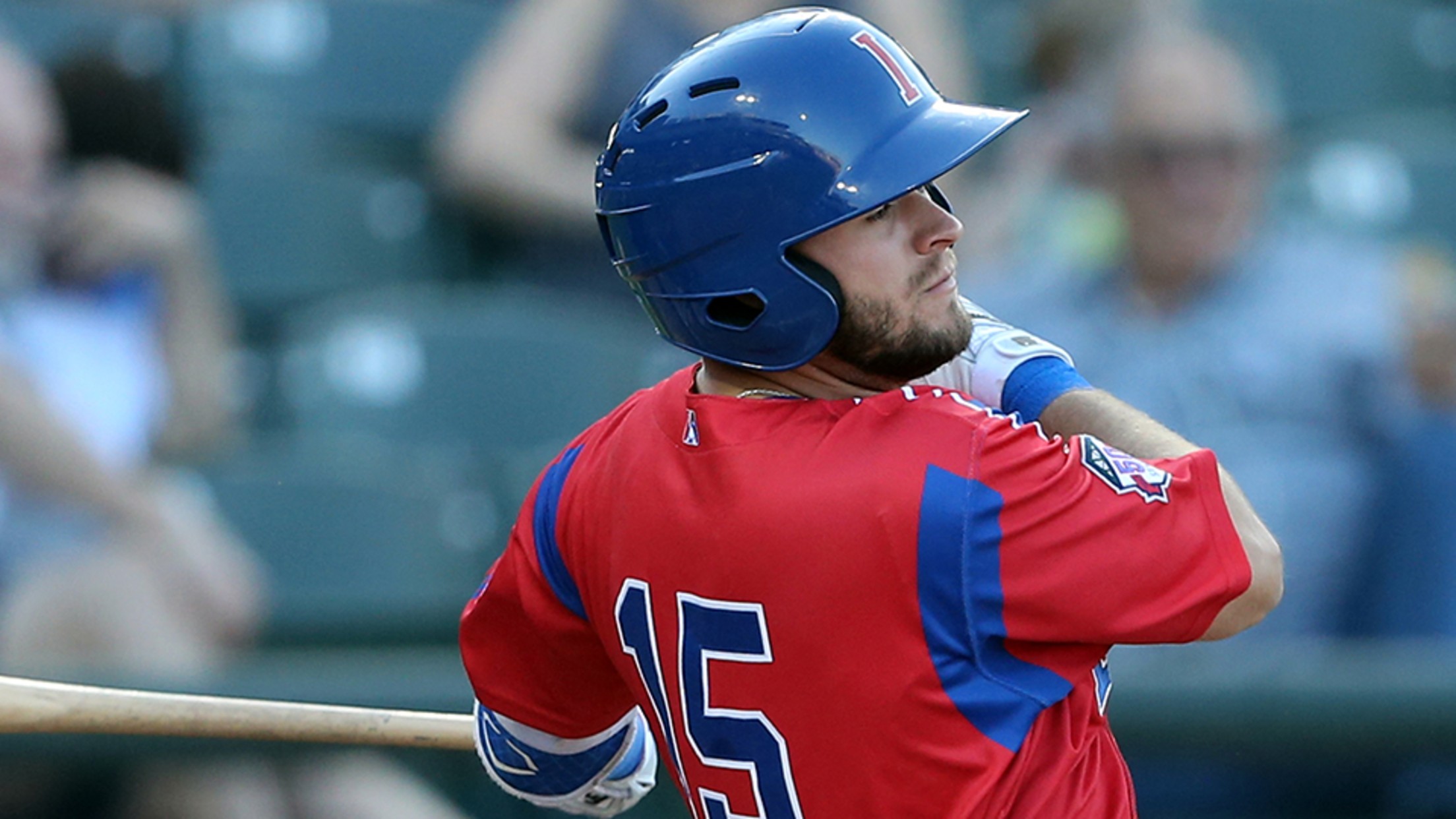 David Bote's big day moved him into a tie for 13th place in Pacific Coast League average. (Jamie Harms/MiLB.com)
An easy way to raise a batting average 46 points over the course of one game is to go 5-for-5 at the plate.That's exactly what David Bote did Sunday. The Cubs No. 14 prospect hit a solo homer, singled four times and plated two runs in Triple-A Iowa's 4-1 win
An easy way to raise a batting average 46 points over the course of one game is to go 5-for-5 at the plate.
That's exactly what David Bote did Sunday. The Cubs No. 14 prospect hit a solo homer, singled four times and plated two runs in Triple-A Iowa's 4-1 win over Round Rock at Dell Daimond.
Nearly all of the hits were earned, according to I-Cubs manager Marty Pevey.
"He hit them hard," Pevey said.
Gameday box score
In the first inning, Bote reached on possibly the softest ball he hit of the day, a perfectly placed ground ball between third base and short. The 25-year-old swiped second for his first stolen base of the season.
Three of Bote's hits came against former Major League frontline starter Yovani Gallardo. In the third, the right-hander got ahead of the 2012 18th-round pick 0-2 before Bote worked the count full, fouled off another pitch and ultimately drilled a knock into left.
Bote bested Gallardo again in the fifth, this time sending a 2-0 offering up the middle to plate Mike Freeman. Facing Round Rock Deolis Guerra with one out in the seventh, the Neosho Community College product kept his hands inside of a pitch that caught the inner third of the plate and drove it over the wall in right-center field for a solo shot, his fifth home run of the season.
The wind was coming in hard from right, Pevey said, which made the homer even more impressive.
"It was a ... line-drive rocket," he added. "The only ball he didn't hit hard, he hit in the proper spot. He hit three line-drive singles to left. He swung the bat really well."
All of Bote's home runs this season have gone the other way, Pevey said.
"He's got such quick hands," the manager said. "I think he leads our organization in velocity off the bat. He's one of those guys, when he's locked in, he's locked in. When he puts a good swing on the ball, which he does a lot, he really drives the ball. He has such a good approach. He's got that right-center-field approach."
For an encore, Bote laced a single to left in the ninth.
The 6-foot-1, 210-pound prospect entered May hitting .231. On Sunday alone, he raised his average from .296 to .342.
"He's letting the ball travel [in the zone]," Pevey said. "He's keeping his bat in the strike zone for a long time. ... His swing plane is outstanding."
Bote earned his first Major League promotion on April 21 and spent a week with Chicago, lining a double in his first career at-bat. He got up eight more times through three games before being optioned back to Iowa.
"I was really pumped that he got called up," Pevey said. "He deserved it more than anybody. Like I said before, he's worked really hard and made himself into a prospect and opened some people's eyes. He just continues to be the heart of the last three teams he played on. He was the heart of the team two years ago in Myrtle Beach. He was the heart of the team last year in Double-A. Now he's the heart of our lineup."
Pevey bats Bote second in the lineup because he likes to pencil his best hitter into the two-hole. He also put Willson Contreras in that spot when Contreras was tearing it up in the Pacific Coast League.
Since his return, Pevey hasn't seen much different in Bote's style of play. The manager remembers him four years ago as a prospect imported straight from Rookie level to help out Pevey's depleted roster for a short period of time. Bote wasn't a touted prospect or playing a lot, but Pevey saw something in him.
"He's a grinder," Pevey admired. "He's just one of those guys that goes out there and works his rear end off every day and comes to play."
Bote also made a solid defensive play up the middle -- going to his right for the third out of the fifth -- to help starter Duane Underwood Jr. (1-3) through seven scoreless innings. The Cubs' 29th-ranked prospect allowed one hit and two walks while striking out seven to pick up his first win of the season.
Chris Bumbaca is a contributor for MiLB.com based in New York. Follow him on Twitter @BOOMbaca.