Former Sea Dogs Shine in Arizona Fall League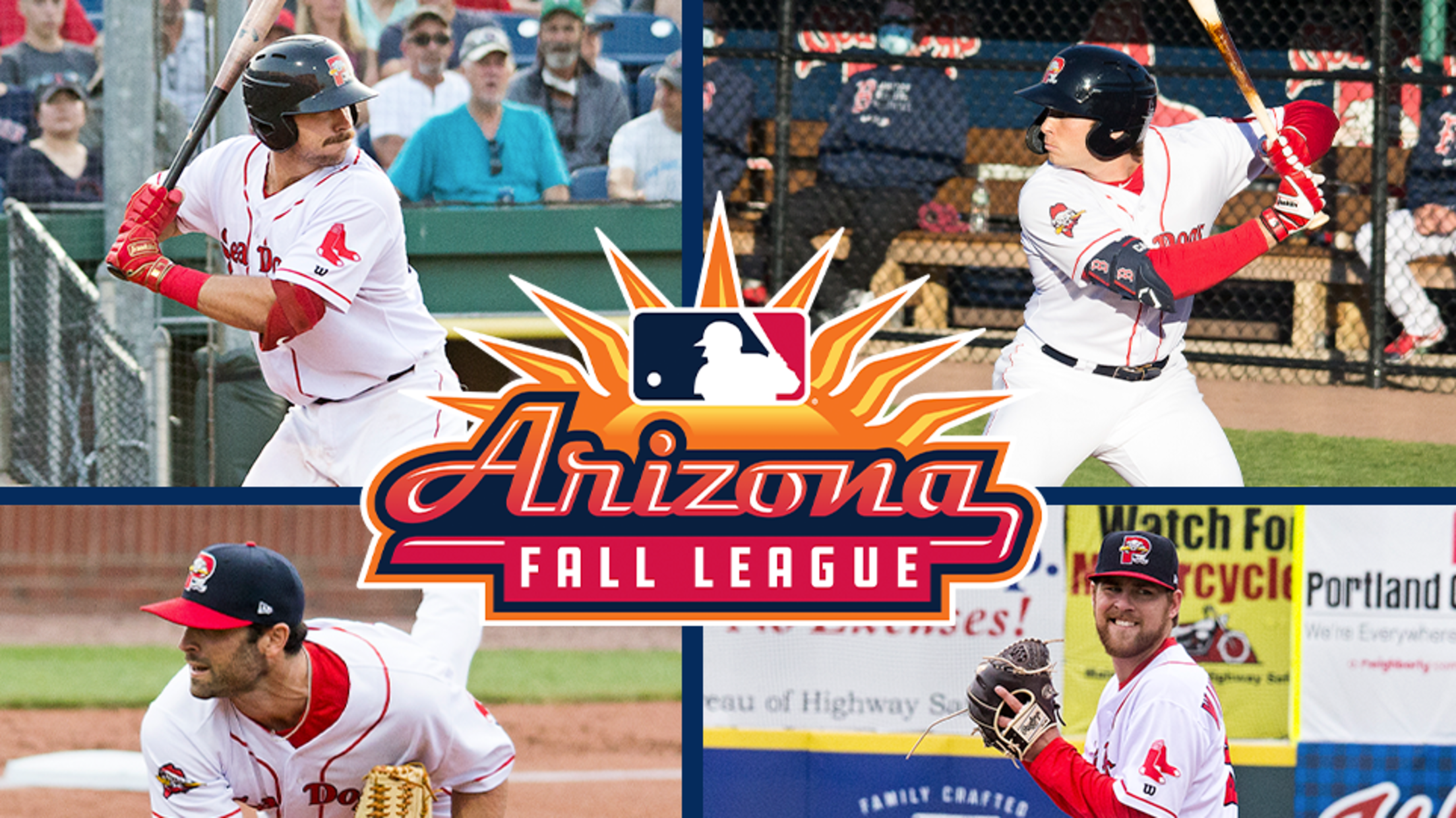 Four 2021 Portland Sea Dogs have continued their baseball seasons into the fall as members of the Scottsdale Scorpions in the Arizona Fall League. The AFL is broken into two divisions, East and West. Each Major League Baseball team sends six top prospects to the Arizona Fall League, 180 players
Four 2021 Portland Sea Dogs have continued their baseball seasons into the fall as members of the Scottsdale Scorpions in the Arizona Fall League. The AFL is broken into two divisions, East and West. Each Major League Baseball team sends six top prospects to the Arizona Fall League, 180 players in all. The games are played in the Spring Training stadiums used by the Mariners, Padres, Cubs, A's, Diamondbacks and Rockies. Each August, Major League clubs hold a position draft to determine the players who will go to Arizona. Most are Double-A and Triple-A Minor League players. The Boston Red Sox sent Brendan Cellucci, Andrew Politi, Connor Seabold, Josh Winckowski, Kole Cottam, Connor Wong, Triston Casas and Jeter Downs to join the Scorpions. Casas, Winckowski, Cottam and Politi all spent time in 2021 with the Sea Dogs.
Triston Casas, 1B
Ranked as the #2 prospect in the Red Sox system, Triston Casas had a successful season in Portland despite leaving the team for first the Olympic Qualifiers in Florida then the 2020 Tokyo Olympics. The first baseman finished his 2021 Sea Dogs campaign batting .284 with 12 doubles, two triples and 13 home runs through 77 games. He led the Double-A Northeast League with a .395 OBP. After the end of the Double-A season, he appeared in nine games with the Triple-A Worcester Red Sox and continued his hot streak, a step away from the big leagues. He hit .242 with three doubles, one triple and one home run.
Triston Casas crushed an RBI double in the Arizona Fall League earlier today. pic.twitter.com/zdD6h4TifL

— Jamie Gatlin (@JamieGatlin17) October 25, 2021
In Arizona, Casas is batting .322 through 15 games with three doubles, one home run and eight RBI. He is currently riding an eleven-game hitting streak and is 15-for-42 batting .357 with a .500 on-base percentage. During his streak, Casas has drawn more walks (11) than the number of times he has been struck out (8).
Josh Winckowski, RHP
RHP Josh Winckowski was named Portland's Pitcher of the Year with an 8-3 record and 4.14 ERA in 2021. He ranked second in the Double-A Northeast League in winning percentage (.727), opposing batting average (.253), third in ERA (4.14), wins (8), WHIP (1.30), fourth in games started (20) and fifth in innings pitched (100.0).
Josh Winckowski picked up the win in today's 4-3 Arizona Scorpions win. The 23-year-old righty came into the game as a reliever and had a line of 3 IP, 2 H, 1 R, 0 ER, 0 BB, 1 K. Winckowski is currently 14th on the #SP60.

— SoxProspects.com (@SoxProspects) October 15, 2021
With the Scorpions, Winckowski has appeared in six games and is 1-0 with a 6.55 ERA. He has pitched 11.0 innings allowing nine runs (eight earned) on 15 hits while walking four and striking out three. He has not given up a home run in the month of November.
Kole Cottam, C
Kole Cottam recorded a career-high .278 batting average and 10 home runs in his 2021 campaign with the Greenville Drive and Portland Sea Dogs. Through 46 games with the Drive, he hit .276 with 13 doubles, six home runs and 24 RBI. Cottam was promoted to the Sea Dogs on July 29th and appeared in 25 games hitting .282 with five doubles, one triple and four home runs. Cottam was named as the 'Best Defensive Catcher' in the Red Sox system according to Baseball America before the start of the 2021 season. Cottam was originally a fourth-round selection by the Red Sox in the 2018 MLB Draft out of the University of Kentucky.
After a two homer day, Kole Cottam calls game for the Scorpions in the bottom of the 10th! 🦂 @RedSox @RedSoxPlayerDev pic.twitter.com/qPmkrMzFZ9

— MLB's Arizona Fall League (@MLBazFallLeague) November 2, 2021
Cottam is batting .263 with two doubles and two home runs with eight RBI for the Scorpions. His standout game came on November 2nd facing the Surprise Saguaros. Cottam smashed two-runs and then hit the walk-off single in the bottom of the 10th inning to secure the victory for Scottsdale. Cottam finished the game 4-for-5 with four RBI.
Andrew Politi, RHP
Right-handed pitcher Andrew Politi was Portland's 2021 Opening Day starter. He finished the 2021 campaign 6-9 with a 6.36 ERA. Politi appeared in 21 games and made 15 starts. He tossed 75.0 innings allowing 59 runs (53 earned) on 77 hits while striking out 89 and walking 38 opposing hitters. Politi finished the season strong, making a good case for the Arizona Fall League. In the month of September, he did not allow a run in four appearances out of the bullpen while limiting opposing batters to just a .125 average.
Politi is 0-0 with a 7.71 ERA with Scottsdale. He has tossed 9.1 innings and has allowed nine runs (eight earned) on 13 hits while walking seven and striking out nine. Politi did not allow an earned run in his first three outings in Arizona (2.2 innings). Through his season with the Scorpions, he has not allowed a home run.
The Scorpions's season continues today, November 8th as they take on the Mesa Solar Sox at 12:35 MT.